Depression
Resolving Depression Through An Artist's Eye!!!
Last Update on July 9, 2021 : Published on January 18, 2020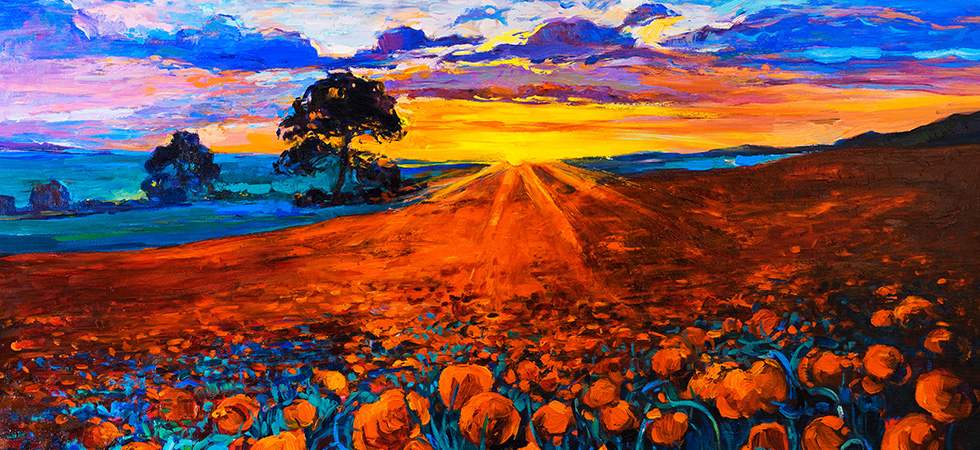 Everyone has their own definition of depression. For some, it is battling within oneself and for others, it's exhaustion. But some of us can show our clash to the world by blaring out loud or aggravating our surroundings.
But, there are some people who wanted to show mental condition through their paintbrush.
While struggling with depression we need compassion, patience and a positive aspect towards situations. And we know you have already heard the above line almost 100 times. So what's new in this?
Despite knowing the fact, depression can be cured through positive emotions, have you tried to overlook the bad one and focusing on the right thing?
All of us have heard "Is the glass half empty or half full" a common expression that is widely used by every motivational speaker. But are you aware of the purpose of asking this question?
Let me tell you, the core purpose of this phrase is to understand the situation in various ways, mainly depending on one's outlook. All you need is a positive approach to your life.
And trust me, you can conquer the battlefield of depression with a change of perspective.
Here, in this article, we will show the art in the body of depression, and all you need a positive approach towards it. Hence, we are here to heal you from depression.
1. Family Love
Family love is important to construct yourself. If you have a family, you have everything. Look at this young boy, he is too helping his mama to rebuild his father.
Always try to figure out the ways to fight with mental illness and if you are unable to do so, reach out to your loved ones. They will help you the way his family is rebuilding him. If you have a loving family who is helping in fighting depression and supports, you with everything. You have already won this mental condition, my friend!
2. Free Soul!
Are you thinking that the bird is you, who is leaving a body? If yes, change your outlook mate! It's not you, it's a depression which is getting out and leaving your life with holy hues. Always believe in yourself and gain a positive attitude. But don't force yourself every time to get these colors in your world. Instead, relax and change your perspective and soon you will get those lively shades in your life.
3. Hope
I know, depression is a vast turmoil! More you wriggle to get out of this, the more you will get trapped inside. But, when you start thinking about overcoming it with a better point of view, everything will become calm and serene. In the above art, you are trapped in the whirlwind of depression and suddenly you feel a ray of light upon you. Indeed, which is there to help you! To make you believe – don't stop and try to find a way to overcome low spirit. No matter what!
 4. Bury Your Thought In the Ground
Let out your black thoughts and bitter emotions and bury them deep under the ground, so that they can't come back to you. It is important to let go of the negativity from your mind, body and soul. And the process of letting go needs a lot of patience and determination.
Like in the above image, empty your heart which is filled from a dark and morose goop and make yourself free from all the negative chain of your life.
 5. Rebuild
This art may seem to be scattered in million pieces and there is no chance of getting collective again. But this picture gives a different outlook. It might be that this image is taken after depression where art is itself reconstructing and all the pieces are coming towards it. Hence creating a human again!
There are many people who fought depression and their lives turned out to be more colorful and full of happiness. You could be the next if you are determined to change your life with the right perspective.
Now here we will share some of the blissful arts from the artists who have strongly conquered depression.
1. Worry Less, Live More!
2. A smile is the best makeup any girl can wear- Marilyn Monroe
3. The most important thing in the world is family and love- John Wooden
4. Beautiful young people are accidents of nature, but beautiful old people are works of art- Eleanor Roosevelt
 5. A spouse is not a destination but a fellow traveler.
 We're Here To Help You!
 Yes, you can reach out to us at any time! It is important to take good care of oneself. Don't be harsh with your body and mind. Every problem has solutions and all you have to find that answer. Stay calm and relax.
Always remember
"Only you can change your life. No one can do it for you"
You May Like These Also:
How To Tell If Someone Is Faking Depression?
Why Some People Are More Prone To Depression Than Others