Stress Management
Are You Overstressed? Read These Signs And Learn To Overcome
Last Update on March 29, 2023 : Published on March 30, 2023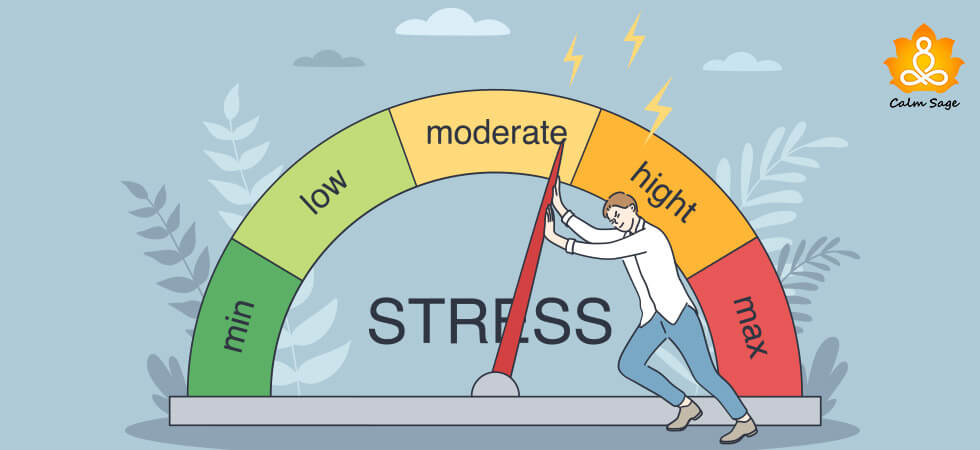 We often use the term "overstress" without even realizing the exact meaning, symptoms, and causes. Do you know that stress can have physical, emotional, and mental symptoms?
Whether you're working on beating a deadline or organizing your friend's wedding party. You can't run away from the stress that comes with the tasks on a regular basis! However, the way we react to stress is different for everyone.
Feeling stressed on a regular basis can be obvious to some however for some it could be severe. Such type of stress can be referred to as overstress. Overstress is experienced when the stress becomes detrimental to mental and physical well-being. Overstressing can cause body deterioration.
Therefore, it is really important to control it before it becomes severe. But how can you know if the stress you're experiencing is normal or overstressed? Well, don't worry, in this blog, I have enlisted some common signs of overstress along with the ways to overcome them. So, let's get started!
Overstress in a nutshell…
Overstress happens when we are too much stressed or excessively stressed about someone or something. Overstress can have physical, mental, and emotional impacts on well-being.
Signs You May Be Overstressed
1. Changed sleep pattern
When we regularly wake up feeling groggy or tired, it shows that our sleeping pattern has changed and we are moving in an unhealthy direction. Overstressing causes our mind to be more overwhelmed and directly impacts our ability to fall asleep easily or remain asleep for a longer period. Moreover, feeling tired throughout the day due to a lack of proper sleep is also a sign of overstressing.
2. Feeling depressed
It is quite easy to understand that some major shocking events can develop feelings of sadness, depression, and anxiety. But, sadness or stress that comes along with regular problems like financial issues, relationships, parenting, or health-related problems can cause overstress.
3. Anxious or Irritated- Both
When we experience high levels of stress, excessive stress, or chronic stress, we feel overwhelmed on a regular basis. In short, we are not able to complete daily chores, which can cause anxiousness or irritability, or both at the same time. If you are feeling anxious or irritated most of the time, you might be overstressed right now.
4. Frequent headaches
Due to changes in sleeping patterns, it's quite normal to experience headaches. Frequent headaches are one of the most common symptoms of overstress. Such a headache is referred to as a "tension-type headache" in psychology. "Tension-type headache" feels like someone has band-wrapped the head tightly.
I found one study which revealed that increasing stress specifically in the younger generation is associated with "tension-type headache."
5. Digestive issues
Chronic stress can have other physical health symptoms too such as constipation, heartburn, diarrhea, inflammatory bowel disease (IBD), peptic ulcers, irritable bowel syndrome (IBS), gastroesophageal reflux disease (GERD), and other functional gastrointestinal diseases.
6. High blood pressure
High blood pressure is one of the common symptoms of overstressing. According to Science, when we experience stress, our heart rate and blood pressure tend to rise. Generally, these stressors are short-term and are referred to as situational stress.
However, when we overstress for a long time, the blood pressure keeps rising up slowly and results in severe physical health conditions.
How to Stop Being Overstressed
Here are quick ways to stop being overstressed:
1. Focus on what's controllable
If you are overstressed, maybe you're focusing too much on things that are not in your control.  The truth is that we don't have much control over some things, in such situations all we can do is focus on the things which are controllable.
So, instead of directing your energy to an uncontrollable situation, focus on situations that you can control. In such a way, you will be able to conquer yourself (that's all that truly matters at the end of the day).
2. Practice deep breathing
There are various pieces of research that show regular meditation or deep breathing can make the stress go away in a minute. I found one study covering mindfulness-based therapies which revealed that people who meditate on a regular basis have reduced levels of depression, stress, and anxiety. Research also shows that mindfulness-based meditation helps lowering cortisol levels.
Psychologists also found that meditation can help reduce negative thoughts. Deep breathing exercises are known to be the best way to reduce stress as they help people become more aware of their breathing patterns. Overall, when people are more mindful, they become happier and more peaceful.
3. Simplify your life
Maybe you're juggling so many things right now, this can be the major reason behind your overstressing. But, do you know life is much more than work, chores, kids, and other responsibilities? By simplifying your life, you can gain great control over your life. Try to cut off the extra time you put into fulfilling the responsibilities. Moreover, you can also try to find a solution to living life more simply.
4. Stop dwelling over the past
Our stress directly comes from the negative thoughts that keep juggling in our minds. It's in our hands if we want to choose chaos or peace in life. If you are struggling with excessive stress right now, try to focus on the positive in your life (even if it's little).
Seeing your pet waiting at the door simply lifts our spirit at the end of the day. Try to focus on the little things that bring joy in your life and avoid dwelling on the past.
5. Make time for exercise and good nutrition intake
Sadly, we live in a generation wherein we like to eat packed foods and spend most of our time in air-conditioned spaces. The lack of nature directly explains the reason behind the mental health crisis. Clearly, we are not able to connect with nature. Nature not only helps us to live healthily but also helps us stay grounded.
Proper exercise and nutrition intake can help our body function correctly and remove toxins from our bodies on a regular basis. Study shows that proper nutrition and exercise can help lower the symptoms of depression and anxiety.
Overstressed Symptoms Can Be Manage Through Therapy
I hope this blog helps you with the signs you may be overstressed along with ways to overcome it. Comment down and share your views on the same.
For more such content, connect with us on all social media platforms.
Thanks for reading!