Mental Health
This Father's Day, Here's How You Can Support Your Dad's Mental Health
Last Update on June 10, 2022 : Published on June 12, 2022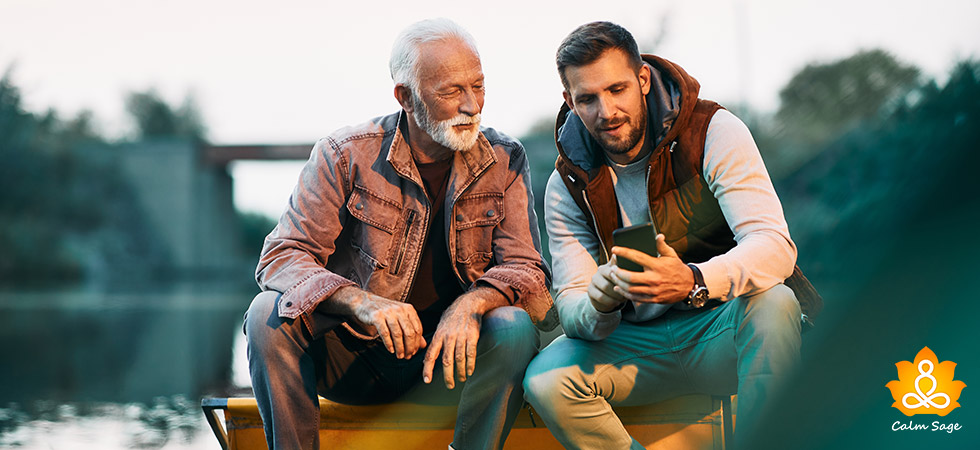 Dads are the ever-flowing energy, love, and guidance resource, aren't they? They are there (albeit silently) when we need them the most and even when we don't. His presence can be our silent yet unmovable support. But who's his?
With Father's Day right around the corner (June 19th, FYI), let's give our fathers the best gift of all by supporting their mental health. I mean, let's be real; your dad is not going to be using the wine opener kit you're thinking of gifting him. (Trust me, I know!). So what can you give your dad that he'll appreciate?
This Father's Day, before you think about buying the right present, ask him a question, "How are you really feeling, Dad?"
Did you know that every two in five men struggle with poor mental health and disorders such as depression, eating disorders, schizophrenia, and anxiety? Men's mental health is as important as women's mental health and more so because men are less likely to open up and seek help when it comes to depression, stress, anxiety, and other mental health conditions.
If you're worried about your dad struggling with poor mental health, here is a guide to help you help your dad this father's day.
Men's Mental Health Matters Too
Father's Day can be a great opportunity to promote your dad's mental health. A healthy dad makes for a healthy household after all. A father who puts his mental health first can be happier, be present with his family, and be a more supportive spouse. Dads do struggle with depression, especially new dads. (Yes, postpartum depression in men is real too)
With the right support though, your dad's mental health can get better. Keep in mind that when a dad struggles with mental issues, the whole family may struggle. If you're concerned about your dad's mental health, then here are a few signs that can help you understand men's mental health better.
Depression is more than sadness and anxiety is more than just over-worrying. Here are a few subtle and some not-so-subtle signs you need to look out for in your dad:
Increased aggression and anger
Increased irritability
Changes in appetite
Changes in sleep patterns
Increased restlessness
Increased use of alcohol and recreational substances
Sudden (and unexplained) changes in mood
How To Support Your Dad's Mental Health?
This Father's Day, give your dad the gift of support. Some dads need more than a greeting card or a gift they're not going to use. Men struggling with poor mental health are less likely to ask for help so let us, the children, take the initiative and support our dad's mental health.
1. Spend Time With Your Dad
Did you know that social withdrawal can worsen existing mental health problems? As your dad gets older, he's likely to lose connection with his friends and many older men have limited social support available to them. Make sure that this Father's Day you spend some extra time with your dad. If you live far away from him, then text or call him.
2. Hang Out With Him
If you're living near or with your dad, then make sure you hang out with him one-on-one this Father's Day. If you feel that you need to talk to your dad about his mental health and mood, then make sure you do so in a place where you get the least distractions. It can even help him open up when you're doing something engaging such as playing video games, playing golf, or just sharing a meal in a cafe.
3. Be Straightforward But Politely
Dads like to be straightforward, at least mine does. They rarely like it when you beat around the bush so try to be straightforward with them when you're conversing about their mental health and care. Tell your dad about what you're witnessing and what you think might be going on with him. Ask him directly, "You seem angrier these days. Are you feeling OK?" Share what you've noticed in his behavior and let him carry the conversation.
4. Offer Him Help
Sometimes, it is the little things that can make your dad feel more agitated than normal. If you feel that your dad seems more stressed lately, then offer him your help. Offer to pay the bills, make the doctor's appointments, tend to the garden, or do other things that your dad normally takes care of. Lend your hand to your dad this father's day.
5. Talk To Him About Therapy
The majority of men don't think about therapy in a positive light and that can be more than likely because of the stigma associated with mental health and therapy. This father's day, sit down with your dad and talk to him about therapy and its benefits. Let him know that therapy is not all about sharing your private thoughts but is also about finding easy solutions to everyday issues.
6. Encourage Him To Open Up
Dads are notorious for keeping things to themselves. If your dad believes that therapy is a sign of weakness then you can help them realize that seeking help is a sign of strength and can help him take care of his everyday problems. Encourage him to open up, if not to a therapist, he can to you. Let him know you're there for him.
Writer's Thoughts
This Father's Day, let's give our dads the gift of mental health care. Spread awareness on men's mental health and watch for the symptoms of poor mental health in your dad with the above-mentioned signs.
Men struggle with mental health issues too but are less likely to open up and seek help. With the right support and help, poor mental health can be treated. Therapy is the best option.
A healthy dad equals a healthy family! For more, you can connect with us at info@calmsage.com or DM us on our social media.
You can also share your thoughts with us in the comments section below. Don't forget to share this blog with your friends and family and help them learn how to support your dad's mental health this Father's Day.
Take Care! The Calm Sage Family wishes all the dads out there a very Happy Father's Day!
Lots of Love!