Autism
Weighted Blankets Can Help Comfort Autistic Adults | Benefits & Effectiveness
Last Update on April 7, 2023 : Published on April 8, 2023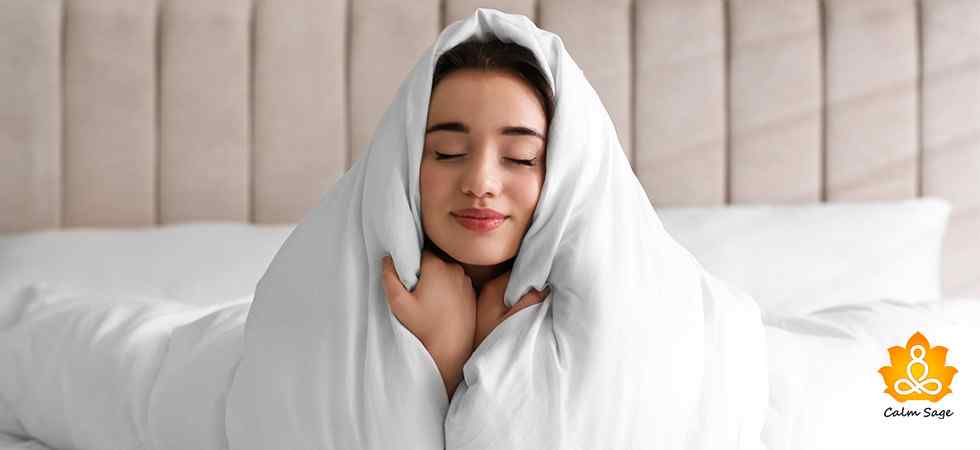 What the warmth of a tight and loving hug brings can be as comforting as a hot cup of tea on a rainy day and as calming as basking in the warmth of the fireplace on a snowy night. You would agree with me when I say that a warm hug can fix anything. The relief that courses through your body and mind when you know you're loved and protected can be a rewarding experience.
I'll be honest with you. I'm a sensitive person and anything too loud or too sudden can overwhelm me and cause sensory overload. Whenever I've experienced a sensory overload, I look for a sweet shop. Eating a sugary treat can be comforting for me and help me calm my overworked senses.
Now, that's just me. But some people find the power of a hug comforting. If you or a loved one has autism or frequently experiences sensory overload, then a physical embrace can be soothing for them. However, seeking a physical embrace can't be practical all the time, right?
Enter – weighted blankets!
A weighted blanket can be a practical solution that can offer anyone, especially people with autism who might not be comfortable with spontaneous physical touch – comfort and soothing pressure to relieve anxiety.
Let's take a look at how weighted blankets for adults with autism help and how effective they can be for calming sensory overload in autism.
What Are Weighted Blankets?
Weighted blankets look no different from your regular blankets and can come in many different colors, sizes, and weights. However, weighted blankets have an advantage over regular blankets. Manufacturers of weighted blankets add filler that evenly distributes the weight and provides pressure that can mimic a sense of security and protection.
Some manufacturers use plastic pellets, Styrofoam balls, or even glass beads as fillers. If we talk about the weight then you can find weighted blankets from 3 lbs. (1.3 kilos approx.) to 35 lbs. (15 kilos approx.)
For people living with ASD or autism spectrum disorder, anxiety, and sleep are the biggest issues they have to struggle with. Weighted blankets can act as tools for autistic children and adults to help calm and comfort their restless energy. Occupational therapists often recommended weighted blankets for autism over regular heavy blankets.
Let's look at what research says about the benefits of weighted blankets for autism.
Weighted Blankets for Autism: The Benefits
Sensory integration theory suggests that asserting deep pressure has a calming and soothing effect on the nervous system in hypersensitive people or those with an autism spectrum disorder. Sensory issues are a common concern in autism. Autistic children and adults may crave touch but would also be hesitant towards it.
If an autistic person is touch-sensitive, then anything from holding hands to a hug can be distressing and painful. They may withdraw from touch, refuse to wear certain clothes, refuse to eat food with certain textures, and keep contact with others minimal. Using weighted blankets and even vests can help ease hypersensitivity.
People with autism have a lower perception of their senses and body awareness. Bodies have receptors that send constant messages to the brain about movements and positions. Being able to sense body movements and sensations can have a grounding effect and allow better control over the body and its reactions.
But the real question is – are weighted blankets for autism effective?
The Effectiveness of Weighted Blankets for Autism
Well, there is limited research when it comes to proving the effectiveness of weighted blankets for adults with autism. Many studies, even today, cite the 1999 "hug machine" to prove how deep pressure can help autistic adults. However, despite the popularity of weighted blankets, there are not many studies that can be cited to prove their effectiveness.
In a 2020 review, it was found that weighted blankets were effective in reducing anxiety, but there was not enough evidence that supported the effectiveness of the same with insomnia.
In another 2014 study that researched the benefits of weighted blankets and autism, no significant results were found regarding sleep improvements, however, people who participated in the study still preferred weighted blankets to regular heavy blankets.
Contrary to the previous studies, 2021 research found that autistic individuals with ADHD helped improve sleep, increased daytime relaxation, and a better morning routine. The result of these studies showed a decrease in time to fall asleep and a better mood in the morning. Unfortunately, the results were not found significant enough.
Are There Any Risks in Using a Weighted Blanket?
Weighted blankets should be at least 10% of your body weight, as recommended by manufacturers. How you want to use them depends on your preference as well. For young children, the proposed body weight to blanket proportion is not always safe but for adults, it could be practical.
Weighted blankets used by children can be risky too as it increases the risk of suffocation. Talking to a professional healthcare provider can help determine the suitable weight for children.
Weighted blankets are also not recommended for people who have or are at risk of developing;
Respiratory disorders (asthma, etc.)
Sleep apnea
Low blood pressure
Diabetes (Type II), and
Claustrophobia
Wrap Up
Living with autism spectrum disorder, hypersensitivity, anxiety, or even ADHD can be challenging and cause significant distress in performing day-to-day activities, including sleeping. When everything poses difficulties, weighted blankets can come in handy and offer ways to improve your anxiety, calm you down, and improve your sleep quality.
Studies over the years have found significant benefits in using weighted blankets for autism, but unfortunately, the results are limited and do not offer more in terms of effectiveness. Even with the research provided, it is believed that weighted blankets can provide some comfort to autistic adults and children who might be sensitive to touch.
If you or your loved one is living with autism spectrum disorder and struggling with sleep and feeling calm, then there's no harm in trying weighted blankets as a comfort tool. It is recommended that you speak to a healthcare professional before making a decision. They can help you make a suitable choice too.
I hope this article helped you understand the benefits of weighted blankets for autism. For more, you can write to us at info@calmsage.com or leave us a message on our social media. Let me know what you think about this article in the comments below.
Take Care!