ADHD
Is There A Link Between ADHD & Hoarding?
Last Update on March 4, 2022 : Published on March 6, 2022
In a recent development, researchers found a link between attention deficit/hyperactivity disorder (ADHD) and Hoarding disorder. For several years we were aware of a link between Obsessive compulsive disorder (OCD) and hoarding disorder.
But only recently we found that ADHD is even more closely associated with hoarding disorder than OCD. Well, several mental health conditions foster or influence other conditions and researchers have been trying to learn more about ADHD and hoarding disorder.
According to a study published in the Journal of Psychiatric Research, found that almost 1 in every 5 people With ADHD exhibit symptoms of hoarding disorder. Now, it makes it clear that ADHD can foster symptoms of hoarding.
Want to know if ADHD can cause Hoarding disorder? Read on…
What Is Attention Deficit Hyperactivity Disorder (ADHD)?
Attention Deficit Hyperactivity Disorder (ADHD) is a mental health condition where you either suffer from inattentiveness or hyperactivity or sometimes both. ADHD usually begins in childhood, can contribute to decreased self-esteem, difficulties in completing regular tasks properly, troubled relationships, etc.
Listen to Podcast Ep. 29 – Learning About ADHD: Understanding The Struggle to understand ADHD better.
According to Anxiety & Depression Association of America (ADAA) Attention Deficit Hyperactivity Disorder (ADHD) is one of the mental health conditions which shows the highest association with hoarding disorder.
Is Hoarding A Recognised Mental Illness?
According to International Classification of Diseases (ICD)- 11 (2018) hoarding disorder can be classified as a clinical condition which requires proper treatment. A hoarding disorder can be described as the uncontrollable procession of multiple things and an inability to get rid of things not in use to them.
Symptoms of hoarding may be present in a lot of people but it doesn't become a mental health condition till the hoarding of things doesn't interfere with their quality of life and day-to-day activities.
Also read: Hoarding Disorder: Causes, Types, And How-To Help
Is Hoarding Related To ADHD?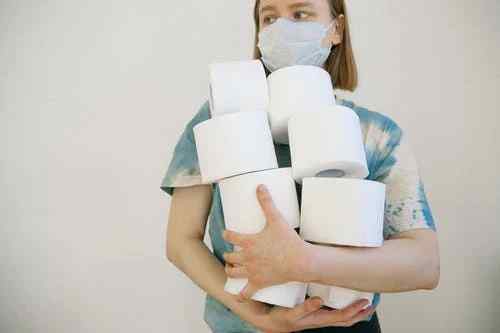 The link between ADHD and hoarding disorder is a fairly new development and there is a lot we do not know about the relationship between the both. There have been various studies that indicate that ADHD can cause someone to develop Hoarding symptoms.
A study conducted in 2010 examined OCD, ADHD and hoarding behavior and found a link between ADHD and hoarding behavior. Another study followed in 2011 found out that an increase in ADHD symptoms predicted an increase in hoarding symptoms.
Such studies make the argument even stronger that ADHD and hoarding symptoms are correlated with each other. Because of the lack of more research work on the relation between ADHD and hoarding disorder we still can't be sure if ADHD truly comorbids with hoarding behavior.
How To Stop ADHD From Fostering Hoarding Disorder?
ADHD is characterized by their inability to make better decisions and their problem with paying attention. This can increase the chances of developing hoarding behavior. It's very important not to add to your struggle and that's why you need to know how to prevent ADHD from turning into a hoarding disorder.
Here's what you can do;
1. Schedule a slot to declutter: although it is difficult for you to prioritize if you have ADHD, designate a slot in your calendar just to declutter and clean your living space. Do it as a ritualized activity.
2. Experiment with your decluttering methods: decluttering can be confusing, you will not know what to throw and what to keep. You can divide your stuff in different categories and keep only what you need in each category or considering the size of your home, keep what fits and let go of things that don't. Declutter using different methods.
3. Hire someone to regularly declutter: sometimes it can be very difficult to let go of things if you have developed hoarding tendencies. The best case scenario here can be to hire someone to do the job for you.
4. Seek professional help: there is no harm in asking for help! If your ADHD is starting to turn into hoarding, talk to your therapist. They can help you with your ADHD as well as Hoarding behavior.
Things To Consider…
Attention deficit hyperactivity disorder (ADHD) and Hoarding disorder are two different mental health conditions with severe implications on your quality of life. There is a high possibility, according to recent research, that they can coexist in an individual.
If you are worried about your ADHD fostering hoarding tendencies do not shy away from getting professional help. There are various therapies and medications that can help you reduce the symptoms of ADHD and hoarding disorder.
That's all for today!
I hope you found this piece of information helpful in understanding the link between hoarding disorder and ADHD.
Thanks for reading!
Take care and stay safe.