Happiness
Let Zentangle Take All Your Worries Away| Your Zentangle Guide
Last Update on December 12, 2022 : Published on September 19, 2020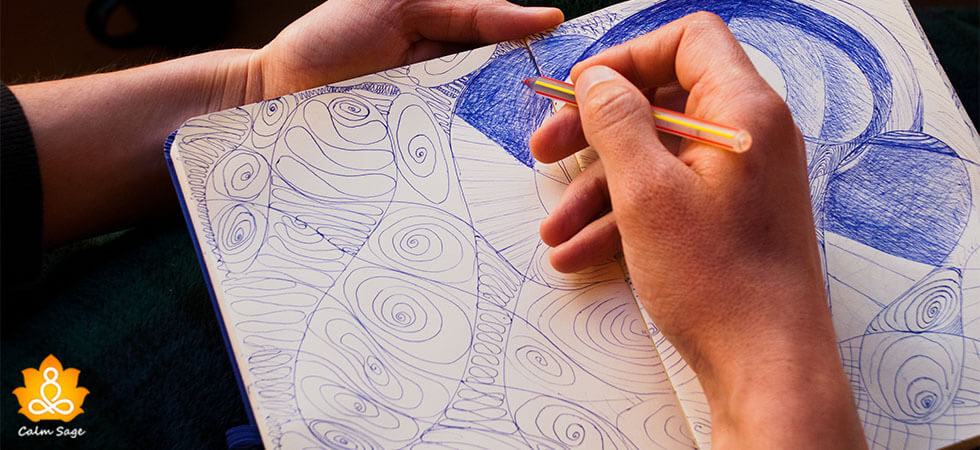 We've explored the many benefits of art, drawing, and doodling on our mental health, but now I'm bringing to you a new and relaxing practice of Zentangle! Combining simple drawing techniques with meditation, you get a relaxing Zentangle art therapy. The idea of this Zentangle art is to relax and create a fun yet beautiful piece of art.
Zentangle is a relatively new art technique that draws on methods we've seen being used for centuries. Yes, it is similar to doodling. You don't start with an image or picture in mind, instead, you let your mind and hands guide you through your art. There's never a pre-planned thought about what you'll be drawing in your Zentangle art therapy.
The best part of this art is that when you're in the right mindset, you can achieve a zen state. Other benefits of Zentangle can include;
Getting creative
Relieving anxiety, and
Generating happiness
Sounds like nothing less than a perfect skill to learn! Doesn't it?
So, if you are planning to learn something to distract yourself from your worries then let's learn how to Zentangle!
What Is Zentangle Art Therapy?
Zentangle art is a stroke-based art technique that is created on paper which is referred to as a "tile." On that tile, you create tangles (abstract patterns). These patterns can be of any shape, curvy line, dots, or more.
They are mindful and focused ways of creating pattern designs. Traditionally it is made on a 31/2 X 31/2 tile hence it is called a zentangle.
The best part is that this art-based therapeutic tool doesn't call for any artistic skill of yours. Be fussy and be free.
Art Supplies for Zentangle:
To practice this therapeutic art-based exercise here are some art supplies that you might need:
Plain paper/sheet (square-shaped).
Pen (preferably black).
colors (optional).
Now that you know what Zentangles are, time to learn the process to apply them to your life.
What Is The Purpose Of Meditative Drawing?
Meditative drawing techniques like Zentangle can help you relax your body and mind while reducing your stress. These meditative drawing techniques help you enter a zen-like state where you're free of worries. Another great benefit of meditative drawing is that, at the end of the session, you have beautiful artwork all to yourself.
Did you know that you can use Zentangle art at home to reduce stress and lower anxiety? And what's more, is that many corporations might want their employees to engage in meditative drawing like zentangle to boost productivity, and morale, and reduce stress at the workplace.
Meditative drawing techniques like Zentangle can also be recommended by therapists to help reduce symptoms of depression, anxiety, and other mental health disorders. While it may not be a primary therapy approach, meditative drawings can be a great alternative or complementary therapy approach.
Mental Health Benefits Of Trying Zentangle
Many studies show evidence of how helpful art therapy techniques such as Zentangle can be therapeutic. In a recent study, it was found that zentangle art helped relieve stress, reduce workplace stress, and frustration, improve self-esteem, and even increase productivity and motivation at work.
Overall, it was found that not only physical health improved by engaging in zentangle art therapy but also mental and spiritual well-being saw an improvement.
Another similar research concluded that engaging in zentangle art could improve overall well-being and with enough practice and sessions, the art can also help improve self-compassion and reduce anxiety.
While the research on the benefits of zentangle on mental health is still limited, there have been studies that indicate that zentangle art can help with anxiety, stress, happiness, and overall wellness.
8-step guide to make a Zentangle:
Step 01 – Gratitude and Appreciation
Sit at a comfortable, take a few deep breaths and let the feelings of gratitude and appreciation swipe in. Feel gratitude for the beautiful paper that you will be using, for the wonderful tools in front of you, and for this chance to create something.
Step 02 – Corner Dots
After filling yourself up with a warm feeling of gratitude we move to the action part. Place your paper right in front of you and mark a light pencil dot in each corner, about a pen's width from the edges.
Step 03 – Border
Time to make your border. Connect the four dots with a light pencil line. This line can be straight or curvy, the purpose of it is to create a square.
Step 04 – String
Inside the border, draw a light pencil line or lines to make what we call a "string." The purpose of the string is to separate your tile into sections, in which you will draw your tangles. Again a string can be any shape.
Step 05 – Tangle
Now set yourself and your imagination free because it is time to start with your tangles. Draw your tangles/strokes with a pen inside (usually). Draw your tangles with deliberate strokes. While you draw don't worry about what it's going to look like, keep your focus on each stroke of the pen as you make it. Also, feel free to rotate your tile in any direction that is most comfortable for your hand as you draw.
Step 06 – Shade
Now, add shades of gray with a pencil to bring contrast and dimension to your tile. The black and white two-dimensional tangles transform through shading and appear three-dimensional. You can also soften and blend the shade that you add to your tangles.
Step 07 – Initial and Sign
Tadaa! Your art is ready. Just sign it, put your initials on the front. On the back, place your name, date, comments, and observations.
Step 08 – Appreciate
Let us end where we started from- appreciation! Hold your art in your hands. Appreciate what you just created.
P.S. I am proud of you!
Did you enjoy it? Do share your Zentangle with us!
Author's Zentangle Story
I came across this art therapy exercise during my certificate course along with my friends. My friend was going through a tough phase and would hardly attend the classes. After motivating her for a couple of weeks she finally agreed to come for the class. That day the Zentangle class was organized.
She tried this therapeutic art form and couldn't believe the kind of relief she got. She then picked it as a skill and a life tool that helped her heal through her tough times. That's when my belief and practice for Zentangle got stronger. So, I will definitely recommend this practice to you and see positive changes in your life.
Sharing a Zentangle art by my friend with you: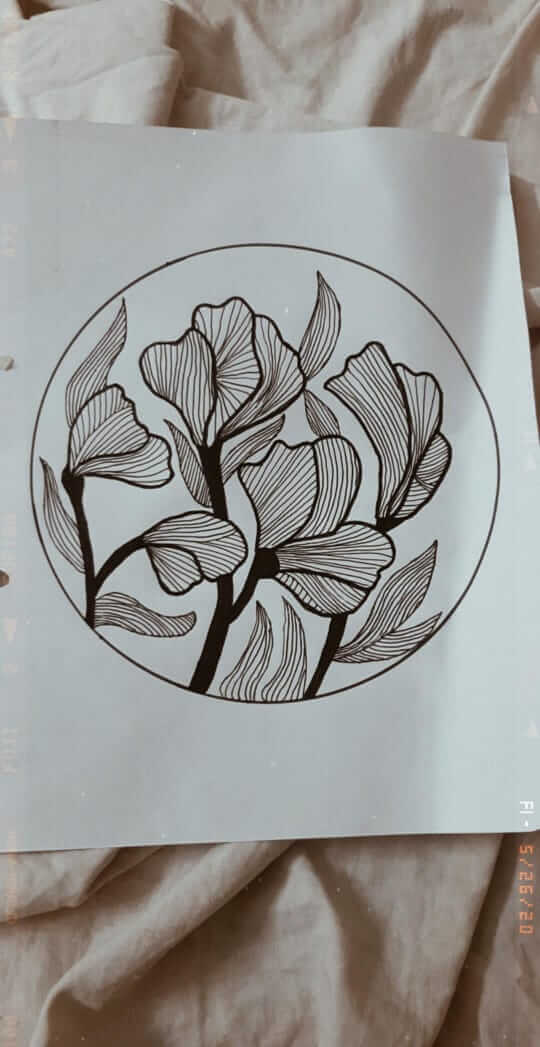 Books to learn more about Zentangle:
1. One Zentangle A Day: A 6-Week Course in Creative Drawing for Relaxation, Inspiration, and Fun (One A Day)
2. The Great Zentangle Book: Learn to Tangle with 101 Favorite Patterns
Videos on Zentangle:
1. Easy- 20 Zentangle Patterns for Beginners

2. Zentangle for Beginners – Step by Step Tutorial for How to Draw a Zentangle
We hope that you will surely try this new therapeutic habit and enjoy its benefits. After all,
"One Zentangle A Day Keeps All Your Worry Away"
I hope you liked this article. Feel free to share your thoughts with us on the practice of Zentangle in the comments below or write to us at info@calmsage.com for more. Don't forget to follow us on our social media channels to stay updated on our content!
Enjoy and stay safe!
Enjoy…