LGBTQ
What Is The Importance Of Celebrating Pride Month?
Last Update on June 10, 2022 : Published on June 10, 2022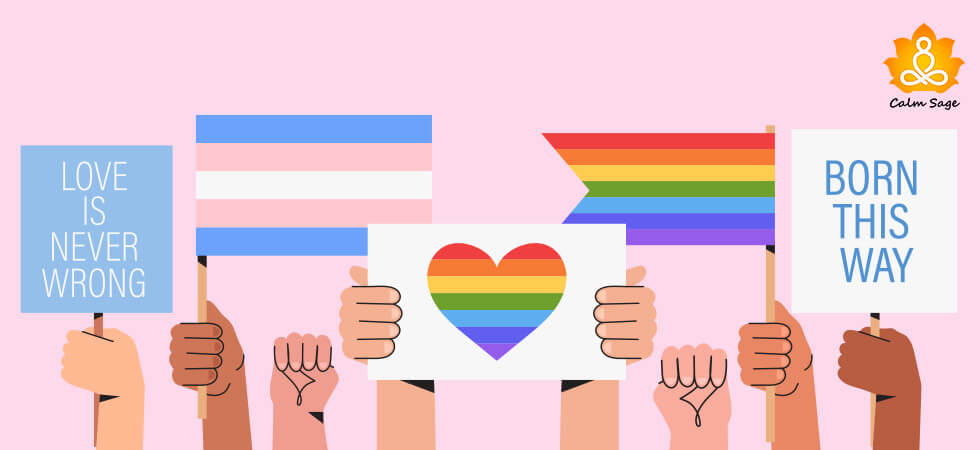 Every year, JUNE is celebrated as Pride Month. The purpose of pride month is to spread awareness about the LGBTQ+, celebrate their achievement, honor their struggles, step up in support for the LGBTQ+, advocate for their rights and equality, etc.
The past few years have seen a lot of improvement when it comes to acceptance and rightful treatment of the LGBTQ+ community. Having said that, we still have a long way to go because even today the community is facing a lot of stigma, ill treatment, discrimination and what not.
This is why it is important to celebrate pride month because there's a lot of room for improvement. The pride month is not just to mark the existence of the LGBTQ+ community but to embrace their presence and help them grow. We are all made of flesh and blood, no one's different from the other.
Men discriminate, love doesn't!
What Is Pride Month And Why Is It Important?
The entire month of June is dedicated to the LGBTQ+ community, therefore, June is known as the pride month. During the pride month people from all over the world come together to celebrate and honor the 1969 Stonewall Uprising in Manhattan.
Initially the last sunday of the month of june used to be celebrated as the pride day but soon the day turned into weeks and finally a long series of a month. Ever since, every year the month of june is being celebrated as the Pride month.
Why is it important? Till the year 1973 homosexuality was considered a mental illnes. Only in the year 1974 the American Psychiatric Association (APA) declared that there is nothing wrong with homosexuality and it will no more be considers as a mental illness.
It still has a lot of stigma attached to it, in order to reduce stigmatization and increase awareness and acceptance, the entire month of june we specially talk about LGBTQ+ community, we rally, have picnics, do parades and what not to show our acceptance, love and honor for our beloved community.
Also read: This Pride Month Let's Learn How To Support LGBTQ Community
Why Are Pride Events Important?
There is no denying the fact that even in the 21st century a large amount of our population still believes that belonging to the LGBTQ+ community is either an illness or pure madness or abnormal.
Each pride event aims to tell people how natural and normal it is to have different gender identities and sexual orientation or preferances. Pride events are organized to help the community feel loved and supported, the main focus is to spread awareness & acceptance and advocate LGBTQ+ rights!
Understanding The Purpose Of Pride Month (The Importance Of Celebrating Pride)
Did you know thailand one of the largest number of visible LGBTQ+ community living in the country but the community still faces a lot of stigatization and discrimination towards them? In fact this year Thailand witnessed its first pride march which is sure to render courage, strength, and the feeling of belongingness to the LGBTQ+ community of thailand. This is the purpose of pride month, to stand in support of them and help them voice their struggles and achievements.
The purpose of pride month is to minimize the struggle and challenges faced by the LGBTQ+ community. Let's look at a few challenges the LGBTQ+ has to deal with on a daily basis which is proof enough to acknowledge the importance of pride month;
Stigmatization & descrimination,
Ignorant Anti-LGBTQ+ laws,
Harmful treatments like conversion therapy not being banned,
Gender and sexual Minority stress,
Mental health issues like anxiety, depression, Post Traumatic stress disorder, etc
Lack of social acceptance & Self Acceptance,
Feelings of hopelessness and worthlessness,
Less gender affirming care facilities,
Dealing with homophobia, transphobia, etc
These are only some of the common challenges that the LGBTQ+ community has to deal with everyday. LGBTQ+ couples  can easily have a baby and if they manage to become parents their children have to struggle a lot to even get admitted in schools. There are many such challenges that stop the LGBTQ+ community to lead a happy and peaceful life. Such things make the PRide month even more important and purposeful.
Also read: Pride Guide 101: Glossary of Gender And Sexual Identity Terms
Why Is It Important To Celebrate Pride Month?
It is important to celebrate pride month because it comes along with a bundle of benefits for the LGBTQ+ community, their allies, supporters, friends & family. The stigmatization and descrimation directly hits their mental health along with their physical health.
Let's look at some of the benefits of celebrating pride month to understand the importance of pride month in it true sense;
Pride month celebrations offer support and belongingness,
Pride month celebrations reduce loneliness,
Pride month celebrations provides opportunity for the LGBTQ+ to increase their social circle,
Pride month celebrations increasing connectednes which reduces suicidal behavior,
Pride month Celebrations reduce mental health symptoms since it has therapeutic benefits, it defying all their negative thoughts,
Pride month celebrations make the LGBTQ+ community feel loved and accepted,
Pride month celebrations removes stigma and spread awareness
Pride month Celebrations provide opportunity to advocate equal rights and treatment for the community, etc
Also read: Bi-Curious Or Bisexual? This Is What Being Bi-Curious Means
That's All Folks!
I hope this blog helps you understand the importance of celebrating pride month. The purpose of pride month is to promote acceptance, spread awareness and celebrate and honor the LGBTQ+ community. Do share this blog with friends and family so that we all are aware of the importance of celebrating pride month.
Thanks for reading.
Happy Pride!
Take care and stay safe.