Mental Health
Moodfit App Review: An App For Bracing Up Your Mental Health!
Last Update on May 15, 2023 : Published on May 15, 2023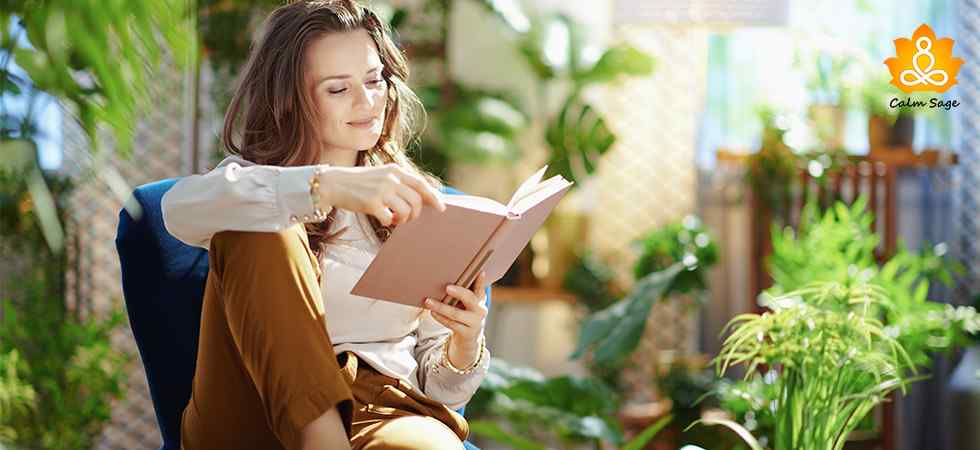 Moodfit was recognized as the "Better overall mental health app of 2020 and not only this but this app was selected by the 'American Nurses Foundation for Supporting Nurses' mental health and resiliency. From all of the recognitions of this app, one thing I understood before reviewing is that it is going to be an amazing app and I am going to have a lot of pleasure using this app.
In this blog, I have reviewed the Moodfit app on the basis of my experience, features, specifications, user reviews, and ratings, the working process, pros and cons, and a lot more.
Let's see if this app stood up to expectations or not!
A Small Description and Overview of Moodfit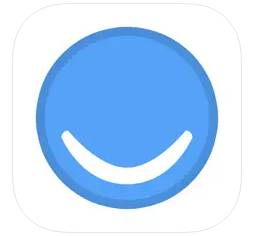 Complete Profile of Peace Lily Plant
| | |
| --- | --- |
| Reviewing | Moodfit App |
| Category | Health and Fitness |
| Cost | Free (In-App purchases available) |
| Platform Supported | Android & iOS |
| Languages Supported | English |
| Size | 122.4 MB |
| Specialty | Mood Journal, Daily Goals, and Self-Care |
| Our Ratings | 4.8/5 |
Download: Moodfit for iOS | Moodfit for Android
Moodfit app can be used for improving your overall mood and minor symptoms related to mental health issues like depression, anxiety, or stress. Moodfit can prove to be your best companion for supporting you to achieve goals, self-care, and healthy habits on a regular basis. Moreover, users can also get actionable insights for exercise, meds, sleep, and more.
This app is a complete set of journaling that helps users in processing their thoughts. The best part is that the journaling feature is developed on the principles of cognitive behavioral therapy (CBT) which helps in reducing anxiety. Not only this, but users can also find breathing exercises, gratitude exercises, and mindfulness-based meditation techniques. There are other multiple features of using Moodfit, let's discuss them in brief in the next section.
Features of Moodfit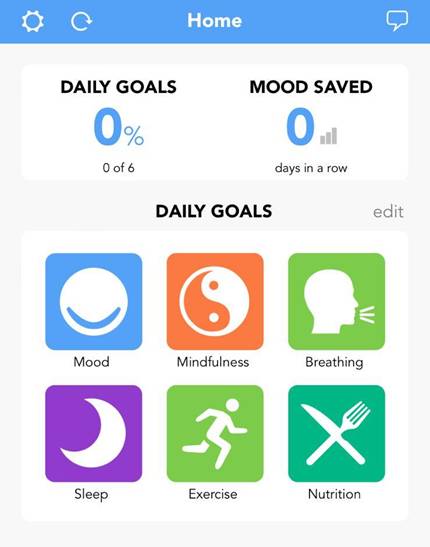 Below is the list of features and tools provided by the Moodfit app:
Breathing exercises
Cognitive behavioral therapy (CBT): This module helps in replacing negative thinking with positive thoughts. It helps in identifying the distortions and converts them into building healthy habits.
Daily goals and self-care: This feature allow users to take the help of daily goals settings tool wherein users can practice mental health workouts on a regular basis. Additionally, it also provides self-care practices thathelp in altering the ways of thinking.
Gratitude journal: This journal helps in finding the right balance of positives in life. This can be a life-changing tool for many users.
Medication tracking: Medication tracking allows the tracking of mood-related medications. It also provides a list of effects and side-effects so that users can take the help of the right approach.
Mindfulness meditation: Mindfulness-based meditation is effective and can heal many issues related to mental health. This app covers the basics of meditation that help users accomplish their goals.
Mood journal: Mood journal helps in processing the user's thoughts and feelings. It also helps in regular check-ups with yourself. It is really effective for improving mood.
Sleep and lifestyle: The sleep and lifestyle module of Moodfit helps in tracking, learning, and increasing awareness related to lifestyles like nutrition, exercise, socializing, and sleep.
Therapy companion: Users can also use this app for working with coaches or therapists. Users can share their mood charts, tracks, and other variables for gaining a better understanding with their therapists.
Summary reports: Users can also download a weekly or monthly report that helps in identifying their patterns, progress, and activities.
| | |
| --- | --- |
| Reviewing | Moodfit App |
| Tools | Mood journal, CBT, breath work, mindfulness, sleep, gratitude, nutrition, and more |
| Insights | Personalized reports, tracking, and charts |
| Education | Reminders, notifications, inspirational articles, and more. |
| Activities | List of activities and customize activities |
| | option (sleep, exercise, nutrition, and more) |
| History | To access or track the past activities or goals users have achieved in a time length |
Steps to Use Moodfit App for Boosting Your Mental Health
Step 1: Download and install the Moodfit app on your iOS or Android device.
Download: Moodfit for iOS | Moodfit for Android
Step 2: After installing the application on your device, you will have to create an account for the app which is completely free.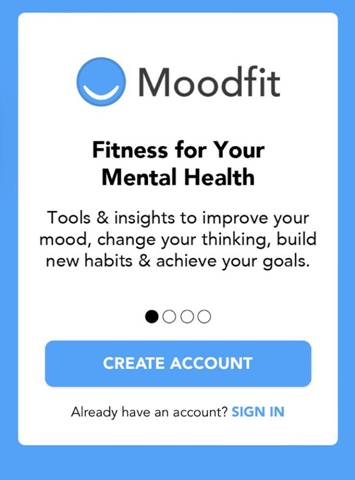 Step 3: After creating an account on the app, you will be welcomed with a quick motivational note and settings to allow notifications. The notifications sent by the Moodfit app are really inspiring in that they can help you reach the mental health goals you've set.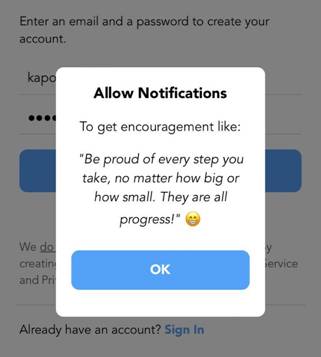 Step 4: After allowing the notifications, you will enter the homepage wherein you will be able to find % of goals achieved, mood saved, and daily goals tools (such as mood, mindfulness, breathing, sleep, exercise, and nutrition. The bottom page consists of direct links for better customer experience such as activities, history, insights, and tools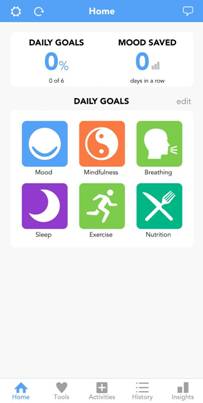 Step 5: From the home page, you can select the goals you wish to set for yourself. For example, a below-mentioned screenshot can be used as a reference for setting your goals.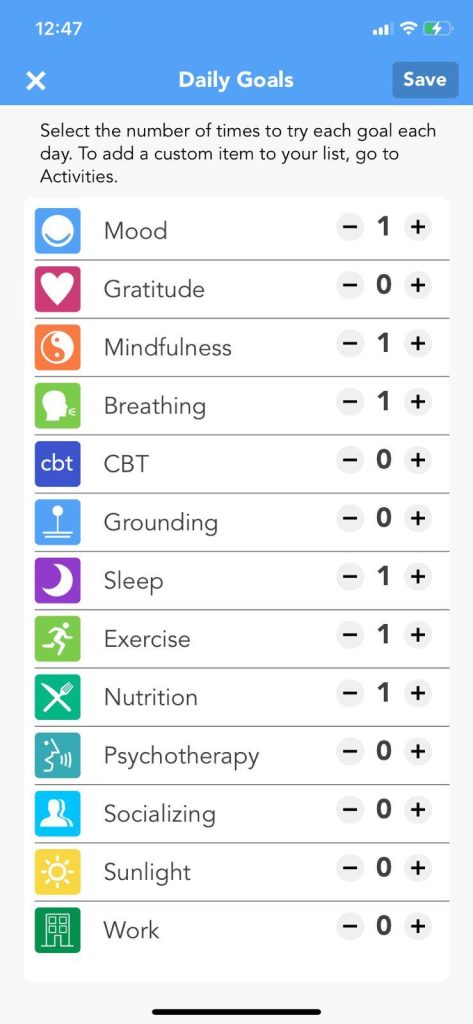 Step 6: After setting your goals, click on the activities to reach your desired goals. From this section, you can also create custom activities that can help to boost your goals.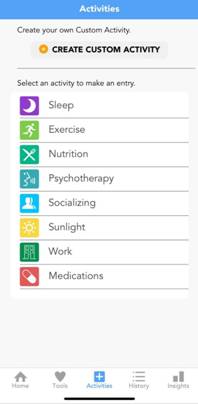 Step 7: After setting the activities, you can look out for goals, history (for better understanding), tools, and a homepage for setting goals and boosting your mental health.  In this way, you can use this app every day for your regular dose of mental health and to improve your overall well-being.
Cost and In-App purchases of Moodfit
Moodfit is free to download but in-app purchases are available. Below is the detailed pricing plan of Moodfit:
Download: Free
Pricing Model: Free
Free Trial: Yes
It is an easy-to-use app with efficient management services. Some in-app purchases are available. Purchasing plans include upgrading to the premium version of the Moodfit app. Moodfit Premium Subscription begins from $9.99 to $19.99
Pros and Cons of Moodfit
| | |
| --- | --- |
| Pros of Moodfit | Cons of Moodfit |
| Safe to use | Some important features are missing |
| Improvement can be seen | Privacy content should be added more |
| Fixes bugs with each update | The app can work a little bit slow sometimes |
| The support provided is incredible | |
| Mobile apps work really well | |
| Well-designed app | |
| Cost-effective premium plans are available | |
Final Verdict and Key Takeaways
Overall, it is one of the best mental health improvement apps I have ever come across. It really stood through my expectations. I really loved using the journal section. Moreover, I used this app for 10 consecutive days and I was really able to build positive habits because of their notifications and inspirational articles. The best part about using this app was the information I was served with during achieving goals. For me, the nutrition section worked pretty well.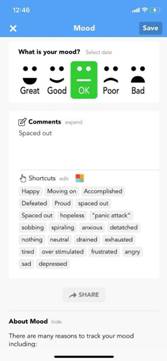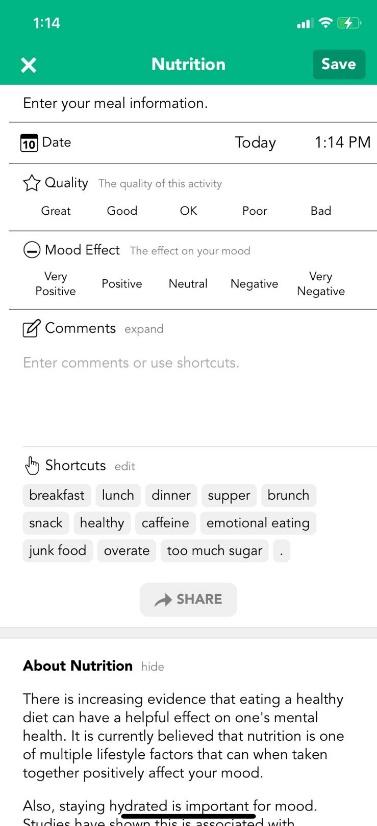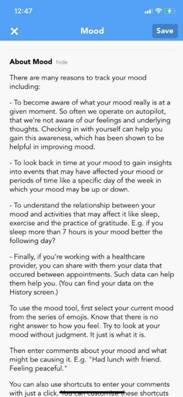 I hope this blog helps you with a detailed review of the Moodfit app. Comment down and let us know your experiences related to this app. For more such content, connect with us on all social media platforms.
Thanks for reading!