Depression
Psychosomatic Illness: Symptoms, Causes and Treatment!
Last Update on February 7, 2022 : Published on February 6, 2022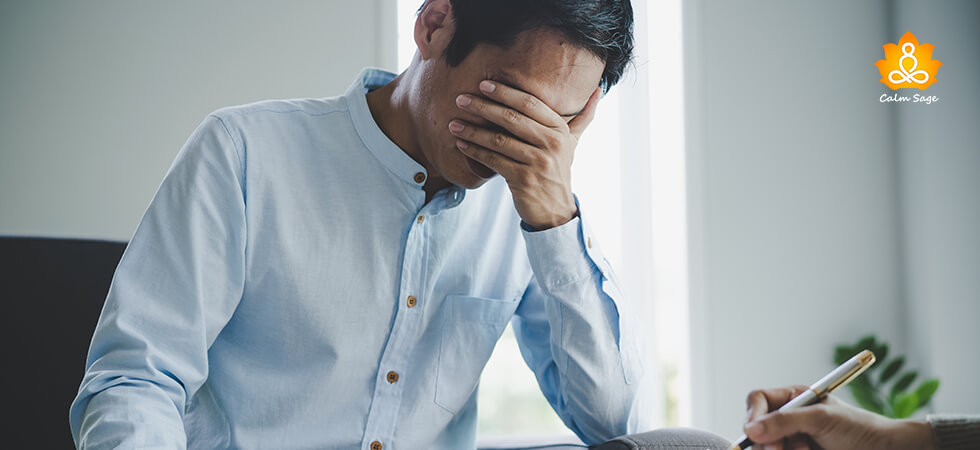 Do you know about psychosomatic disorder? Psychosomatic illness is a psychological condition where you claim to experience some physical symptoms and discomfort but these symptoms have no medical explanation.
Basically, all your tests come clear in spite of you going through a lot of pain and discomfort. So, if you have developed a psychosomatic illness, you probably will be given a clean chit from your doctor.
That's the cue for you to look for a mental health professional to help you with your psychosomatic illness.
Let's dig deeper into how psychosomatic symptoms affect your mental health…
What Is A Psychosomatic Illness?
Like I said before, a psychosomatic illness is a psychological disorder where you experience similar symptoms to physical illness but there is no medical explanation for your symptoms because in the scientific tests you seem all fine.
This happens because you aren't suffering from a physical illness but are suffering from a mental health condition where your brain makes you think like you have developed a physical health condition.
Psychosomatic illness can affect almost your entire body. You will often feel irritated and frustrated because the doctors you are visiting for your symptoms have no explanation for your condition.
Symptoms Of Psychosomatic Disorder
There are various symptoms of psychosomatic illness, a few of them are as follows:
Fatigue
Aches in various parts of your body
Issues related to your blood pressure
Bowel related issues
Trouble in breathing
Rashes on the skin
Stomach ulcers, etc.
These are some of the symptoms of psychosomatic illness. They are often known as the somatic symptoms. Other than the somatic symptoms you might also show some signs of psychosomatic illness like:
Irritability
Frustrated because you feel like the doctors aren't paying attention to your condition.
You have started to get depressed or anxious
You keep visiting different doctors and you even take 5-6 opinions from different doctors
Never satisfied with doctor's reply
Experience minor to major difficulties in daily functioning
What Caused Psychosomatic illness?
There are various causes of psychosomatic disorder. It is basically a lifestyle disorder and by fixing your way of leading your life, you can easily save yourself from developing psychosomatic illness.
According to scientists there is no known cause of psychosomatic disorder. But they believe that sometimes an imbalance in the stress hormones can cause a dysfunction in the brain.
Let's have a look at the causes of psychosomatic disorder…
Busy lifestyle
sexual/mental/physical/emotional abuse
Depression
Personality disorder
Inability in identifying and expressing emotions
What Is The Treatment Available For Psychosomatic Disorder?
Since people take a long time to identify that they are suffering from a psychological condition rather than a physical one, you can directly jump to therapies. There are various behavioral therapies that can help in psychosomatic illness.
Here's a list of treatment options that can help you manage your psychosomatic disorder…
A. Cognitive-behavioral therapy- it helps you work on your core beliefs and helps you switch to more beneficial thought processes/ neural pathways by switching problematic behavior with productive ones.
B. Your doctor can prescribe you an antidepressant to reduce the psychosomatic symptoms if need be.
C. You can also be advised to do mindfulness-based therapy. Mindfulness techniques work very well with psychosomatic symptoms of stress and anxiety.
D. You will also be asked to be in regular contact with your healthcare provider so that your condition is monitored properly.
Did you know almost 6 – 8 % of the general population is suffering from a psychosomatic illness? In percentage, it might seem very little but imagine that in numbers.
So, to stay clear of psychosomatic illness you should know how to prevent it! Here's what you can do…
How To Stop Developing Psychosomatic Symptoms?
Regular exercise is a must. Keeps your body and mind healthy.
Have a realistic mindset. Recognize what you can and cannot control.
Maintain good sleep hygiene and sleep routine
Start journaling! It will help you be more aware of your feelings and thoughts.
Avoid any kind of intoxication.
Try to maintain a healthy and balanced diet as well as keep a check on your weight
Practice progressive muscle relaxation.
Learn to set some boundaries so that you don't overburden yourself.
Seek help if you need it. Support groups can work wonders!
Endnote
Psychosomatic symptoms are not very difficult to identify but they can be confusing as hell. Once your physicians begin to tell you that all your tests are clear and you still are experiencing physically painful symptoms, it's time to reach out to a mental health expert.
I hope you found this blog about psychosomatic illness, its causes and psychosomatic symptoms helpful. Make sure you pay close attention to psychosomatic treatment options and ways to prevent psychosomatic disorder so that there is no permanent damage.
Thanks for reading.
Take care and stay safe.