Therapy
What Kind Of Mental Health Professional Do You Need? Types of mental health professionals
Last Update on December 30, 2021 : Published on December 31, 2021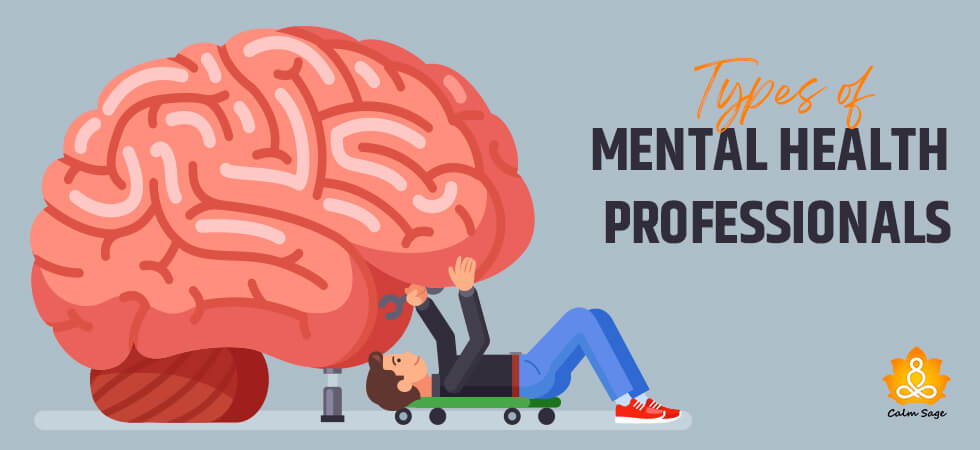 I would always be so confused about who I should seek help from about my mental health. There are so many different types of mental health practitioners and social workers but who will be best for me?
Are you struggling with the same confusion? Well, if you are, this blog is just for you! I know you've been researching and that's how you have come here. I assure you, this is going to be your final destination.
I am going to tell you about all the types of mental health professionals, their expertise, and the role of mental health professionals. Let's get started, shall we?
List Of Different Types Of Certified Mental Health Practitioners
Before I begin, I need to tell you one thing. It is important to seek help for your emotional, mental, physical, or relationship-related, issues. They will not vanish on their own. To do so you need to look for a mental health practitioner that specifically addresses your kind of issues.
For a bone injury, you go to an orthopedician, for spinal cord and brain-related issues, you go to a neurosurgeon. Similarly, mental health is as diverse as physical health and you need to find the perfect match for your problems.
Also read List of Mental Health Disorders – All You Need To Know!
Let's find a perfect match for you…
1. Psychiatrist
Psychiatrists hold a degree of either doctor of medicine (MD) or Doctor of  Osteopathic Medicine (DO). Because of which they are responsible for prescribing you medicines. Their main aim is to
They deal with emotional, mental, and behavioral disorders. They will make use of psychiatric tests and medicines and physical examinations. Psychiatrists are mostly preferred for complicated and complex mental health disorders.
They have expertise in forensic psychiatry, learning disabilities, and mental health issues in children and adolescents.
2. Psychologist
What pisses me off the most is when people think that all psychologists do is talk! A psychologist does a lot more than ask you how you are feeling? Psychologists hold degrees in Ph.D. or an MPhil in psychology.
They are experts in understanding the science of behavior, emotions, and thought processes. Although they do not prescribe medicine, they are responsible for treating mental health illnesses through various therapies and counseling.
Note A psychiatrist and a psychologist work in unison. Because you need to take therapy and medicines together for better results.
3. Psychoanalyst
Psychoanalysts implement the theories of Sigmund Freud. They help people explore their unconscious mind, their repressed thoughts, internal conflicts, and childhood trauma. Their entire treatment process is based on uncovering the thoughts, emotions, and feelings hidden in the unconscious mind.
They use different techniques like dream interpretation, analysis of resistance and transference, free association, etc.
4. Psychotherapist
A psychotherapist is similar to a general physician. Most certified mental health professionals can provide psychotherapies hence they can also be called psychotherapists. Psychotherapies revolve around talk therapies and they are used in case of general well-being and to improve your overall mental health.
They specialize in multiple types of therapies which can be beneficial in N number of mental health illnesses. They practice group therapies, Cognitive behavioral therapies, expressive therapies, etc. All aim towards increasing your quality of life and reduction of symptoms.
5. Psychiatric nurse
They are helping hands to other mental health professionals. They can administer different kinds of therapies, medications, and patient relationships. They deal with the challenging behavior of mental health patients.
6. Counselors
There are various types of counselors who work in the field of mental health. Their main aim is to solve the problems of the clients who are having trouble maintaining good mental health. They mostly deal with job stress, relationship/marriage issues, addiction, or general stress.
Here are some common types of counseling available to you:
Family/Marriage Counsellor: They deal with all kinds of issues related to family bonding and related issues. They address all the issues that are responsible for creating unrest in families and marriages.
Addiction counselors: They specialize in counseling people with addiction, substance abuse, gambling problems, sexual addiction, hoarding, etc.
Religious counselors: Also known as Pastoral counselors, they deal with a variety of mental health issues but in a spiritual context. They address faith-related issues, existential issues, relationship-related problems, and other mental health problems.
7. Art therapist
An art therapist uses creativity to help people express their emotions and vent the pain out. People with depression, post-traumatic stress disorder, addictions, and medical illnesses can benefit the most from art therapists.
8. Social worker
A social worker helps people cope with their existing psychological illnesses. They aim to increase the quality of life and help people deal with problems. They can also provide therapy and counseling if they have a license. They deal with child care, families, schools, medical health, public health, mental health, and substance abuse.
What Type Of Mental Health Professional Do I Need?
Since you are aware of all the types of mental health practitioners it's time for you to choose the best fit for yourself. Here are a few things you need to keep in mind while picking up your mental health professional:
What do they specialize in? Does that match with your mental health issue?
What kind of training have they received?
What methods do they use?
Are they available for you?
Do their schedule and your schedules match?
Is it convenient for you?
Answer all these questions and you will know who is the right choice for you. I know it's extremely difficult to initiate the process but if you know who you have to go to, the process becomes a little easier.
Role Of Mental Health Professionals
Examine the emotional and psychological needs of their patient
Educate the patient and their family about mental health
Look for community resources that can help their patient
Facilitate therapies that might benefit the patient
Improve communication between the patient, their family, and the health care system
Help create a mental health crisis plan
Help the patient integrate back into their community
Other than their professional medical role, the above mentioned are also the roles of mental health professionals. They have to treat and rehabilitate their patient back into a normal functioning life in their community.
That's all about the types of mental health professionals and whom you should choose from. Many certified mental health professionals address varied mental health-related problems.
I hope this blog helps you find the perfect mental health professional that you may need. Now you are aware of all the types of mental health professionals and you also know how to choose the right one for you. So be wise and get the help you need. Do comment and let us know if we can be of any help!
Thanks for reading!
Take care and stay safe.