Self Care
12 Best YouTube Yoga Channels To Learn Yoga for 2023
Last Update on November 3, 2023 : Published on June 22, 2021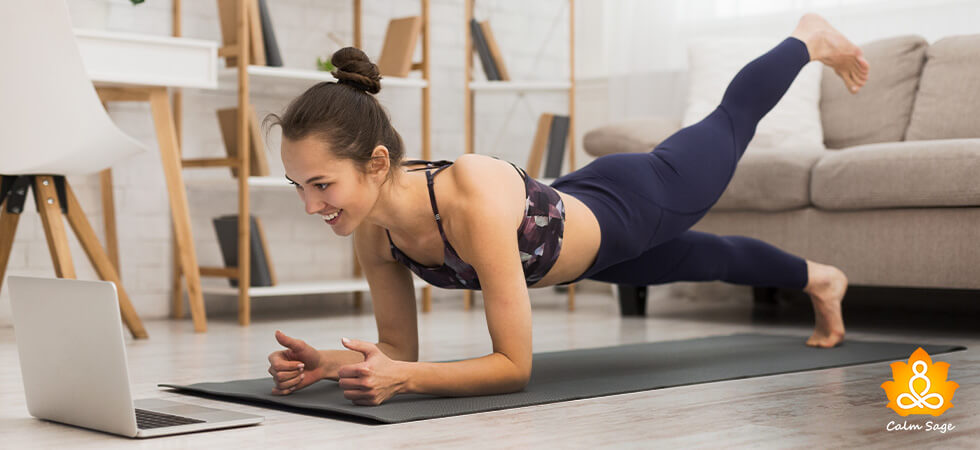 Considering your busy life and number of responsibilities, we bring you the best YouTube yoga channels on the same screen you are reading this blog. The comfort of your home, the necessity of fitness, and experts' advice are the elements that you need to fit in your schedule.
We understand that there are a plethora of mental health benefits of yoga including:
Reduction of stress
Relief from anxiety
Fights depression
Improved sleep quality
Enhanced positivity
Now that there are thousands of yoga channels on YouTube, you could find yourself overwhelmed in the hunt for the right one for yourself. This is why we have got you top yoga YouTube channels from which you can choose the 'one' for yourself according to personality and requirements.
Also Read: 15 Best Yoga Poses For Better Sleep In Bedtime
Once you understand the concepts and flow of Yoga practice, you can think of visiting a yoga retreat for complete immersive experience.
12 Best Yoga Channels on YouTube to Learn Yoga for Free
1. Yoga With Adriene
Breaking the barriers between you and your personal space, Adriene has been constantly spreading the yoga lessons since 2012 on youtube. She could be called the best yoga teacher on YouTube with her quirky and down-to-earth nature.
The thumbnails of her videos are very elaborative and help us in quickly finding the required one. Whether you are a newbie, intermediate or advanced practitioner, she has all the solutions stacked up.
Also Read: Guide Me: 13 Most Popular Types Of Yoga Before You Join Yoga Classes
Moreover, one can also find yoga practices under 10 minutes, 10-20 minutes, 20-30 minutes and 30-40 minutes. So, you have the choice to pick any section of the video as per your availability.
2. Body Positive Yoga
When you are body positive, you tend to keep up with your mental positivity too. This is why this online yoga channel on YouTube is perfect to get some good vibes as well as exercise.
Amber Karnes offers valuable tips to all people, no matter what shape and size they have. She also teaches Yoga using multiple props but if you don't have them, she will give you some good modifications too.
3. Yoga With Tim
Tim Sensei brings Vinyasa yoga flow with a different outlook as a person not only relieves their mental stress but also physical stress. He also explains how yoga is essential in developing your self-image and helps in transforming the lifestyle for better oneself.
You can find a number of yoga challenges to improve body strength, burn fat and remove stiffness. Make sure you practice it regularly and feel the after-effects.
Also Read: 15 Relaxation Yoga Poses for Stress Relief
4. Yoga With Kassandra
When you look for free online yoga classes on YouTube, this channel could be a great help too. As you land on the channel, you can find a playlist nicely organized under sections like 'Morning yoga movement', 'Yin yoga', '10 minute yoga', and 'Vinaya flow'.
Kassandra is a certified yoga instructor and focuses on body balance with her style of yoga, strong focus, improved level, and duration of the workout.
5. Yoga By Candace
Maintaining flexibility and strength of body, Candace gives technical instructions with so much simplicity that one can understand it easily. She has organized her YouTube channel so that one can navigate through their requirements as soon as they land on the page. Apart from yoga videos, breathing and meditation videos also accompany you for mental and emotional relief. The section called 'Yoga as therapy' gives a chance of restoration of mind and body.
Also Read: 4 Yoga Poses to Improve your Breathing Capacity
6. PsycheTruth
Although you can find members-only videos on the channel, free online yoga classes will surprise you no less. If you wish to shred extra weight, get into the flow of yoga, tone or sculpt the body or willing to relieve the pain, then PsycheTruth will run along with your needs.
The best part about this yoga channel is the availability of doctors, health therapists, massage therapists, a number of yoga instructors, and their style of teaching. No wonder they have a rising number of followers coming up.
7. Faith Hunter
This international YouTube yoga channel is meant to spread mental peace with a strong foundation of overall wellness. The focus mainly lies in spiritual practices where yoga becomes a lead activity.
Apart from physical exercise, meditation series, podcasts, mantras, and mudras are making the followers stronger and better every day.
8. Purple Valley Ashtanga Yoga
Breathing is an important aspect to perform yoga and this is the best YouTube yoga channel to combine the two. Ashtanga yoga is almost similar to Vinyasa yoga flow but it is a faster version of yoga and may be intimidating for newcomers.
Purple Valley yoga channel comes with renowned instructors and also works on tips, chanting, meditation, and Ayurveda knowledge side by side.
9. Aham Yoga
Based in Redmond, WA, the instructor namely Arundhati of Aham Yoga is great in explaining the details of every pose while performing them.
Apart from yoga classes, she also holds various sessions explaining other important aspects like when is the right time to start yoga, how to keep yourself safe from injury, managing balance, supplementing yoga practice, etc. With that, you can also see important tips based on teachings of yoga.
10. TaraStiles
From feel better yoga, workout yoga, winding down yoga to prenatal yoga, the instructor has a lot of interesting videos in her playlist. You would be interested in knowing that Tara Stiles is also the personal instructor of author Deepak Chopra.
She has also created a new version of yoga called Strala yoga which is known for its inclusive and straightforward approach to practice and perform yoga and meditation.
11. The Yoga Room
With lighthearted and therapeutic yoga services, The Yoga Room looks like a safe and cozy place to open your mind and heart.
Find yoga for flexibility, mindfulness, body strengthening, stress management, chair yoga and many more styles with its founder Zelinda. No matter what shape or size you possess, her idea of yoga for bigger bodies is a great idea to boost inner confidence.
12. Koya Webb Yoga
Let yoga, fun and food go hand in hand with this yoga channel for good mental health. Moreover, you can find motivational podcasts which would definitely bring some positivity within you.
You can also look at vegan recipes as food is the whole soul of a good body. Just to know, Koya Webb is a personal trainer, motivational speaker, wellness coach and author and she holds a holistic approach towards life. 
Wrap-Up
As you have already learned about the best YouTube yoga channels, it is also needed that you learn about the most popular types of yoga. In case, if you want an instant solution for sleepless nights, here are the best yoga poses for better sleep.
However, we would like to know which yoga channel suited you the best in the comment section below and spread the words of fitness around.