Therapy
20 Signs For You To Know What Does A Good Therapist Look Like
Last Update on October 22, 2021 : Published on October 24, 2021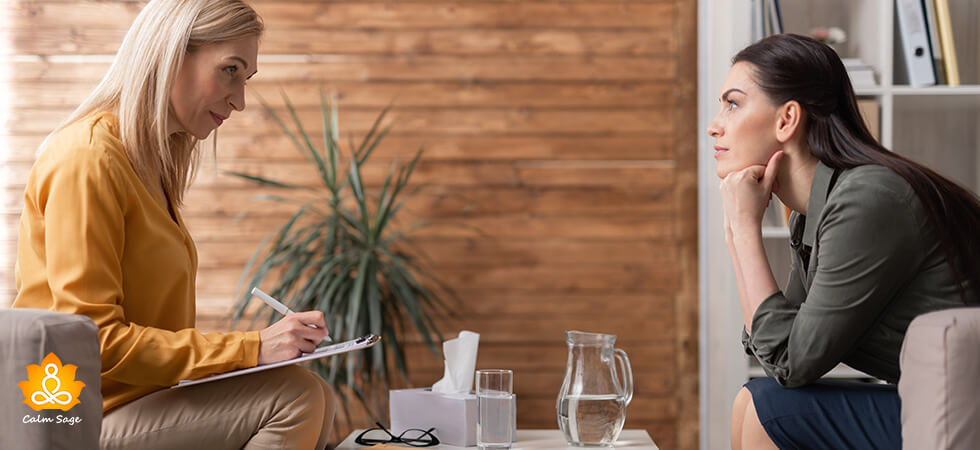 Therapy is a journey that is not easy to travel and navigate through. When we talk about mental health therapy, it's a process that requires immense trust and effort on your and your therapist's end to make the therapy a success.
Each therapist brings different personality traits, skills, and backgrounds to the table. Not every therapist has the same skills or knowledge, however, the one thing that should remain common is the relationship between the client and the therapist.
The relationship between the client and the therapist is one of the most important relationships and the quality of the relationship determines the effectiveness of the therapy.
I've read many articles previously on how to find the right therapist but after you've invested your time, energy, and money to find the right therapist, how do you determine if your therapist is a good one, for you?
Below is a list of signs of a good therapist that you need to look for when determining what a good therapist looks like.
20 Signs Of A Good Therapist
Here are the signs you need to be aware of to know if you have a good psychologist:
1. They Listen To You
One of the most important qualities of a good therapist is that they listen actively to you and your problems. Active listening involves more than just nodding your head when others are speaking. With active listening, a therapist reflects that they are not only hearing what you are saying but understanding the words too.
If you feel that your therapist is distracted when you speak, then maybe it's time to reconsider your relationship with them.
2. They Validate Your Experiences
In the company of a good therapist, you feel that your emotions, feelings, thoughts, and even experiences are validated. They might not always agree with you on some points but they still validate your experiences. Validation means acknowledging and a good therapist acknowledges what you tell them and accept your choices as they are.
Judgment, approval, or even disapproval from your therapist is a big red flag that you should not ignore.
3. They Respect Your Choices
Another admirable quality of a good therapist is that they offer additional resources while respecting your choices. A good therapist never makes you do something you don't want to do. If you feel like you need a change, a good therapist would respect that decision, even if it isn't something they would want.
If your therapist makes you feel uncomfortable and forces you to opt for a solution that you feel uncomfortable with, then you should reconsider your therapeutic options.
4. They Are Good Communicators
Strong and healthy communication is more than just listening. It involves speaking skills too. A good therapist is your teacher. They should be able to help you understand concepts, symptoms, and treatment in a way you can grasp.
A good therapist asks open-ended questions and makes sure that you understood what they said. If you don't, then they take the time to explain with patience.
5. They Regularly Check In With You
Maybe navigating a new therapeutic relationship is new to you so it's normal to feel hesitant to bring up certain topics like the progress of your therapy. However, a good therapist takes time to check in with you and your opinions on your progress.
If your therapy isn't working out, a good therapist won't hesitate to offer you a referral for another more experienced therapist.
6. They Are Always Learning
All therapists have extensive knowledge about psychotherapy but there are certain things that they might not know. Every person and their problems are unique. If you bring up something they are unfamiliar with, they won't turn you away or ignore your issue.
Instead, a good therapist would take time to learn about your problem by exploring literature, seminars, or even asking their colleagues before approaching the topic again with you.
7. They Are Your Ally
Your therapist is not your friend or your teacher but they are someone who acts as a support pillar for you. They don't tell you what you should do or how you should do it but a good therapist helps you make your decisions and provide support where necessary.
A good therapist is an ally who works, from the first day, to build a bond based on mutual trust and respect.
8. They Earn Your Trust
Trust in all relationships is important but more so in a therapeutic one. Another sign of a good therapist is that they work hard to earn your trust and keep it. And it's not all the therapist's responsibility either.
To build a relationship with your therapist based on trust, you need to explore and establish healthy boundaries with them.
9. They Help You Notice Changes In You
Change takes time and the change depends on your condition and your progress. Therapies like cognitive behavioral therapy or other talk therapy techniques can take longer to work. However, in a good therapy setting, you should be able to feel the changes within you in a month.
Despite this, you should not expect instant results. Take time to consider your condition, the treatment you've chosen, and carefully discuss the process with your therapist.
10. They Respectfully Challenge You
Depending on your condition and the type of therapy you've chosen, the process can make you question your thinking patterns. As your thinking is challenged, a good therapist respectfully helps you without being too aggressive or bossy.
However, if your therapist is making you feel inferior or guilty, then maybe you should think about changing your therapist.
11. They Are Open To Different Solutions
What works for you might not work for others and a good therapist knows this. Along with you, your therapist must be willing to work with different techniques to find the right one for you. A good therapist is open to different alternatives and respects your goals and needs during the process.
If your therapist refuses to change their approach to meet your needs, then it's time to reconsider your choice.
12. They Don't Rush Your Wellness
When it comes to your healing, you and your therapist should be on the same page. You need to set an estimated timeline for achieving your goals early on. If your therapy plan is stalled or can't be completed under the timeline you set, then it's okay. A good therapist factors in the unexpected changes in the plan.
A good therapist understands and will show flexibility when the need arises. If your therapist rushes your treatment then it's a red flag you shouldn't ignore.
13. They're Mindful Of Your Beliefs
It's only natural to seek someone who shares the same personality and qualities as you do but keep in mind that all humans are different. A good therapist, if they don't share similar backgrounds, takes efforts to understand your background, beliefs, and even identity.
If you feel that your therapist is not willing to understand your culture, beliefs, or identity, then it's okay to find someone else.
14. They Focus On You
Therapy is about you and helping you solve your problems. A good therapist knows this and won't use your time to address their problems. A good therapist may use their personal experiences to associate with yours but won't deviate their focus from you.
In an unhealthy therapeutic relationship, a therapist may not be as mindful of your concerns. If you see this behavior in your therapist, reconsider your choice.
15. They Help You See Your Efforts
Another one of the qualities of a good therapist is that they work with you, help you see your efforts and the progress you've made. Therapy can be challenging but a good therapist ensures that you don't lose your confidence and hope.
They will help you feel positive about your progress and efforts, no matter how little they may be.
16. They Are Open & Honest With Their Skills
A good therapist will explain their process to you, their beliefs, their background, their certifications without hesitation. They're always open with their approach and keep an honest conversation going.
If they don't like your behavior, they will let you know and won't sugar coat things if it harms you.
17. They Help You Set Your Therapy Goals
Another admirable quality of a therapist is that they work with you to set your goals. They don't let all the responsibility on your shoulder alone. They ask you your priorities, your boundaries, and your problems and will address the ones they think are more pressing.
A good therapist talks about new techniques they can use and you can benefit from keeping in mind your boundaries. They work at your pace and with you, instead of for you.
18. They Are Non-Judgmental
Another sign of a good therapist is that they listen to you and provide you with a non-judgmental space to air your grievances. They always respect your choices and offer solutions that will benefit you in the long run.
They don't stereotype and make you feel ashamed of your choices. You should be able to share your private thoughts with them without feeling judged.
19. They Are Optimistic
Life is unpredictable and when it comes to therapy it's likely you'll feel worse before you start to get better. A good therapist is prepared for the worst-case scenario and always hopes for the best. They always make you look at the bright side instead of the negative.
A good therapist will focus on things that bring you happiness, peace, and relief but are also realistic in their approach.
20. They Are Empathetic
Another way to know if you have a good psychologist is when your therapist shows empathy. A good therapist must be able to view a certain situation from your point of view.
If a therapist is not able to share your experiences and your emotions, then they will not be able to effectively solve your problems.
Writer's Thoughts
Choosing the right therapist can be hard and challenging but not impossible. Just like you establish a new relationship, forming a client and therapist relationship should be done keeping in mind your boundaries and your goals.
Make sure the therapist you choose has the right licenses, qualifications, and certifications before saying yes.
The right therapist may not be a friend to you but they are the one who makes you feel emotionally, mentally, and physically safe. With them, you should feel comfortable being vulnerable. After all, they are an important part of your healing journey!
If you'd like to connect with a professional psychotherapist, you can connect with us at info@calmsage.com or DM us on social media. You can also connect with one of the professional therapists on BetterHelp.
I hope the above signs of a good therapist will help you determine the effectiveness of your relationship with your therapist. Feel free to let us know your thoughts and opinions in the comments below!
Take Care!