Stress Management
WFH Stress Increasing? 8 Tips To Deal With Work From Home Stress
Last Update on July 8, 2022 : Published on July 9, 2022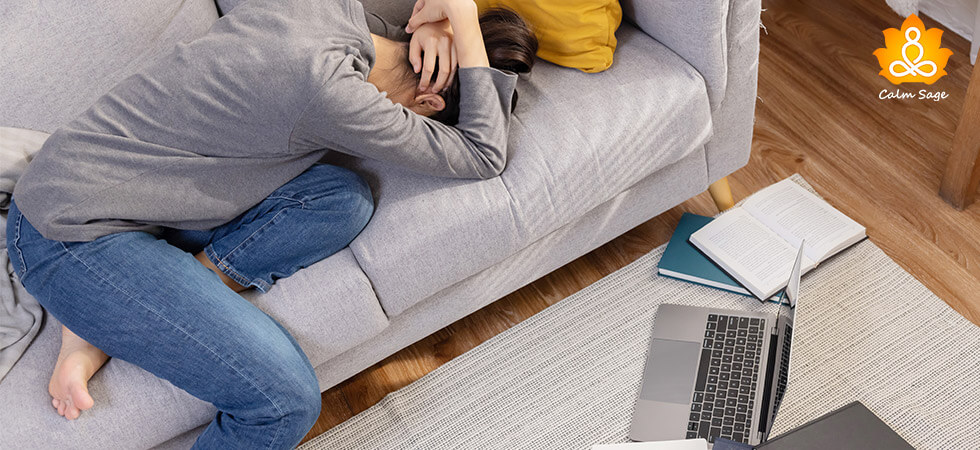 Whether you're a freelance remote worker or someone who works thrice a week from home, working from home can be comfortable as it can be stressful. I mean, I get it. The appeal of working from home – no constant interruptions, no dress code, no commute time – however, these benefits come with some challenges as well.
To maintain a professional front, routine and structure are needed. Schedules, deadlines, and even rules can keep you on track to ensure you finish your tasks and keep your supervisors, coworkers, or customers happy.
The 2020 COVID-19 pandemic threw the world into chaos and while WFH became a necessity, it also brought along some stressful challenges, especially for those who were not used to remote work and were used to a routine and structure. When routines change, stress ensues.
I'm not only talking about tech stress – the Zoom meetings, online communication, and all – but I'm also talking about the lack of social interactions, lack of personal and professional boundaries, and the day-to-day stressors we would normally face.
Research On WFH Stress:
According to research, people struggling with working from home reported higher levels of stress including
41% of people working from home find themselves feeling more stressed than those working from the office
42% of people who work from home reported sleep troubles while 29% of people working from office reported the same
People who work from home also reported having a lack (or blurred) boundaries between work and home life
People working from home also reported facing trouble unplugging and ending their workday on the designated time
Causes Of Work From Home Stress
The causes of work-from-home stress can include:
1. Lack Of Routine
Working from home means a lack of routine and structure. This can cause you to feel pressured and eventually stressed. You can struggle with starting your day, managing your tasks, and ending your day. This can also affect your previously maintained work-life balance
2. Too Many Distractions
When you're working from home, you may find yourself surrounded by distractions such as;
Deliveries
Non-work related calls
Scrolling on social media
Watching TV
Caring for pets
These kinds of mindless distractions can affect your productivity and cause your stress levels to rise.
3. Lack Of Boundaries
When you work from home, challenges such as work-life balance can be hard to overcome. Constantly being surrounded by family or friends can disrupt your work routine and affect your productivity, increasing stress levels.
4. Lack Of Social Interaction
People who work from home frequently can also find themselves living in solitude. While solitude can be good, it can also have some negative effects. Social isolation can lower your motivation and productivity. Having social interactions throughout the day can help keep stress at bay and improve communication skills.
5. Less Physical Activities
When you're working from home, you can find yourself getting into a sedentary lifestyle. This lack of active and physical activity can take a toll on your mental and emotional health causing stress.
If you are less active during the day, you'll not feel tired at night and this will disrupt your sleep patterns which will later increase stress levels. When you're not well-rested, how can you ensure 100% productivity?
How To Deal With Work From Home Stress?
There are simple ways how you can deal with work-from-home stress:
1. First, Create A Routine
Who said that you can't have a routine when working from home? Whether you're a freelancer or have dedicated office hours, you need to create a structure when it comes to dealing with work-from-home stress.
You can:
Create a ritual that marks your morning and the start of your workday (going on a morning walk, practicing yoga, etc)
Carefully mark the end of your workday (shutting off your computer, going on an evening walk, etc)
Set a regular lunch hour and break time
Spend some time outdoors to enjoy some fresh air and re-energize
To make sure you adhere to time and organization, you can download time management apps.
2. Have A Separate Workspace
The temptation to work from bed can be great and too inviting to ignore but to maintain lower stress levels and assure 100% productivity, you need to create a separate workspace when working from home.
This way you'll solely focus on your work and still maintain personal and professional boundaries. Separating your home life and work-life can go a long way in reducing work-from-home stress.
3. Reduce Mindless Distractions
There are a thousand distractions that surround you when you sit down at your desk and begin work. This can be twice as hard when you're working from home.
If it's affecting your productivity, then you can turn off your non-work-related notifications or move your workspace to a room with fewer distractions. You can also use noise-canceling headphones and listen to soothing music while working.
4. Connect Socially
As I've mentioned above, work from stress can be caused by social isolation and to avoid this (and deal with it) you can connect with your loved ones. It's important to surround yourself with your loved ones and supportive coworkers. While I can understand that each person in your life may have a different schedule, you can set a time where you both are free to talk and connect.
5. Set Rewards For Yourself
WFH can also make you feel unmotivated at times and to avoid this, you can break down your tasks and set rewards for when you accomplish them. The rewards can be something like these:
Taking a break
Saying a positive affirmation
Treating yourself to your favorite dessert
Checking in with your loved ones
Engaging in relaxing activities
6. Learn To Say "NO"
When you work from home, your time is taken for granted and you receive non-work requests. Many people may find it hard (or even impossible) to say "NO" and some might even feel guilty after saying so but it's OK to say "NO" and place your needs first. If the requests are interrupting your work then you need to learn to say "NO".
7. Get Enough Sleep
Getting enough (quality) sleep is also important to help you deal with stress. A good night's rest can have a great impact on your overall sleep and health while assuring you work productively. Make sure you avoid your screens and digital devices before bedtime and follow good sleep hygiene.
8. And Lastly, Self-Care
When you're working from home, self-care should not be neglected. When you take time to engage in self-care you help yourself stay connected with your body and mind. You understand what you need and how to maintain the WFH balance.
Your self-care activities can include:
Exercising
Practicing meditation
Practicing yoga
Reading
Taking naps
Listening to music
Spending time with loved ones
Working from home may be comfortable, affordable, and less stressful while providing freedom and flexibility, however, it can cause severe stress too.
When you're aware of your stressors, you can take effective steps to reduce them and deal with the stress of working from home. With these work-from-home stress relief tips, I hope you can learn to control your stress.
For more, you can write to us at info@calmsage.com or DM us on social media. You can also share your favorite stress relief tips and ways to deal with work-from-home stress in the comments below.
Take Care!