LGBTQ
10 Positive Ways To Celebrate Pride Month In The Closet
Last Update on June 7, 2022 : Published on June 7, 2022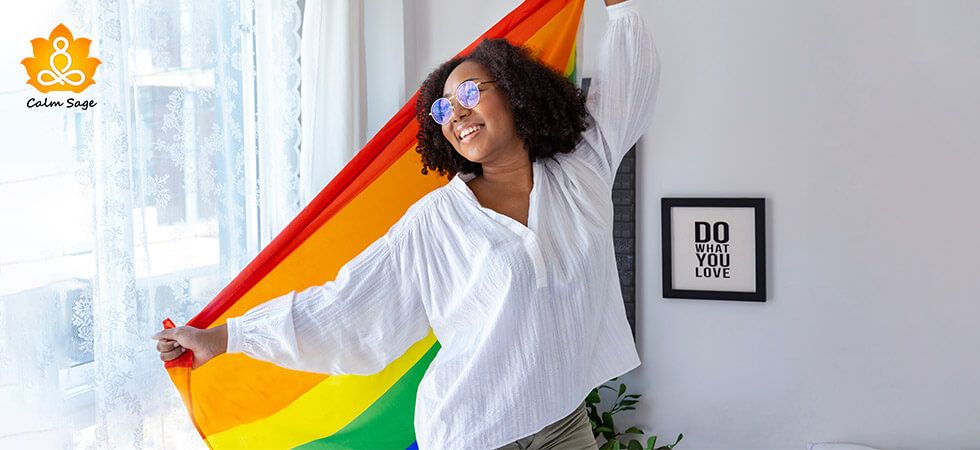 Pride month is here, and being an ally, you can count me as the most excited person this year! You must be wondering, how come she's so happy and positive! Well, I might not be able to experience the struggles you guys have gone through or are going through, but trust me I totally understand that feeling when someone judges you for being you!
The second thing I wanted to remind you is that it's okay, completely okay to be in the closet until and unless you're not ready to come outside and until and unless the struggles and experiences start taking a toll on your mental health.
While Pride month is celebrated to honor a long, unrestrained history towards gaining equal rights for the LGBTQ community. Do you know you can celebrate pride month while in the closet as well?  If you're not feeling okay to go out and celebrate openly, you can also celebrate this beautiful month in the closet positively. In this blog, I have shared 10 ways to celebrate pride month in the closet. So, let's get started.
10 Ways to Celebrate Pride Month While in the Closet
1. By learning more about gender and sexuality
You can now learn more about gender and sexuality through various online resources like PFLAG, Love is Respect, and more. Moreover, you can also learn about the LGBTQs, the first pride month, the rights of the LGBTQ community, struggles of gender and sexuality, and more. To learn more, please refer to:
2. By reading books by LGBTQ+ writers
There are n number of books written by queer writers which can help you in learning more about the queer community. Some of the best books recommendations are:
Simon vs. The Homo Sapiens Agenda
Leah on the Offbeat
If I was your girl
None of the above
Aristotle and Dante Discover the Secrets of the Universe
3. By donating to LGBTQ+ support organizations
There are thousands of organizations related to the LGBTQ+ community wherein you can donate and provide your support to the LGBT youth like:
To read more about resources, refer to the below link: 15 Mental Health Resources for the LGBTQ+ Community
4. By attending a virtual pride event
After the breakdown of coronavirus, everything (including events) can also be seen virtually. Therefore, you can also register on any website that offers such events. I was able to find one of the best websites that offers and conducts pride events, the UC Davis LGBTQIA Resource Center.
5. By taking LGBTQ+ educational training
One of the best ways to celebrate pride month while in the closet is to take educational training in regard to the LGBTQIA+ community. There are various resources available for educational training purposes. However, the best of all are "It Gets Better Project" and "Center of Excellence (COE) on LGBTQ+ Behavioral Health Equity."
6. By following LGBTQ+ creators on social media
You can also follow LGBTQ+ creators on social media to show your support to them, it will help them in creating more content related to LGBTQ+, raise awareness, teach people, and gain some worthy followers.
7. By shopping from queer-owned businesses
This way is one of my personal favorite ways to celebrate pride month. I try to shop from queer-owned businesses so that I can support them and let them know that they are not alone. Additionally, it's really fun to shop from their businesses because we get the sweet does of dopamine as well.
8. By wearing subtle pride merch
The most entertaining and fun way to celebrate pride month while in the closet is to lean into colors in a subtle way. You can wear whatever colored-coded clothes and you can support LGBTQ members from home as well. If you're confused what to wear, you can take the help of queer-accounts on social media.
9. By listening to LGBTQ+ podcasts
If you love wearing headphones, you can definitely give your hands on listening to the podcasts. Such podcasts will help you in seeking the right support you need and will also maintain your privacy. You can also listen to:
Podcast Ep.37: Mental Health and LGBTQ
10. By reading news related to LGBTQ+ equal rights
As pride month is already going on, all news channels are showing news related to LGBTQ+ rights, pride parades, and more from different nations, you can watch such news and support virtually.
I hope this blog helps you with the 10 best positive ways to celebrate pride month in the closet. Comment down and share more ways to celebrate pride month in the closet. For more such content, connect with us on all social media platforms.
Thanks for reading!
Happy pride! ☺