Happiness
Therapeutic Benefits of Adventure Activities
Last Update on August 26, 2021 : Published on August 28, 2021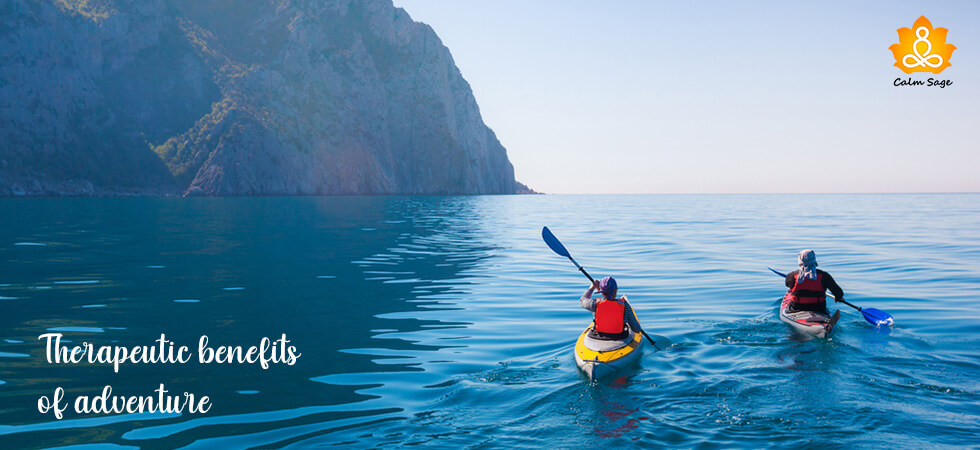 Who doesn't like going on a vacation with family and friends? Even better, an adventure trip with your circle. I hope Corona ends soon and we can all go on all the trips that we deserve.
Even the thought of an adventure trip can make us so happy! Imagine being on one. It's the perfect kind of exercise our brain needs. In this fast-paced world, our minds are running faster than us. They need to take a break too.
An adventure trip is a lot more than just the adrenaline rush. It's the one thing you mind can benefit the most. Having said that, acknowledging individual differences, those you enjoy adventure with can benefit the most.
Want to know what adventure therapy is all about?
Adventure therapy is not something new. Did you know that adventure therapy was first talked about in the early 1960s? It is a psychological intervention which uses outdoor activities to grow, develop, rehabilitate and enhance our wellbeing.
Through adventure therapy we can get a better understanding of our strengths and weaknesses. Adventure therapy uses activities that build our problem solving, decision making and coping strategies and many more things.
Now let's hop on to its benefits…
Benefits of Adventure Therapy
1. Reduces anxiety and depression.
Adventure puts you in real-world situations. Your thoughts are very powerful and people with anxiety and depression are often troubled by their thoughts. Indulging in adventure activities will take your mind off the negative thoughts.
2. Increases self-efficacy.
Having belief in oneself plays a vital role in managing mental wellbeing. Self-efficacy is trusting yourself & believing that you have the ability to achieve whatever you dream of. Adventure gives you the reason to have trust and believe in yourself.
3. Develops identity.
Each one of us has an identity, by which others know us. We also create a self-identity through which we know ourselves on the basis of beliefs, values and our purpose. We constantly evaluate ourselves which later contributes to our self-esteem. Adventure improves our image of self.
4. Improves grit.
Each one of us has certain aspirations and goals in our lives. We try to do everything in our power to achieve them but without grit we can't reach our goal. Grit is basically our consistent hard work that we put into our lives. And adventure improves our ability to work even harder.
5. Improves cognition.
In many mental health conditions the cognition is often disturbed. To improve cognition one must do cognition building exercises. Adventure is considered one of the best interventions that improves cognition. Your attention, focus, planning, comprehending and everything is enhanced through adventure.
6. Develops interpersonal skills.
We require good interpersonal skills to function smoothly in our day-to-day life. The most important part of interpersonal skills is communication. Doing adventurous activities requires coordination and that can only be achieved via communication. Adventure improves our listening and speaking skills.
7. Builds trauma resilience.
The adventure involves lots of ups and downs. There is a lot of exposure to failure and fear as well. Adventure teaches you to look at your problems in a different manner. Your focus shifts to the solution. It helps you face your fear making you more resilient towards most traumatizing situations.
8. Builds self-advocacy skills.
During adventurous exercises, you often find yourself at the deeper end. And that's the time your self-advocacy skills come into play. You have to make decisions on your own. Calculate the risks and evaluate the result of your actions, all such things are strengthened through adventure therapy.
The above mentioned are the most common benefits adventure can provide us. It can benefit us in many more ways like boosts confidence, decision-making skills, acceptance of failure, etc.
Also read: Wilderness Therapy For Young Adults: What Is It, Techniques, Benefits & More
Let's look at some adventure activities that you can do on your own to initiate healing…
Individual Adventure Activities
1. Rock climbing: Boosts confidence, helps face fears, and improves cognition by overcoming all physical obstacles.
2. Mountain biking: It is one of the best ways to build trust in yourself. In mountain biking you have no idea what your next obstacle is going to be. Your only option is to rely on your instinct.
3. Canyoneering: It is one such sport that requires good team work and coordination. It improves your communication skills and builds creativity and problem-solving skills.
4. Skiing: Skiing functions on the flow theory. You learn to be in the moment and eliminate all fear and anxiety.
5. Hiking: Hiking requires a lot of mental and physical effort. It helps in building grit in an individual. The ability to work hard in a consistent manner is a great skill that you can achieve through hiking.
Here's a list of mental health related issues that can benefit from adventure therapy:
Anxiety
Depression
Self-esteem issues
Relationship/family conflict
Failure related issues
Behavior issues
PTSD
Substance abuse
ADHD, etc.
Endnote
Adventure makes you deal with real-world problems in its own unique way. There is so much that you have stored inside you which needs to come out. Adventure is just the perfect way to channelize all stress, energy and anger.
Even to break out of your monotonous routine, adventure can really bring back the spark and energy in you.
Remember to never waste your energy and time on something that can only bring you down. We are all in a bucket full of crabs. If we want to get out of it, we better put ourselves at work!
I hope this article makes you want to make adventure your path to healing. Adventure therapy is the perfect way to heal in the most fun way possible.
Thanks for reading!
Take care! Stay safe!