Mental Health
20 Best Fidget Toys To Wipe Off Anxiety
Last Update on January 20, 2022 : Published on October 11, 2020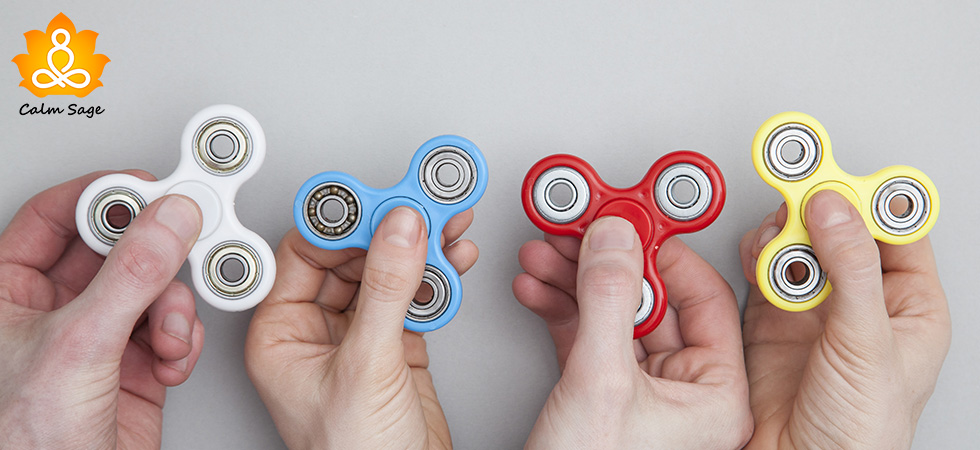 Fidget toys are known to be the best toys for having fun and maintaining focus. However, the most important feature of fidgets is relieving stress and anxiety. Anything squishy or squeezy can help calm and soothe your mind. Plus, they are enjoyable! 
Fidgets are helpful in the removal of stress and anxiety but other than that they are used for children with autism.
They help in managing anxiety, improving focus, and dealing with emotions such as frustration, boredom, or anger. Fidget toys are also used for teaching hand flapping for children with autism. Fidgets toys are easily available; you can buy fidget toys from any toy shop or online platforms like Amazon. 
For your better purchase and benefits, I have enlisted the best fidget toys for anxiety to buy in this blog. 
So, let's get started.
11 Best Fidget Toys for Stress and Anxiety:
1. Sequin Hand Fidget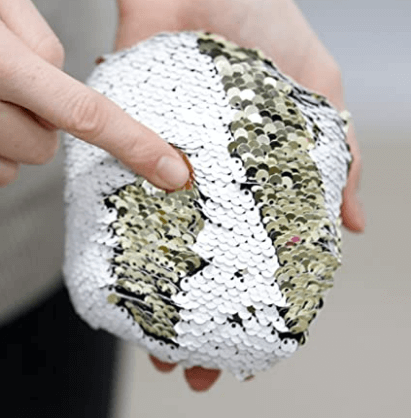 Sequin Hand Fidget is one of the best calming and fun fidget toys for anxiety. It is created with reversible sequin fabric. It comes with color-changing quality which boosts the mood instantly. It provides calmness to the mind which benefits the mind psychologically. It is easily available on Amazon.
Price: $17.99
Where To Buy: 12" Sparkle Sequin Soft Toy On Amazon
2. Thinking Putty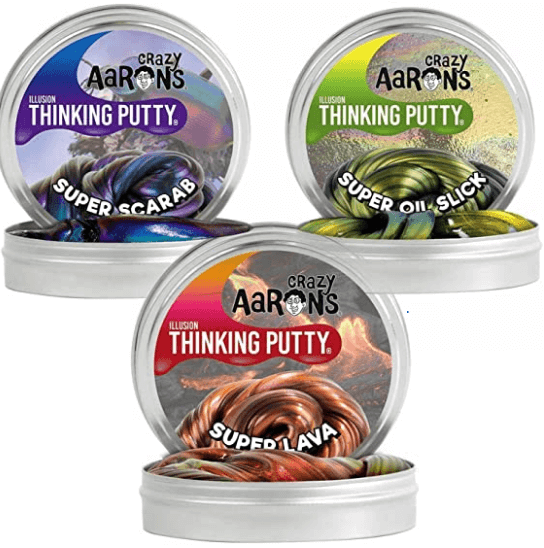 Thinking Putty is a hand fidget and teaches children self-regulation. It's a roll, squishy, pulling putty which instantly removes anxiety and calms the mind in a minute. It also helps children to increase focus and attention. Thinking putty comes into various colors which are bright and shimmery. It also improves the fine motor skills of children with autism.
Price: $14.95
Where To Buy: Crazy Aaron's Rainbow Thinking Putty On Amazon
3. Play foam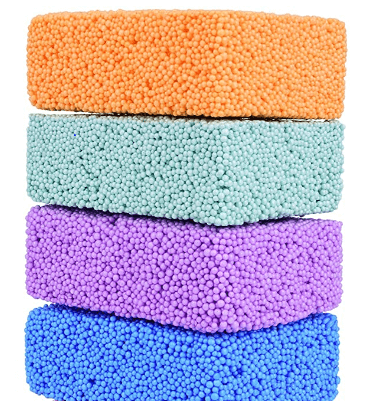 Play foam is squishy, sculpting, and rolling which form textured bubbly foam after being hand-rolled for a few minutes. Play foam is recommended for managing anxiety as squeezing is known to be therapeutic and calming. Play Foam is easily available on Amazon and other online shopping websites.
Price: $11.99
Where To Buy: Playfoam Go! Fidget & Sensory Toy On Amazon
4. Spaghetti Ball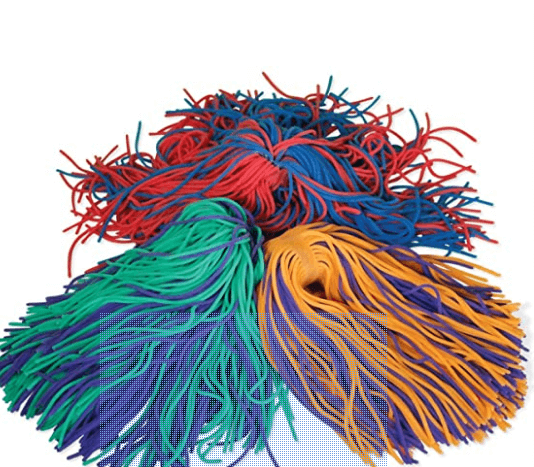 Spaghetti balls are one of the best anxiety fidget toys known as it comes with the sensation of noodles. Such an interesting feature calms the mood instantly. It can also be used for sensory activities. It keeps our hands busy which distracts our mind from negative thoughts and establishes inner peace in return.
Price: $12.99
Where To Buy: Spaghetti Ball Fidget Sensory Toy On Amazon
5. Stress relief balls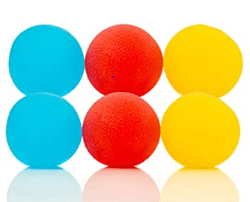 These balls are squeezy and squishy which boosts happy hormones and removes anxiety instantly from our minds. You can carry your stress relief ball wherever you want like the office, to classrooms, to parties (in case you're not enjoying it). It also increases focus and attention.
Price: $12.99
Where To Buy: Stress Relief Balls On Amazon
6. Mice and cheese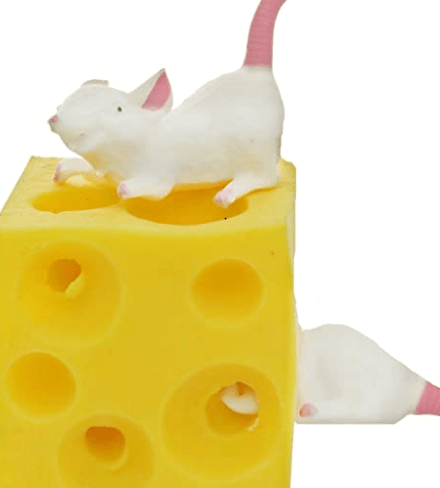 Stretchy mice and cheese are stretchy, squeezy, and pushy mice placed in the holes of cheese. It helps in increasing motor coordination and is known to be a great stress and anxiety-relieving toy. Anyone can enjoy this game, age does not matter. It helps in removing anxiety and stress instantly.
Price: $7.99
Where To Buy: Stretchy Mice and Cheese Toy On Amazon
7. Tactile Tiger fidget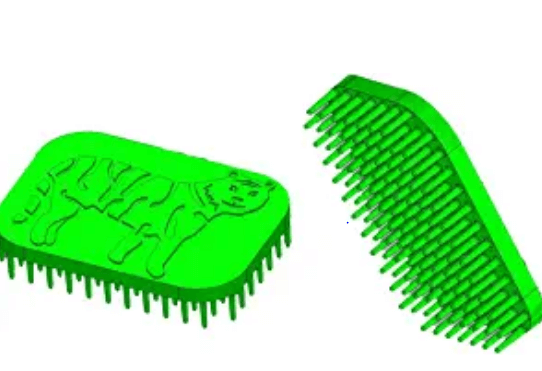 Tactile Tiger Fidget is a kind of sensory brush along with a bristled surface which increases sensory skills as well. It instantly relieves stress and anxiety from our minds and distracts our minds from negative thoughts. The brush comes with FDA-approved material which can be used by everyone.
Price: $11.99 ($1.00/count)
Where To Buy: Sensory Brush (12-Pack) On Amazon
8. Abilitations Squash it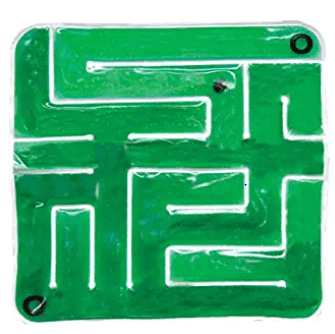 It is a pleasing quality product that is easy to carry (even in a small purse). All you have to do is to hold them vertically and start turning them upside down. It is a great finger activity. Abilitations are latex-free and made with non-toxic material which makes them one of the best fidget toys for anxiety.
Price: $17.87
Where To Buy: Abilitations Gel Fidget On Amazon
9. Spiky Slap Bracelets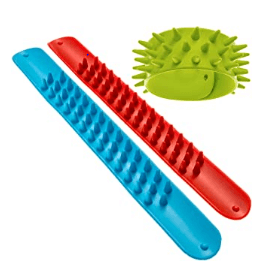 Spiky Slap Bracelets are durable and strong bracelets with soft rubber spikes which increase the stimulation. The sound they create while being played is calming and appealing. It is made from silicone rubbers, latex, and non-toxic materials which makes them appropriate for children as well.
Price: $9.99
Where To Buy: Spiky Slap Bracelets (3-Pack) On Amazon
10. Wacky Tracks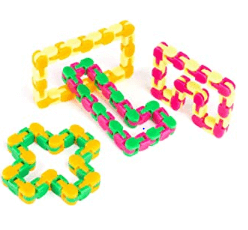 Wacky Tracks is one of the high rates of fidget toys for anxiety. The reason is, it can create various shapes and makes a calming noise. Due to its small size, it is easy to carry and easy to use.
Price: $6.99
Where To Buy: Wacky Track Snap Sensory Toy On Amazon
11. Mini Rubik's Cube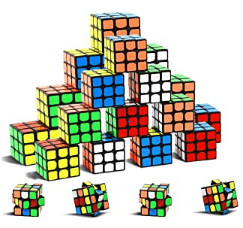 If you're into solving puzzles, Mini Rubik's cube is the best fidget toy for you. Bright colors can easily grab your attention and it distracts your mind from negative thoughts. Additionally, they are easily available at any store. You can also find them online easily.
Price: $7.99
Where To Buy: Mini Color 3×3 Cube On Amazon
12. Monkey Noodle
Fidget toys can be a lot of fun but sometimes they can be too loud. Monkey noodles are a fidget toy that is silent to use and can be stretched, pulled, twirled, squeezed, and wrapped. This fidget toy can come between 12 inches to 8 feet. The strings used in this fidget toy are non-toxic and can be beneficial for those with ADD/ADHD, OCD, autism, or high anxiety. 
Price: $9.99
Where To Buy: 5-Pack of Stretchy String Fidget On Amazon
13. Anti-Anxiety Fidget Spinner
This unique fidget toy is created based on the theory of double pendulum and random motion or Chaos Theory. The movements created by this spinner are unique and always follow a new path with each spin. As the name suggests, this toy can help alleviate anxiety, promote relaxation, and help with other attention disorders such as ADHD and autism. This toy is designed for children (10 years and above) and adults. 
Price: $18.99
Where To Buy: Anti-Anxiety Fidget Spinner On Amazon
14. Pop Tubes
Pop Tubes are fun (and sensory) toys that you can pop, stretch, and connect. Pop tubes are great for children with special needs and autism. This sensory toy can act as a physical therapy toy to help excite a child. This therapeutic toy is designed to help children and adults with sensory processing disorders (SPD). 
Price: $5.99
Where To Buy: 4-Pack Pop Tubes Sensory Toys
15. Infinity Cube
Infinity cube is designed for smooth rotation and can help release anxiety, stress, and improve focus. For people with ADHD, using an infinity cube as a fidget toy can help promote relaxation. Older adults can use this fidget toy to improve dexterity and quit bad habits like smoking and biting nails. This fidget toy is useful for people with ADD/ADHD, OCD, autism, or high stress and anxiety. 
Price: $17.84
Where To Buy: Infinity Cube Fidget Desk Toy On Amazon
16. Spinner Rings
Spinner rings are another best fidget toy that can help relieve anxiety. You can use this toy without appearing unprofessional as it is easy to carry and is not distracting. Spinner rings are made to be fiddled with and are a healthy way to move your hands when you feel the need to fidget. Simply spin the ring with your fingers and take deep breaths to reach a calm and meditative state.
Price: $10.99
Where To Buy: Stress Relief Spinner Rings On Amazon
17. Flippy Chain Fidget
Lower your stress and anxiety with this flippy chain fidget spinner. This silent flippy chain toy is non-distracting and can be used while in a meeting, classes, offices, etc. This fidget toy is perfect for people with ADHD, anxiety, and autism. 
Price: $7.99
Where To Buy: Flippy Chain Fidget Toy
18. Magnetic Rings
This finger fidget toy is a stress relief toy that is small and easy to play with and carry around. Using magnetic rings can help relieve stress in under 5 minutes. These magnetic rings are made to be used freestyle. Just simply spin, whirl, or do tricks. Relax your nerves and improve your dexterity with magnetic rings. 
Price: $6.99
Where To Buy: Magnetic Rings Fidget Spinner Toy On Amazon
19. Bubble Popper
Bubble popper is another amazing fidget toy that can be helpful for kids and adults with autism and ADHD. This toy can also act as a stress and anxiety reliever. The bubble popper can also help decrease depression, increase concentration, and improve focus on working. Plus, it's a small toy that you can carry around. 
Price: $7.99
Where To Buy: Push Pop Bubble Sensory Fidget Toy On Amazon
20. Foot Fidget
Foot fidgeting is a thing! This fidget tool can help facilitate movement, helps increase focus, promotes calmness, improves coordination, and can be a good sensory tool for people with ADHD. Foot fidget can also help alleviate anxiety, stress, hyperactivity, and boredom.
Price: $24.99
Where To Buy: Foot Fidget Cushion On Amazon
Some General FAQs:-
Q1.Can fidget toys help anxiety?
Yes, fidget toys helps to relieve stress and anxiety instantly. Fidget toys are small toys that are squeezy and squishy in nature and help the mind in distracting from negative thoughts. Fidget toys also help children in sensory activities. 
Q2.How fidget toys are helpful in anxiety?
Fidget toys are squishy and squeezy in nature which helps in distraction and relieves from stress and anxiety instantly. Additionally, they are soothing in nature which helps calming minds. it also helps people for managing the symptoms of Post-traumatic Stress Disorder (PTSD), ADHD, OCPD, and more.
Q3.Why fidget spinner is a must-have nowadays?

Fidget spinner sare easy to carry and instantly relieves from stress and anxiety. Fidget spinners are easily available in the market at a low cost. Such features and the nature of fidget spinners labels them as must-have toys nowadays.
Q4. Can fidget spinners help in anxiety and ADHD?
Yes, fidget spinners are known as instant stress relievers. Apart from removing stress, they also help people in managing symptoms of anxiety, ADHD, and more. they also help children in learning sensory and motor activities. 
I hope this blog helps you to find your favorite and best fidget toy for anxiety. Comment down your favorite fidget toy. For more such content, follow Calm Sage on all social media platforms.
Thanks for reading!