Self Care
Best 10 Stress Relieving Drinks To Make You Relieve From Stress!
Last Update on January 31, 2022 : Published on April 9, 2020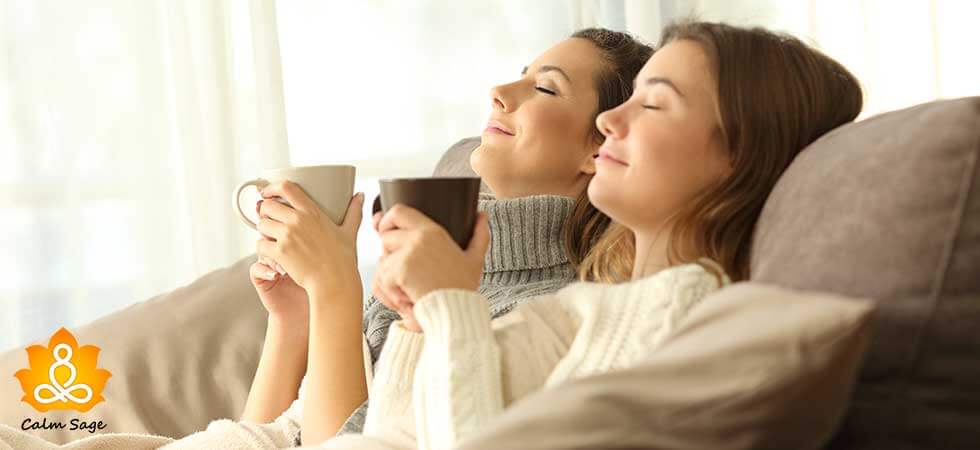 It's okay to be stressed out and feel discomfort regarding your personal or professional life. You could get distressed about your health, your kid's studies, or any other problems! As we know there are various sources including food that can help you to get rid of stress and anxieties. But, amidst all have you ever heard about stress-relieving drinks?
Yes, stress-relieving drinks are there for you that can make sure you feel fresh after a long day at work, especially when you're staying home!
I am sure everyone has heard about energy drinks, these drinks contain caffeine that provides instant stimulation to your mental and physical health.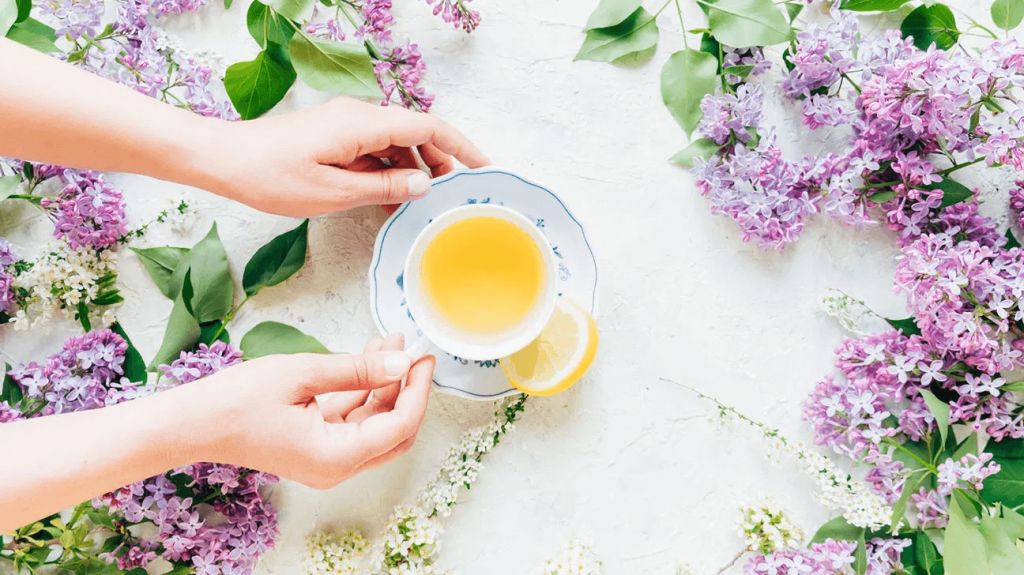 Now, these soothing drinks will have a calming effect on your body, that will lead you to absolute peace of mind! You can count on Green Tea, Chamomile Tea, Apple Cider Vinegar, and so on…
But my dear friend, we have a lot of yummy soothing drinks to relieve stress in our pantry! Bring your senses and stay focused as we have also shared recipes of drinks that relieve stress.
Top 10 Stress Relieving Drinks That Really Work:
Food and yummy fresh drinks are our best friends! You may have seen many people who jump onto energy drinks to make themselves comfortable and relaxing. Yet, as per the research, energy drinks carry caffeine and sugar that are responsible for high blood pressure and insomnia. Instead of calming stress, these effects promote anxiety and other related issues.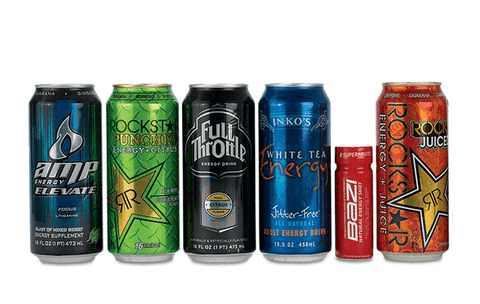 So, I would suggest instead of grabbing a can of such energy drinks it's better to sip a cool drink that calm our mind and senses.
Now come let's see which boosting drinks to relieve stress will be helpful to you!
1. Blueberry Smoothie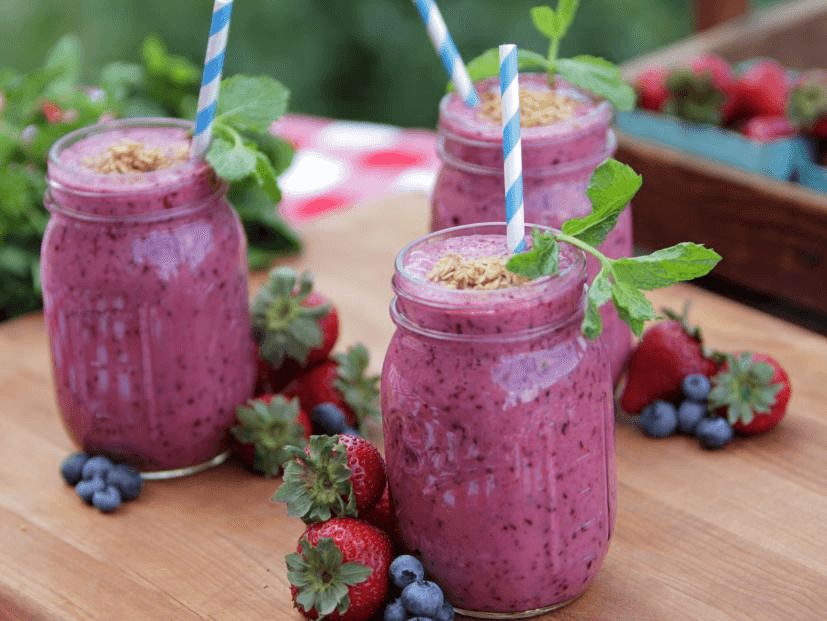 Okay! Here it is the Blueberry smoothie drink that calms your mind and senses. There are various reasons to love this best drink to relieve stress. Blueberries are enriched in an amazing amount of antioxidants that make sure your skin is free from stubborn radicals and aging. Shh! Let your flawless skin do the talking!
Without much ado, let's talk about how you can make this drink for a stress-free day!
Ingredients:
1-2 cups of lettuce [as per your choice]
1-2 cups of regular water or coconut, as you like!
½ fresh cucumber
1-2 cups of frozen or fresh blueberries
Directions:

Alright, start with washing all the ingredients. Now, chop them and after blend it all together. Once you get the consistency you desire, stop and serve them.
Here you go! This is one of the easiest drinks for a stress-free day.
2. Wild Blueberry and Lavender Smoothie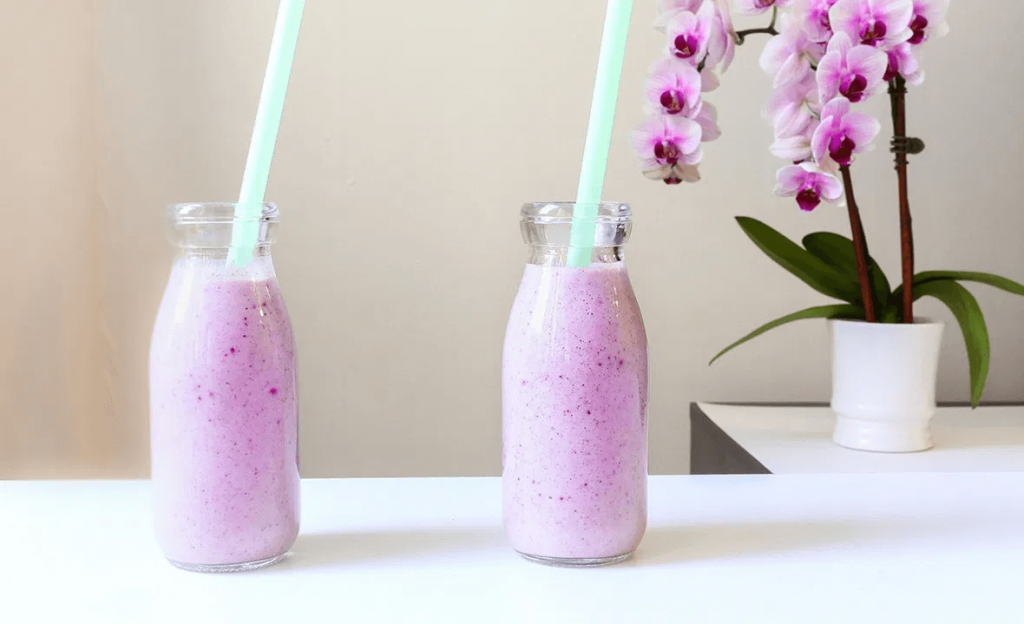 This amazing stress relieving drink is made of wild blueberries and a touch of lavender. Oh! Lavender, it is a super herb that has been used for thousands of years that uplift relaxation and tranquility. In addition to this, lavender is also used to relieve stress, depression and other problems.
As we have already talked about blueberries but there is something else that I missed out. Apart from improving skin conditions, blueberries also promote prevention from cancer and diabetes too. Now, it's time to look at how we can prepare this scrumptious drink that calms your body and mind.
Ingredients:
1 cup ice
1 cup of fresh or frozen blueberries
1 cup of hemp seed milk
½ peeled and pitted avocado
1 cup baby spinach [packed]
½ cup of banana
1 teaspoon dried lavender
½ tablespoon pure maple syrup
2 scoops unflavored collagen protein powder
Directions:
So, once you wash all the ingredients, put them all together and blend for 60 seconds. Now pour into cups and enjoy!
3. Banana Coconut Mango Smoothie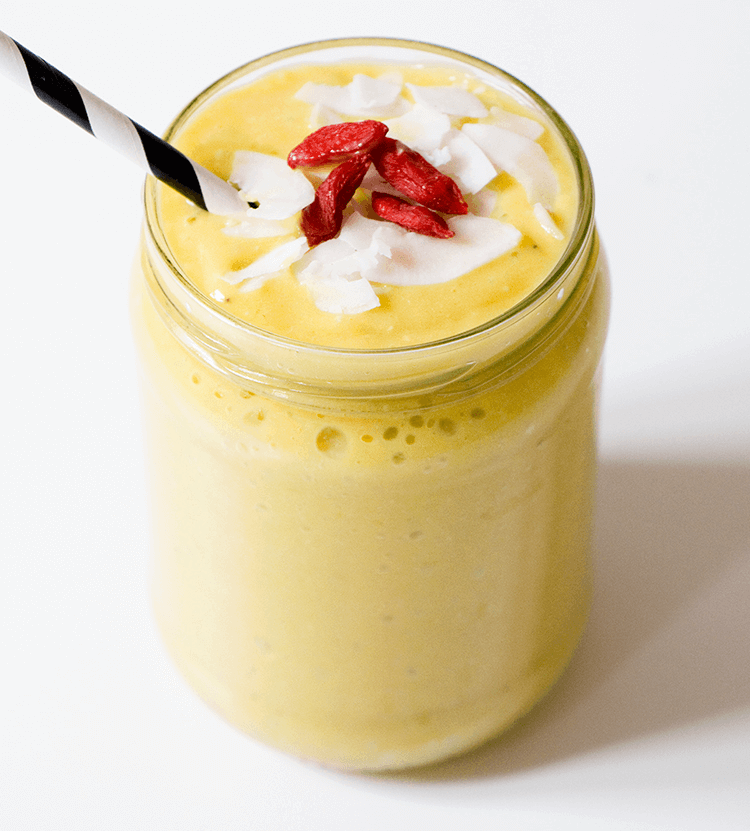 Banana is a perfect fruit that helps to fight depression and keep us un-stress as it produces natural chemical serotonin, vitamin B6 and amino acid tryptophan. In addition to this, bananas contain high potassium levels that normalize heartbeats and send oxygen to the brain.
Oh! I missed to tell you that coconut water has a boon to de-stress and balance electrolytes levels that helps us to keep calm and serene. Whereas, we talk about mangoes, it nourishes nerve cells and restore the ability to sleep well. That's all about this yummy and best drink to relieve stress. Now look forward to its ingredients and preparation.
Ingredients:

1 cup chopped ripe mango
2 ripe bananas
1cup cucumber
1 cup coconut water
3 celery stalks
½ tsp. Vanilla bean powder
3 pitted medjool dates
Directions:
Blend them all together till you get desired consistency and enjoy your stress relieving drink!
4. Strawberry Basil Detox Water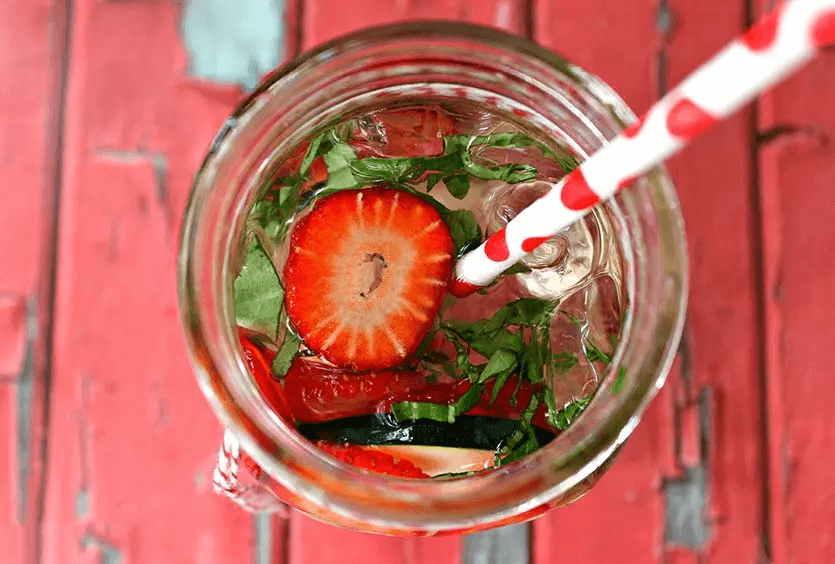 Strawberries are love isn't it? Indeed, they are natural energy stimulators that have amazing properties to settle down an upset stomach and appetites. Apart from this strawberries are also known as cholesterol-free, sodium-free, fat-free and low-calorie food.
Basils are useful in controlling your heart and blood level. If you are struggling with water retention issues, basil can be your savior! Now take your attention on its ingredients and method of preparation.
Ingredients:
1/2 cup of ice
1 cup of water
1 sliced strawberries
3-5 sliced cucumber
3 roughly chopped basil leaves
Directions:
Now start combining all the yummy ingredients in a large glass and let them sit. Here you go, take a sip and enjoy an amazing drink that calms your mood!
5. Lavender Lemonade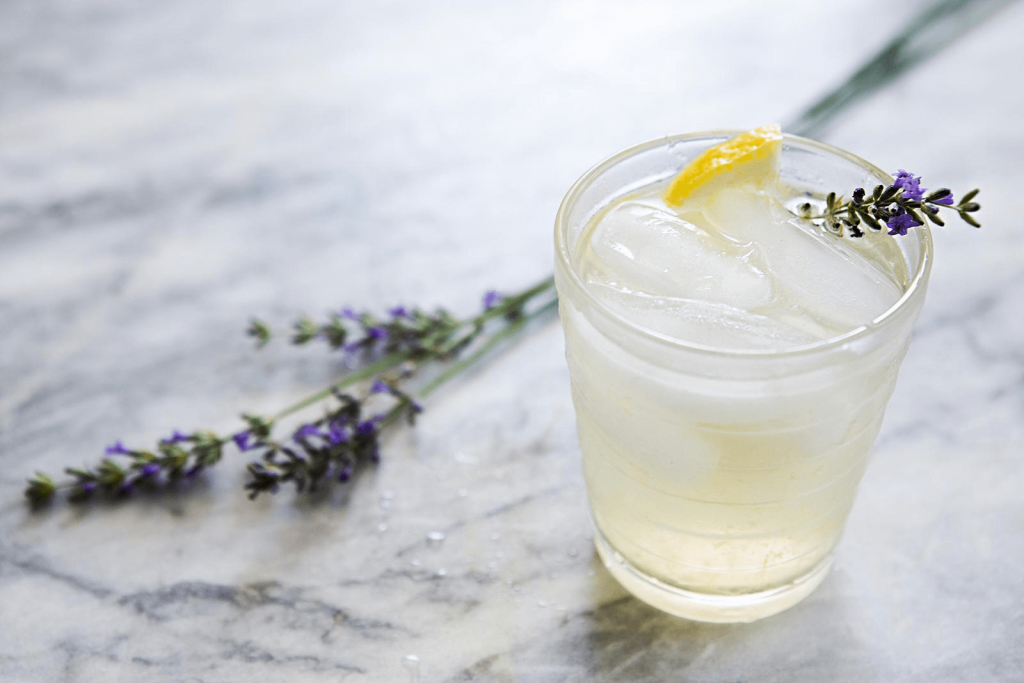 We have lavender lemonade on our list of stress relieving drinks.  Whenever you are having headaches or feeling to get isolated try this refreshing drink, you will surely see a difference. Lemons are full of minerals and especially Vitamin C that helps in maintaining the immune system on our body.
When we are in the clutches of stress, our adrenal glands release a hormone called Cortisol. Now, Vitamin C will lower down the effect of Cortisol that makes us relax and energetic.
As we have already talked about Lavender and its properties, so we will directly start with its ingredients and preparation.
Ingredients:
12 cups of water
1 cup of raw honey
Juice from 6 lemons
1 tablespoons of dried lavender flowers
Directions:
Take a saucepan and boil honey and water together.
Remove pan from heat and add dried lavender flowers
Cover it with a lid for 1 hour
Strain the solution and discard the lavender too.
Stir this mixture in cold water and add lemon juice into it.
Serve it with ice
I hope you will enjoy this sizzling drink for a stress free life!
6. Love From Dark Chocolate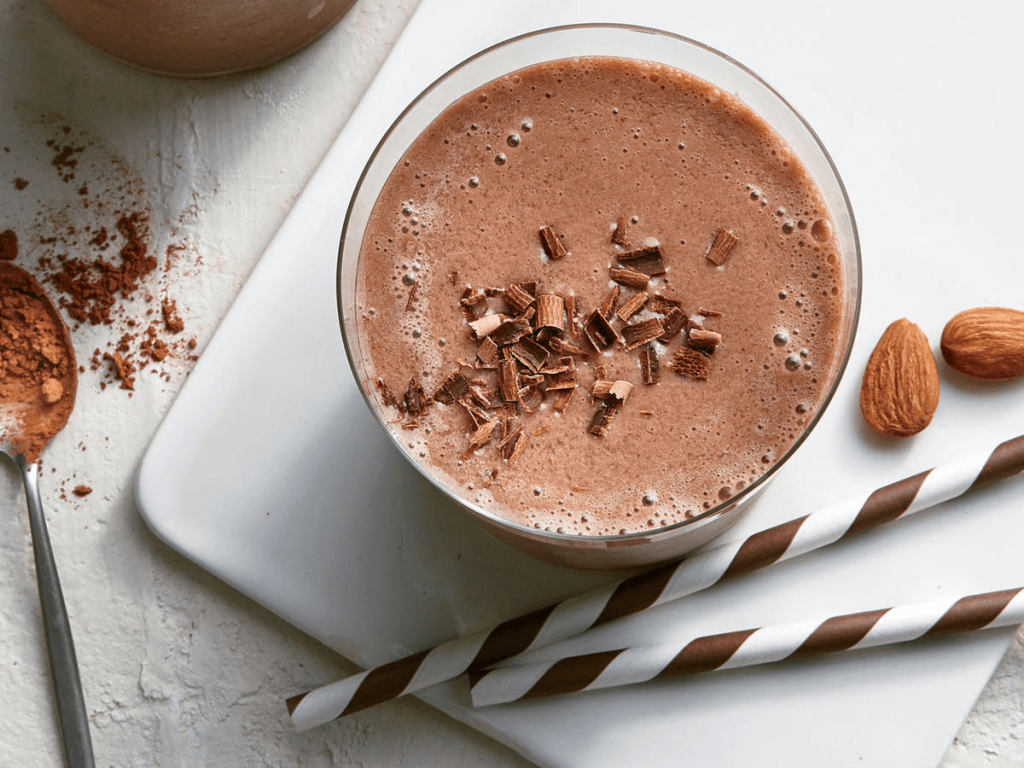 I know, I know! You must be thinking about chocolates as we have talked a lot about vegans and lemons and lavender and what not! But now we will dig into this mouthwatering dark chocolate smoothie!!!
Dark chocolate has a perfect ability to lower down risk of inflammation, insulin, heart diseases and even improves the brain functionality. It also helps in alleviating depression and relieves from anxiety. So, before you try to jump out from this paragraph, I am quickly sharing its ingredients and methods of preparation.
Ingredients:

1 cup of unsweetened cashew milk
1 cup of Swiss Chard
½ avocado
½ cup of raspberries
3-5 ice cubes
4-5 dark chocolate pieces
 Directions:
Put all the ingredients into a high performance blender. Blend them together till you get a creamy and smooth mixture. That's all!
Your stress relieving drink is ready in minutes!
7. Matcha Smoothie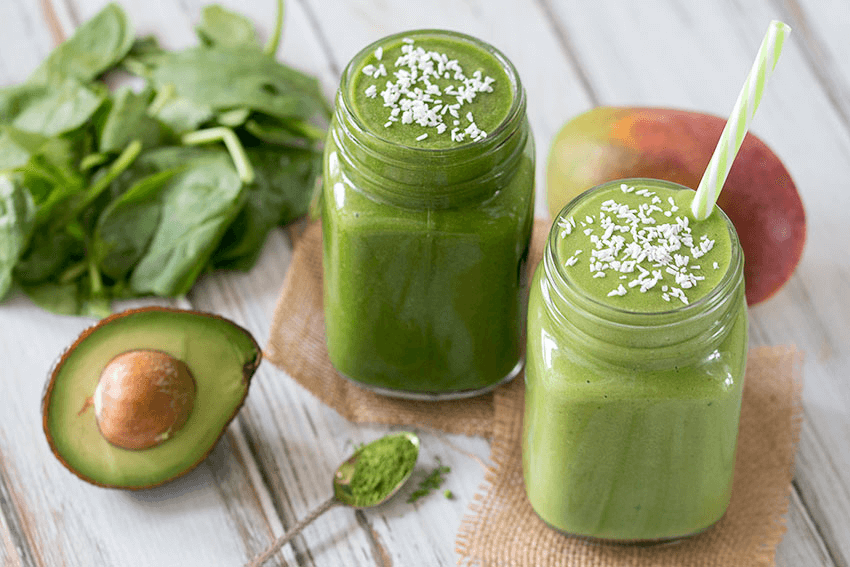 If Matcha is a new term for you, let me explain. It is a green tea powder that is shared grown before harvesting. Its stems and veins are fully removed during processing. Matcha too has amazing health benefits that boost metabolism and burns calories. Along with it, Matcha also calms the mind and enhances the mood.
Let's talk about its ingredients and method of preparations.
Ingredients:

1 cup of Kale
½ apple and avocado
2 pitted dates
3 ice cubes
½ teaspoon organic matcha green tea powder
1 tablespoon rolled oats
 Directions:
 The method is pretty simple, as you need to put everything in a high speed blender. Turn it on and prepare a thick creamy smoothie. Now enjoy!
8. Yogurt and Spinach Drink To De-stress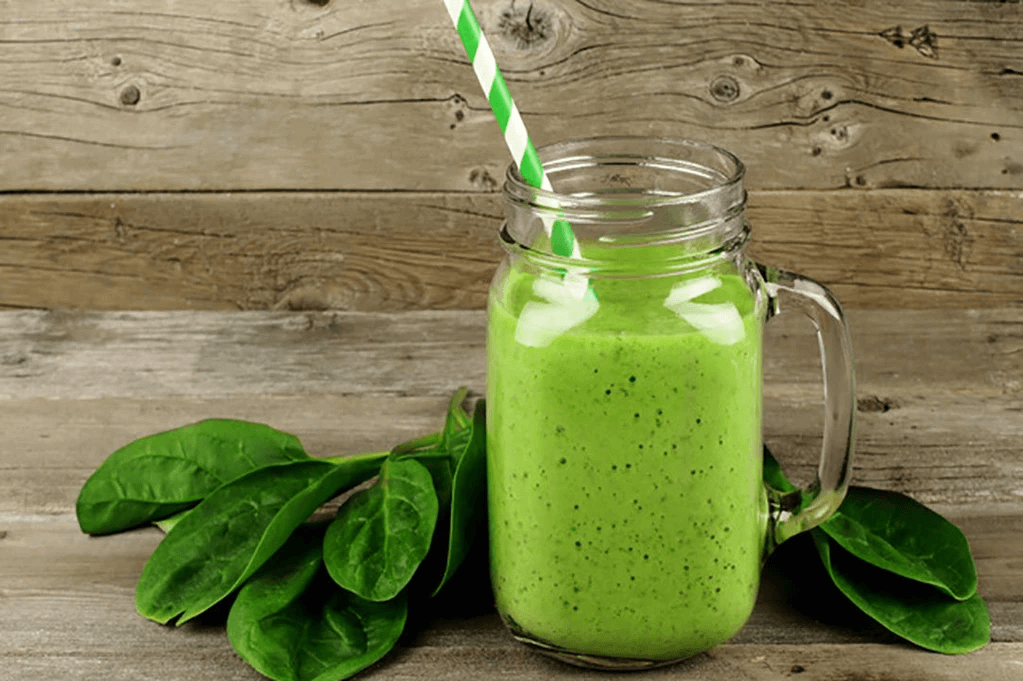 Get ready to unlock your potential with good nutrition with this green smoothie. We have taken yogurt and spinach together to make sure it hits the right corner and gives you immense pleasure as soon as you sip it!
Spinach is the green leafy vegetable that is also a source of magnesium. If you are not aware, let me tell you that this magnesium is useful in fighting with anxiety and treating ADHD. If we talk about Yoghurt, it has a capability to fight with neurotoxins and other radicals that leads to stress and anxiety.
Ingredients:
1 carrot
¼ cups of raspberries and ground flax seeds
1 tablespoon rolled oats
1 cup spinach
2 tablespoon of Greek yogurt
Directions:
Blend them together until you get the rich creamy texture and enjoy!
9. Kale Chia Bliss
As per the researchers at State University of New York, dark and leafy green vegetables like kale are rich in beta-carotene and vitamin C that are helpful in boosting antioxidant levels and supports brain functionalities.
Chia seeds are high in tryptophan and amino acids that produce Serotonin in your body. In addition, this hormone helps you to fight with anxiety and stress. Now, let's look into its ingredients.
Ingredients:
1 cup of kale
1 cup of unsweetened almond milk
1 tablespoons of chia seeds
1 sliced and frozen medium sized banana
½ avocado
3 cubes ice
Directions:
Start with pouring milk into the blender and add chia seeds in it. Toss the banana, avocado and kale together. You can also ice cubes into it to get the thicker consistency. Pour them all into the blender and serve.
Enjoy!
10. Nuts and Beets- Stress Relieving Drink
After dark chocolate, you can have this smoothie in terms of taste and wellness. This stress relieving drink is counted as alkaline food that lowers stress and depression. Nuts you know they are full of nutrients and boost our immunity. Now, it's time to check for its ingredients and method of preparation.
Ingredients:
1 cup of spinach
½ cup ground cashews
1 cup unsweetened cashew milk
1 small washed, peeled and cut beetroot
½-inch chunk fresh ginger root
Ice cube
Directions
Put all the ingredients into a blender and blend until you get the rich consistency. Serve it with ice cubes!
Which Stress Relieving Drink Will You Take?
That's all folks! I hope you like this article and have already followed us on social media platforms. If you have any questions regarding these stress-relieving drinks or you want to add your recipes to it, let me know in the comments section below!
Always remember- "Only You Can Change Your Life, No One Else Would Do It For You"
You May Like These Also: