Therapy
Child Counseling: 7 Most Effective Counseling Techniques
Last Update on March 24, 2023 : Published on March 24, 2023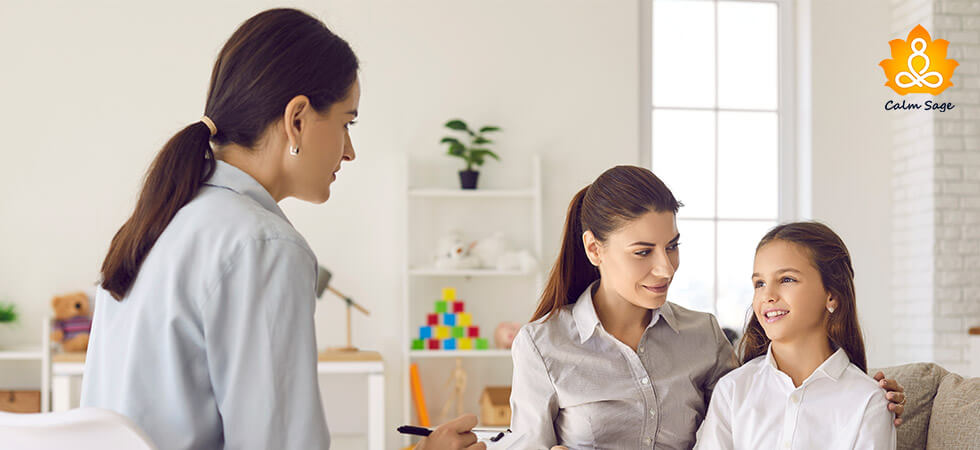 There are various counseling options available for children but most of them are not as effective as they appear to be. If you think your child needs to be counselled for their behavior, traumatic issues, or any other issues, you might want to look for more effective counseling techniques.
We completely understand that child therapy is not an easy topic to discuss with guardians. However, with the help of this blog, as a parent or guardian, you will be able to get professional insight into the counseling techniques that are used for treating children with mental health issues. Child counseling techniques included in this blog not only help in removing the issues but also help boost self-esteem, developing coping techniques, increasing self-confidence, and other positive traits among children. So, let's get started.
What is Child Counseling?
Child counseling is a type of counseling wherein adolescents or young children are provided a platform to talk about their feelings, emotions, and thoughts in a safe, comforting, and trustworthy environment. A counselor provides extended support to the children so that they can overcome their negative experiences, traumatic events, or mental health issues or disorders.
This counseling is developed for children who are going through mental health distress like temper issues, tantrums, hostile behavior, crying more often, and so on. Counselors are specially trained to help and guide children and their parents through various effective parenting techniques. Lack of concentration, loss of appetite, fatigue, low self-esteem, sudden outbursts, nightmares, or perpetual fear are some of the common signs that show your child might need counseling.
7 Most Effective Child Counseling Techniques
1. Cognitive Behavioral Therapy (CBT)
Cognitive Behavioral Therapy (CBT) is the most commonly used therapy technique worldwide. This therapy is not age specific; it can be applied to all age groups. The basic aim of CBT is to recognize negative thinking patterns and replace it with positive thoughts and behavior. As the name implies, it works on thoughts and emotions that impact behavior.
As a child counseling technique, it helps children in identifying unproductive behaviors and replaces them with positive thinking patterns. CBT can be used for children with suicidal thoughts, depression, and anxiety.
2. Dialectical Behavioral Therapy (DBT)
Dialectical Behavioral Therapy (DBT) is a form of Cognitive Behavioral Therapy. It helps children with mood disorders, substance abuse, borderline personality disorder, suicidal thoughts, and more. The aim of DBT is to make children understand that they should be accountable for their behaviors and actions.
Moreover, it also helps to analyze coping strategies so that the children can overcome distorted thoughts. Talking about the efficiency of DBT, research shows that it helps children with self-harming behavior efficiently.
3. Acceptance and Commitment Therapy (ACT)
As the name implies, Acceptance and Commitment Therapy (ACT) is based on accepting and acknowledging inner emotions and feelings. It works on the basis of mindfulness models which help the children to become aware of their ongoing emotions and actions.
As a result, this therapy teaches children to accept the situation, commit to a positive self, and move forward with a positive outlook. ACT helps children with painful emotions like anxiety, workspace anxiety, social anxiety, obsessive-compulsive personality disorder, depression, and psychosis.
4. Play Therapy
Play therapy is another most effective and commonly used therapy designed for children. Play therapy includes the use of dolls, puppets, toys, colors, building blocks, and other forms of games that help the children to express, visualize, and articulate their feelings and emotions in a better way. Play therapy helps the therapist recognize the unhealthy patterns in children.
With the help of this therapy, children are able to express their emotions without any hesitation. Play therapy helps in boosting self-respect, empathy, taking responsibility, and develop problem-solving and coping strategies within children. It basically helps children with autism spectrum disorder (ASD), anxiety, depression, grief, aggressive behavior, and family issues.
5. Family Therapy
Family therapy does not only include children but also their family members, parents, and siblings. Family therapy revolves around dialogues and diagnostic sessions. It helps the therapist to identify and observe behavioral and communication issues among the family members.
As a result, it helps the children to cope with unhealthy emotions and develop coping strategies. Family therapy can be used for resolving family conflicts, parenting issues, and other problems within the family.
6. Supportive therapy
Supportive therapy revolves around minimizing the symptoms of the issue. It basically helps the children to develop coping strategies that help with stress and anxiety. As a result, supportive therapy helps in boosting self-confidence and self-worth in children.
Supportive therapy can be used for children with decreased cognitive functioning, social support, low IQ, learning disabilities, disordered thinking, and more mental health-related issues.
7. Trauma-Focused Cognitive Behavioral Therapy (TF-CBT)
Trauma-Focused Cognitive Behavioral Therapy (TF-CBT) helps children to heal from traumatic events. If a child has gone through emotional abuse, self-harm, physical abuse, sexual abuse, or the sudden death of parents, TF-CBT is perfect for them. This therapy helps in dissolving feelings of guilt. Overall, this therapy is the most practical and efficient way to resolve the ongoing trauma within children.
Benefits of Child Counseling
Below are some of the common benefits of child counseling:
1. Increased self-esteem
Child counseling can help a child feel safer and more secure with themselves.  A child counselor can help a child increase self-worth, self-confidence, and self-esteem in their own body.
2. Increased confidence
Child counseling helps a child identify negative thinking patterns and help replace them with positive thoughts. They teach self-control to the child which indirectly also increases self-confidence. The confidence enhanced within a child makes them resilient to tackle future issues.
3. Reduced stress and anxiety
A child counselor makes a child learn various methods to cope with negative situations. With the help of counseling, they are able to fight back the stress or anxiety in a healthy and positive manner.
4. Positive developmental changes
Around 80% of children face difficulty to deal with or adapt to the changes. With the help of child counseling, they can become more resilient, well-rounded, well-adjusted, and confident individuals that are ready to fight back against any kind of negative situation.
5. Reduced trauma
Children who have experienced negative or traumatic situations can take the help of a child counselor to share their overwhelming feelings, thoughts, and memories. This will help them process their feelings in a positive way. Overall, child counseling at a younger age can help make a better future.
Quick Takeaway
If you feel like your child needs to be counselled, the first thing you must do is find the right counselor for your children. Research as much as you can and make a list of prospective therapists. For quick and easy work, here is the list of concerns that you can ask a therapist before enrolling your children:
Ask the therapist about their credentials.
Ask the therapist about their experiences with children
Ask the therapist about their specialties
Ask about health insurance plans
I hope this blog helps you to get an insight into the 7 most effective child counseling techniques. Comment down and share your views on these techniques. For more such content, connect with us on all social media platforms.
Thanks for reading!