Mindfulness
50+ Daily Gratitude Journal Prompts That Will Change Your Life Forever
Last Update on August 16, 2022 : Published on August 3, 2022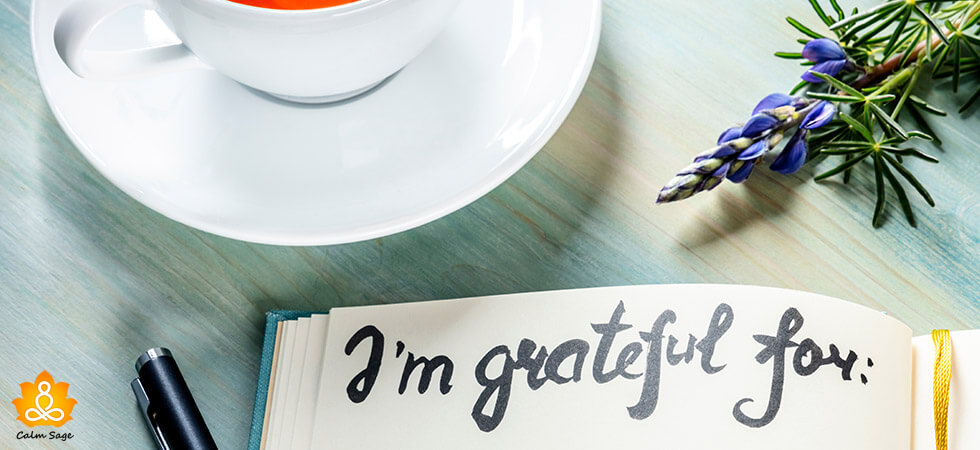 Feeling sad? Practice gratitude.
Are overwhelming emotions disturbing you? Practice gratitude.
Want to practice kindness? Show gratitude.
Wish to show compassion? Shower gratitude.
And many more! There are various ways in which you can practice this magical tool too! But, one of the most preferred and suggested ways is– "maintaining a daily gratitude journal." Gratitude journaling is a way to foster gratitude in your life and enjoy the benefits of the same.
Even I practice gratitude journaling and have seen its positive impact on my life. And on my journey of daily gratitude journaling, I got stuck on all things I can be thankful for! So, I created my list of daily gratitude journal prompts that helped me discover the good things in my life.
If you too are planning to start your daily gratitude journal or you are feeling stuck these daily gratitude journal prompts are here for your rescue!
What Are Gratitude Journal Prompts?
Prompts are open-ended statements that help us see the good in the environment that we live in.
Even in the case of gratitude journal apps they provide you with a space to journal your thoughts and daily gratitude journal prompts to help you with your journaling. So, if you are an old school person like me who prefers working with pen and paper this is the perfect space for you!
Note: Gratitude journaling is very flexible! So you don't necessarily have to stick with the same prompts. Feel free to modify them as per your requirements. You can identify and journal more than three things. You can replace the word grateful with other similar words like "thankful," "appreciative" and more.
Let us explore some life-changing daily gratitude journal prompts or daily positive journal prompts.
50 Gratitude Journal Prompts for Your Wellbeing:
What are the three things I am most grateful for?
Who is the one person who's taught me about unconditional love?
What is the one good thing that happened to me today?
What about my childhood/household I am most grateful for?
Am I happy with the day I had? Can I do better tomorrow?
What are the five things I am doing well these days?
Did I do something nice for someone today?
What family members/colleagues/friends am I grateful for? (Tip: Write what makes them special)
What's something nice someone else did for me today/this week/this month?
What/Who have you happily let go from your life?
What are the three positive qualities in the person who irritates me the most?
What were my worst and best three days of life? What made them that way?
What has caught my attention these days to make me realize how grateful I am?
What are the qualities I admire most in my favorite person?
What friends I am most grateful for? And why?
What 3 things I could do today to be a kinder person?
What are the 3 things that always put a smile on my face?
What is the most beautiful place I have been to? (Tip: Relive the experience)
What are my biggest accomplishments?
What do I appreciate about my life? At this moment?
What are the  3 things that I can start doing today to express my gratitude to others? (Examples: helping, volunteering, donating, etc)
What has been the highlight of my day today?
What things do I have that make life easier?
What are the 3 things that have happened to me that have strengthened my character and who I am today (including positive and negative events)?
What are the two challenges in life that I have overcome? What or who has helped me overcome these challenges?
What are the 5 things I love about my home?
What 3 things do I love about the town, area, or neighborhood I live in?
What about nature am I most grateful for?
What about my career or job am I most grateful for?
What made me laugh out loud today?
What event warmed my heart today/this week?
Who went out of their way to help me? How can I express my gratitude to them?
What food do I enjoy eating/making? How am I grateful for this?
What physical attributes of mine am I grateful for?
What qualities/talents of mine am I grateful for?
How can I continue to be thankful?
What are the simple pleasures in life I am grateful for?
What are the three holidays I am most grateful for?
What three colors am I most grateful for?
What are the three goals I have achieved so far?
What memories am I most grateful for?
What two life lessons I have learned that I am thankful for?
What are the three most important things in my physical space I am most grateful for?
What are the two books that have influenced my life the most?
What are the physical activities that have kept me fit all these years?
Who is the role model that has influenced me the most?
Who is my mentor that I need to thank for my success in life?
What freedoms am I grateful for?
What difficult parts of my life were hidden blessings?
What opportunities am I grateful for?
With this list of 50 daily gratitude journal prompts you are never going to get stuck with your gratitude journaling ever again!
My Version Of Gratitude Journal Prompts
My daily gratitude prompts me to practice the "three good things" exercise. In this exercise, you think of three good things in your life and say it loud to yourself. This way you remind yourself that there is always something good to look at, in your life.
Bonus Daily Gratitude Journal Prompt:
"I am grateful for all those things that haven't happened yet in my life. But I am sure one day they will! I am thankful for that!"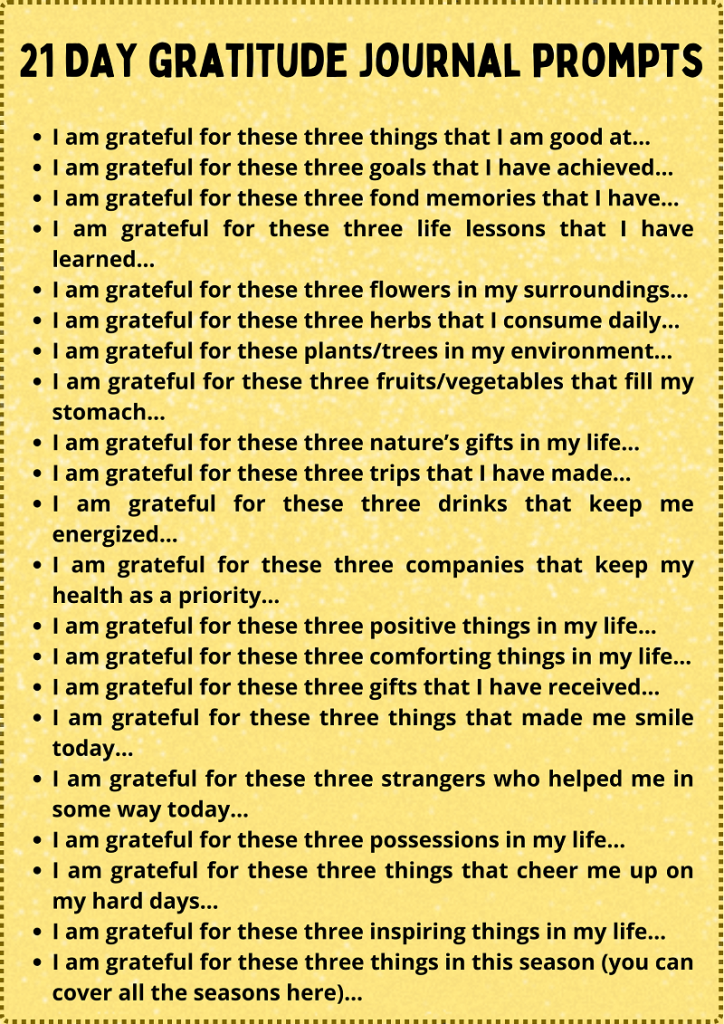 If you find these prompts useful in your daily gratitude journaling do let us know in the comment section below. And if you have more prompts to add to the list and help others, feel free to drop them in the comments too! We will be looking forward to hearing from you.
Remember, you can always reach out to us at info@calmsage.com or follow us on social media for more useful content!
Thank you for reading this blog…
Take care and keep journaling!
 Next Read: