Mental Health
Daylio At A Glance (Daylio App Review)
Last Update on September 28, 2022 : Published on September 29, 2022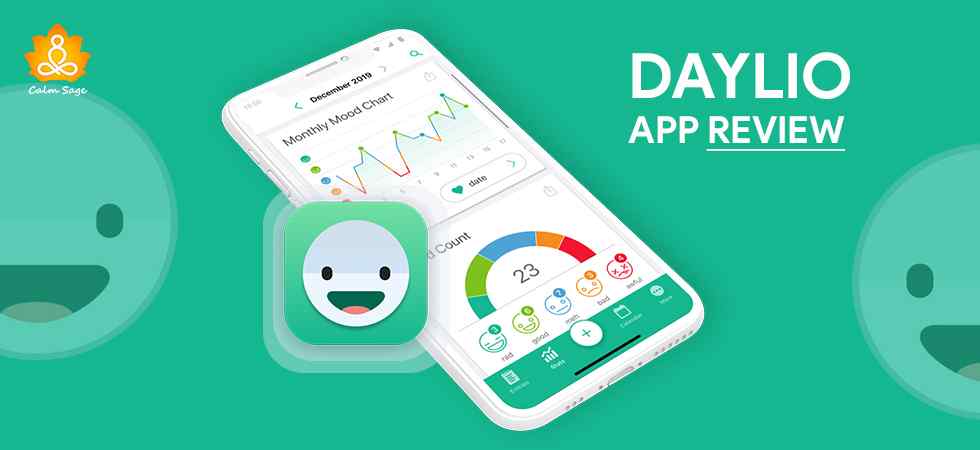 The Daylio app is a journaling app that helps people track their moods, emotions, and daily activities. It is like a digital form of a bullet journal, it's very less time-consuming and makes it easy for you to track your mood easily.
The Daylio app is one of the popular applications developed by Habitics s. r. o. Along with Daylio, they have been launching similar applications that help you track your food, and they also have apps for weight watchers.
The Daylio app is quite user-friendly, it does not have any complex screens that confuse you. It uses simple screens asking you very general questions about your mood, your feelings, and what you have been up to.
The best part about the Daylio app is that it doesn't require much writing, it provides you options for almost everything and the range of options is also very inclusive. Without further ado let's look at how the Daylio app works, what is the cost, pros & cons, etc.
| | |
| --- | --- |
| Features | Basic Overview of the Daylio App |
| Reviewing | The Daylio App |
| Developers | Habitics s. r. o. |
| Cost | Free version + Premium version ( 899.00/year) |
| Operating systems | Android and iOS |
| Language | 25+ languages including English and Mandarin |
| Speciality | Journaling App |
| Our Ratings | 4/5 |
What Is Daylio app & How To Sign Up With Daylio?
The Daylio app is personal wellness and self-care application that uses journaling as a means to keep a track of one's mood. What the Daylio App does is, asks you about your mood and what you did that day. Based on your answers, it draws inferences about how different activities affect your mood.
The Signing up process is neither complex nor lengthy. First things first, you will have to download the Daylio app from App Store/Pay Store. Once that is done, you open the app and the first screen that pops will be a quick guide. You can either skip it or go through it.
That's about it! You do not have to do anything else to sign up for Daylio.
How To Get Started With Daylio?
The makers of the Daylio app have made the application very easy to use. It will only take you around 5-7 minutes to get started with the Daylio app and from the second day you might just take 2-4 minutes to record your mood and activity and you're done for the day.
Here's how to begin using Daylio App;
Download the Daylio App
Select the color scheme and emoji icons for your mood tracker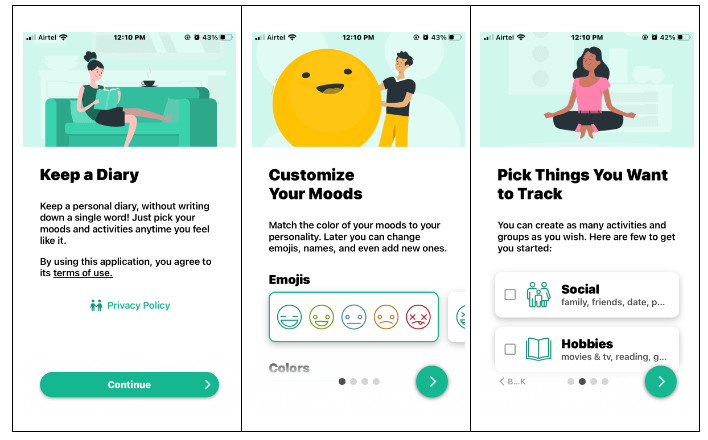 Select all the activities and hobbies that you would like to track
Pick a goal you wish to achieve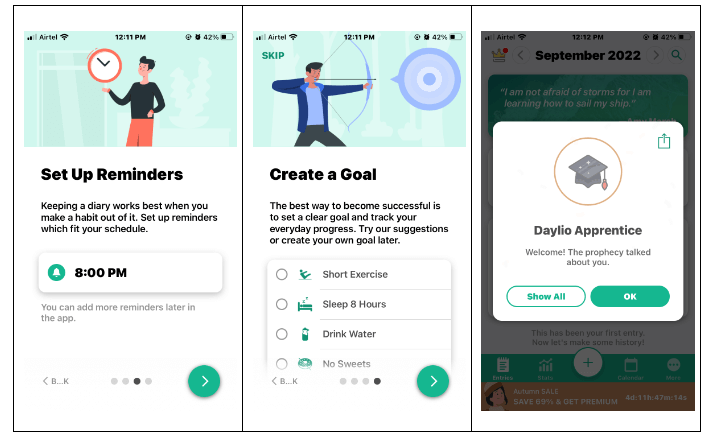 Choose a suitable time and set a reminder to use the app
Decide if you want to use the Free Version or the Premium Version
Now you can log your first entry
Daylio App Review: Free Version v/s Premium Version
The Daylio app provides you with a Free Version and a Premium Version along with that it also gives you a 7-day free trial so that you can make a suitable choice. The Free Version obvious is different from the Premium one. Let's see how…
Daylio App review: Free version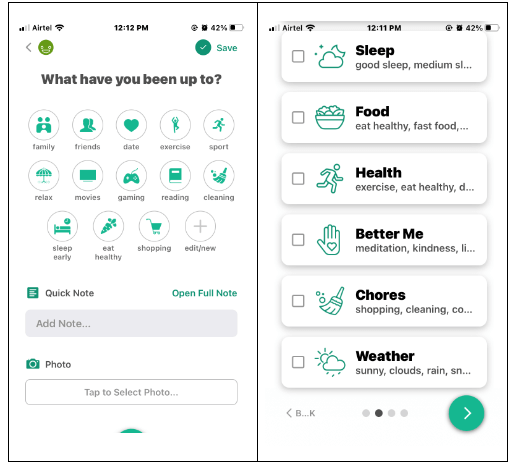 It tracks mood, habits, and hobbies
Can customize color schemes and mood icons
Wide variety of statistics is available to show what affects your mood
No provision to send a PDF of your logs
You can copy and print your statistics and logs in the app
You can customize your selection of mood, habits, and activities as many time you want
There are many categories for you to choose from like  social, sleep, hobbies, food, and chores
Within these categories you will get sub-categories as well
You can easily review your previous logs and also log in back date if at all you skip a day
You can make new goals from your profile section in the 'more' tab
You can upgrade to the premium version anyone you want
Daylio App review: Premium version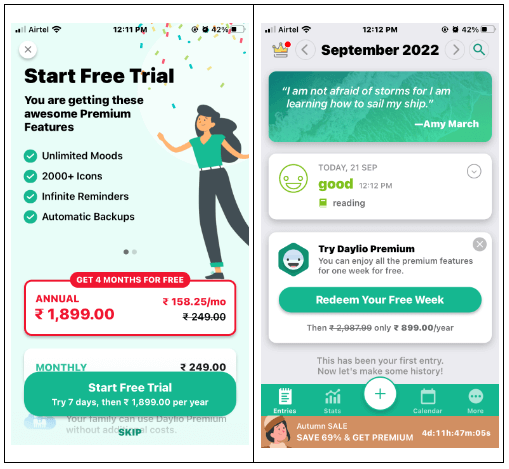 In the Premium version, you get everything that is there in the free version. Along with those it also gives you some extra perks, such as;
Advanced Statistics
More color themes, mood icons, habits, and activity options
You can download a PDF version of your logs
7-day Free trial on a yearly subscription
The premium version is for those people who want to track every aspect of their mood. If you want to closely study how each activity of your affects your mood. The premium version gives you a wide range of hobbies and activity options to choose from making your journaling as specific and exclusive as possible. The statistics in the premium version make it very easy for you to observe how small things like a good meal or sleep affect your mood.
Is Daylio App Free?
The Daylio app has a free version that has no in-app purchases and does not charge for any of its available functions. However, it does have a chargeable version, the premium version of the application.
For the premium version, the Daylio App charges $2.99 monthly or $23.88 annually. If you choose the annual subscription, you will be given a free 7-day trial as well.
The Daylio App Review: Pros &Cons
Pros:
A wide range of functions is available for free
User-friendly, quick, and easy to use
Doesn't require any writing
The entire process is completed in under 5 minutes
Offers a 7-day free trial for an annual subscription
Cons:
No journaling prompts
Not apt for people who enjoy writing
A monthly subscription has no Free-trial
It's not community friendly, you can't engage with other people on the app
The backup is manual
Final Thoughts…
The Daylio app is one of the finest applications that has a very user-friendly approach. The best feature of this application is that it allows you to customize your mood, activities, hobbies, etc. this makes it very easy for the user to log their exact mood, activity, etc. making the App feel just like a regular journaling diary.
I give the Dalio App a thumbs up for three reasons;
It's easy to use,
It's not time-consuming, and
It lets you see your progress and set goals as per your preference
If you are someone who wants a quick and easy solution for your lack of skill in journaling and mood tracking, or someone who does not enjoy writing down everything about your day, the Daylio app might work wonders for you.
That's All Folks!
I hope you found the Daylio App Review helpful!
Thanks for reading.
Take care and stay safe.