Therapy
Know The 4 DBT Therapy Techniques (And How They Can Help)
Last Update on May 25, 2022 : Published on May 25, 2022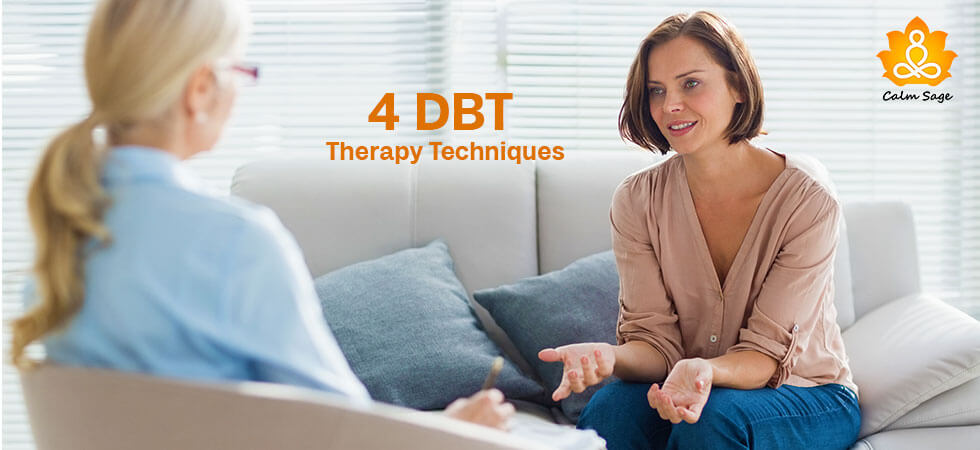 Dialectical behavior therapy or DBT is a psychotherapy approach that can help one manage and cope with their difficult emotions. This evidence-based therapy is as widely used as cognitive-behavioral therapy or CBT.
DBT therapy was first introduced by psychologist Marsha Linehan and was designed to help people living with BPD or borderline personality disorder. In recent times, DBT is used to help people deal with various mental and emotional conditions, including:
Eating disorders
Thoughts of suicide or self-harm
Depression and anxiety
Substance Abuse, and more.
DBT therapy techniques are designed to help people cope with distressing emotions, often those that occur in the conditions mentioned. When DBT therapy techniques are introduced, you're taught how to identify emotions, then gradually change the negative thoughts and behaviors that are the cause of your continued distress.
In this blog, let's explore more about DBT therapy techniques and how they can help you heal.
An Overview Of Dialectical Behavior Therapy
DBT is not what many people may imagine it to be. There are various techniques in DBT that can be unique to the treatment. However, DBT is an effective therapeutic approach to help people struggling with extreme emotions.
Many research suggests that DBT can be a good primary therapeutic approach while treating BPD, depression and anxiety, PTSD, and other severely distressing mental health disorders.
The principles of DBT are simple. Developed on ideals of philosophy and science, DBT believes that "one is doing the best they can" and "one needs to learn new ways to grow". Another belief that DBT stands with is that everything in life that you believe is connected. That change is inevitable.
The components DBT is based on can include:
1. One-on-one Therapy
DBT sessions always include one-on-one sessions a week with a DBT-trained therapist. During these sessions, you're required to focus on major experiences of your life, explore how your thoughts and beliefs add to your current dilemmas, and how you can use new skills to handle those thoughts and feelings. One-on-one therapy is always encouraged when using the DBT approach to therapy.
2. Therapist Training Is Must
Another important component of DBT therapy is that therapists must undergo DBT training. The therapists practicing DBT must stay updated with the current findings and research to support their DBT practice.
3. Phone Coaching Is Encouraged
Traditionally, DBT therapy gives you access to a DBT coach or therapist via phone. Phone coaching and therapy are encouraged as a part of DBT therapy but it is to be noted that the calls shouldn't become a habit. Phone therapy will only work when you learn to practice the skills learned in DBT therapy on your own with occasional help from the coach.
4. Group Therapies Help
Unlike other therapy techniques and approaches where you either attend an individual session or a group, in DBT therapy, both are encouraged. DBT group therapy may involve discussions, webinars, or lectures. DBT group therapies are conducted once a week for approximately 5 months.
The 4 DBT Therapy Techniques
Therapy techniques may vary between approaches and types of therapies. While many therapy techniques can be used, these 4 are the most common DBT therapy techniques. Let's take a look at them:
1. Using Mindfulness
Mindfulness means being aware and being in the present moment. Incorporating mindfulness into your daily life can be helpful especially when you're in DBT therapy. Mindfulness as one of the dialectical behavior therapy techniques can help you be aware of the present and not lose yourself to your past or worry about the future.
Practicing and incorporating mindfulness as a DBT therapy technique can help you:
Balance thoughts with emotions
Be non-judgmental in observing your thoughts and emotions
Take effective actions
Overcome aspects that make achieving mindfulness difficult
2. Distress Tolerance
The distress tolerance technique is to help you get through the crises in your life that might not be easy to deal with. When you use this DBT therapy technique, you learn to accept change and use coping techniques to deal with distressing emotions such as self-avoidance, self-harm, violent outbursts, and more.
Distress tolerance as a dialectical behavior therapy technique can help you:
Focus during stressful situations until you calm down
Learn how to self-soothe by relaxing
Distract yourself from stressful situations
Compare the pros and cons of the situation
3. Interpersonal Effectiveness
Following mindfulness and distress tolerance techniques is the interpersonal effectiveness DBT therapy technique. This dialectical behavior therapy technique can help you understand how you feel and help others know the same. This DBT therapy technique combines various skills such as active listening, social skills, and assertiveness to help positively interact with others and change stressful situations.
During this DBT therapy technique, you learn how to:
Communicate openly and honestly
Let go of personal conflict and challenges
Say "no" and ask for what you want
Increase self-respect
4. Emotional Regulation
Sometimes, it's not easy to escape your emotions but with a little help, they can become manageable. That's where emotional regulation as a dialectical behavior therapy technique comes in. Emotional regulation is one of the most effective techniques of DBT therapy and it focuses on teaching you how to control your emotions before they can cause a distressing reaction.
Emotional regulation as a DBT therapy technique can help you:
Identify emotions
Lessen vulnerability
Increase positive emotions
Become mindful of emotions (without judgment)
Become confident in controlling your emotions
Control emotions before they can control you
How To Look For A DBT Professional?
DBT therapy techniques, while may look easy to practice on your own, shouldn't be done without a professional support system. As the components of DBT combine group therapy and individual therapy, it is best to learn under the guidance of a DBT-trained therapist.
If you want to go ahead with DBT as a therapeutic approach then you can consult with your nearest mental healthcare provider or connect with a professional by clicking the link below.
Book Your First Therapy Session
BetterHelp's trained professionals can help you find the right therapy and right therapist from the comfort of your home.
NOTE: May is mental health awareness month and to mark the month, Calm Sage and BetterHelp are offering a 40% discount on the first month of online therapy.
You can sign up with BetterHelp using the code "CALMSAGE" and start your healing journey today!
If you found this article helpful, let us know in the comments below. You can also share your
thoughts with us at info@calmsage.com or DM us on social media.
Take care!