Mental Health
Mental Health And Vitamin B12 | Your Secret Mental Health Shield
Last Update on June 22, 2022 : Published on December 16, 2020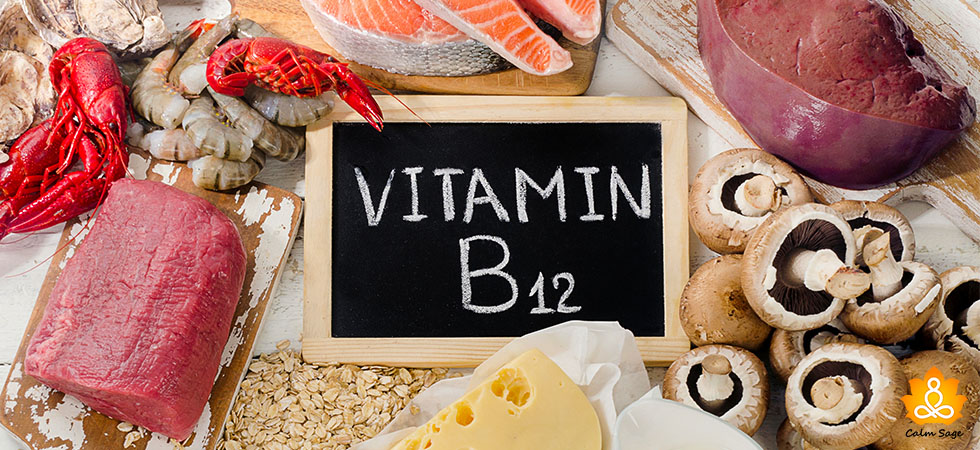 Hey, are you having enough vitamin B12 in your daily diet? Wondering, why it matters? Read this story…
A few months back, a friend of mine had to shift from her working city to her hometown as she wasn't keeping up well with her physical and mental health. In fact, her situation got so worse that she even fainted a couple of times and had an episode of a panic attack as well. On coming back, she got her physical examination done, and to everyone's surprise, she was found to be Vitamin B12 deficient.
That is when I realized how crucial is vitamin B12 as a vitamin that both our mind and body need. (Now you know why I asked about vitamin B12 in your diet!)
While many of us might be aware of the basic functioning of vitamin D in our day-to-day life, others might not be even aware of the need for this vitamin. So, let us take a moment and see why Vitamin B12 is the ultimate shield for your overall well being.
What Is Vitamin B12
Vitamin B12 is one of the essential nutrients that we need to boost your physical and mental health. It is also known as cobalamin. Vitamin B12 is a water-soluble vitamin that our body can't make on its own, that is why you have to depend on the food sources to meet the bodily requirements. It is an important vitamin for our physical and mental health. Vitamin B12 is also referred to as an Energy vitamin, as it gives our body a dose of energy!
Vitamin B12 Deficiency: The Signs To Look Out For
If your body is vitamin B12 deficient, then it may reflect in your body, actions, emotions, and behavior differently. Some of the common signs of vitamin B12 deficiency are discussed below. If you can relate to 3 or more signs, we recommend you consult your general physician.
Constant headaches.
Constipation
Strange sensation, numbness, or tingling in the hands, legs, or feet.
Anemia (reduction in healthy red blood cells)
Feeling tired and experiencing fatigue.
Sudden weight loss.
Muscle weakness.
Impaired balance.
Swollen inflamed tongue.
Reported mood changes
Thinning of hair.
Chronic back pain.
Infertility in both men and women.
Blood-related disorders.
Brain fog resulting in poor memory and concentration.
It might come as a surprise, but India alone reports 10 million cases of vitamin B12 deficiency per year. However, it can be treated by a medical professional and can be easily resolved within months, with the help of proper treatment. Henceforth, if you just check on three or more signs of vitamin B12 deficiency, then consulting a professional is advised.
People At Risk of Vitamin B12 deficiency
Considering the fact and figures that are largely focusing on the impact of Vitamin B12 on our overall wellness, studies have been conducted to find out if a certain group of people are at risk of vitamin B12 deficiency. The findings have suggested some factors that can put an individual at this risk. This includes:
Vegans: As they don't consume animal products be it dairy or meat, in which vitamin B12 is naturally found in them.
Anemia: People with unexplained anemia are also at risk of developing vitamin B12 deficiency.
Infections: Infections such as Crohn's disease or Helicobacter pylori make an individual more prone to be vitamin B12 deficient.
Older adults: Elderly people are found more susceptible to develop a deficiency of vitamin B12
Why Your Body Needs Vitamin B12
Vitamin B12 does not perform just one function in our body and healthy living rather, it has multiple roles to play. Our body needs vitamin B12 for different functions like:
Vitamin B12 is responsible for red cell formation thus, preventing us from anemia.
Optimal consumption of vitamin B12 is associated with improved heart health.
Bone health is also supported by vitamin B12. Apart from it also prevents osteoporosis.
Vitamin B12 works as a dose of energy for our body as it produces and maintains our energy levels.
It is even found to support a healthy pregnancy and prevent major birth defects.
Vitamin B12 is effective in preventing macular degeneration (an eye disease that affects our central vision).
It is a crucial vitamin for our brain health as vitamin B12 works as a protective layer for loss of brain neurons. Thus, preventing dementia and alzheimer.
Our heart can also be improved with optimal intake of vitamin B12.
Why Your Brain Needs Vitamin B12
So far, we have discussed the importance of vitamin B12 in our body now let us shift our focus to the relationship between vitamin B12 and mental health. Vitamin B12 has a major role to play when it comes to our mental wellness as the title of the blog reads, "Your Secret Mental Health Shield" it does hold true.
Vitamin B12 and Depression: The family of vitamin B plays an important role in producing hormones that affect our mood and other brain functions. Lower levels of vitamin B12 in particular are linked to depression. The Internet is filled with multiple articles that focus on the relationship between vitamin B12 and depression, making it clear that there exists a relationship between the two.
Vitamin B12 and Mood disorders: The connection between vitamin B12 deficiency and psychiatric manifestation is well established. But generally, the focus is on depression alone, though recent researches have suggested that there is a relationship between vitamin B12 and other mood-related disorders as well.
Vitamin B12 and Alzheimer: Dementia and Alzheimer prevention is found to be linked with low levels of vitamin B12. As deficiency of vitamin B12 is related to memory loss and diffusion, if not taken care of can lead to neurodegenerative issues.
Vitamin B12 and Psychosis: Recent findings have shocked many researchers and mental health professionals, where it was found that deficiency of vitamin B12 can cause psychosis.
Vitamin B12 and other Mental Health conditions: Apart from being linked with mood-related disorders, inadequate levels of vitamin B12 are also related to other mental conditions. According to research findings, these include common mental health conditions like anxiety, apathy, personality changes, symptoms of schizophrenia, insomnia, aggressive behavior, and bipolar disorder.
Vitamin B12 and Emotional Vitality: Consumption of vitamin B12 is also linked with bringing a sense of positivity and feeling of engagement in life. This clears the relationship between lower levels of vitamin B12 and depression as well.
Best Food Sources To Get Your Daily Dose of Vitamin B12
As discussed above our body can't produce vitamin B12 on its own and plus there is no natural source to consume (like we have sunlight for Vitamin D). So the only way to include Vitamin B12 in our life is through our diet and food. Here are some Vitamin B12 rich food items for you to add to your grocery list.
Fish: Salmon, tuna, and trout.
Eggs
Beef & meat.
Fortified cereals.
Calms
Nutritional yeast.
Milk and other dairy products.
Interesting Fact: The human body can store vitamin B-12 for up to four years.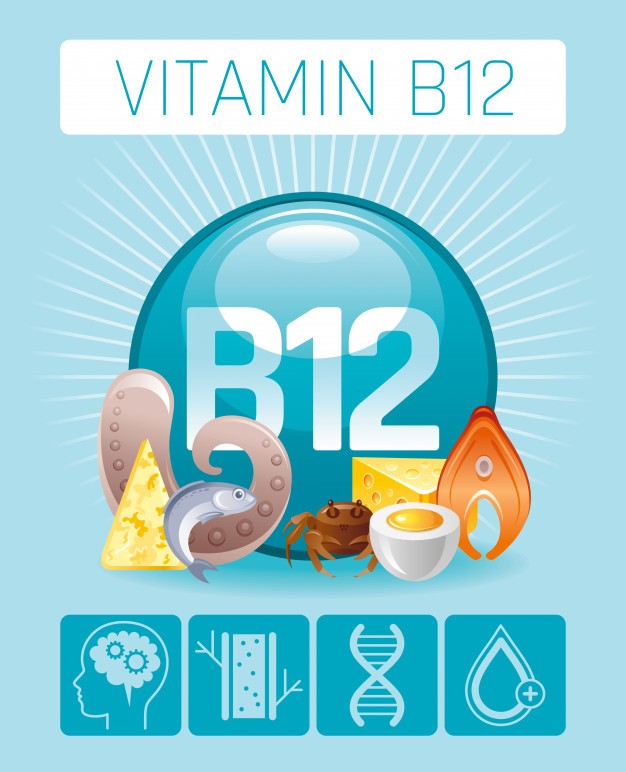 How Much Vitamin B12 Should I take for a Healthy Life?
Consumption of different vitamins is governed by different factors. For vitamin B12 the determining factor that governs the intake quantity is age and it is measured in micrograms (mcg).
| | |
| --- | --- |
| Age Bracket | Vitamin B12 Quantity Required |
| Infants up to age 6 months | 0.4 mcg |
| Babies age 7-12 months | 0.5 mcg |
| Kids age 1-3 years | 0.9 mcg |
| Children age 4-8 years | 1.2 mcg |
| Children age 9-13 years | 1.8 mcg |
| Teens age 14-18 | 2.4 mcg |
| Adults age 19-70+ | 2.4 mcg |
| Pregnant mother | 2.6 mcg |
| Breastfeeding mother | 2.8 mcg |
Final Thoughts…
From studies available one thing is clear that our mind and body do need an optimal level of vitamin B12 to function effectively. Specifically, if we talk about depression and mood disorders, vitamin B12 plays an important role in controlling its symptoms. Therefore, it is suggested that you too add the required amount of vitamin B12 in your life and safeguard your overall wellness.
After doing so, if you notice any change in your life, mood, and physical health, do share it with us in the comments section.
Now go get your dose of energy with vitamin B12 and get going in your life!!!