Listen To These 10 Songs To Help With Depression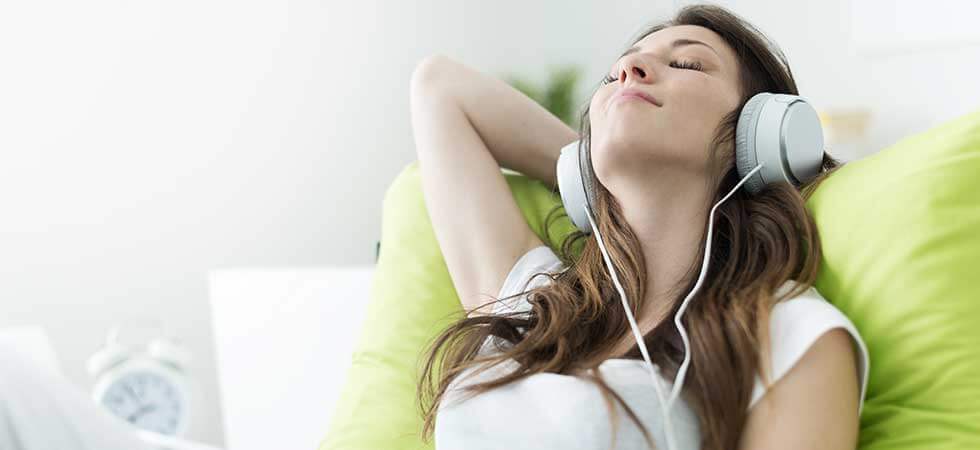 Studies have proven that listening to the right music can certainly alleviate depression if you are ready to let it go. Yes, there could be signs of depression due to any reason, be it a breakup, financial crisis or other failures, some songs can really help cope with depression. It is a proven fact that good music acts as therapy or psychosomatic medicine to control mood disorders.
Music can even modulate moods and emotions. There could be two forms of music therapy including active and receptive. Active therapy is the one where one can sing songs on their own while Receptive therapy is one where one listens to songs to help with depression.
YouTube, Spotify or Soundcloud, make your own separate playlist that boosts your mood for positivity when you feel low.
Songs To Help You Cope With Depression
Here is the list of songs to help with depression
1. Three Little Birds –Bob Marley
"Don't worry about a thing, because every little thing is gonna be alright." Let your mind say 'Bye depression' and enjoy this beautiful song to make things alright.
Also Read: 10 Inspirational Movies To Fight Depression (Weekend Special)
2. Alive — Sia
"I am still breathing. I am still breathing, I am alive." Let Sia's strong voice pitch in your head and become a fighter for self. Indeed one of the best songs to help you cope with depression.
3. 1-800-273-8255 –Logic
This song makes you realize that you are worth and amazing to live forever. Life is beautiful and no person shall ever think of harming themselves. The song headline 1-800-273-8255 is itself Suicide Prevention Call.
"I finally want to be alive. I don't wanna die today. I don't wanna die anymore" are the best lines you want to hear.  This is one of the rarest songs about depression and anxiety which makes you realize your love for life.
4. I Won't Give Up –Jason Mraz
Whether you are a hip hop fan or metal lover, this song will make you feel better despite its calm nature. In case, you want to help someone depressed, send them today! this song will help them to cope with depression!
"I won't give up on us, even if the skies get rough. I am giving you all my love, I'm still looking up."
Also Read: "I Beat Depression So Can You": Says Actress Deepika Padukone
5. Weightless –Natasha Bedingfield
Cut the strings of the world and feel weightless for a few moments with this amazing song to help with depression.
"The sky's the limit and I just want to float, Free as a spirit on a journey of hope"
6. Scars To Your Beautiful –Alessia Cara
Body shaming has indeed led many men and women in the world of depression. But thanks to Alessia Cara for reassuring everyone that you are strong enough and shall not give a chance to the world to point a finger at you.
"You should know you're beautiful just the way you are. And you don't have to change a thing, the world can change its heart."
7. Nothing Else Matters –Metallica
Why are we recommending this song to help cope with depression? Because it has proved to help people while they were fighting through mental disorder. It reminds us that no matter what the world is doing but if you trust yourself, nothing else matters.
"Never cared for what they say, never cared for what they play, Never cared for what they do, Never cared for what they know, And I know yeah!"
Also Read: Selena Gomez's Depression Story Is An Inspiration For Peers: INSIGHTS
8. Undefeated –Daughtry
No matter how many challenges hit your life, there are some songs to help with depression. Undefeated is one of them!
"Weak knees, can't stand, raise your hands. Don't walk away, been sucker-punched but I'm not down. My feet have never left the ground. It's a fight that I can't fix like a cut that needs a stitch. And somehow through it all, I stay undefeated."
9. Swim –Jack's Mannequin
Fighting depression or any other tough phase of your life? SWIM with this beautiful song! It tells you to swim for life, music and forget everything. Just keep moving ahead and not give up. This is why Swim has saved thousands in rough times and indeed is one of the best songs to help you cope with depression.
10. Fight Song –Rachel Platten
"I will scream them loud tonight. Can you hear my voice this time?" make this your fight song and throw away your anxiety. Be strong!

Win This Game!
Remember "bad times come to go away"! And some of these songs are there to help you cope with depression or other faulty stages. Stay motivated during rough times and if you are not able to, TALK TO US NOW! Let's fight together.
Related Articles:
Understand Types Of Depression Now & Get Healed!
Selena Gomez's Depression Story Is An Inspiration For Peers: INSIGHTS