Therapy
What is Multimodal Therapy? A Unifying Approach to Psychotherapy
Last Update on July 4, 2022 : Published on July 4, 2022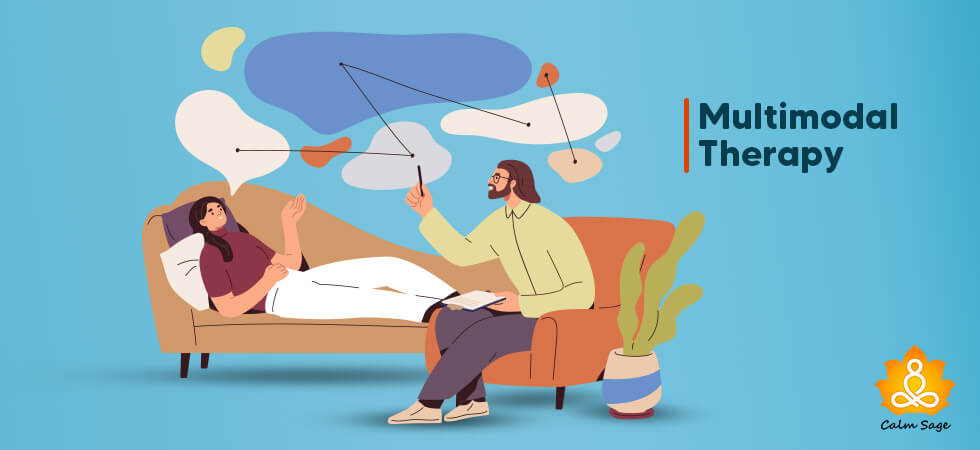 Multimodal therapy (MMT) is a type of psychotherapy consisting of a holistic approach. MMT involves the use of various therapeutic approaches and techniques at once. The goal of the MMT is to treat the whole person at once instead of focusing on specific symptoms. MMT can also be referred to as integrative psychotherapy or eclectic therapy.
MMT was developed in the 1960s by a psychologist named Arnold Lazarus. This therapy came into existence when the psychologist noticed that his client could benefit from using multiple approaches from a single therapy at the same time.
This type of psychotherapy is simple as the name implies. To put it in a nutshell, this therapy is combined with various therapeutic approaches so that the client can recover fast and in an effective manner. In some cases, this therapy can also combine medication with counseling and psychotherapy.
Types of Multimodal therapy
Since different approaches are used to form multimodal therapy, below mentioned is the list of some common types of approaches that are used in the multimodal therapy program.
1. Cognitive Therapy
Cognitive therapy is a type of psychotherapy that works on the thoughts and beliefs of the client to extract the symptoms and mental health issues. This therapy also works on changing negative thoughts to positivity.
2. Psychoanalysis
Psychoanalysis is a type of therapy that is based on deep roots in psychology. The therapist tries to understand the experiences, memories, and unconscious mind related to negative thoughts, behavior, and emotions. Psychoanalysis is mostly practiced as a talk therapy which is effective as it is very slow-going and focuses on every emotion.
3. Behavior Therapy
Behavior therapy is focused on internal negative thoughts and behavior which are difficult to observe directly. It is a well-researched treatment mode practiced with the combination of CBT.
4. Rational Emotive Behavior Therapy (REBT)
REBT is a type of therapy that focuses on people's behavior and emotions that are influenced by negative beliefs about others or them. The therapist helps the clients to have more rational views about themselves which reduces problematic thinking and promotes positive living.
5. Dialectical Behavioral Therapy (DBT)
DBT is a type of cognitive-behavioral therapy (CBT) that helps clients to develop a better tolerance level and emotional regulation. Initially, this therapy was developed to treat borderline personality disorder but now it can be used for treating various disorders and mental health issues.
6. Emotion-Focused Couples Therapy
This type of therapy is specifically for couples who require working on their emotional aspects of the relationship. This therapy helps in more effective communication to build a deep connection with each other.
7. Interpersonal Psychotherapy (IPT)
IPT helps clients to explore their interpersonal relationships and interactions between their moods, especially in a social context. This type of therapy helps in identifying difficulties that lead to mental health issues. Additionally, this therapy also teaches skills for solving interpersonal problems to clients.
8. Existential Psychotherapy
This type of therapy is practiced when the clients start feeling disconnected or alienated from others or themselves. Existential therapy helps clients to find purpose or meaning in their life.
9. Acceptance and Commitment Therapy (ACT)
ACT is a type of psychotherapy which was developed with the goal to overcome emotional and psychological difficulties. This therapy begins by accepting the experience and to participate in detachment. This therapy helps the clients to be mindful of their feelings and thoughts.
10. Relaxation Training
This type of therapy technique involves approaches like meditation, yoga, deep breathing and more which helps in reducing the symptoms related to anxiety and stress. In short, this therapy is used for establishing peace within. Such techniques also indicated self-help which means they can be done by the clients itself.
Techniques of Multimodal Therapy
MMT is a type of psychotherapy that takes the help of various approaches to serve clients the best for behavior and lifestyle changes. The techniques used in multimodal therapy are basically derived from:
Cognitive Strategies
Behavioral Strategies
Psychodynamic Strategies
Uses of Multimodal Therapy
Multimodal therapy can be used for the treatment of various psychological and emotional problems like:
Anxiety
Depression
Personality disorder
Schizophrenia
Autism spectrum disorder
Substance abuse
Psychotic symptoms
Eating disorders
Meanwhile, multimodal therapy can also be used for addressing physical health issues like:
Chronic pain
Insomnia
Fatigue
Benefits of Multimodal Therapy
Below are some of the general benefits of multimodal therapy:
Have the potential to treat a wide range of mental health conditions.
Patients respond more instantly.
Therapists are able to focus on issues rather than on symptoms.
Multimodal therapy is a cost-effective treatment.
Feelings of satisfaction are more.
Increased motivation for recovery in patients is observed.
Clients gain more control over their treatment and recovery progress.
Treatment methods are pretty
Different issues are addressed at a single time.
Getting Help
If you find multimodal therapy interesting you can ask your mental health providers to practice the techniques of multimodal therapy in your sessions. If you feel like they are not capable of practicing this type of therapy, you can also prefer changing your therapist at any time.
While you begin the process to choose your therapist for practicing multimodal therapy, make sure to be open about what types of techniques they are going to apply and how they are going to apply them.
Related Read: How to find the right therapist?
Frequently Asked Questions Related to Multimodal Therapy
1. What is a multimodal treatment approach?
MMT is a type of psychotherapy based on a holistic approach that involves various therapeutic techniques at once. The idea is to treat the person as a whole instead of focusing on specific symptoms.
2. What is the main principle of multimodal therapy?
MMT's main principle is to combine strategies that offer complete treatment to the clients and helps in promoting a focused range of interventions.
3. What does multimodal therapy encourage?
Multimodal therapy focuses on the reduction of psychological issues and in return, it promotes personal growth. This type of therapy is based on physical sensations.
I hope this blog helps you with understanding multimodal therapy. Comment down your queries related to multimodal therapy. For more such content, connect with us on all social media platforms.
Thanks for reading!