Mental Disorders
What Is Pink Cloud Syndrome?
Last Update on August 5, 2022 : Published on August 5, 2022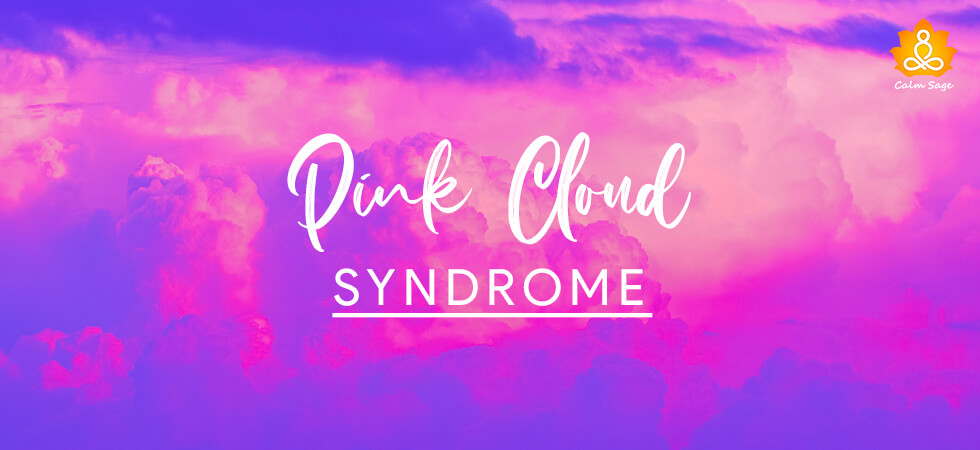 Pink cloud syndrome or pink clouding happens right during the initial stage of recovery from alcohol or drug addiction. During the early recovery stage, an addict feels a lot of joy and is elated about not being in control of alcohol/drugs anymore.
Many call this pink cloud syndrome 'the honeymoon phase' for a recovering alcohol/drug addict. They say so because, during the initial stage of recovery, you feel light and happy that things are going your way. Your motivation is sky high, and you are enjoying the alcohol/drug-free life but let me tell you, the pink cloud phase is short-lived.
When an alcohol/drug addict begins their journey to recovery, initially you're all full of confidence that you will get through this. What you don't realize is that this journey might look smooth in the beginning but a roller-coaster awaits you.
Let's look at the pink cloud syndrome in detail so that you know how to manage pink clouding so that you don't relapse or trigger withdrawal…
Pink Cloud Syndrome Definition
The pink cloud syndrome talks about the initial stage of recovery or the road to sobriety which encompasses feelings of euphoria and extreme elation and joy. The early stage of recovery is in fact a very pleasing stage to be in because it feels like this newfound freedom.
Initially, when you begin your journey, your motivation is high, your vision is clear, and you're all set to achieve your goal. But as time passes your honeymoon phase starts fading, your goals seem further away, and maintaining your sobriety can become difficult.
You need to learn different ways to manage your pink cloud syndrome so that it doesn't result in a relapse. I don't want to ruin the first phase of recovery for you but I also want you to know that it's important to not lose focus and hope when the pink cloud phase is over and you face tough days.
Let's move on to the symptoms of pink cloud syndrome, shall we?
Symptoms Of The Pink Cloud Syndrome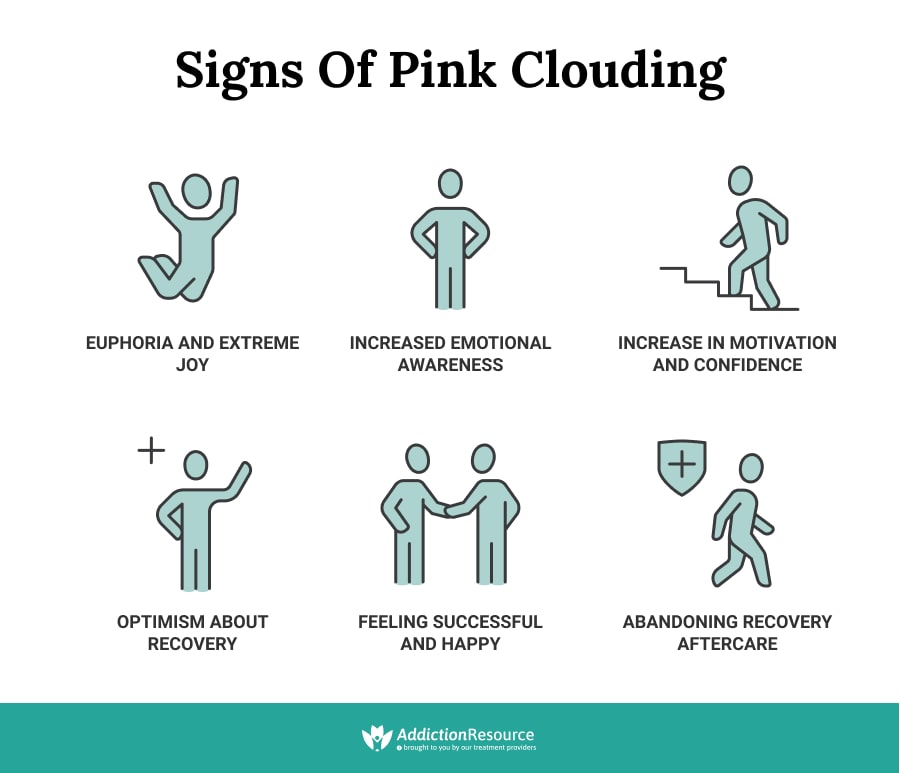 If you are in the first stage of your alcohol/drug recovery and you feel great and confident about your recovery, you are probably in the honeymoon stage of your recovery, the pink cloud syndrome.
Here's how the symptoms of pink cloud syndrome look;
Feelings of extreme joy and euphoria
Are very hopeful about being completely free of addiction
You are very optimistic at this point
You are at peace in life
Confidence in long-term sobriety
Preoccupied with feelings of the expected positive result
Committed to making positive lifestyle changes
Heightened emotional awareness
The pink cloud syndrome may not be the same for every recovering addict but these symptoms of punk cloud syndrome are more or less similar.
Now, you might think the pink cloud syndrome seems all fine, how can this be a problem? Well, the pinking clouding is not a problem but it's like the first push a sprinter gets from the pushing pad which helps them initiate the run with full force but the rest of the race has to be completed on their own (by self-generated force).
The pink cloud phase is just the initial push, the rest of the journey will require a lot of effort. You should not be fixated on the pink cloud stage of recovery.
Pros And Cons Of Pink Cloud Syndrome
Pink cloud syndrome brings in a look of good and positive energy but just like a coin has two faces, the pink cloud syndrome has a dark side to it too. Let's look at both the sides of the pink cloud syndrome;
Pros (why is pink cloud syndrome helpful?)
Reduces stress
Improves relationships
It makes you want to lead a sober life
It numbs you, so you don't feel excited about intoxication
It shifts your perspective for better
Feeling hopeful about a better life
Feelings of euphoria
Cons (why is pink cloud syndrome not so helpful?)
It makes you forget about real life (you'll not always be on a cloud)
It makes you expect way too much out of your recovery journey
It makes you feel so good about the journey and when it ends it feels like a lose
Some experience extreme sadness and grief when pink cloud syndrome ends
Feelings of sadness by the end can make you want to indulge in alcohol/drugs again
Life might feel more miserable than it really is
What Can We Do About It?
When you begin your journey to recovery, make sure you are well read about the process. Keep yourself informed. Don't just get into it without knowing anything at all. There are going to be amazing days as well as horribly bad days.
Also Read: How To Talk To Someone About Their Addiction
When you are in your pink cloud stage, keep reminding yourself that it's just the start and this honeymoon stage will end at some point. Don't raise your expectations, pink cloud syndrome is not going to stay forever.
Be grounded and just focus on your recovery. Be in constant contact with your therapist and let them know about your true feelings and thoughts. Enjoy the pink cloud phase but also know that the actual struggle is yet to come.
That's All Folks!
I hope you found this blog about the pink cloud syndrome helpful, informative, and thought-provoking. Do share this blog with your friends and family and especially with those who are on the road to recovery.
Thanks for reading.
Take care and stay safe.
Next Read: 
Is Internet Addiction Disorder A 'Hoax' Disorder Or Is It Real?