Addiction
8 Best Alcohol Addiction Recovery Apps You Should Consider
Last Update on February 2, 2022 : Published on May 21, 2021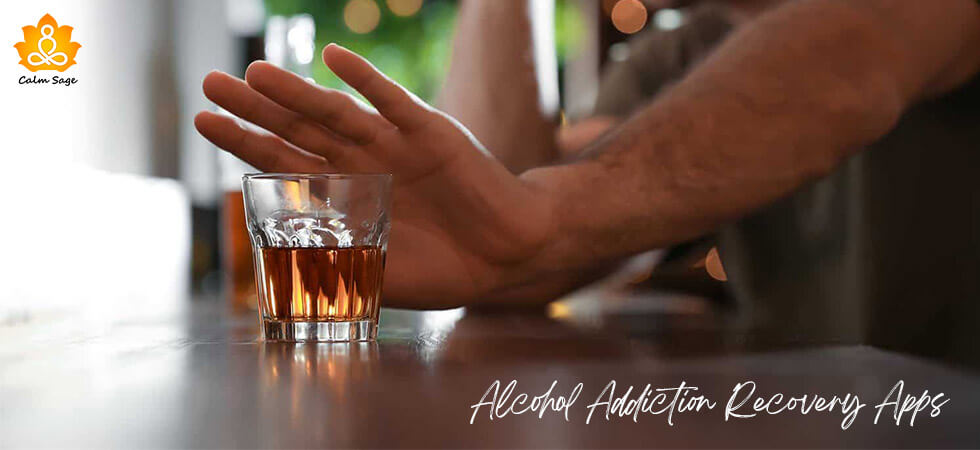 Recovering from alcohol addiction is not an easy journey. On that road to recovery, you stumble, you face challenges, but in the end, you come out a winner. A healthy, strong, and sober person.
When you've started down that road, it can be difficult to find support, motivation, and positivity in your daily life. With so many advancements in the field of technology, you can access positivity, motivation, and support from an app on your phone – anytime you need.
In this blog, I've tried to compile some of the best alcohol addiction recovery apps you can count on for high-quality content, a user-friendly interface, and most importantly the positive boost you're looking for when it comes to maintaining your sobriety or the health of someone you love.
Read: Best Drug Addiction Rehab Centers Of 2021
8 Best Alcohol Addiction Recovery Apps
1. I Am Sober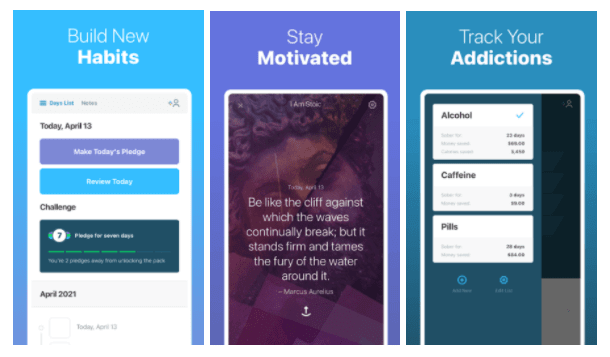 I Am Sober is an alcohol addiction treatment app that will not only keep you motivated but also help you keep track of your sober days. The app also helps you build new habits by providing daily motivational quotes and phrases. One of the best features of this app is that it also connects you to sober communities where you can share your experiences and help others going through addiction recovery.
Features of the I Am Sober app include:
Daily tracker
Daily pledges
Trigger analyzer
Sober groups to share stories
Milestone tracker
Among other things, this app is user-friendly and you can customize it according to your needs. The app is available to download on Android via Google Play Store and on iOS via Apple App Store. While the app is free, there might be some in-app purchases.
I Am Sober For Android |  For iOS
2. Sober Tool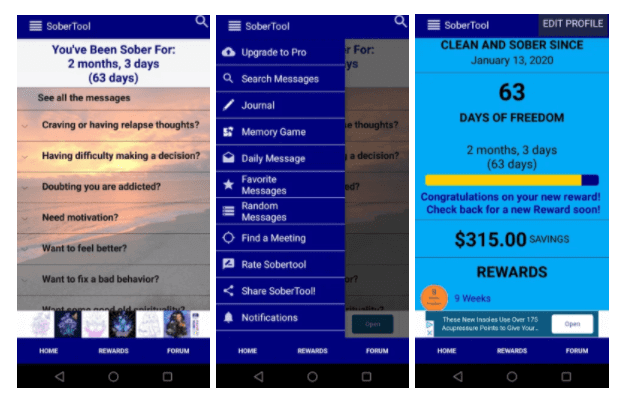 Sober Tool was developed to help people in recovery learn techniques to stay sober – whether it be alcohol, drugs, gambling, or any other substances. Sober Tool is one of the best apps for addiction recovery and is for you if you're new to sobriety, if your sobriety is causing you stress if you're struggling with keeping your sobriety and if you're dealing with problems in your recovery.
The app offers features such as:
Daily messages
Keyword search
Rewards for sobriety
Community forum
Journal
Let's face it, staying sober isn't easy but with the help of SoberTool, you receive support on addiction recovery. The app is available for download, free of cost, on Android and iOS platforms.
SoberTool For Android | For iOS
3. Nomo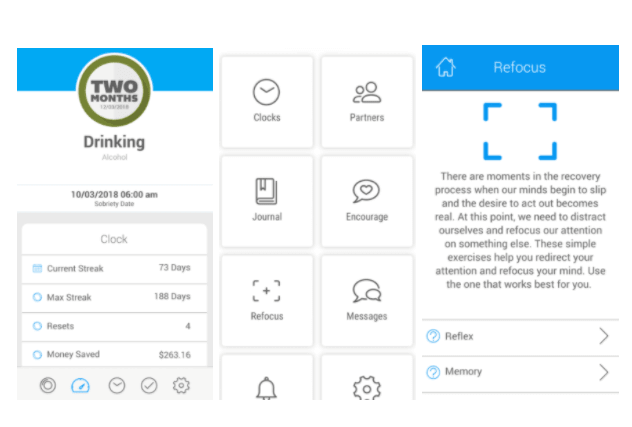 Rated one of the best apps for recovering addicts, Nomo is a sobriety tracker app. Created by Parker as a passion project, this app helps recovering addicts stay on track and motivated. On Nomo, you can create sobriety clocks, get a detailed breakdown of your progress, add accountability partners, earn chips when you reach milestones in your recovery, share your success with others, among other things.
Nomo sobriety app is for people who are recovering addicts from alcoholism, self-harm, smoking, drugs, depression, or any other bad habits.
The Nomo app is available for free download on Google Play Store and Apple App Store.
Nomo For Android | For iOS
4. Joe & Charlie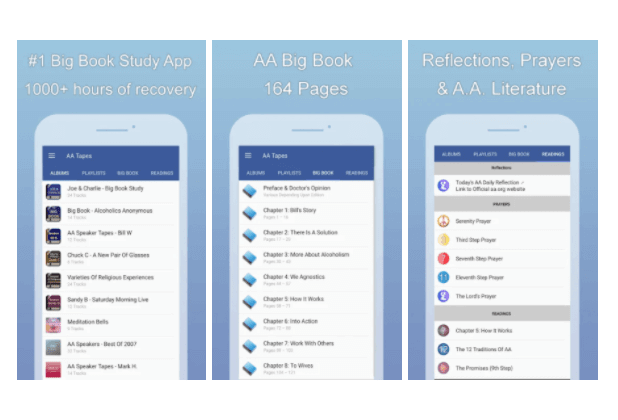 Joe & Charlie is another addiction recovery app with a 4.7 stars review on Play Store as well as the App Store. This app contains audiotapes of speakers, workshops, reflections, and user stories to help people in recovery. The Joe & Charlie app offers help to anyone struggling with addiction, sobriety, or other recovery challenges.
Joe & Charlie app features include:
1000+ audio tracks
Offline listening
Sleep and meditation stories
Relaxation sounds
Daily inspiration
Content of the app includes 12 step stories, AA recovery stories, Joe & Charlie Big Book, Al-Anon speaker stories, guided meditations, among other stories and audio tracks. While the app is free to download, there is a subscription fee. A 1-month subscription costs $3.99 while a 3-month subscription costs $6.99.
The app is available for download on Android and iOS platforms.
Joe & Charlie For Android | For iOS
5. Simple Habit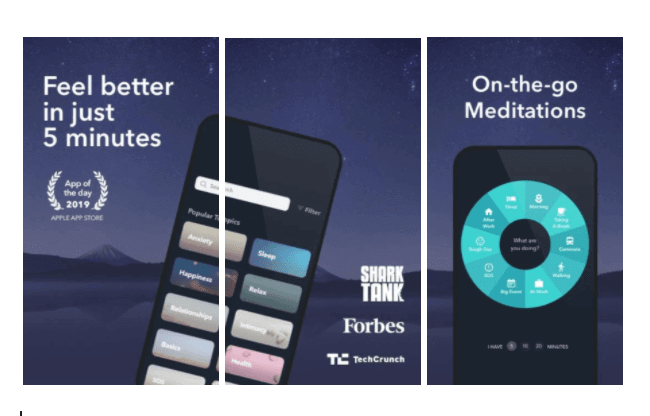 One of the top apps in the wellness and health category, Simple Habit provides help in managing daily stresses in life, marriage, parenthood, or work. The app offers guided meditations, daily motivation, sleep sessions, and coaching by experts. Whether you need help de-stressing or better your sleep, Simple Habit can help.
Simple Habit is for you if you're looking for:
Guided mindfulness and meditation
Improving wellness
Boosting relaxation
Motivational content
The app will help you learn new and healthy habits, relax, increase focus, and self-awareness, among other benefits. While Simple Habit is free to download on Google Play Store and Apple App Store, you can get unlimited access with a subscription.
Simple Habit For Android | For iOS
6. Sober Time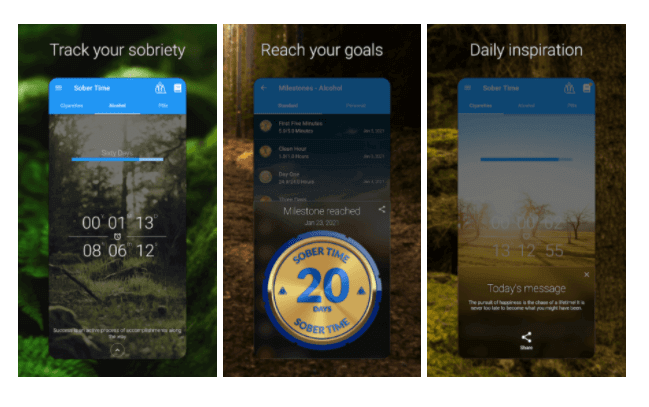 Another addiction recovery app, Sober Time is a tracking app to help you track your sober days. The app aims to help recovering addicts of alcohol, substance abuse, drugs, and smoking.
The features of the app include:
Sober day tracker
Sober community and groups
Daily motivation
Milestone tracker
Statistics and savings
The app is customizable according to your needs. With Sober Time you can connect with other recovering addicts and share your experiences on the forum. The app helps you keep a track of your progress and keeps you motivated with daily motivational messages.
The app is available for download on Android and iOS platforms and is free.
Sober Time For Android | For iOS
7. I Am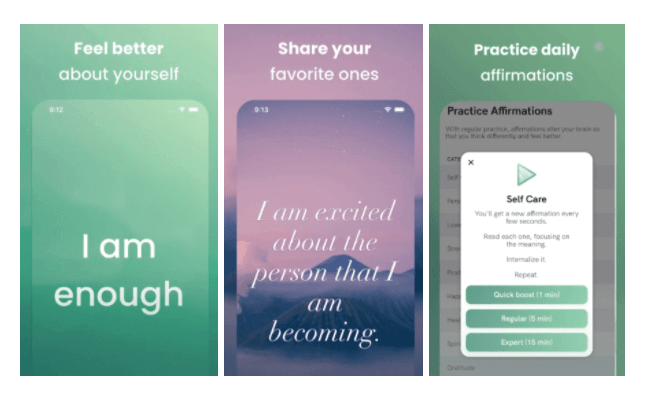 With 4.8+ stars reviews on Play Store and App Store, I Am is a daily affirmation app that can help increase your self-esteem, change negative thinking, and keep you positive every day. Daily affirmations can help increase your awareness and keep you open to positive thoughts and opportunities.
For someone in recovery, it is easier to fall back on old habits than face another day of struggle. With this app's daily affirmations, you can keep yourself motivated and inspired while facing another difficult day.
The app, I Am, is free to download on Play Store and App Store.
I Am For Android  | For iOS
8. BetterHelp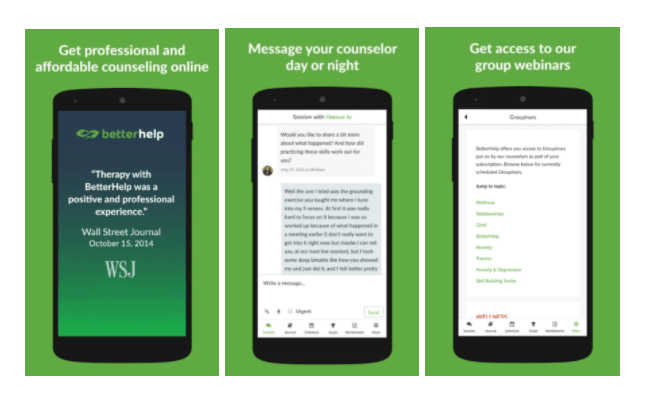 One of the most popular online counseling apps, BetterHelp can help you connect with over 10,000 counselors to help you in your recovery. The app features include connecting with highly trained and experienced therapists, scheduling appointments or live sessions, and access to educational resources and webinars. With this app, you get access to some of the best online counselors you can chat with from the comfort of your home.
If you're struggling to adjust after your addiction treatment, BetterHelp counselors can help you.
While the app is free to download from the Apple App Store and Google Play Store, there is a subscription fee to access BetterHelp. Counseling through BetterHelp can cost $60-$90 a week. With a subscription, you get access to unlimited texting, video, audio messaging, and live sessions with your chosen therapist.
BetterHelp For Android | For iOS
Asking for help when in need is okay. I hope these alcohol addiction recovery apps will help you in your journey of recovery and provide you with the support you need. For more, you can write to us at info@calmsage.com or connect with us on our social media.
Take one step at a time.