Self Help
What To Say To Someone Who Is Grieving?
Last Update on August 24, 2021 : Published on August 24, 2021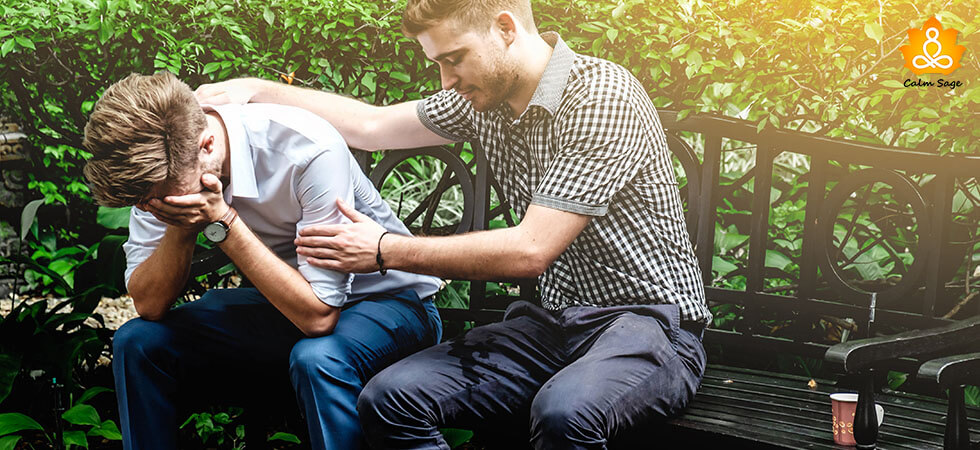 The news of someone departing is shocking but where the mind boggles next is, 'What to say to a grieving friend? How can I help him or her and comfort them?" Well, let us tell you that there is no pre-planned package to it but your genuineness and compassion is much more helpful than anything else.
Also Read: What to Say to Someone Who is Depressed?
Before we tell you comforting things and ways to show compassion to your loved ones, it is necessary to find what to avoid in a sad phase.
So here's what you should say to a friend who is grieving.
The Right Words To Say To A Grieving Friend:
I am sorry.
There are no words.
He/She will be missed.
My condolences.
You are important to me and I am there for you.
Be kind to yourself.
Tell me more about [person who passed away]
I am so sorry that you have to go through this.
I wish I could take your pain away.
I certainly can't even imagine what you are going through but I am here for you.
Please let me know what I can do for you.
Anything I say may not be able to change what has happened but I am here for you and your family.
It's OK to feel what you are feeling right now.
Just talk about the memories whenever you wish to.
There is no need to talk. I am just sitting beside you.
It's definitely not possible to get 'over it' but you will get through it.
'I remember when…' and a good memory can be shared.
May the memories of (the person who has left) bring you peace.
Give a hug and let your friend express themselves.
I am just a phone call away. You can ping or call me anytime you want.
I am going to miss them too. Can I call you again in the evening to keep a check on you?
I know how much he or she meant to you. I am sorry you have to go through this.
We will get through this together.
Other Comforting Ways To Show Your Grieving Friend?
Although your words play an important role when you say something to your grieving friend, there are other things you can do to make them feel better.
1. Express Your Love
Even though our friend would say that he is fine but it's definitely not the actual state. This is why you can find your own way to show love to your friend who is grieving. For example:
Just hug them and hold their hands when they are crying
Send postcards, emails, WhatsApp messages or bereavement letters
Send vouchers for yoga classes
Send pampering products to comfort themselves during the empty hours of the day
Make meals for them.
Give them company to undertake activities like gardening, walking, etc.
Even though such expressions of love may not be much helpful but your friend would still know that there is a comforting hand beside them, no matter what.
2. Listen To Them
It is possible that your grieving friend doesn't want to initiate any conversation when he or she is grieving but give them some space without creating the need to interact. However, if they speak then give them ears instead of unnecessarily trying to solve their problems.
3. Be Sensitive With Your Words
Although one of the toughest tasks to do, your friend may not want to hear 'passed away', 'no longer with us' or 'he is in a better place' as it may be rude. It is fine if you use the term 'died' and not place your foot around the subject. However, some people don't want to hear explicitly so it is suggested to find what that person wants to hear.
4. Do What You Can 'In Real'
As you say that you would like to do something for them, do the things that they actually want and can help them. For example, pick up the kids from school, buy groceries from a nearby store or cook food for them.
What Not to Say to Someone in Grief:
Avoid being a sensationalist like gossiping about the news or spreading it to enjoy the shocking nature.
Don't tag the grieving relatives on social media, no matter how lovely the old photos were.
Don't just focus on good things only. It is good to celebrate the life that the departed soul had but the time may not be right.
Don't try to compare your experience with others as there might be a huge difference between the situations.
Don't avoid talking to them or cross the roads if you come face to face.
Don't comment on their appearance and asking why they are looking dull and not smiling even after an ample amount of time has passed.
Don't wait for the right time. You can show your concern through a call or message but avoid showing yourself busy in any such situation.
So if we know things that could be avoided when your loved one is grieving, it's time to find things that we can say to comfort them.
If They Need An Expert…
Observe calmly and see if there are signs that your friend needs grief counseling to make themselves feel better. If it is happening then provide them with the best online grief support groups where they can talk to an expert or fellow members of the group and share their problems.
You can even drop us a message at info@calmsage.com and ask us to connect you with a counselor today!
Next Read:
7+ Types of Grief That We All Experience
What To Do When You Can't Afford A Therapist
Be Your Own Healer: Understanding the Stages of Grief