Therapy
The Best Online Grief Support Groups Of 2023 | Ask For Help
Last Update on December 13, 2022 : Published on February 3, 2021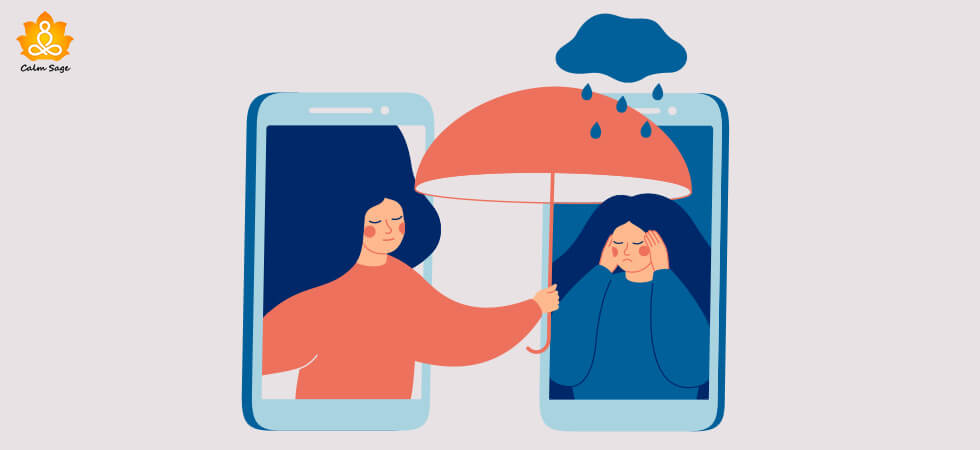 Grief of losing someone or facing separation from them is a tough situation to deal with. One may want to isolate themselves but time lets a person heal. However, some of us cannot handle grief alone while the pain of seeing everyone moving on pinches side by side.
If that is the case, one doesn't even need to go out to ask for help as online grief counseling supports you completely.
If you find signs which tell you to seek grief counseling and you couldn't manage to be your own healer then counseling, support and psychotherapy is a big yes. Intense feelings of shock, anger, guilt or numbness needs to be sidelined for your own good health and peaceful future.
Points To Be Considered Before Joining Grief Support Group
1. The support group shall be a safe haven to express your thoughts, sorrows, joy, and memories.
2. It must provide you an opportunity to meet people from similar situations or a counselor to guide you ahead.
3. One shall feel therapeutic and encouraging not just to express but also feel comfortable.
4. Healthy coping mechanisms shall be associated with the grief support groups.
With that, there are a number of ways to connect your grief counselor like:
Video call sessions
Online chat therapy apps
Support groups
Social media groups
To help you, we have compiled some online grief support groups in the article below.
| | |
| --- | --- |
| Grief Counseling Group | Best Known For |
| Grieving.com | Online grief forum and discussion community |
| Grief In Common | Live chat rooms |
| Healgrief | Best online grief support for young adults |
| Hope Again | Stories and videos for young people |
| Grief Anonymous | Best social media group |
---
Best Online Grief Support Groups:
1. Grieving.com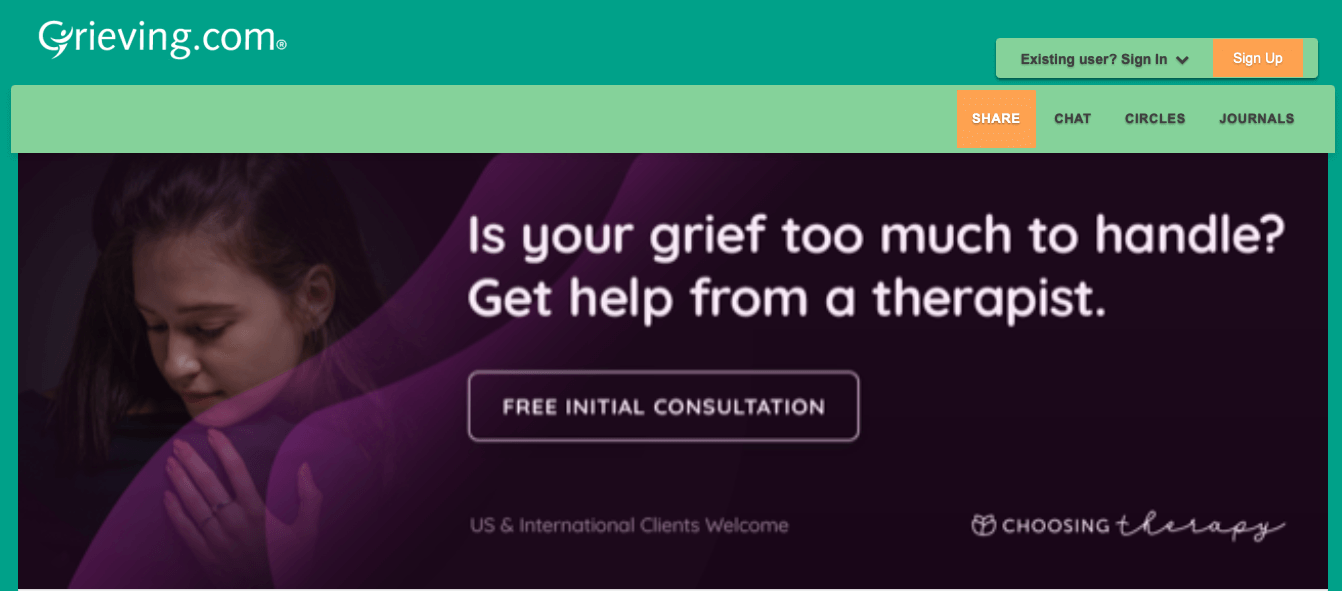 Grieving.com is one of the oldest grief support communities or forums and is helping people from all over the world. Loss of a loved one, dealing with terminal illness, anger or guilt must be dealt in a sensitive manner and this community is expert in doing so. Moreover, there is no scope of judgement but only empathy.
Even if you are facing problems like divorce, financial losses, job, facing injury or had a heartbreak, you can come here for help. The discussion forum is open to every person but they could see limited posts unless signed up. One can also connect with a member through private messages and share their piece of story.
Ask For Help: Grieving.com
Price: Relies on the donation
2. Grief In Common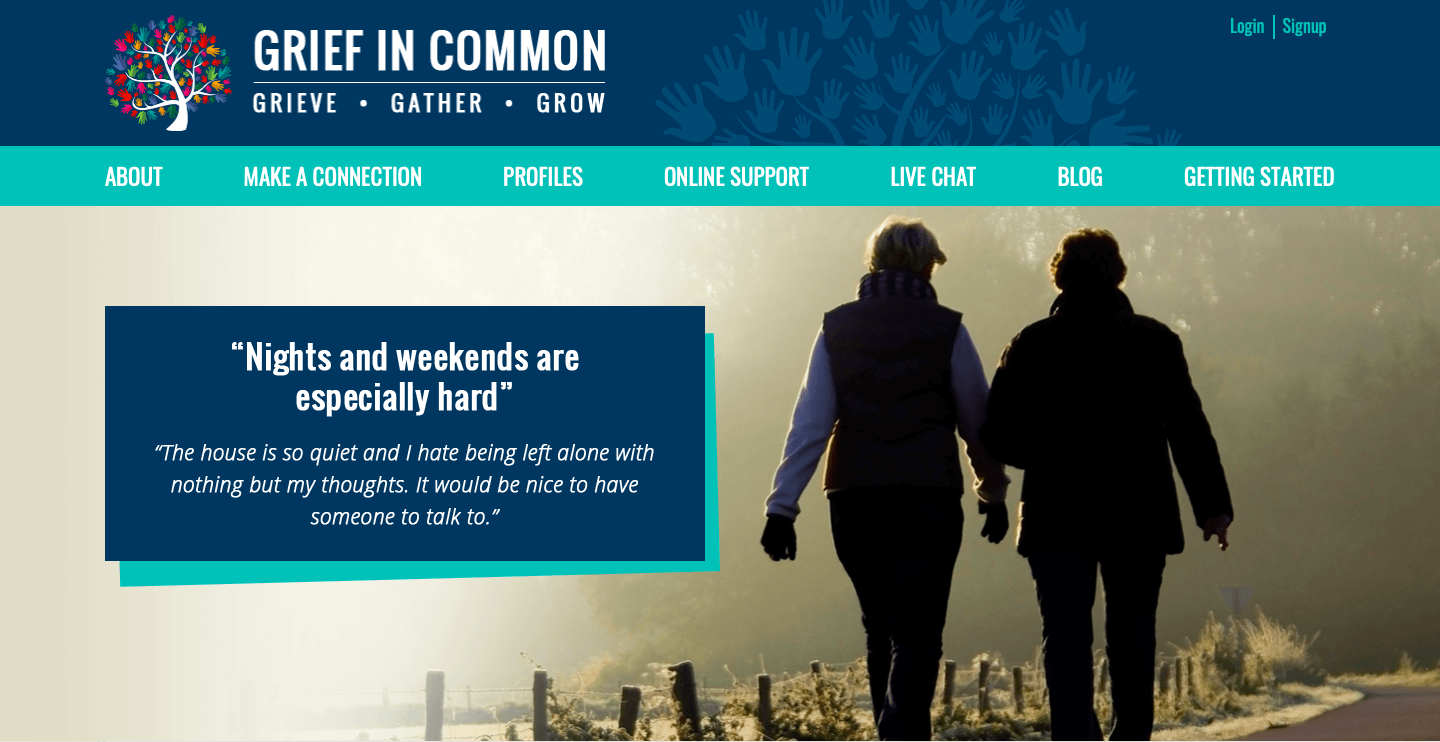 A safe place where you can find people dealing with similar losses is Grief In Common. Through online grief support, it aims to show people who are grieving and connect with them. All you need to do is create your profile here and mention the circumstances you are going through.
Now you could be connected to live chat rooms and connect with people on a real time basis. Unlike forums, it helps in getting answers to your questions right in the present rather than waiting for someone to reply later. One can also look for paid grief coaching services by signing up on the website.
Ask For Help: Grief In Common
Price: Starts $1 per month
3. Healgrief (Actively Moving Forward)

Actively Moving Forward is a network of young adults of the age between 18 to 30 who are grieving loss of someone or facing terminal illnesses. They do not promote the concept of 'get over someone' or 'forget and move on' but teaches you to embrace the memories you hold within.
Adults can connect through social media groups as grieving in isolation only proves to be unhealthy for a longer run. With that, GriefCoach also lets a person create a network of those who you need to be supported by the most. Plus, joining AMF application gives you a number of tools and resources to help you ease the journey of grief.
Ask For Help: Actively Moving Forward
Price: Relies on donation (Prices for coach starts $69)
 4. Hope Again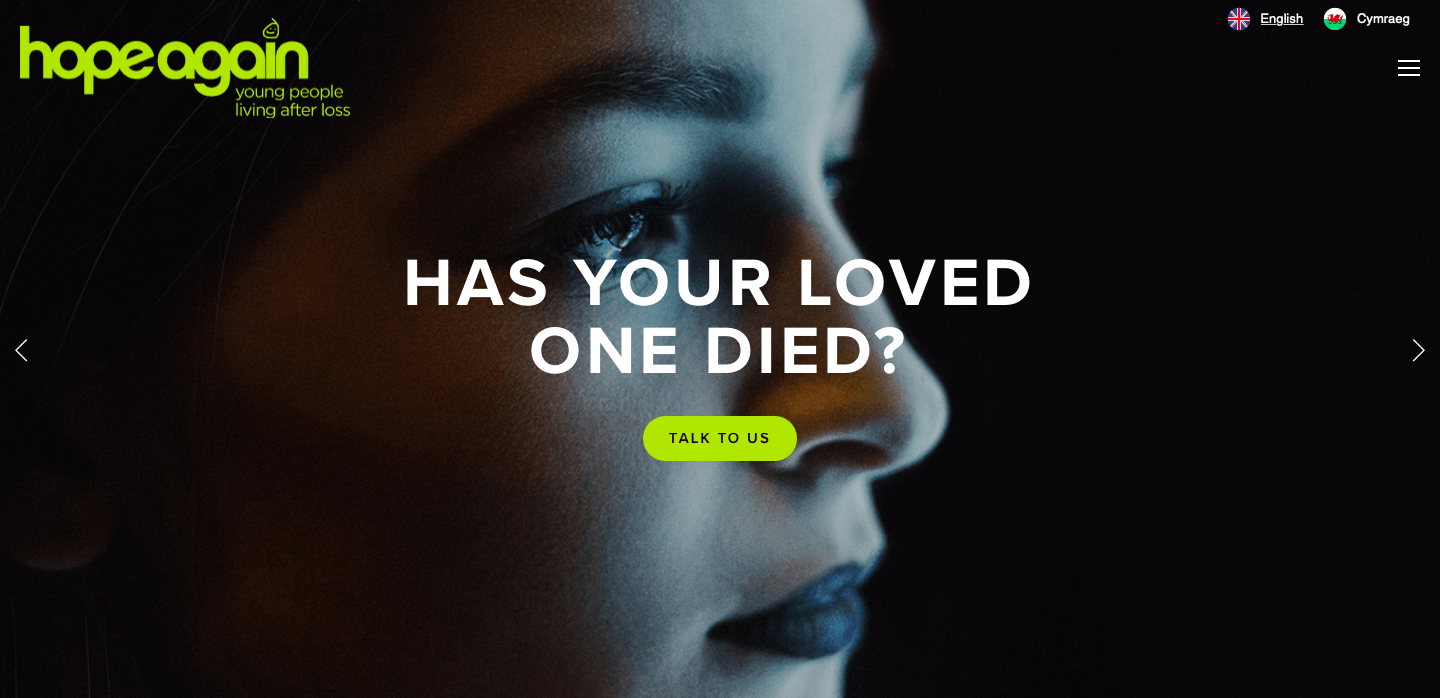 Another one in the list of best online grief support groups include HopeAgain. Known for bereavement care, this place is safe and secure to learn how other youngsters are taking care of themselves in order to cope with grief. Short films found here are a huge relief and make you feel less alone in turmoil.
People can not only learn from others' videos but they can even create their own vlogs to help others. This place is best suitable to young people, teenagers and even parents whose children are going through tough times.
Ask For Help: Hope Again
Price: NA
5. Grief Anonymous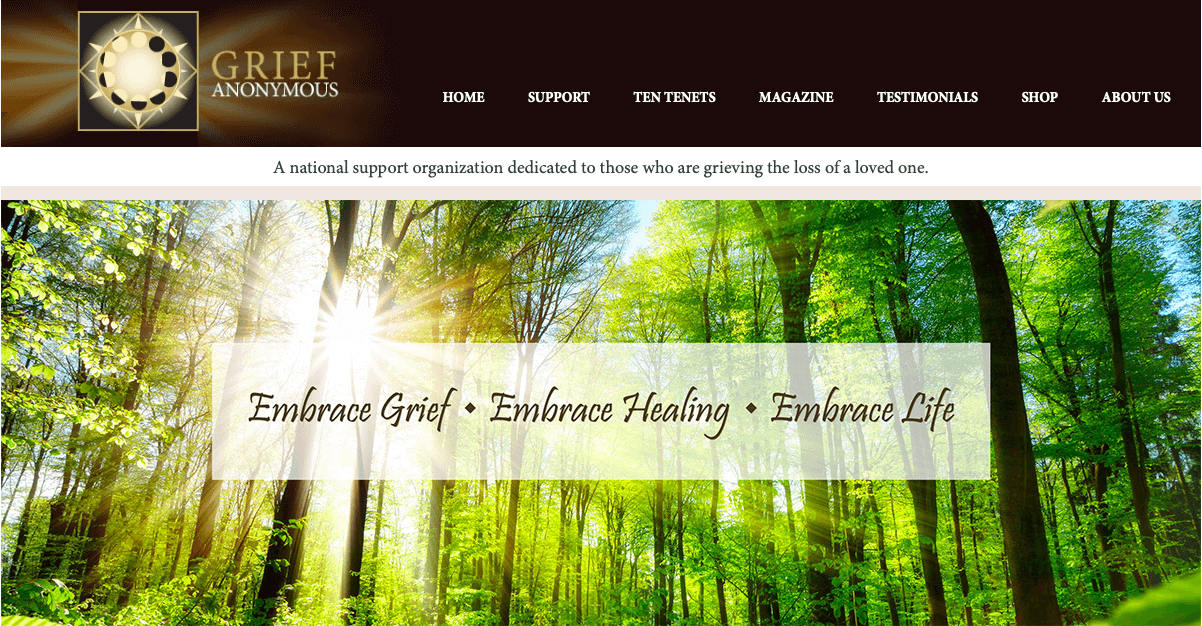 Grief Anonymous allows you to access Facebook groups which lets people connect with others and share their experiences altogether. They can share all types of grief as those who have faced similar situations can understand it. The rule of cardinal communication and engagement lets people to join from all walks of life.
It must be remembered that most of the Facebook groups can be joined by anyone and everyone can read your stories. However, the groups are mostly moderated by mental health professionals. One can also seek live meetings or meet local groups in their community.
Ask For Help: Grief Anonymous
Price: NA
Additional Free Online Support Grief Groups
1. MyGriefAngels:

One doesn't need to sign up or pay any membership fees to join this bereavement community. It provides free virtual grief support, support directory, daily affirmations and a number of tabs to help you grieve in peace and support. The best part is that it supports a number of languages, hence covers a huge population base.

The website offers you a number of groups in its lap (death of parent, young sibling, widow, etc.). One can join any forum, read blogs, learn experiences after death and chat with individuals without paying a penny.
Frequently Asked Questions
Q1. Should I attend a grief support group?
A grief support group could be attended by anyone who has suffered the death of a loved one and cannot address associated issues like guilt, anger or crying.
Q2. When should I seek a mental health professional?
When grief is not letting a person go through the normal functioning of the body and mind and hindering in your daily lifestyle, one can seek counseling. For example, if you cannot work, are not able to sleep properly or feel depressed.
Conclusion
After learning about online grief therapy, we are sure that you would be able to collect the broken pieces and show love to yourself. Whether you wish to connect on chat, forums or directly to the people who have dealt with the same, these bereavement counseling forums would certainly help you.
And yes, you can always ask us for help by messaging us at info@calmsage.com and we will help you to connect with the expert.