Therapy
Honest 7 Cups of Tea Review: Is It The Right Choice for You
Last Update on January 25, 2021 : Published on January 25, 2021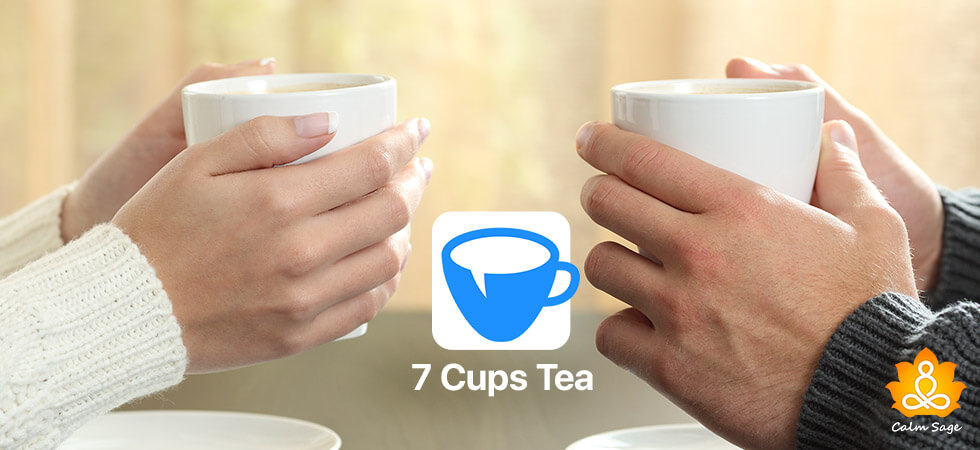 Listening is a great healing tool. It makes an individual feel heard, wanted, and safe. In fact, active listening is one of the key factors that can promote your mental wellness. But, finding someone who can listen to you without judgment and can offer professional help at the same time is where we all struggle with.
Fortunately, there exists a platform that is known for its innovative idea of helping people unload their mental distress by listening to them with all ears, heart, and time that too for free (that sounds like a gold mine, doesn't it?)
Also Read: Best Online Therapy for Kids To Protect Their Mental Health
So what platform are we referring to? Well, it is a teen favorite emotional support platform that helps them connect with like-minded people, vent their heart out, and get much needed mental relief in their life- 7 Cups of Tea.
Despite everything resourceful that this platform has to offer, one question still remains unanswered: Is 7 Cups of Tea the right choice for you? Let us find out!
An Overview Of 7 Cups Of Tea
Overview
| | |
| --- | --- |
| Services Offered | Free Active Listening |
| Average Price:​ | $150/Month |
| Mobile Apps: | iOS, Android |
| HIPAA-Compliant: | Yes |
| Session Types: | Chat and messaging |
Pros & Cons
It offers a free platform to interact with like-minded people.
The paid plan is less expensive than most of the other e-counseling options.
User-friendly mobile app.
No video or audio sessions available.
A small network of therapists.
Limited communication options.
---
7 cups of tea is an online mental health service that allows its members to connect with over 300,000 trained and certified listeners. Alternatively, you may also register yourself for therapy services offered by the platform. Ideally, the driving force behind the 7 Cups of Tea is the comfort that the founder explored by being heard.
And in this busy world finding someone to listen to is a difficult find, so to fill in this gap & Cups of Tea came into existence. Currently, it is making itself the best online therapy platforms list by becoming the teen's most preferred source of emotional and mental support.
Specialties & Areas of Expertise
The team of certified listeners and therapists are well-equipped to help you in multiple areas of your life. The specific areas where you can find help are:
Substance use and abuse (addictions), anger, anxiety, bipolar mood, career, conflicts, depression, eating issues, chronic impulsivity, health, grief, sleep disturbances, parenting, self-esteem, trauma, abuse, and intimacy.
Pricing Details:
7 Cups of Tea offers two different services. Both of them have a different motto, price, and service to offer.
Active Listener: If you wish to connect with their specially trained Active Listener that is for free and is available for you to access 24/7.
Licensed Therapist: If you are in a need of therapy then you have to opt for the paid version to connect with a therapist. The paid version of 7 Cups of Tea is for $150 each month. Wherein you can have unlimited chats with the therapist in return you are likely to receive a response once or twice a day during a 5-day workweek.
Our Verdict: If you wish to opt for therapy then looking for a platform that covers your insurance will be a better option. However, if you wish to connect with someone who could listen to you then there is no better platform than 7 Cups of Tea
Pros & Cons 7 Cups of Tea:
The 7 Cups of Tea comes with its own list of pros and cons.
Pros:
It offers a free platform to interact with like-minded people.
The paid plan is less expensive than most of the other e-counseling options.
User-friendly mobile app.
The feeling of being heard and understood gives a boost to mental well-being.
The app provides extra exercises that can help you build your self-esteem and uplift your mood.
Both the active listeners and the assistant bot offer helpful suggestions and lessons.
You can connect with an active listener 24/7.
Cons:
No video or audio sessions available to interact with the therapist.
A small network of therapists to connect with.
Limited communication options.
Active listeners may not respond that actively to the conversation which can be a bummer.
Some listeners seemed judgemental.
Lack of experience on part of the active listener may result in poor suggestions or inconsistency.
7 Cups vs. Talkspace vs. Betterhelp vs. In-Person Therapy
With so many online therapy platforms, let us see comparable therapy options for 7 Cups of tea and identify the uniqueness of each of them.
---
Dimension
7 Cups of Tea
Talkspace
Betterhelp
In-Person Counseling
Price
Free active listening and therapy services at $150/month
$300/month
$80/peek ~ $260/month
$250+/month
Interaction
Messaging and chatting
Unlimited text messages (basic plan).

Live chat, and live video calls (premium plan).

(No phone call sessions available).

Unlimited text messages, live chat, live phone sessions, and live video calls.
in -person sessions and messaging
Forte
Teen Counseling/ Active Listening
Psychiatric Services
Live Chat Sessions
Overall Wellness
---
Also Read: Honest BetterHelp Review: Get The Best Mental Health Help You Need
Sign Up process:
You may want to sign for the 7 Cups free version (Active-listeners community) or enroll for the paid one (Online therapy). Depending on the choice you make you have to sign up 7 Cups accordingly. We shall take the sign up process for both versions into consideration.
Using 7 Cups For Active Listening (The Free Version)
Step 1: Reaching 7 Cups

The first step of sign up is to pick a platform where you wish to start from. 7 Cups of Tea is available as an application for both android and apple along with its website.

For the website click here | iPhone Users Download Here | Android Users Download Here

Tip: If you are operating via a website then you might also choose from the 30+ languages available. This will help in making your login process easier.

Step 2: Creating an Account

By clicking on the login/signup tab a small box will appear on your screen. There you will be required to fill in 3 (yes only three) details of yours.

Which includes:

Username (of your choice)
Your email address, and
Password

Step 3: Choosing Your Journey Ahead

After your account is created you will be having a few options to choose from. Depending on how you wish to proceed further you can pick from these.

Chat With Noni (A Support Bot)

Noni is a bot that provides automated responses to your selected options. It will also help you connect with your Active Listener after a few steps and with an approximate wait time of 1 minute 30 seconds. Noni will ask you a few questions to address the problem area and will help you connect with an active listener.

To unlock group chats and to be a part of the 7 Cups forum you have to verify your email address and process further.

By clicking on the community tab you will be able to find 30+ community options to choose from. All you have to do is pick one or community that you think can nourish you, click on them, and join the community. There you can either create your new thread for communicating with like-minded people or choose an existing thread that interests you and pour in your ideas to it as well.

This feature of 7 Cups of Tea is definitely my favorite one. It makes it an interesting, engaging, and self-help app. In these paths, you are given a small activity at each step. By performing it you ensure that you are growing at a personal level. Here you have to pay to unlock all the paths available except for the My Growth Plan as that is a part of the free version. The charges to unlock the full wellness collection path are:

Monthly Charges: $12.99/month

Yearly Charges: $94.99/year
Using 7 Cups for Therapy (the Paid Version)
If you are considering going for therapy services offered by 7 Cups of Tea, here are steps that you need to follow.
Step 1: Get The App and Create an Account
The first step is to download the app or create an account on the website. Here you will be asked the basic information of your email address and password. You can also type your name in the username or go anonymous.
Step 2: Register for Therapy
On the first page of the application, you will see an option that reads "Considering Therapy" click on it.
It will direct you to the Contact Page. Herein you will be required to fill in basic information and then check the consent form.
After this, you will be directed to the payment option. After making the payment you will be connected with a therapist.
From there on you can start your healing journey.

Important Questions About 7 Cups of Tea
Q1. What Are The Top 3 Features Of 7 Cups Of Tea?
Through my experience with 7 Cups of Tea, the top 3 features of it are:
It offers interaction in 30+ languages. This chucks out the possibility of language being a barrier to being heard and healed.
While you are waiting to connect with a listener, 7 Cups will walk you through some breathing exercises. Which helps you regain your calm and it works as a great tool to wait patiently.
Their special section of expert mental health news and advice not only keeps its users updated with recent mental health updates but also works as an in-hand tool to deal with daily life issues.
Q2. Are 7 Cups of Tea Safe?
Yes. 7 cups of tea is a safe and supportive platform. Its team of listeners duly pass a course on active listening, ensuring that they are trained to listen to your judgment-free. Also, the platform gives you an option to say anonymous. So you share only those bits of information that you are comfortable with. Which makes 7 Cups of Tea a safe platform.
Q3. Is 7 Cups Confidential?
Yes. 7 Cups value your confidentiality. They do not share your data with any third party. The information shared with them remains safe for them. To ensure the same they make use of anonymous bridging technology wherein neither you as a user or your active listener is sharing any personal information with each other. The platform does not even inquire about your name, phone number, and address (unlike other such platforms). The only information asked here is your email address.
In the paid version where you have to share some of your information, the safety of the same is still marinated. Basically, the site promises privacy throughout its platform.
Q4. Do 7 Cups of Tea Take Insurance?
Sadly 7 Cups of Tea does not accept payment from private insurance companies. But with all the changes they are incorporating in terms of their services, you may soon find them taking insurance into consideration.
Final Verdict
With this review of 7 Cups of Tea let us now answer the crucial question: "Is 7 Cups of Tea the right choice for you?"
The answer is that it depends on multiple factors if your issues are interfering in your daily life functioning and need professional help then opting for a comparable therapy platform is suggested. However, if you want to be heard and get emotional support to get going then 7 Cups of Tea is your one-stop destination.
Apart from if you are a teenager, looking for new connections, having mild symptoms of a mental health condition, looking for a group chat option, or in a need to supplement your professional treatment then 7 Cups of Tea is the right choice for you.
---
So are you waiting to be heard? Then download the app now and get the much needed emotional support with certified active listeners at 7 Cups of Tea.
You Matter.
Your Mental Health Matters.
Take Care!