Therapy
BetterHelp Review (2023): Is BetterHelp Therapy Legit?
Last Update on August 9, 2023 : Published on December 28, 2022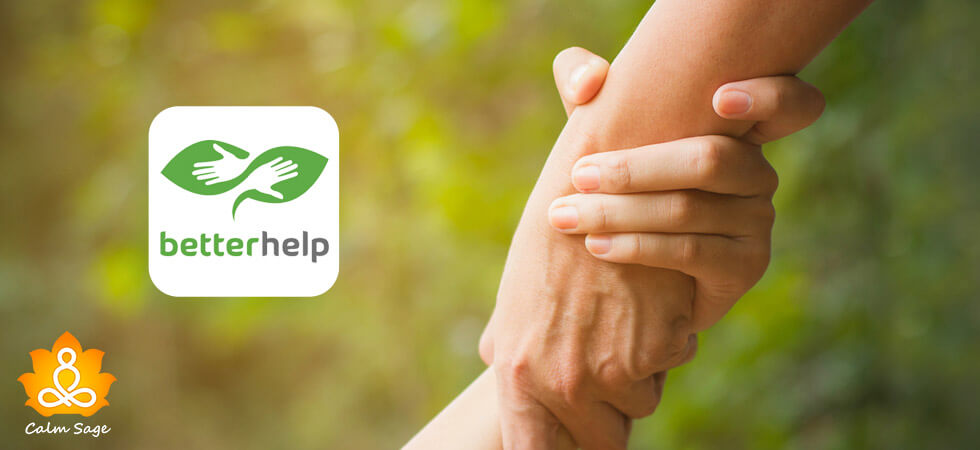 The content in this article is thoroughly researched and written based on the extensive testing and reviewing by a reviews team and does not reflect the viewpoints of the Calm Sage editorial team. Calm Sage could receive a commission from product purchased mentioned or featured in this article.
Telehealth or online therapy culture has recently seen remarkable acceptance and popularity among the masses. Nowadays, people are not only being vocal about mental health but also taking care of their mental wellness. As a result of which people have started taking therapies through online platforms more actively to promote mental wellness.
When it comes to our mental well-being, we surely need the best. And, to fulfill the need for the best online therapy services, I have got you BetterHelp. In this blog, I have personally reviewed BetterHelp.
This blog covers the honest review of BetterHelp and its services based on my personal experience, working process, customer experiences, ratings, reviews, competitors, and more. So, let's get into it!
Why Trust Us?
We have reviewed BetterHelp on our personal experiences as a client. Moreover, we have also reviewed a survey of more than +100 clients from around the world. We have personally tested the services, researched collectively, and evaluated our results based on comprehensive data and suggestions from our licensed therapists.
Overview of Betterhelp Online Therapy: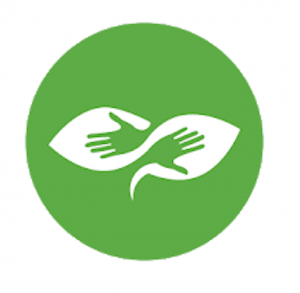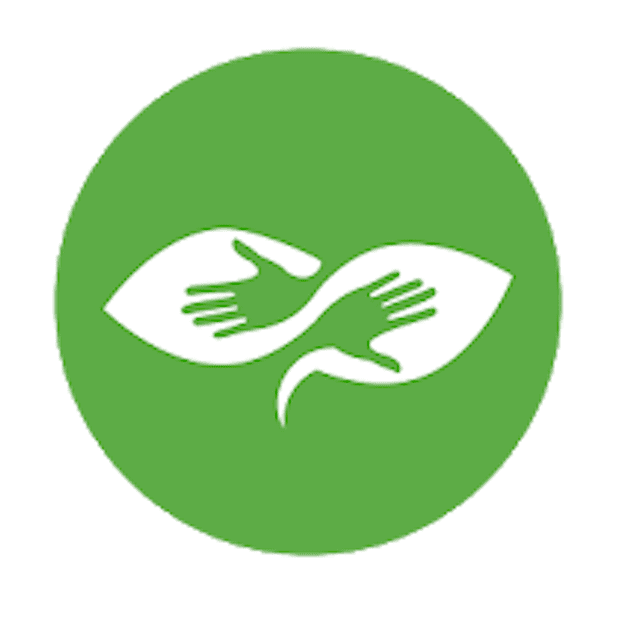 BetterHelp is a trustworthy, authentic, and affordable online therapy platform. So, if you are looking forward to seeking mental health help that fits all the criteria related to your mental health needs, BetterHelp can be your one-stop destination. But before you start your healing journey with BetterHelp here is an overview for you to refer to.
BetterHelp is the world's largest online therapy-providing platform. This platform has nearly 7,800 licensed therapists that have met the needs of over 900,000 patients through almost 70 million sessions.
Get Matched With Betterhelp Therapist
BetterHelp is the world's largest online therapy-providing platform. This platform has nearly 7,800 licensed therapists that have met the needs of over 900,000 patients through almost 70 million sessions.
Session TypesVideo, Chat, Voice, Messaging
Year Founded2013
| Product Name | BetterHelp Online Therapy |
| --- | --- |
| Usability | Web, Mobile (iOS + Android Both) |
| Price | Starts from $65/ Week |
| Payment options | Credit card or PayPal |
| Year Founded | 2013 |
| Session Types | Video, Chat, Voice, Messaging |
BetterHelp team has made therapy easily accessible to all (anytime and anywhere). So, you can rest assured here.
Let us start with our in-depth honest BetterHelp review now!
Before that, if you don't want to read the in-depth review of BetterHelp, you can refer to the below-mentioned pros and cons for a quick and easy understanding!
Pros and Cons of Betterhelp:
If you are thinking about whether or not BetterHelp is the right choice for you or not you can check this list of pros and cons on the same. It will give you a clearer idea of what BetterHelp has to offer to you!
Pros of BetterHelp
There is a pool of benefits that BetterHelp telehealth services have to offer, this includes:
They assign you homework which ensures that you are working on yourself even when not in touch with the therapist.
You can contact your therapist anytime you want.
There are group sessions that make you feel connected with others and comfortable with yourself.
They offer different modes of sessions.
The therapy process and its outcomes are explained in great detail.
The number of services offered by them is great for the price.
They allow you to find a therapist that best fits you (so you can shop around a bit).
Cons of BetterHelp
The three cons that I could identify while using the BetterHelp app were:
The Live sessions are scheduled for once a week.
Its expenses are not typically covered by most insurance companies.
Sometimes, responses from therapists may feel more generic.
What are the Modes of Offering Help on BetterHelp?
BetterHelp offers through Mobile and Desktop. The sources of communication between you and your therapist on BetterHelp can be messages, video calls, or audio calls.
The choice is yours to pick the mode of communication and keep altering between them as well. You will be able to find your therapy calendar in the app wherein you can set your meetings with the therapist accordingly.
What Areas are Covered by BetterHelp Counseling?
BetterHelp provides telehealth services in different areas. Which makes it a great platform for helping people achieve their life goals.
The certified counselors on BetterHelp offer help in various areas like:
Stress, anxiety, relationship issues, depression, eating issues, addiction, anger management, LGBTQ matters, grief, parenting concerns, sleep difficulties, trauma, religion, self-esteem, and more.
Features of BetterHelp:
1. Chat Room
After subscribing to the services of BetterHelp, you can directly start texting your therapist. You can access the chat room anytime and anywhere. You only need a good internet connection and your credentials to enter the chat room.
Your therapist will review the messaging and reply to the questions along with homework, guidance, feedback, and more. The best part is that you will be getting notifications which means you will not have to check your device every hour.
I've opted for email notifications as well as text notifications, so I get alerts on both if my therapist replies to y messages. You can change this setting as well to receive notifications on whichever platform you're comfortable with.
On a side note; if you're in a different time zone then there could be some discrepancies in messaging.
2. Live Chat
In case you don't wish to wait for long hours, you can also schedule a live chat session directly with your matched therapist. This option often mimics "texting a good friend."
3. Live Phone Session
If you wish to connect with your therapist through a phone call, you can also schedule that. The best part is that your personal information like your contact number is not shared with the therapist. This ensures that you're getting help in a safe environment.
4. Live Video Session
If you wish to connect with your therapist through a face-to-face conversation, you can also
schedule a video session. It is one of the great features provided by BetterHelp. However, please keep in mind that when you are in the video room, and if the internet connection is weak, then it's likely that you'll have to go with the audio session in between the call.
5. Groupinars
As of now, BetterHelp is conducting more than 20 live group seminars per week. These are referred to as "Groupinars." You can also attend a groupinar by registering for it. The best part I loved about this feature is that you can also get a recording link via email in case you were not able to make it on time or for some reason have to leave during the seminar.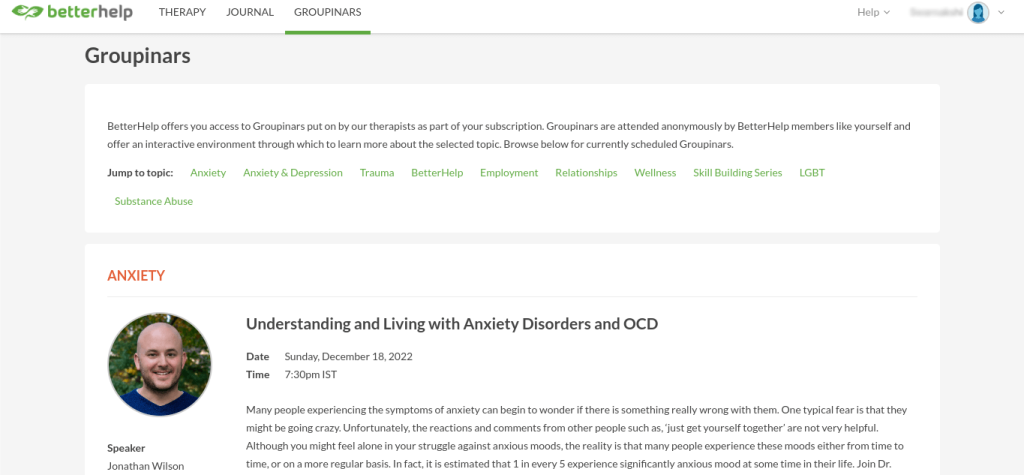 Note: I opted for the "Movement & Meditation" Groupinar by Joy Berkheimer, a licensed therapist as well as a life coach who guided the session with yoga followed by a meditation session and then a small journaling session where she guided the seminar on how to mindfully journal away your thoughts.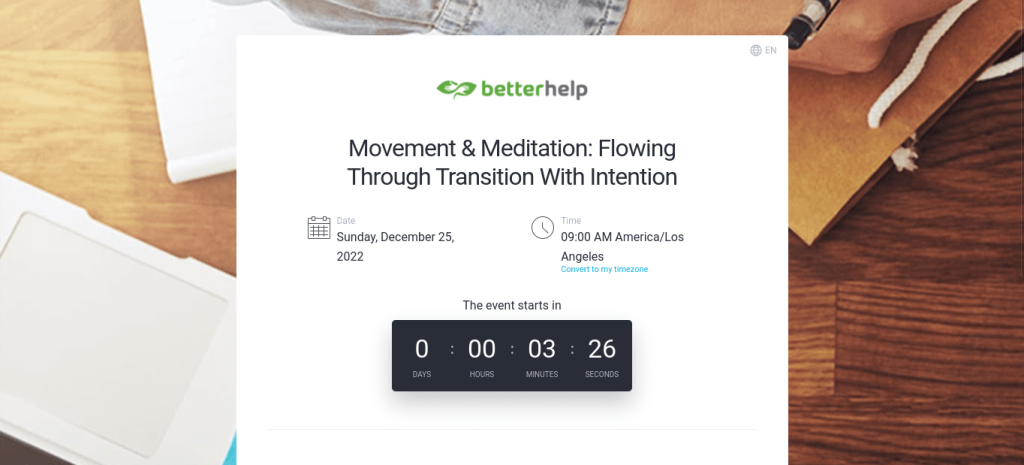 6. Journaling
BetterHelp provides an online journal that is only accessible to you. This means nobody can read it, or access it until and unless you choose to share it with your therapist or someone else. Although, you can change this setting in the Journal Setting option. Herein, you can write down your feelings and thoughts.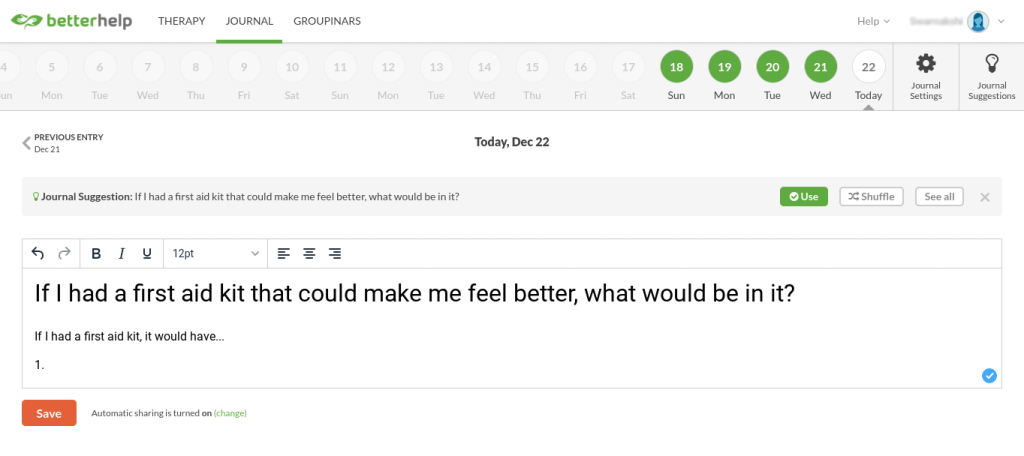 What I like best about Journaling with BetterHelp is that there are journal prompts that you can either use or shuffle and find a prompt you'd like to work on. Amazing, isn't it?
How Much Does BetterHelp Cost?
Moving further, BetterHelp provides different subscription plans. You are free to choose the one that you find most suitable for you. Rest assured the services in all the packs are by and large the same; it is the length that causes variation in the price.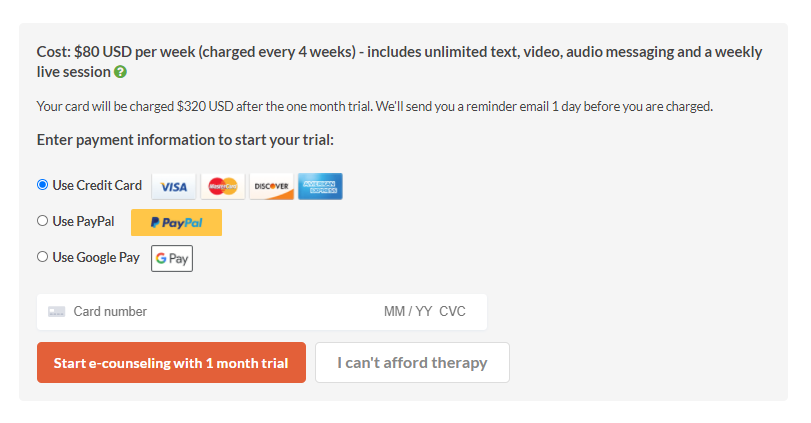 $80/week billed weekly (unlimited messages and a weekly live session for seven days).
$65/week billed monthly (4 weeks of unlimited messages and weekly live sessions for $260).
$45/week billed quarterly (3 months of unlimited messages and weekly live sessions for $540).
$35/week billed yearly (12 months of unlimited messages and weekly live sessions for $1,820).
Please note that you'd need to enter your credit card information or link your PayPal account to BetterHelp to move forward. Without entering your billing information, your sign-up won't be complete.
Can I Trust BetterHelp?
We understand that trusting and choosing an online platform for your mental health can be a perplexing task for you. But, you can leave your worries bag behind when it comes to BetterHelp. Not only has it served and satisfied many patients but also has more safety measures to offer.
This includes:
A safe, and easy-to-operate platform.
Their therapists are certified.
They allow you to have sessions from home along with great affordability.
Signup Process of Betterhelp:
Here is a step-by-step guide for you to use BetterHelp:
1. Go to Website > Click on Get Started Button at Upper Right Corner > Here you will be asked that which type of counseling you are looking for? Individual, Couple, or Teenage. Click on Individual counseling.
2. Now, you will be asked to enter your basic information from your age to your spiritual preferences.
3. After completing the questionnaire, you will be asked to create your personal account. Don't worry, they provide full safety measures by allowing you to generate a pin which makes the app accessible only to you.
5. Then you will be asked about your therapist preferences (for the best fit) and give a brief about the issues you wish to address.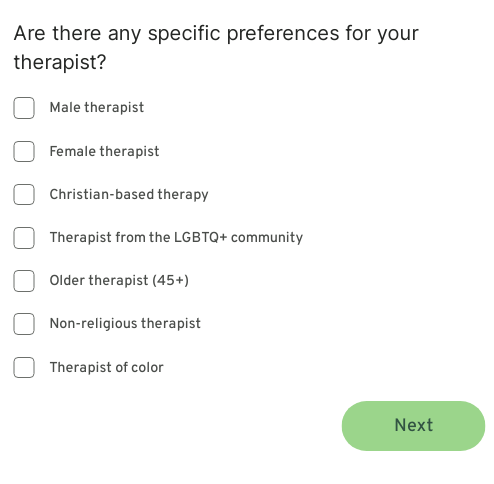 6. You will be further directed to the subscription page. Choose the plan that suits you the most.
Finally, you will be connected with your therapist shortly. Till then you can access the other features like calendar, journaling, and more that are available.
You will be all set to begin your healing journey after that!
Sign Up to Take Betterhelp Session
How to Get Connected With a Therapist of Your Choice?
Ideally, you will follow the above steps and will be connected with a therapist automatically. But there is a secret way that can help you choose the right therapist instead of mere algorithms doing the work for you.
Plus, what makes this feature of BetterHelp even better is the fact that you get to choose a therapist near you. If you are thinking about how does the "near me" feature makes a difference, check the benefits below:
1. Often finding a therapist from a different state, city, or country can lead to cultural differences. Which can work as a bummer in the therapy process.
2. Factors like time difference can also cause hurdles in the therapeutic process, by finding a therapist near you, it can be eliminated.
Also note, that it might take anywhere from 5 to 7 days to be matched with a therapist. If you're in an emergency and need professional help immediately, then it is recommended that you connect with an offline therapist.
Find A Therapist of your Choice on BetterHelp
Here is a step-by-step guide for you to find a therapist near your area.
1. Go to the BetterHelp website.
2. Scroll down to the bottom of the page. There just simply click on the "Find a Therapist" link.
3. After clicking on it you will be directed to a new page that says "Find a therapist Helping People in Your Area."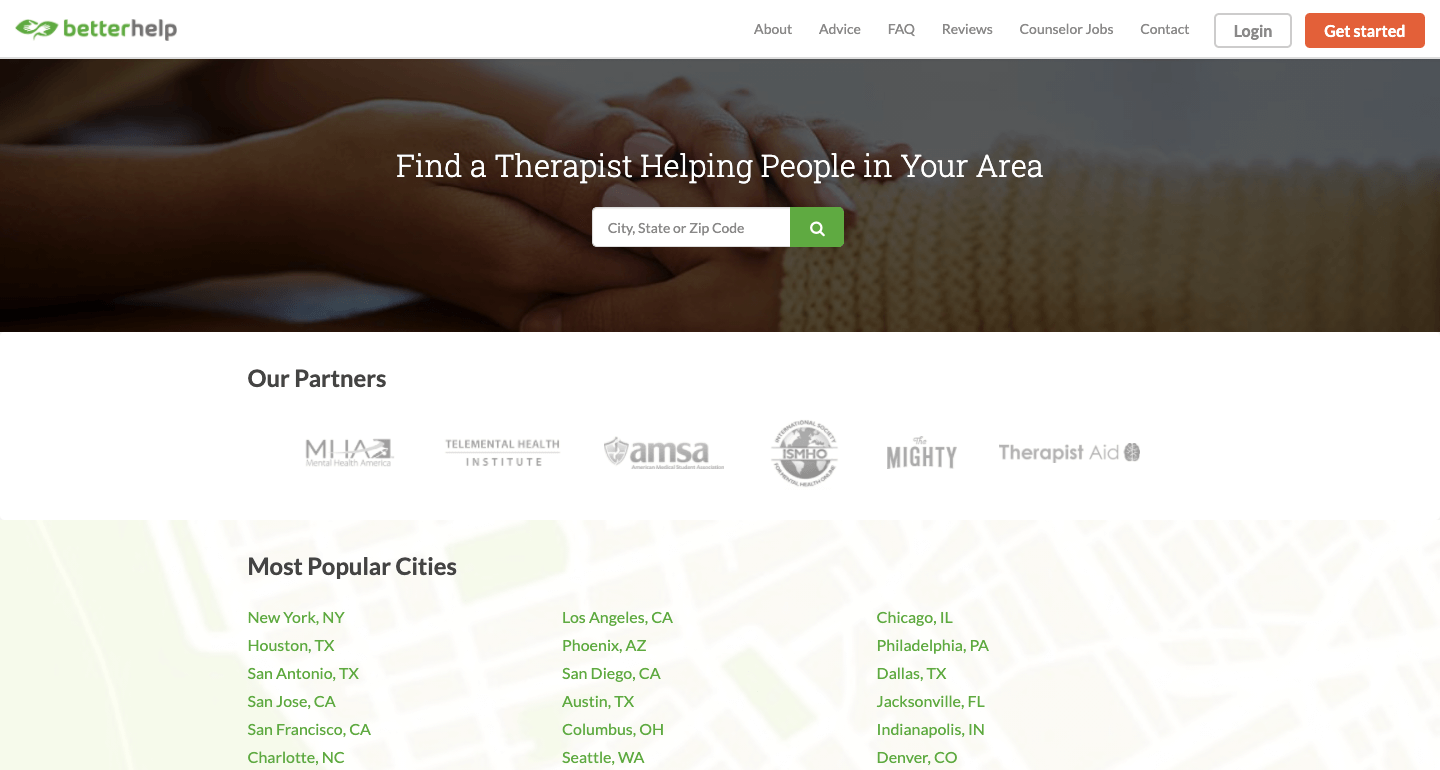 4. There you can add your city/ state name or your Pincode and click on the search button.
5. Soon you will find a list of therapists that live nearby your area along with their detailed description, picture, and qualifications.
6. When you find a therapist that best fits your requirements just click on the "Get Started" tab.
7. Then you will be directed to the questionnaire page, wherein you will be required to fill in answers to the basic questions, and further create your account.
8. After making the payment you will be all set to start your therapy session.
Why Choose Betterhelp Over Traditional Therapy
If you are wondering why I should choose BetterHelp over traditional therapy then we suggest you have a look at the image provided below. It will help you understand what makes BetterHelp a better choice for you, considering the pool of services that it has to offer. These services often go missing in traditional therapy.
So here is an overview for you.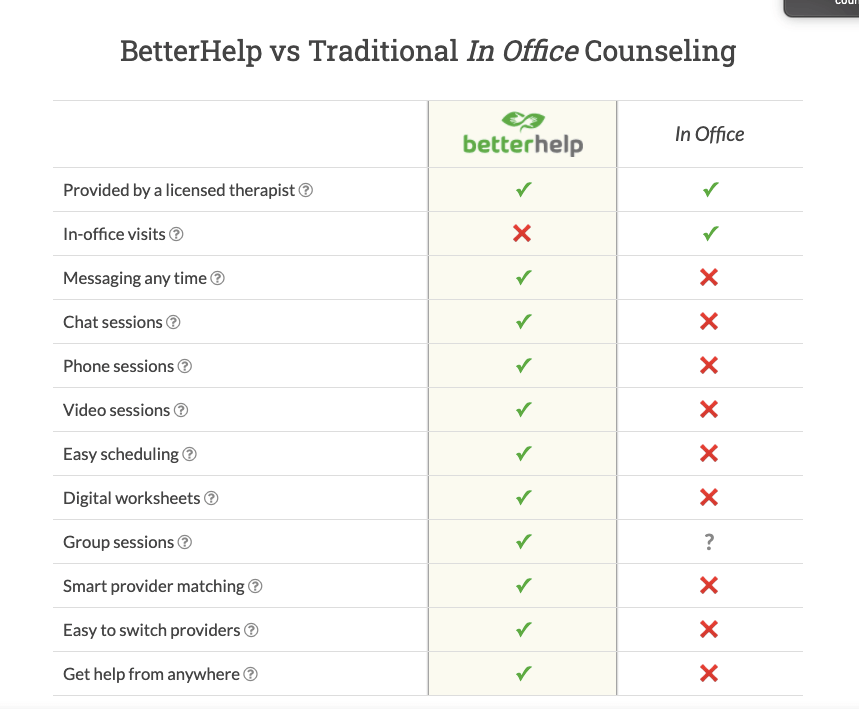 Why Should You Join BetterHelp As A Mental Health Professional?
If you are willing to join BetterHelp as a Mental Health Professional but would like to have a clearer vision for the same then you should definitely consider these points: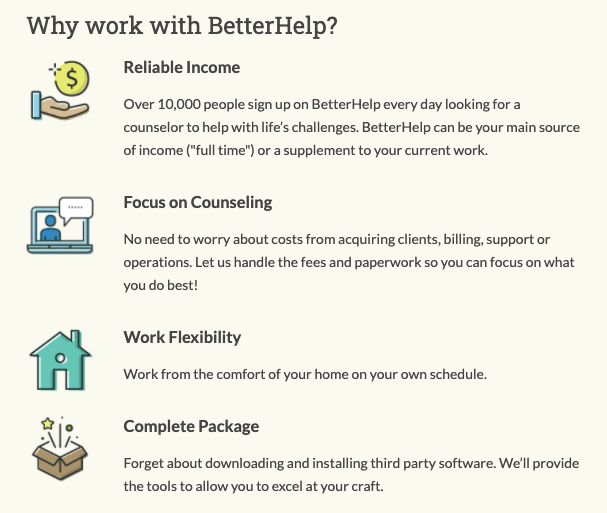 Here are the key requirements that need to be fulfilled before you join BetterHelp as a mental health care professional:
1. You should be licensed by a State Board to provide counseling services.
2. You must hold experience in counseling for adults, couples, and/or teens.
3. You must be currently residing in the US.
4. You are required to have excellent writing skills along with, a reliable internet connection.
If you wish to provide your services through BetterHelp and you meet the criteria mentioned above then click here to join the team.
Does BetterHelp offer financial aid?
Yes, BetterHelp offers financial aid only for those who qualify. For example, if someone is going through financial difficulty or is unemployed, they have a better chance of getting financial aid.
You'd need to answer your financial situation as "Poor Income" to qualify for financial aid on BetterHelp. Even then, it's not a guarantee that the discounted price you'll get would fit in your budget.
Our Take on BetterHelp: Why Choose BetterHelp?
(PS: Will I Recommend BetterHelp?)
Coming directly to your question, yes! Our team has tried Betterhelp and found it useful.  Additionally, we found a survey according to which 90% of people trust BetterHelp for their online therapy sessions. Therefore, I would definitely recommend you to use BetterHelp.
BetterHelp can be the best online therapy platform specifically if you are looking for an affordable therapy option with an unlimited text therapy option but if you are looking for psychiatry advice then BetterHelp might not be an ideal option for you. In that case, you can go for Talkspace or other platforms.
The best part is that all of the services are easily accessible, and equally beneficial for all users.
Some of the features that amazed us were:
Reputed company
BetterHelp reach
Satisfaction rates
User convenience and friendliness
Insurance and pricing
Types of therapy offered
Sensitive towards cultures and beliefs
Privacy policy
Quick FAQs about BetterHelp
1. Is BetterHelp worth the Money?
Yes. Many users of BetterHelp claim it to be helpful for them. It is affordable and uses traditional therapy methods. Which makes BetterHelp worth your money, time, and effort. In fact, it is on the list of the cheapest online therapy platforms available for you.

2. Who are the counselors that are at BetterHelp?
We understand that your mental health concerns should be taken care of by the experts only. BetterHelp too takes it into consideration and makes sure that only licensed, experienced, trained, and accredited psychologists (Ph.D./PsyD) take care of you and your mental wellness.
They only hire professionals who have either of the following licenses:
Clinical Social Worker (LCSW, LICSW, LISW, LICSW, etc)
Marriage & Family Therapist (LMFT, LCMFT, LIMFT, etc.)
Mental Health Counselor (LMHC, LCMHC, LMHP, LPMHC, etc.)
Professional Counselor (LPC, LPCC, LCPC)
Psychologist.
They are qualified and certified by their state's professional board after successfully completing the eligibility criteria. They all possess at least 3 years and 1,000 hours of hands-on experience. Making them a perfect choice for you.
3. Can BetterHelp diagnose you?
No. Although BetterHelp has a team of certified and qualified counselors working to serve you, the site's policy and Terms of Services give a clear disclaimer "for the provision of clinical diagnosis."
4. Can I Change My Therapist in BetterHelp? How?
Yes. As discussed above BetterHelp is oriented to provide you with the best help to make it happen, they do offer a smooth process to change your therapist. I have always emphasized the fact that no one counselor is the best fit.
So, you might want to look around a bit and the counselor that makes it a perfect fit for you to work with. All you have to do is open your profile menu and click "Change Counselor." This will further direct you to a page that gives you the option to choose between the 6 best-recommended therapists based on your prior information.
5. Can I cancel my subscription with BetterHelp?
BetterHelp cancellation policy is easy, fast, and reliable. All you have to do is follow these steps:
Log in to your BetterHelp Account > Navigate to your payment settings.
You'll see a link to "Change or Cancel your Plan."
To "Cancel your plan" click on the link and answer a multiple-choice question about why you are cancelling.
Next, you will be asked if you'd like the same therapist if you resume the therapy in the future.
After confirming your cancellation, you will receive an email for the same.
6. Does BetterHelp offer discounts?
Yes. CalmSage does offer 20% off with BetterHelp for its users for first month of therapy. You can click the Link given below and a 20% coupon code will be automatically applied.
7. Is BetterHelp safe to use?
Yes. BetterHelp is a safe platform. It makes sure that your data and information remain safe with them.
To read more, BetterHelp FAQ
I hope this BetterHelp review will help you make a better choice while you choose the best telehealth platform for yourself.
Have something to add to the review? Share it with us in the comments section below.
Thank you for reading!!!