Therapy
Does Betterhelp Give Refunds?
Last Update on July 27, 2022 : Published on July 31, 2021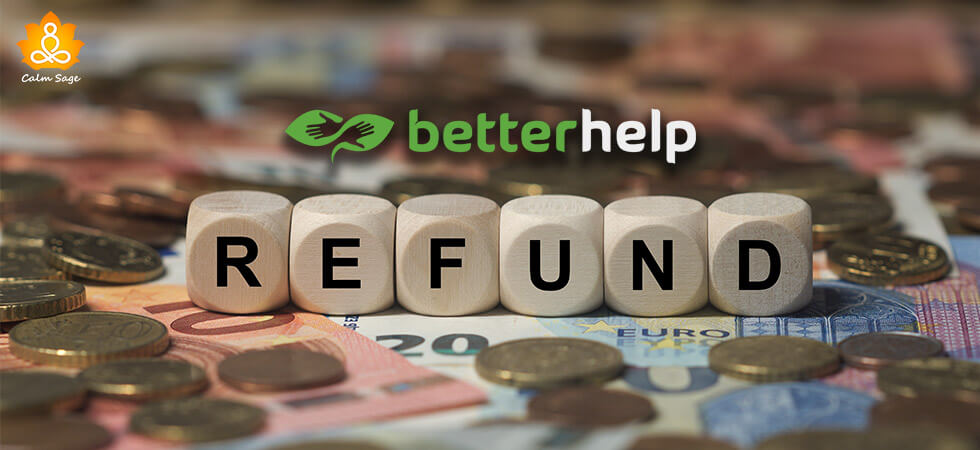 Betterhelp is an online mental health company that is renowned for promoting mental wellness and is trustworthy as well as affordable to the masses. However, the thought of not getting satisfied even after investing money in therapies is common.
The next question which pops up in the head is about Betterhelp refund and terms of services by the website. Well, this blog will help you understand if you can get a refund from Betterhelp or not.
Does Betterhelp Give Refunds?
In short, Yes! Betterhelp can give you refunds on request if you are able to take into account the criteria for a refund. Betterhelp provides you a refund in order to present client satisfaction and may even provide compensation for any kind of inconvenience faced.
If you wish to seek a refund from Betterhelp, you need to go through the following steps.
1. Clarification: Right before you reach the company for a refund, make sure that you have a valid reason for not being satisfied with the service provided. Explain this to the company and ask for the proper compensation.
2. Reach Out: You need to inform the company about your complaint and concern by sending them an email at contact@betterhelp.com.
3. Maintain Patience: As the company takes time to resolve your concern, understand the case and get back to you, you need to be a little patient to get a refund back by Betterhelp. You can also write them another email after a few days to find an update and ask about the status of your complaint.
4. Feedback: When the company writes you back, the feedback will mention if you are eligible for partial or full reimbursement.
Apart from the regular process mentioned above, you can even ask for a Betterhelp refund by:
1. Call them at 888-688-9296 and make sure that you are ready with your personal as well as account information in hand.
2. Open a contact form on their website, fill in your name and required details after which fill the 'billing complaint' option. Click submit and you will be contacted back in a few days.
Why Are You Looking For Betterhelp Refunds?
If we look at the reasons behind a client demanding a refund from Betterhelp, here could be some of them.
The experience with the counselor was poor and unsatisfactory. It's possible that you were looking for a wholesome experience but it was not as exciting as thought and left you upset and angry.
The services couldn't be availed due to certain reasons despite paying the fees. It could be possible that you couldn't connect with the counselor due to not entering the room, messages were not sent or a poor internet connection interrupted the session.
There were issues with counseling sessions even after paying for a weekly package and a refund can be asked for in return.
The client was not satisfied with the services provided in one session and can ask for a refund as they don't want to take up the next sessions ahead.
What Could Be Other Options Than Refund?
If Betterhelp is not providing you a refund after a conversation and explanation, they can provide you other options based on your case. This could also be termed as compensation for their unsatisfactory services.
1. Appointment Of New Counselor: If you are somehow not satisfied with the counselor's services and are thinking of canceling the session fee by Betterhelp, you can be compensated with a new counselor by getting a suitable option.
Check How can you choose therapists with BetterHelp
2. Extend The Subscription: If your complaint is regarding not getting enough time by the counselor and you were expecting a better time from them, the company can extend your subscription rather than completely refunding your amount.
How do Counselors Connect With The Clients?
There are various options through which clients can connect with the counselor after paying the fee. These ways include:
1. Chatrooms: Chat Rooms are usually open 24×7 using which you can drop the chat anytime you want. The counselors reply back as soon as they come online and revert back to your query.
2. Live Chatting Sessions: You don't need to wait here for the reply as counselors will reply to you in real time. Moreover, there is no limit on the number of messages you are exchanging or time spent talking to them.
3. Phone calls: Thankfully, there is complete privacy and live audio conversation could be done with the counselor.
4. Video sessions: If you are comfortable with the video call and wish to have a personalized interaction, such calls are good to go.
Wrap-Up
We hope that you have found out the answer to if Betterhelp gives a refund to you or not. As you explore Betterhelp terms and services and connect with them over a call or email, you would be able to understand if you are eligible for a refund or not.
In case the refund doesn't take place, other ways for reimbursement work well.
Next Read: