Therapy
Talkspace Reviews : Is Talkspace legit and Worth a Try?
Last Update on January 19, 2023 : Published on February 16, 2021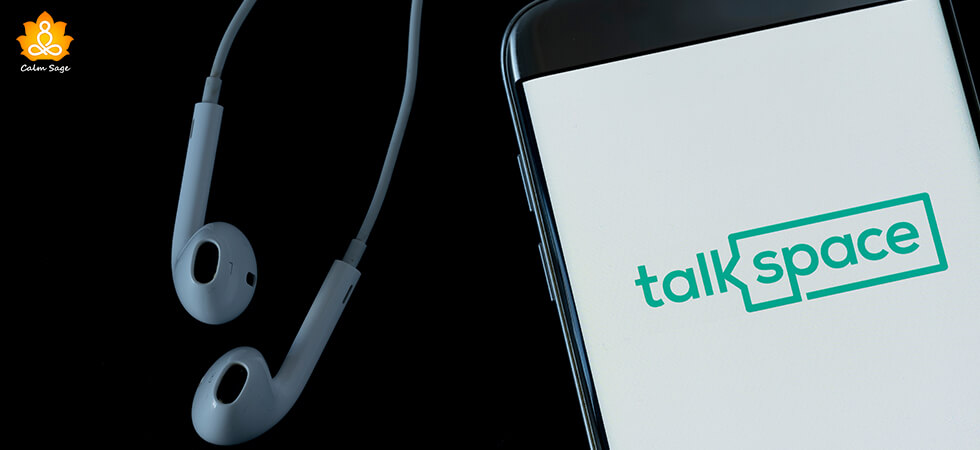 Staying fit and healthy- mentally and physically became one of the biggest concerns last year and with staying safe and indoors the only option left to us was – telehealth. Online therapy became a high-in-demand therapy medium.
One of those online therapy platforms that caught my interest was – Talkspace. Why this particular platform held our interest?
Also Read: Top 10 Online Therapy and Counseling Programs
So we decide to Test and explore Talkspace services. I personally Used Talkspace and my main motive behind this was to check process flow from the sign-in to therapist matching process and how effectively they are using technology to provide their therapy services. So People take the right decision on which therapy to choose according to their needs.
Well, let me explain by telling you more about Talkspace.
Talkspace Overview:
| Product Name | Talkspace Online Therapy |
| --- | --- |
| Usability | Mobile platforms (ios + Android Both) |
| HIPAA Compliant | Yes |
| Year Founded | 2012 |
| Price | Starts from $48-$99 / Week + $65 for video session |
| Payment options | Credit card or PayPal |
| Free Trial Available | No |
| Session Types | Video, Chat, Voice, Messaging |
| Therapist Qualification | 2k+ therapist with hands-on experience. |
| Cancellation Policy | Available |
Talkspace is an online platform for therapy based in New York City. This platform was founded by Oren and Roni Frank back in 2012. Talkspace began as a group therapy platform that was later expanded to add couples therapy.
In the beginning, Unlimited Messaging Therapy was introduced that provided users to text with their therapist via the website or the Talkspace app. If you'd sign-up, you could send audio and video messages on Talkspace or book live sessions with your therapist.
Today, Talkspace has over a million users and is growing still.
Talkspace Sign-Up Process:
The sign-up process for Talkspace is pretty easy and straightforward. To begin, you'll be asked to create an account for which you'll need to register using your email address. From there, you'll be asked to verify your email address.
After your verification, you'll be connected with a verified licensed therapist or a Consultation Therapist for free that will act as a matching agent. The therapist will explain to you how Talkspace works and will guide you through the rest of the sign-up process.
Also Read: What Actually Happens In Therapy Sessions? How To Get Help Effectively
You'll be asked a series of questions that will focus on your life, your goals from therapy, and your preferences for a therapist. After you've completed the questions, you will be presented with several experienced, accredited, and licensed therapists.
Don't worry, if none of the presented ones fit your criteria, you can always ask for more or change therapists once you begin.
Talkspace therapy providers are verified and background checked. Therapists are required to be either an LCSW, LMFT, LPCC, or PhD. in clinical psychology. Additionally, all therapists are required to take a training session for the initial 4 weeks after joining the Talkspace team.
Also Read: Why is Online Therapy trending and is It Really effective?
Talkspace Room:
After you have completed the questionnaire and the rest of the in-depth discussion on the problem you're seeking help for, you'll be directed to a secure virtual therapy room. This 'room' can be accessed via a web browser or Talkspace mobile app (available on ios and android).
In your Talkspace room, you'll be able to send and reply to the messages to and from your chosen therapist 24/7. Responses can be expected five times a week. You might have to wait for a reply though.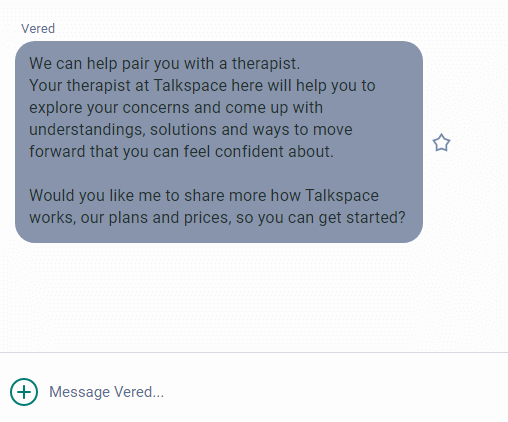 It's better to look at it this way; you'll be able to send messages 24/7 but might not receive a 24/7 response.
Talkspace also offers a face-to-face, live chat experience as well. There are options available to book a live session with your therapist beforehand. The best part; you can always switch your plan if you feel like the one and you have the complete freedom to stop your therapy at your convenience.
Areas Covered By Talkspace: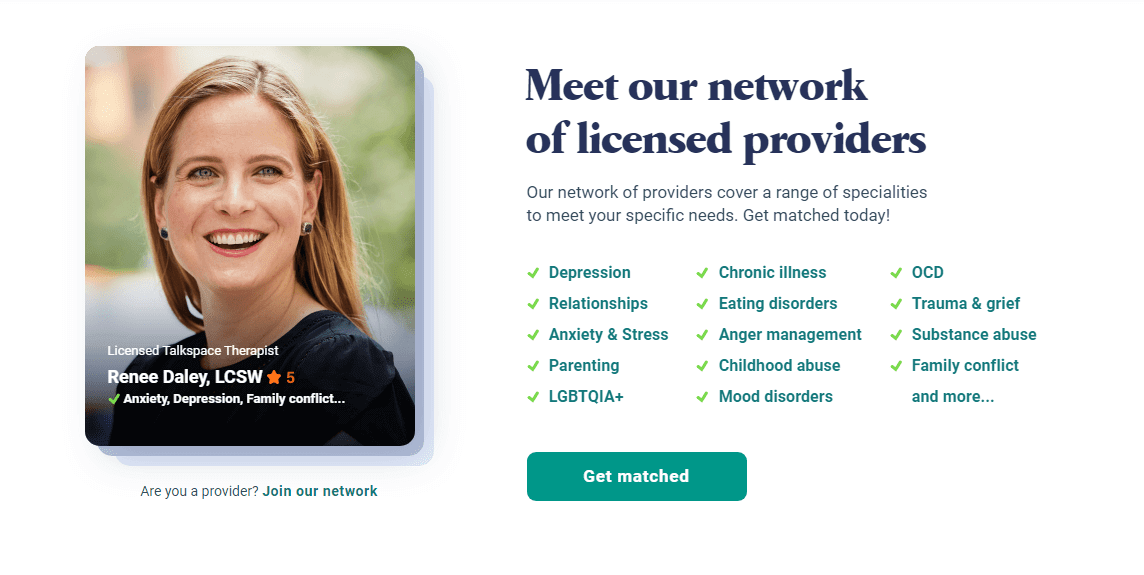 Talkspace's network of providers is huge and specializes in various needs. They can help with issues like:
Depression
Relationships problems
LGBTQIA+
Parenting
Chronic illnesses
Childhood abuse
Mood disorders
Obsessive-compulsive disorder (OCD)
Trauma & grief
Substance abuse & addiction
Family conflict
…and many more.
Note to remember: Talkspace is NOT emergency services. If you're in a life-threatening situation, it is recommended that you don't use Talkspace and contact your nearest toll-free helpline number.
Talkspace Features:
One of the best things about online therapy is that you can visit your counselor without leaving the comfort of your home. Where you are you can be connected with your therapist with a click. Some of the best features of Talkspace are:
1. Therapy Wherever You Are
With the Talkspace app, you can reach your therapist whenever you want from wherever you are. The therapist can take some time to respond but you will get a guaranteed response at least twice a day. No matter where you are, your therapist is a click away with Talkspace.
2. Pick A Therapist Of Your Choice
One of the best features of Talkspace is that you can pick a therapist of your choice. After you've filled in your information and questions about why you need help, you'll be shown a set of therapists that match your needs and YOU have the option to pick the therapist that best suits your needs.
On Talkspace, you can also switch therapists without any hassle or charge.
3. Flexible Communication Options
Talkspace provides you with an array of options when it comes to communicating with your therapist. Here you can access your counselors via text, audio, or video messaging and you also have the option to have a live session with your therapist. You can record your messages or send a text message when you feel like it and your therapist will respond within a given timeframe.
4. Track Your Progress
With the Talkspace app, you can track your progress and growth. The app provides you with a way to view your progress and keep you focused through your therapy. As you progress in your therapy, Talkspace builds a timeline that will guide you through the initial stage of therapy. And as you grow with your therapy, Talkspace will keep up with you and your journey.
5. Therapy Tools
The Talkspace app also offers amazing guided exercises to help you with your therapy and learning new skills. With these tools, you can learn to reduce stress, induce relaxation, overcome fears, and increase self-awareness.
Ease Of Use:
Talkspace has a user-friendly interface that is easy to navigate. You can access Talkspace via a mobile app and the website. The Talkspace app is available for both iOS and Android.
Therapies Provided By Talkspace:
Therapists on Talkspace are trained on various approaches to psychotherapy. Some of them are:
Existential-humanistic therapy
Dialectical-behavioral therapy
Mindfulness-based (MBCT)
…and more.
Talkspace Pricing Plans:

There are three separate plans that users can choose from on Talkspace. You will be asked to select a plan during the sign-up process but you have the option to change your plan or unsubscribe at any time. There are discounts available too!
When you select your plan, you'll be presented with three options:
Paid Monthly
Paid Every 3 Months
Paid Every 6 Months
Note: Under the 3-month pay, you'll get a 10% discount and a 20% on the 6-month pay, if you pay in advance.
The other plans available on Talkspace are:
| | |
| --- | --- |
| Messaging Therapy for $65/week ($260/month): | Under this plan, you'll get unlimited text, video, and audio messaging with guaranteed daily responses 5 times a week. |
| Messaging + 1 Live Video for $79/week ($316/month): | Under this plan, you'll get unlimited text, video, and audio messaging with guaranteed daily responses 5 times per week. Additionally, you'll get one live 30-minute session per month. |
| Messaging + 4 Live Videos for $99/week ($396/month): | Under this plan, you'll get unlimited text, video, and audio messaging with guaranteed daily responses 5 times per week. Additionally, you'll get four live 30-minute sessions per month. |
---
For an initial subscription, Talkspace recommends the $79/week plan as it provides you with the opportunity to understand the live session concept and move from there.
Talkspace offers a separate service for online psychiatric consultation that will help you get personalized care from a prescriber who specializes in mental health care and prescription management. For this, Talkspace charges $199.
Please note that psychiatry consultations are only available in the USA and only in some states and you need to be 18+ to sign-up for this service.
Things to keep in mind for If you are looking for psychiatry consultation:
All appointments are done over a live video session.
Psychiatry through Talkspace isn't a subscription service. Each session is purchased as an individual video credit.
All initial consultations take up to 60 minutes.
These meetings are conducted by psychiatric healthcare providers.
Talkspace Pros and Cons:
Pros:
It is a simple and easy-to-navigate user-friendly website with a simple sign-up process.
A verified licensed counselor helps you pick the right therapist for you.
Communication is available via text messaging, video messaging, and audio messaging.
Flexible plans to meet your needs.
Live sessions with your chosen therapist.
Switching therapists is easy and seamless with no extra cost.
Quick response from customer service.
Easy to use the app on iOS and Android.
Cons:
Responses from the therapist are sometimes generic.
Payment is done in advance for the whole month during the sign-up.
If you cancel in the middle of the month, you'll still be billed for the whole.
Response time from the therapist may be delayed due to time differences.
Doesn't have a free trial available.
Talkspace For Teens
Teens need therapy too and Talkspace provides that too! On Talkspace, a teen can reach out and ask for help. One of the best things about online therapy is that you're just a click away from a counselor.
If you're stressed about your studies, exams, have a difficult relationship with your parents, or are being bullied (cyber or otherwise), you can always contact counselors on Talkspace. Once you've signed up on Talkspace and met a counselor, you can start messaging them either via text, audio, or video messaging.
You can discuss almost anything with your counselor. Online counseling on Talkspace is a safe space where you can share your thoughts, feelings, and what's bothering you in your life – personal and academic. The counselor you've been matched with might ask for some details or questions about your situation and that's okay because counseling is not a one-way street. Having an open and honest conversation with your counselor is the best way to receive the best advice.
Talkspace Couples Counseling
When it comes to couples counseling, Talkspace can help you there as well. With Talkspace Couples Counseling, you can get help on issues such as:
Dysfunctional relationships
Restoring trust
Rediscovering relationship strengths
Conflict resolution
Strengthen relationship bond
With Talkspace online couples counseling, you'll get unbiased professional help and support via live video sessions and unlimited messaging.
Talkspace & LGBTQIA+ Community:
According to NAMI (the National Association for Mental Illness), LGBTQ+ individuals are more likely to experience a mental health condition such as major depressive disorder or generalized anxiety disorder than others. Sexual prejudices mixed with social stigma surrounding mental health can prevent people in the LGBTQ+ community from seeking help.
Talkspace provides separate LGBTQ+ friendly online therapy. The platform has over 1000 licensed therapists who specialize in helping individuals work through issues such as gender and sexual identity. Talkspace provides a 100% safe and non-judgmental space for LGBTQ+ individuals to talk and seek help regarding their issues.
Talkspace Confidentiality & Privacy Concerns:
Privacy concerns are something that we can't ignore. Therapy is a sensitive issue and we need doctor-patient confidentiality even if we're going online. Talkspace is obedient to HIPAA (Health Insurance Portability and Accountability Act). All communication taking place on the platform (whether via the website or the app) is encrypted.
While the app requires a password, you can further protect your identity (if you want) by using a nickname that you'll be able to provide during the sign-up process. Another aspect of Talkspace that held my interest was that your conversations cannot be deleted.
As the communication between you and your therapist are considered medical records, it is mandated that the records remain intact. Talkspace will also keep information regarding your emergency contact in case of a medical emergency.
Is Talkspace Covered By Insurance?
Yes, Talkspace does take insurance. Michael Phelps in his Talkspace review says, "I'm proud to announce that Talkspace online therapy now covers 40 million people through their health insurance or employer."
If your insurance provider is not mentioned by Talkspace then you can use a credit or debit card to pay for your subscription. After, you can submit the bill to your Flexible Spending Account (FSA) or Health Saving Account (HSA). Talkspace recommends you check with your FSA or HSA provider before submitting your bill.
Talkspace is covered by these insurance providers:
Cigna
Optum
Premera Blue Cross
Blue Shield, and
Humana
Which is Better Between Talkspace and Betterhelp:
One of the biggest competitors of Talkspace is Betterhelp. Two of the most popular online therapy platforms at the time are Talkspace and Betterhelp.
Also, Read BetterHelp Vs. Talkspace: Comparing The Leading Online Therapy Platforms
In many points, Talkspace is better than Betterhelp. Check Them Below:
| | |
| --- | --- |
| Feature | Talkspace vs Betterhelp |
| Sign-Up: | Betterhelp has an automated sign-up process while Talkspace's sign-up is done with the help and guidance from a licensed therapist (not an AI one, either). Talkspace lets you choose a therapist of your choice while on Betterhelp that option isn't available. |
| Pricing: | The average price of weekly sessions on Talkspace is $65 and that includes unlimited messaging, video, and audio messaging without live sessions. Betterhelp, on the other hand, has an average rate of $80/week (billed weekly) with unlimited messages and a weekly live session. |
| Communication: | Talkspace connects you with your therapist (on the basic plan) only via messaging. If you opt for the recommended $75/week plan, you'll get one live session per month (no phone therapy available). Betterhelp connects you with your therapist via messaging, live chat, phone calls, and live video sessions, regardless of the plan you choose. |
| Switching Therapists: | In this, both Talkspace and Betterhelp provide a hassle-free change of therapist whenever you want. |
| Psychiatric Treatment: | Talkspace has a separate psychiatry services page to help people with psychiatric conditions whereas Betterhelp doesn't provide such a solution. |
| Commitment: | Talkspace requires at least a month-long commitment whereas Bettehelp requires a week-to-week commitment. |
---
Choosing the right platform for the help you need depends solely on your needs. When you're debating on choosing your online therapy platform, you need to keep in mind these points:
Does the platform you're choosing provide therapy for what you need help for?
What kind of commitment are you willing to provide? Short-term or long-term?
Does the platform suit your budget?
Final Verdict:
Some people are comfortable with text and video messaging but some people find comfort and help in an in-person therapy session. There are some aspects of Talkspace that may not appeal to many people such as the time difference and delay in text response from the therapists.
While Talkspace provides 24/7 therapy access to all those in need, it has its pros and cons and affordable plans. While on one hand, online therapy saves commute and is cost-effective, on the other hand, it might not be enough if you look for a connection with the therapist.
If you are looking for a Psychiatry consultation with Therapy then Talkspace Online Therapy is a perfect fit for you. Overall, Talkspace is user-friendly and easy to use and the services provided by Talkspace worth the money.
Ready to Get Started?
Talkspace provides a wide range of counselors and therapies for individuals, couples, teens, the LGBTQ+ community, and psychiatric patients. Talkspace is a great platform for people looking for individualized and personalized therapy options.
If you're new to therapy, then Talkspace Might not be a great option for you because there is no free trial.
Next Read:
Headspace App Review: Is It The Right Choice For You?
Doctor On Demand Review: Your Virtual Healthcare Provider
Honest 7 Cups of Tea Review: Is It The Right Choice for You
Pride Counseling Review: Get The Best Therapist For LGBTQ Community