Happiness
Female Embodiment: The Feminine Urge To Enhance Your Sense Of Self
Last Update on May 9, 2023 : Published on May 9, 2023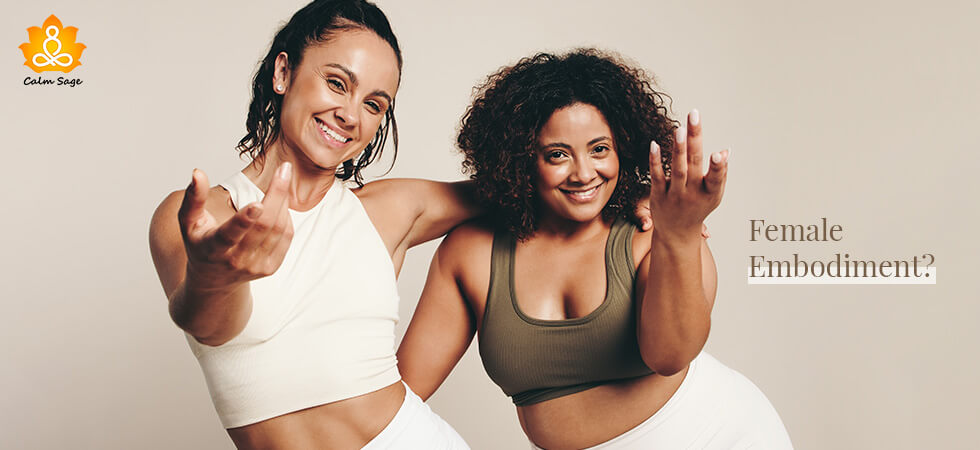 It is quite difficult to mindfully live in a patriarchal society wherein you've to walk in front of the world with heavy emotions! A woman's body is often a subject of discussion or I can say it is used as a weapon by society to disempower a woman who is rebellious or takes her stand against the culture's expectations.
I really don't understand the idea of setting cultural expectations in front of women who are ambitious, strong, and courageous!
Trying to meet the ideals of how we should behave, how we should make up, how we should dress, or how our bodies should look… often transforms our goals and ambitions in a negative direction. But the good part is that you don't have to fight inner battles to meet the ideals or societal expectations anymore!
I have brought you a concept of female embodiment which is empowering in different ways. It's a new concept to build connection and comfort with your body and find resistance to self-objectification.
So, let's get started and explore what female embodiment has to offer!
Understanding The Concept & Theories Of Female Embodiment
While embodiment means the connection of mind and body, the female embodiment is a concept that enhances the connection with the acceptance of the body. It's also about celebrating and embracing the unique features in ourselves that make us exclusive. Female embodiment means getting comfortable in your own skin and recognizing the beauty within.
The concept of female embodiment is not gender-specific. The pillars of embodiment let the feeling flow! It develops the connection and embodies it healthily.  In order to feel embodied, you must inherit the assets of feminine energy such as depth, feeling, flow, and inward with the qualities of masculine energy such as direction, forward, and vision contractedly.
This contrast can help us achieve a balance with purpose, radiance, endless love, and inner beauty. In a deeper meaning, the balance lets us reclaim our bodies back, provides freedom from our suppressed emotions, and lets us love ourselves without any societal boundaries and expectations! It provides us the strength to overcome the patriarchal norms.
Roots Of Female Embodiment
If you're fighting your battle against body image issues, positive aging, eating disorders, or societal norms, a female embodiment can help you explore the five dimensions which can help you embrace the great sense of self.
1. Awareness
The process of female embodiment begins with awareness. Awareness means living in the present and connecting with our mind and body. This process involves movement which helps your wandering mind to seek balance and be aware of your thoughts and feelings.
2. Expression of desire
During the process, when we consciously breathe, we strongly connect with our bodies and embrace awareness within. If you're a beginner, you can try alternate nostril breathing to connect mindfully. Breathwork techniques are one of the best tools to reclaim your desires, expand your vision, exhale negative thoughts, and inhale positive ones.
3. Movement
Movement allows you to relieve stress, negative thoughts, and anxiety related to societal pressure and opens your thoughts and body toward relaxation. This process focuses on self-centeredness that begins from within and lets your feminine flow take the front seat. It aligns with our thoughts and energies. Herein, we start developing the female embodiment, welcome them, and liberate them.
4. Engagement
This pillar allows us to become vulnerable. This process involves confrontation which helps unravel the pain, sadness, and negative energies related. The sound within develops the lost connection with our bodies.
5. Building resistance and connecting deeply
This pillar allows us to feel embodied and embark on our journey with our newly-accepted bodies and unravel the traumas, expectations, and core beliefs to deeply connect with our body.
Signs You Love Practicing Female Embodiment
While reading this blog, if you were also able to connect with your mind and body, you must be going through the below-listed signs:
1. You have accepted your body the way it is: Loving your flaws and accepting your body as the way it provides a level of satisfaction and aware you of your hidden strengths.
2. You are aware of your feelings and wish to take care of yourself even more: Acceptance allows us to be aware of your feelings and allows us to take care of ourselves in an effective manner. It puts us on the road of self-love and self-care.
3. You feel comfortable with your sensuality, sexuality, and uniqueness: When we get comfortable in our own skin, we also work on enhancing our vision upwards.
4. You have gained the strength to put your feelings out: Female embodiment makes us empowered in different ways, it provides us strength to speak out our feelings in front of the people who put pressure on us.
5. You are willing to learn more about self-care and self-love: When female embodiment enhances our sense of belonging, we start reflecting more on positivity, herein, we pick up self-care and self-love over everything else.
6. You want to accept your thoughts and be all set to embark on your journey toward female embodiment: When we are surrounded by positive thoughts, we look forward to a better future with a great vision. Female embodiment makes sure that we dream big, and bring our dreams into reality.
Tips To Practice Positive Female Embodiment
Female embodiment is a concept that can help you increase self-worth, sense of purpose, confidence, and more. Here are some quick tips to practice positive female embodiment and begin your journey:
1. Aware friends and people on social media about female embodiment: Social media is a great place to radiate awareness and positivity related to the female embodiment. We can really bring a positive change when we will start working on fixing each other's crown equally.
2. Find one or more qualities about your body: Self-acceptance comes into effect when we start searching for hidden qualities in our body. With the help of female embodiment, we can increase our self-worth.
3. Turn your weaknesses into strengths: We all are equally flawed and it's okay to have flaws but it's not okay to procrastinate over them. We can focus on a positive mindset by turning our weaknesses into strengths.
4. Write down your thoughts: One of the best ways to empower yourself is to write down your thoughts and feelings. Acknowledge them and convert them into positive ones.
5. Practice mindfulness: Being mindful enhances self-awareness and it is one of the great ways to deal with negative emotions.
For effective learning and awareness, you can also work with a female embodiment coach who can help you with your traumatic experiences and change your perspective or mindset toward life.
I hope this blog helps you understand the concept of female embodiment and how to practice it in a healthy manner. Comment down and share your views on "practicing female embodiment in the age of social media."
If you loved this blog, do not forget to share it with your friends, colleagues, and family members.
For more such content, connect with us on all social media platforms.
Thanks for reading and keep loving yourself! 😊