Self Care
Mind Your Body Posture while Working from Home for A Healthy Life
Last Update on May 18, 2022 : Published on April 10, 2020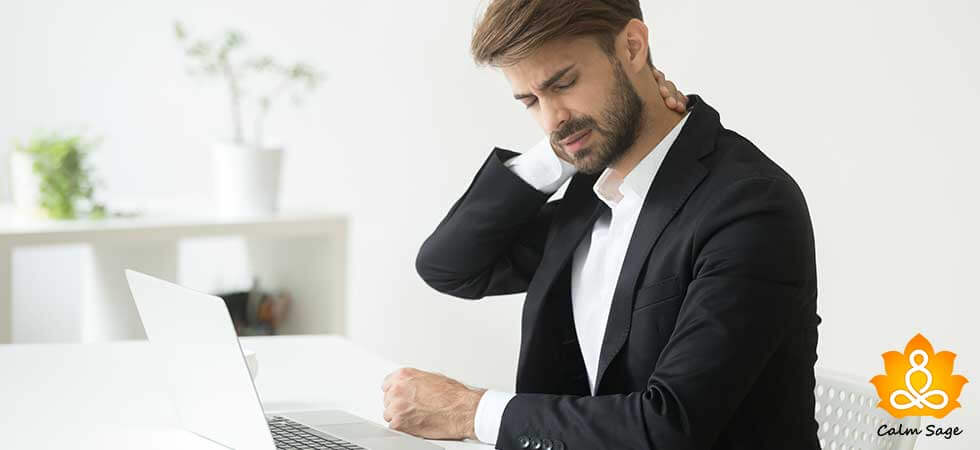 Are you sitting with your back straight while reading this blog?
If yes, then you deserve a pat on your back. You are making room for a healthy mind space and body.
If not, then it's still ok! You can always work on your body posture and boost your mental and physical health.
Due to coronavirus outbreak majorities of companies have assigned its employees with work from home. It definitely offers comfort being in your PJs but with lack of proper office furniture it can be tricky to maintain the right posture while working from home.
While it is important to have the right posture to avoid various physical health issues and welcome mental health benefits. So, let us strike the right balance between maintaining the proper posture and being productive at the same time.
To begin with let us have a quick glance at the mental and physical health benefits of minding your body posture while working from home:
Physical Health Benefits of Maintaining Right Body Posture:
It protects you from various musculoskeletal disorders.
It saves you from developing a 'tech-neck' i.e., head down, back-bent slouching position and shoulders forward leaning
It improves blood circulation in the body
It decreases back and body pains
It makes your muscles stronger, especially of the back
It allows you to burn more calories
Wondering how GOOD BODY POSTURE can Lead to a HEALTHY MIND?
Here are some of the mental health benefits of sitting in the right posture while working from home:
It leads to better productivity
It enhances the mental alertness
It reduces mental fatigue
It improves breathing
Now let us know how we can avail all these benefits and maintain a good posture while working on our gadgets…
Right Furniture:
First things first! A prerequisite to adopting the right posture is setting up an ergonomic workstation. This includes- your computer or laptop adjusted to the correct head, an adjustable desk and chair, keyboard and mouse in the properly accessible position.
TIP: Prefer having a chair and work desk that can support you with different postures throughout the day.
Now depending on whether you are sitting on your couch or standing here are tips that you should take under considerations:
Tip to Maintain Your Right Body Posture:
1. Sitting & Working
Most of us prefer to sit and work, well it will help you adjust your workstation in the best possible way. Here are some points to check on while preferring this method of working:
Remember we talked about ergonomic chair well it was suggested so that you can sit comfortably.
Your knees should be bent by 90 degrees; it will help relieve extra pressure from your back.
Don't leave those arms hanging! Make sure you support your arms either on the desk or the chair armrest. Ensure that while typing on keyboards your elbows are bent at 90 degrees.
Keep your back straight, don't lean back or slough forward.
Take a break after every 20 minutes to change your posture and relieve your body.

2. Standing & Working
If you are looking for a change in the working posture then standing and working is a good option to go for. Just keep these few points in mind while standing and working:
Your laptop screen should be at your eye level. Adjust the height level.
Make sure you use a hard place for your laptop
Keep your lower back straight and don't slouch your shoulders

3. Using Couch or Bed
This has to be my favorite one! Sitting on my sofa and working but while I choose this comfort zone of working I also take care of the following key factors:
Place the laptop on a hard surface and adjust the height of it parallel to your eye level
Provide support to your back by putting some cushions behind
Don't lower your neck and back while working.
TIP: Although this style is the most attractive one at the same time it is not that healthy. So, using it for a short period of time can still be preferred but avoid it for longer spans.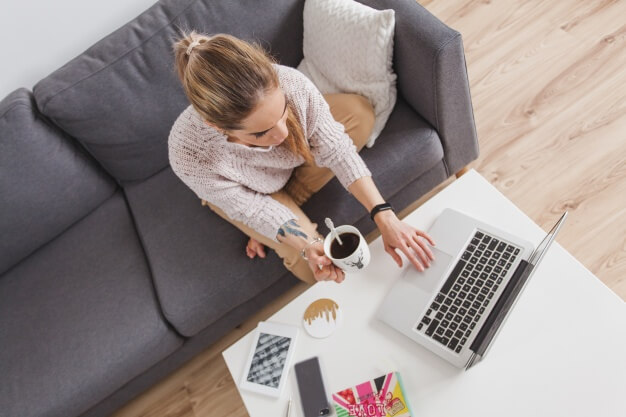 Irrespective of the place and working position that you opt to work with here are some additional tips that you can consider alongside:
Keep your laptop safe. Just like at the office you wouldn't eat or drink around your work area apply the same.
Take micro-breaks. While at home, move around or talk to your friends by taking small breaks in between. They will work as the power boosters for you.
Do stretching. Try some freehand stretches and exercises to release the stiffness from your muscles and break the sedentary pattern. Some of the easy exercises that you can incorporate are- shoulder raises, leg planks, and arm twisting.
Get sunlight. Instead of just using your smartphone or moving around the house in your micro-breaks, move outside in the balcony or on the terrace to get some sunlight. Soaking yourself into the sun can make you more productive and happier.
Now you are all set to start working in your comfortable zone minding your physical and mental health.
Happy and Healthy Work Time to You!!!
You May Like These Also: