Communication
Learn The Art Of Mindful Communication: 5 Important Keys To Mindful Communication
Last Update on June 23, 2023 : Published on June 24, 2023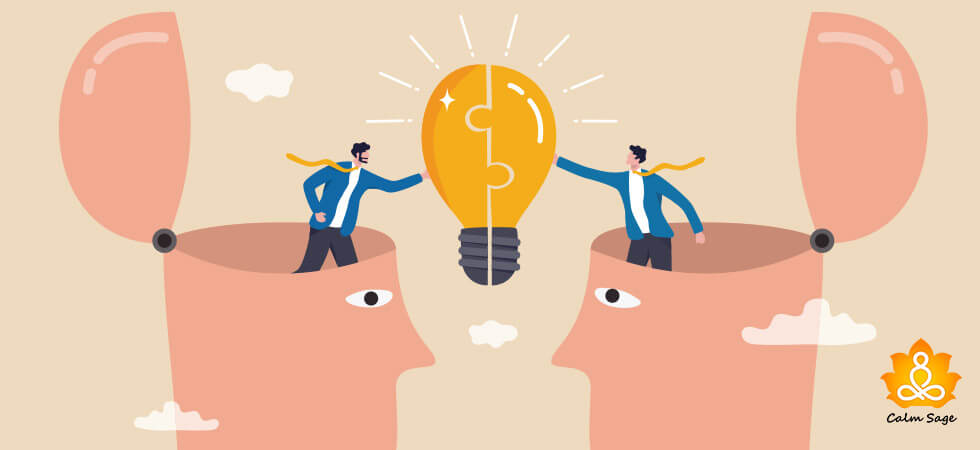 The universal fact is "Communication is the key to all problems." Communication can help in expressing emotions and needs, it helps to reduce the complexity in the relationships. The words used while communicating our needs are the reflection of our thoughts. It evolves our communication skills into powerful ones.
When we start expressing our needs and emotions consciously, we call it "mindful communication." Mindful communication can be easily practiced with the help of 5 keys or principles which are listening actively and curiously, bringing intentions, being fully present, self-awareness, and ownership.
These principles or keys of mindful communication help in using communication as a precious tool or resource to improve overall well-being. In this blog, let's explore how to practice mindful communication based on the 5 important keys. So, let's get started.
Importance of Mindful Communication
Mindful communication means consciously considering your words while speaking or actively listening to the speaker to understand the speaker without being distracted or judging the speaker prior.
Practicing mindful communication can be challenging because it requires a lot of constant effort and you'll have to consider a lot of things before speaking such as non-verbal communication skills, mindful speaking, empathy, compassion, and mindful listening.
All these components can help you achieve a compassionate and empathetic state which establishes more healthy, genuine, and meaningful connections with people. The art of mindful communication at the workplace is important because most of our daily conversations are related to workplace interaction.
It can make you more engaging and enriching which directly benefits your social, personal life, and professional life. You will be able to make more lasting and effective conversations with people. The only key is to learn the major keys behind mindful communication.
5 Keys to Mindful Communication
Key elements of mindful communication help in developing conscientiousness and being present at the moment. Out of all, active listening and empathy are the two important keys to mindfulness communication. The principles and keys of mindful communication are based on:
Acceptance
Active listening
Attentiveness
Compassion
Empathy
Humility
Honest intentions
Integrity
Non-judgment
Observance
Openness
Ownership
Self-awareness
Vulnerability
Let's discuss the three main principles of mindful communication in brief:
1.Active listening
One of the most important elements or principles of mindful communication is active listening or being fully present in the whole communication. When we listen wholeheartedly and without any distractions, we form a deep connection with the conversation and it helps in untangling the emotions related to it.
2.Attentiveness
Attentiveness is enhanced when we bring our attention to something and maintain the same quality throughout the conversation. It helps in cultivating the "presence."
3.Intentionality
Mindful communication helps in providing meaning to your words. When you say something attentively and after evaluating your intentions, it enhances ownership. You eventually start taking full accountability for your choices, words, and values.
4.Ownership
Mindful communication helps in discovering our voice and ownership can be used as a tool to fulfill your purpose. Ownership in mindful communication helps in taking responsibility for our words and actions which keeps our values aligned.
5.Self-awareness
Self-awareness is the significant principle of mindful communication because it creates space for comprehension. It helps in understanding the emotions (verbal and non-verbal). Overall, it helps in enhancing engagement, emergence, or connection.
Benefits of Mindful Communication
Below is the list of major benefits of mindful communication:
Promotes safe and better communication
Prevents assumptions and pre-judgments
Develops empathy as we listen more actively
Increases value for the listener and speaker both
Reduces misunderstandings and distractions
Provides better solutions or enhances decision-making
Promotes focus
Reduces the risk of hurting or offending people unintentionally
Practicing the Art of Mindful Communication
Practicing mindful communication can be challenging sometimes, but with constant efforts and practice, you can enable yourself towards productive conversations personally or professionally.
You can begin with practicing mindful communication from the workplace because the workplace holds conversations that are productive, engaging, and problem-solving. Here are the 10 most effective tips to practice mindful communication:
Listen actively and stop making pre-judgments.
Compare your thoughts after listening completely to the speaker.
Understand your purpose and know what you're speaking or listening to.
Be kind and compassionate while speaking or listening.
Avoid mansplaining and take ownership.
Avoid predicting and start paying focus to the details.
Choose your words thoughtfully and propose possible solutions.
Connect deeply with the speaker and engage empathetically with them.
Listen to the speaker completely and wait for your signal to speak.
Make the conversation more authentic and helpful for the speaker or listener.
I hope this blog helps you practice the art of mindful communication to improve your overall well-being and individuality. Comment down and share your views on mindful communication.
For more such content, connect with us through all social media platforms.
Thanks for reading and stay mindful! 😊