Suicide Prevention
Observing World Suicide Prevention Day 2023: Creating Hope Through Action
Last Update on September 8, 2023 : Published on September 8, 2023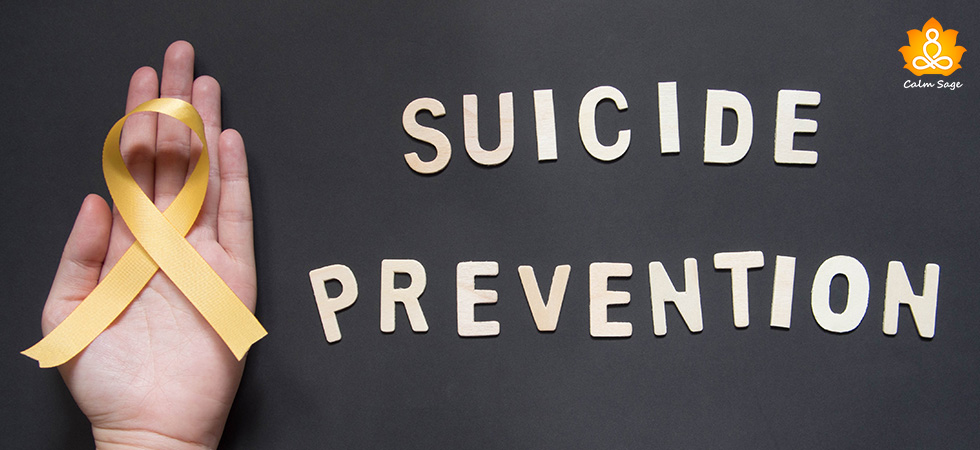 World Suicide Prevention Day, observed on the 10th of September every year, is a worldwide drive to spread awareness about suicide. Suicide is one of the leading causes of death, according to World Health Organization (WHO).
On this day, people around the globe, share their mental health stories, raise awareness, and take steps to prevent suicides in their local communities.
World Suicide Prevention Day 2023 is an important year for awareness on suicide prevention as, in the past year, we've seen an increase in deaths by suicide. With the COVID-19 still affecting many countries in the world, mental health is fastly becoming a global priority.
This year's WSPD 2023 is: Creating Hope Through Action. With this theme, the International Association for Suicide Prevention, calls people to take action; to equip others, to support those in need, and inspire others to act and prevent suicides globally.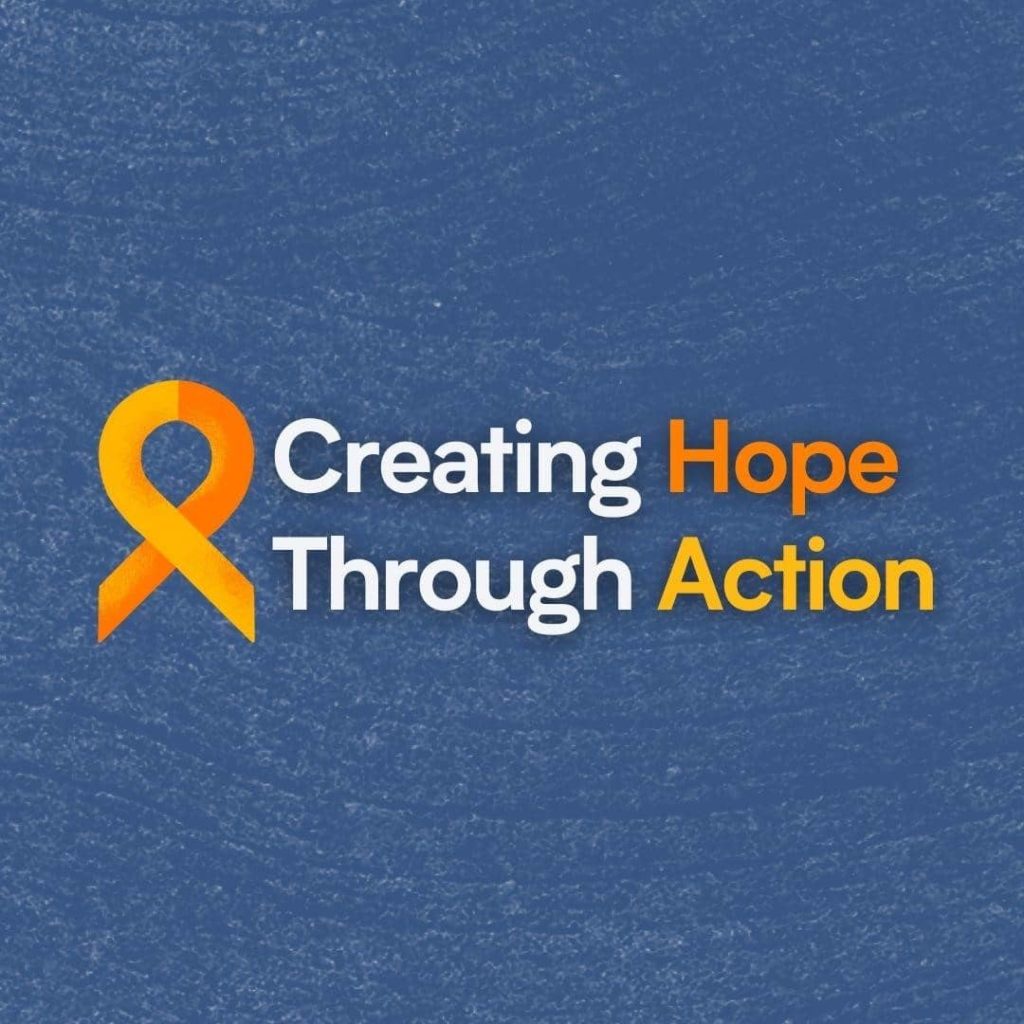 (Use the official hashtags, #WorldSuicidePreventionDay, #WSPD, #bethelight, or #WSPD2023 to join the conversation and help spread awareness of suicide prevention on social media.)
With this aim in mind, let's see how you can observe this suicide prevention day and take action to create hope for those in need!
A Brief History Of Suicide Prevention Day
According to WHO, every 40 seconds someone commits suicide. The figures, if you look closely, are startling. Suicide is a preventable action and one of the biggest reasons behind suicide are none other than mental illnesses and mental disorders.
The IASP along with the WHO initiated World Suicide Prevention Day back in 2003. The aim of this day is to teach others practices to prevent suicides around the world.
Events and activities on this day can include panel conferences, seminars, discussions, social media sharing from suicide survivors, remembering those who lost their battles, and so much more.
How Can You Get Involved?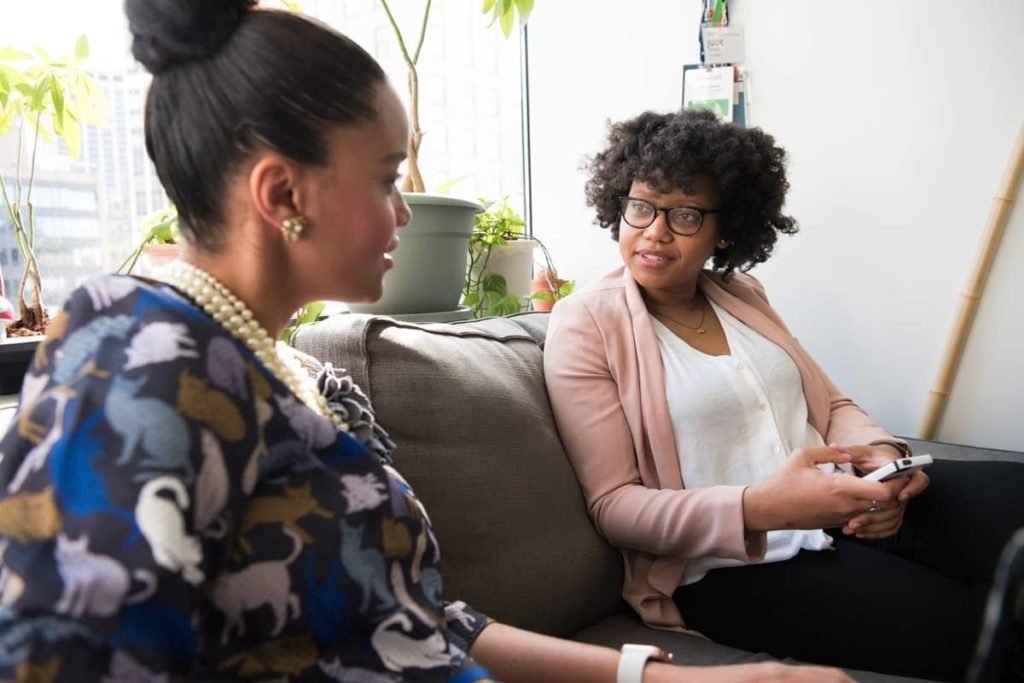 There are many ways you can get involved in observing world suicide prevention day 2023. Some things may include:
1. Educate Yourself
The first thing (and probably the best) you can do is educate yourself on suicidal ideation, thought processes, signs, and symptoms. Getting the basic knowledge of suicide and the factors behind the act can help you connect with those in need of your help.
2. Connecting With Others
Remember, hope through action. Let's take action. Connect with others, reach out to those you think might need your help. Please keep in mind that people with suicidal ideation show certain behaviors and patterns. Learn to spot the warning signs so you know when to take the right action.
3. Sharing Resources
Another best way to get involved in this drive is to share appropriate resources to help others. Resources such as helpline numbers, therapy platforms, IASP's official resources, etc. You can also conduct safe conversations on social media about suicide and suicide prevention. There are books, films, and studies that you can also share with others.
Make sure you mention content warnings before you post your content to avoid triggering someone.
4. Honoring Those We Lost
This year, to raise awareness on suicide prevention, the IASP is hosting a virtual cycling event; Cycle Around The Globe from 10th September to 10th October. IASP asks you to cycle a distance on any road or track (even gym) to work together and take action in raising suicide awareness.
You can also participate in a Light A Candle event to honor the lives lost to suicide and those who've survived suicide. People from all around the globe will light a candle on 10th September at 8 pm (local time).
Global Suicide Facts  and Statistics You Should Know!
Suicide is counted as a mental health emergency. One of the most common reasons for suicide is depression and the best news is that almost 80% of people respond well to depression treatment.
Suicide is the most common cause of death for adults between 45-64.
While gender, sex, religion, sexual orientation bears no weight, it is reported that men are more likely to commit suicide than women. However, women are more likely to attempt.
Suicide is a preventable action. Early detection of the signs is the key.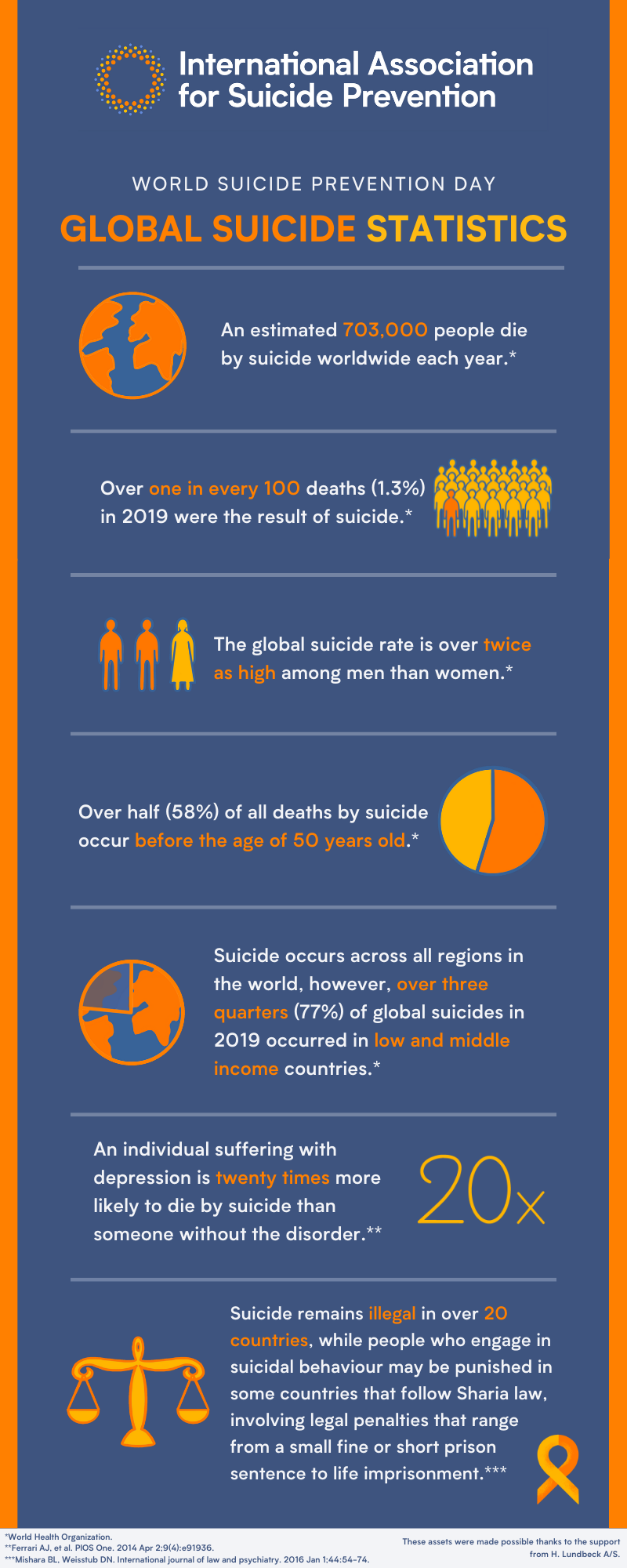 It Starts With You…
Yes, it's not easy to understand when someone is contemplating suicide but knowing the signs can help prevent such drastic action. Mental health professionals are equipped with tools, resources, and practices to help someone struggling with a mental health condition.
We all play an important role in helping someone prevent suicide. If you see someone struggling with their mental health, talk to them. Ask them questions, listen to them. It may not be easy but you can let them share at their own pace. Don't force them.
Avoid passing judgment, just be present and listen. Understand that all mental health experiences are different and all are okay and valid.
Don't lose contact with them but also don't crowd their personal space. Keep checking in with them and offer them professional resources (don't force them if they don't want to talk to a professional).
If you're concerned about your loved one's mental health struggles, then you can reach out and seek professional help. A professional can help you understand how you can help your loved one.
This World Suicide Prevention Day 2023, let's pledge to keep our line of communication open and conversations honest. If you know someone who is struggling, reach out to them. You never know how your call or text can save a life.
If you're struggling with your mental health, then you can reach out to your support system or a professional mental health counselor here. You can also reach out to us at info@calmsage.com. We're always here for you!
If you're thinking about suicide or you believe someone you know is at risk, then please immediately reach out to your local helpline number. You can also contact one of these helpline numbers:
National Suicide Prevention Lifeline: 1800-273-8255
Crisis Text Line: text HOME to 741741
TrevorLifeline: 866-488-7386
iCall: +91-9152-987-821
AASRA: +91-9820-466-726
Vandrevala Foundation: +91-9999-666-555
Writer's Thoughts
I was 15 when I first attempted suicide but I soon realized that killing myself would mean letting my illness win. My mental health didn't get better in a year. It took several years, lots of healthy coping techniques, healthy support from my support system, and therapy sessions with a wonderful professional.
Now, I can't say that my depression is gone but I can, with confidence, say that I don't let my depression overpower my mind and health.
Suicide is never an option. Mental health services have now become more accessible (and‌ ‌ discreet)‌ ‌over‌ ‌the‌ ‌years.‌ ‌You‌ ‌can‌ ‌easily‌ ‌access‌ ‌therapy‌ ‌at‌ ‌the‌ ‌click‌ ‌of‌ ‌a‌ ‌button.‌ ‌Yes,‌ ‌the stigma‌ ‌ surrounding‌ ‌mental‌ ‌health‌ ‌and‌ ‌its‌ ‌struggles‌ ‌is‌ ‌still‌ ‌there‌ ‌but‌ ‌with‌ ‌us‌ ‌raising‌ ‌our‌ ‌voices‌ ‌and‌ ‌ spreading‌ ‌awareness,‌ ‌we‌ ‌can‌ ‌stop‌ ‌these‌ ‌stigmas.‌ ‌ ‌ ‌
This‌ ‌world‌ ‌suicide‌ ‌prevention‌ ‌day‌ ‌(10th‌ ‌September),‌ ‌let's‌ ‌take‌ action. Let's raise our voices. Let's talk about suicide. Let's create hope through our actions.
Remember, you are not alone!
You are strong, you are enough, your struggles are valid.
It's okay to fall and it's okay to ask for help.
If you found this article helpful, let me know in the comments below. We're always happy to hear from you!
Take Care!
Much Love, Team Calm Sage!