Stress Management
Bubble Bath For Stress Management: Concept, Benefits & Choices
Last Update on June 17, 2021 : Published on June 18, 2021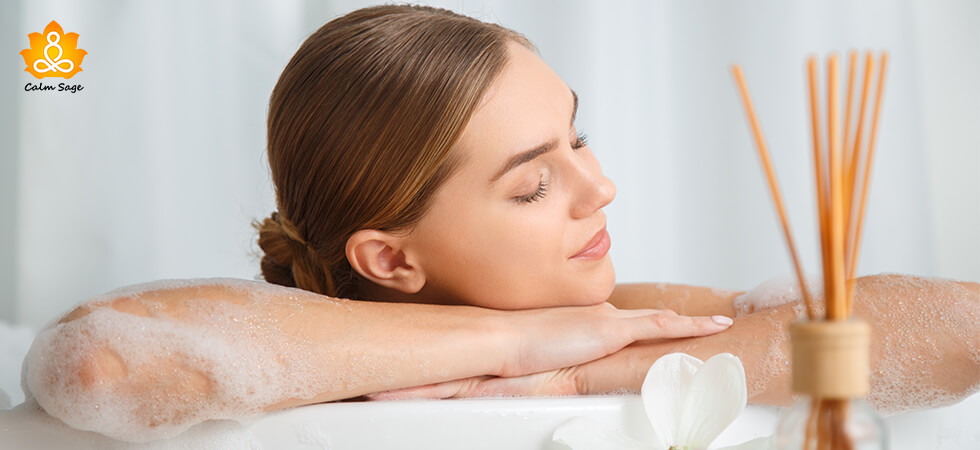 We've all, at some point, heard that if you're feeling stressed after a long day of work, take a hot bath. Or that one of the best (and most gravitated towards) self-care activities is to take a hot bubble bath.
But why a bubble bath? What is it in a bubble bath that is good for us?
Earlier in times, it was said that hot water springs were likely to treat any ailments that plagued you. In fact, in Japanese culture, bathing in hot water is more of a therapeutic practice than anything else. It is said that bathing – whether it be in hot springs, public baths, or private baths – is the best way to purify not only physical dirt but spiritual grime as well.
In this article, I'll explain why hot baths are beneficial for us and our wellness, what the concept behind a stress relief bath is, and what are some of the products you can use to enhance your stress-relief bubble bath experience!
Why Take A Stress-Relief Bath?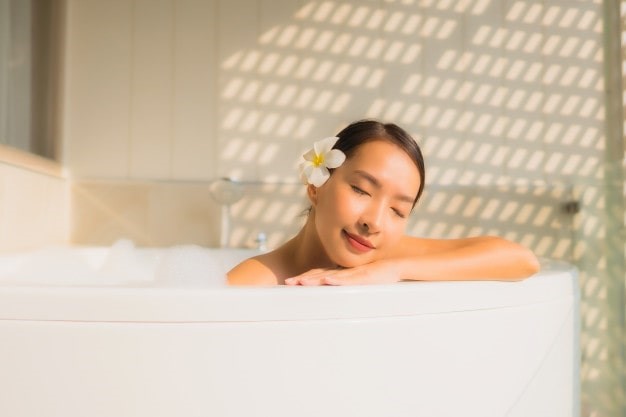 Relaxing in a bathtub full of hot water can be therapeutic – not only physically but emotionally and spiritually as well. Hot water helps increases our blood flow to the skin. The temperature of the bath can also improve our breathing. How?
Well, the temperature of the water opens up our lungs that allow more oxygen in. Relaxing in a hot water bath can also lower your blood pressure (surprisingly), reduce the risk of heart diseases, and control your blood sugar.
One of the benefits I absolutely love about a stress-relief bath is that relaxing in a hot bath can burn calories. Warm water causes our heart to beat a little faster, giving it a good and very healthy workout.
As I said before, the Japanese believe that soaking in a warm bath can be therapeutic especially when it comes to soaking in natural hot springs. This hot water can improve blood circulation, decrease nerves, and help relieve pain. If there are no hot water springs near you, you can always soak in a hot bubble bath to reap the benefits.
Why do people recommend a hot bath to relieve stress?
Stress causes the muscles in our body to contract, snapping them tight. A hot bath can help loosen those muscles and relax our bodies. Hot baths can also decrease the feelings of dismay and despair that may come with depression or similar conditions.
What Are The Benefits Of Bubble Bath?
Bubble baths are a little different concept than hot baths. While bathing in hot water can be beneficial in soothing our physical aches and pains, soaking in a bubble bath can be beneficial for our physical as well as our psychological health.
Bubble bath products are made using essential or aromatherapy oils. Each aromatherapy oil has different effects on our health and wellness.
For instance;
Lavender oil helps relax the mind
Rosemary essential oil can help treat headaches and migraines
Pine oil can help in bathtub meditation
Eucalyptus essential oil can help open pores, improve breathing, and increase relaxation
Thyme oil can work wonders if you're struggling with stress
The fragrances and the natural qualities of the essential oils mixed with the soothing qualities of a hot bath, combined, can be very relaxing for the mind, body, and spirit.
Other than the above-mentioned benefits, a hot bath (bubble or no) can help in relieving joint aches, relaxing tensed muscles, and calming our nerves.
Best Bubble Baths For You To Use
If you'd like to give bubble baths for stress relief a try, then these products can help you kick-start your activity!
1. Burt's Bees Baby Bubble Bath
This is an all-natural toxin-free bubble bath enriched with vitamin B, soy proteins, and minerals. It is a product for delicate and sensitive skins and is ideal for all ages. Burt's Bees Baby Bubble Bath has a light and natural fragrance to help you relax.
2. Fur Bath Drops
Sold on nordstrom.com, Bath Drops are perfect for people with dry skin. This product is vegan and environmentally friendly. The drops are made with clean and toxin-free ingredients. One jar has 18 bath drops and is filled with a blend of sage oil, jojoba oil, and grapeseed oil.
3. Relaxing & Foaming Lavender Bubble Bath
This foaming bath product can be found on Amazon and a few drops of Relaxing and Foaming Lavender Bubble Bath can help relax the mind and senses. The Haute-Provence lavender will leave you feeling clean, relaxed, and light.
4. Aromatherapy Lavender Vanilla Bubble Bath
Lavender is one of the most common and widely known oil for relaxing and stress-relieving properties. With this Aromatherapy Lavender Vanilla Bubble Bath experience calm and relaxation with additional benefits of natural and soothing fragrances of vanilla (and you guessed it) lavender.
Things to Keep in mind while buying a bubble bath
When buying a bubble bath, please keep in mind the following:
1. Ingredients: It is always best to buy products (especially when it comes to essential oils and bath products) that are toxin-free and chemical-free. Natural and organic products are suggested.
2. Scent: It is suggested that you buy products infused with essential oils. For people with sensitive skin, avoid products with fragrances.
3. Moisturizer: Bubble baths can contain ingredients that can make skin dry after a bath. It is always best to choose oil-based or moisture-based products.
4. Bubble quality: It is best to avoid products that guarantee high bubble quantity. Such products use sodium lauryl sulfate to increase bubbles. Chemical-free bubble baths may not have many bubbles but they are safe to use.
Read: 5 Natural Detox Bath for Instant Stress Relief
Hot baths have their benefits but so do bubble baths. I hope this article helped you understand how bubble baths can help in stress management and how relaxing bubble baths can be.
For more, visit our website or follow us on Facebook or Instagram for more content!
Take care of yourself and stay safe!