Mental Health
Top 10 Mental Benefits of Exercise
Last Update on August 10, 2020 : Published on March 13, 2020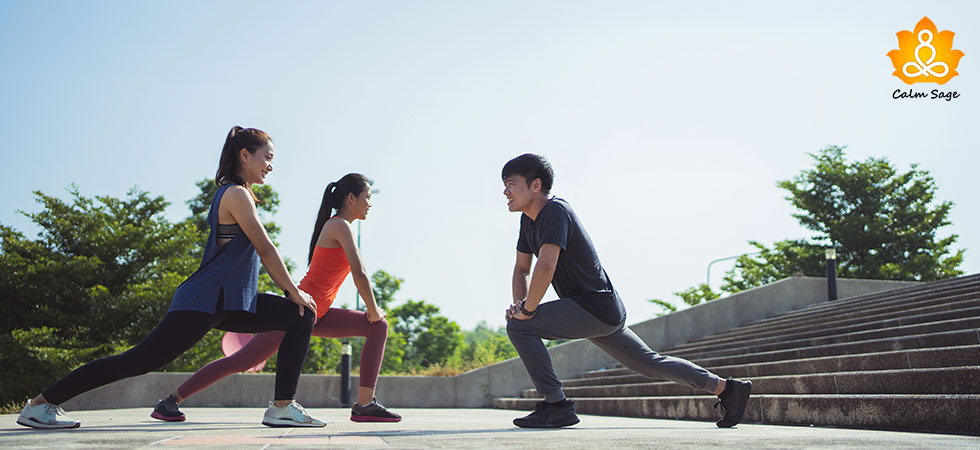 Recently, I have started exercising and found various changes within myself. So, after observing so many mental health benefits of exercise, I made a promise to myself to incorporate exercise in my daily routine no matter what!
Are you also making the same promise to yourself for years but could not keep your promise for long? I bet you will do complete after reading this blog!
Although there are 50+ mental benefits of exercise, through this blog, I am highlighting "Top 10 Mental Benefits of Exercise".
To begin with, take a minute and think about your favorite exercise… My favorite exercise is to jump rope and step-ups. Let's read the related mental benefit of exercise.
Top Benefits of Exercise on Mental Health:
1. Reduce stress
Everyone faces a rough day at the office. So, to reduce the stress you can head to the gym or take a walk. Such workups make you sweat that helps manage mental and physical stress. The most common mental benefit of exercise is the reduction of stress.
Go ahead and prepare your protein shake! Let's reduce stress by boosting our body's ability to deal with existing mental stress.
2. Improves self-confidence
Start doing your favorite exercise and experience the positive vibes of self-esteem!
Talking on a very basic level, physical fitness boosts self-image and self-confidence. Be it any age, size, or gender, exercise quickly increases the perception of attractiveness which in result increases the "self-worth".
3. Boost happy hormones
Running through miles and sweating is tough! But do you know that it is worth the effort?
Exercise creates feelings of excitement and happiness as exercise releases endorphins. Exercise can also reduce the symptoms of clinical depression. Exercise is as effective as antidepressant pills used for treating the symptoms of depression and anxiety. It's okay to start slowly!
4. Avoids cognitive failure
It is scientifically proven that as we get older, our brains get a little hazy!
Therefore, exercise can help the brain contrary to cognitive failure which basically starts after the age of 45. Exercise increases the hormones in our brain to avoid erosion of the "hippocampus" (a part of the brain accountable for learning and memory).
5. Boost self-love
Working out outdoors refreshes your body and showers positive vibes! So take out your running shoes and go for a long run!
You can also find an outdoor exercising activity of your choice like renting a canoe, hiking or rock-climbing. Try out these activities and boost self-love. Additionally, you will get required Vitamin D as well.
Tip: If your skin is sensitive, do not forget to apply sunscreen!
What about going swimming with your family? Thank me later.
6. Boost brainpower
We all know that cardiovascular exercise produces new brain cells (known as neurogenesis) which advances overall brain recital. Exercise also increases levels of BDNF (brain-derived protein) in the body which results in better decision making, learning, and higher thinking.
What are you waiting for? Let's tie up the laces tighter and start exercising.
7. Reduce anxiety
During exercise, our body releases chemicals which helps us to reduce the signs of anxiety. Do any exercise which fascinates you and enjoy the mental benefits of exercise related to it.
Meanwhile, do not forget to consume essential diet.
8. Helps control addiction
Yes, you read it right! Exercise actually helps control addiction. So, get your spouse or loved one ready in sweat pants and exercise together.
The brain releases dopamine (reward chemical) which alleviates the addictions from life. Exercise helps in addiction recovery. Additionally, exercise reboots the body clock, helps people to fall asleep instantly.
9. Sharpens memory
Do you also feel that your child lacks the inability to learn new things? Start exercising together and boosts learning and memory ability. Even, all researches regarding "exercise" have linked children's brain development with physical fitness.
10. Increases relaxation
For some people, workout is equivalent to a sleeping pill. Therefore, go for a walk after the meal and feel the relaxation. It will also result in better sleep.
Avoid screen time after meal and go for a small walk!
It's okay to start small. In fact, it's smart!
When you've not exercised for a long time or under a cloud of emotional distress, setting goals of exercising 60 minutes every day will leave you with positive energy throughout the day. It is completely okay to start with 30 minutes and then increase it to 60 minutes because it is better to set achievable goals and build up from there.
Hope this blog motivates you to exercise daily. Thanks for reading!
More Interesting Reads:
Are You Practicing All Types Of Self-Care? Time To Focus On SELF
Healthy and Simple Self-Care Practices that You Should Adopt