Anxiety
Got A New Job? 11 Ways To Overcome New Job Anxiety
Last Update on April 5, 2022 : Published on April 6, 2022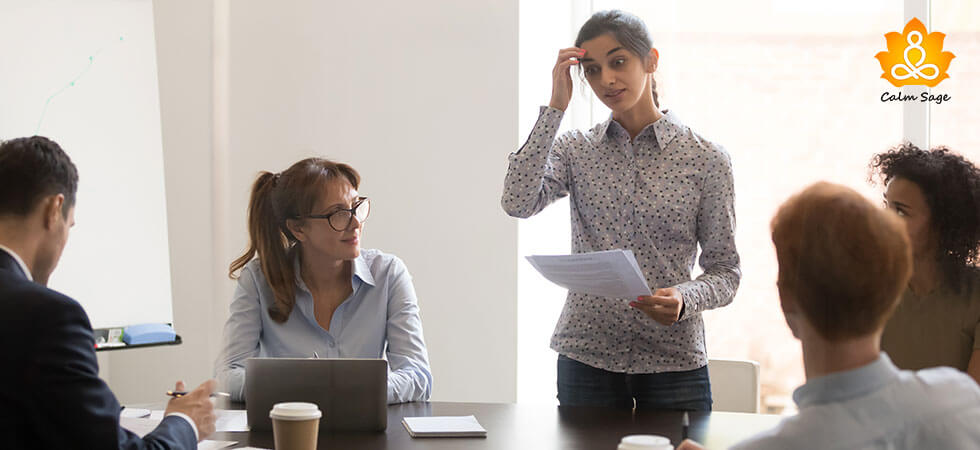 Getting a new job is exciting but it also brings a lot of anxiety and nervousness with it. You are thrilled to know that you finally will be working, at the same time your new job anxiety is making you have second thoughts.
"Will I be able to do my job well? or will I mess the whole thing up?" Your anxiety of starting a new job can come in the way of your work life and can also affect your performance. To stop that from happening you need to learn how to overcome new job anxiety.
To help with just that, this blog contains 11 tips for you to learn how to get over first job anxiety. Before we begin with that let me tell you, nervousness upon joining a new job is natural. What's not natural is that nervousness converting into a new job anxiety.
If you think your new job nervousness has converted into new job anxiety, you've come to the right place. Let's look at 11 tips on how to get over the anxiety of starting a new job…
11 Ways To Overcome New Job Anxiety
1. Be Prepared
Do a good amount of research before your joining date so that you know what the company/workplace is all about and how they function. Prepare yourself with all the things that you might need a night before and don't be late. Anxiety is sure to reduce if you walk into your new job all prepared.
2. Identify your triggers
Try to trace your new job anxiety, find out what's causing it. Is it a past experience or fear of the unknown? Once you know what's fueling your new job anxiety you can start working on replacing negative, demotiving thoughts with the positive ones.
3. Prepare a line of action before hand
A new job can be challenging because during the initial days you will have to jumble a couple of things together. This can increase your anxiety, so to overcome your new job anxiety you can prepare a line of action for yourself so that things aren't haphazard for you.
4. Keep some coping techniques handy
In the initial days of a new job you are sure to mess up quite a few things. These mishaps can dishearten you but you only have to focus on moving forward from there. Keep some coping techniques ready in your mind like grounding techniques, breathing techniques, etc so that you can be resilient enough to deal with all that.
5. Get involved in some physical activity
As weird as it may sound, doing some physical activity like taking a walk, doing a little dance, jogging on the spot, etc can help in getting over the anxiety of starting a new job. In fact in a recent study similar findings were proven to be true.
6. Revisit your achievements
When you feel low or you feel like you aren't capable enough to complete the tasks you have been assigned because of consecutive failures, you can revisit your achievements. This will help you in overcoming your new job anxiety.
7. Get to know people around you
Feeling out of place is one of the most common reasons that instills new job anxiety in many people. To curb that you need to make efforts so that you can get to know some new people and some new friends. Trust me, this is one of the best ways to overcome new job anxiety.
Also read: How To Create A Mentally Healthy Workplace?
8. Practice mindfulness
Being aware of your surroundings, people around you and what's happening in the present can really help you view things with a new perspective. To overcome new job anxiety practicing some mindfulness based exercises is a very good option.
9. Express your feelings
New job anxiety is a lot more common than you think it is. So many people go through it but very few people talk about it. Talk to your peers about your new job anxiety, ask them how they overcame their new job anxiety. Expressing your feelings can help in reducing your new job anxiety.
10. Challenge your catastrophic thinking
Catastrophic thinking makes you go to the extreme ends of the worst case scenarios. For example, you mess up a presentation, you start to feel like you are good for nothing and you should quit. Make sure you challenge such thoughts, are you really useless?
11. Seek professional help
If everything seems to go out of track try getting in touch with your therapist, counselors or a specialist who deals with new job anxiety and other related issues. There's no harm in getting some professional guidance to overcome new job anxiety.
That's All Folks!
I hope this blog helps you understand how to overcome new job anxiety. Do share this blog with your friends,  family, coworkers so that we can all learn how to overcome new job anxiety.
Thanks for reading.
Take care and stay safe.