Addiction
Best Drug Addiction Rehab Centers Of 2023
Last Update on December 13, 2022 : Published on May 10, 2021
Recovering from addiction is not an easy feat and it can be extremely challenging. In this blog, I've compiled a list of the best drug addiction rehab centers of 2021 to help you find the right one for yourself or for a loved one.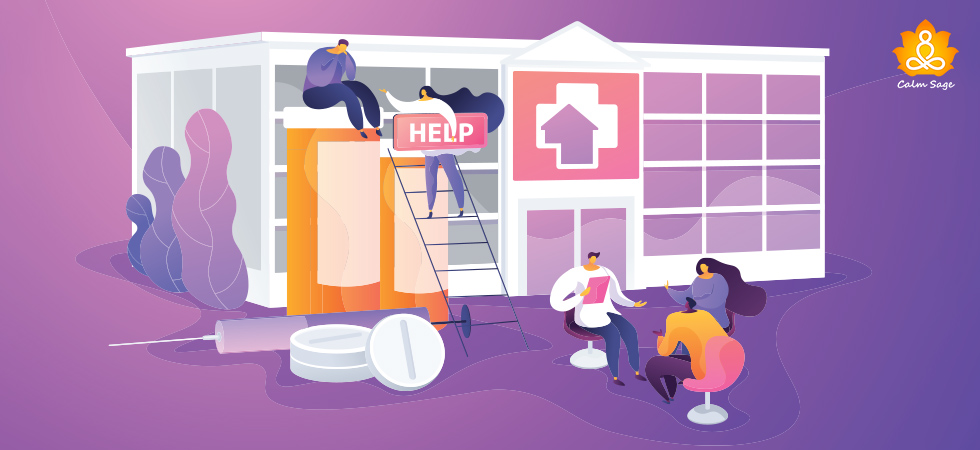 Did you know that according to the World Drug Report by the WHO, it was reported that almost 35 million people are estimated to be suffering from drug use? Or that over 180 thousand deaths were directly linked to drug use in 2019?
If these numbers aren't staggering enough, less than 20% of countries have reported high treatment coverage for drug addiction. Drug addiction or substance use disorder is a disorder that involves uncontrolled use of drugs and other addictive substances.
While there are no specific treatments for this disorder, it is possible to treat and even manage addiction after recovery.
While drug addiction treatment follows a 12-step program, it is important to understand that the treatment varies from person to person. This 12-step program was developed by Alcoholics Anonymous (AA).
Related: 7 Tips On How To Help Your Loved One With Addiction
In this article, we've listed some of the best drug addiction rehab centers to help you find the best treatment programs for yourself or a loved one.
8 Best Drug Addiction Rehab Centers:
1. Hazelden Betty Ford Foundation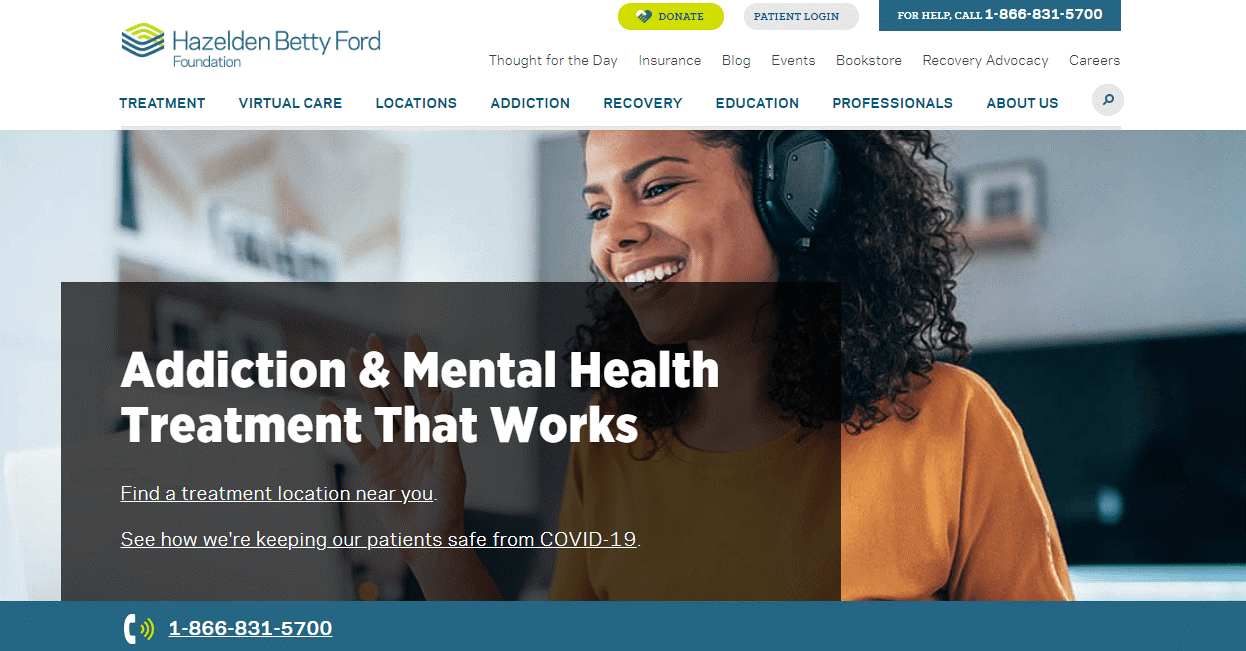 A foundation dedicated to providing care and services to help people struggling with addiction for more than 70 years, the Hazelden Betty Ford Foundation is based out of Minnesota and has locations in California, Florida, Illinois, New York, Oregon, Washington, and Colorado. The Foundation also has virtual treatment options available.
The treatments offered by Hazelden Betty Ford Foundation differ from location to location. For example, if you're looking for a treatment program for teens (12-25), you can contact the center in Plymouth, Minnesota. This location also has treatment options available for outpatient, inpatient rehab, family program, recovery management, among other services.
The Foundation also has a 12-step intervention program along with therapy such as cognitive-behavioral therapy (CBT) to address co-occurring mental health issues. The therapy treatment, cost, and length are determined after a person has gone through a clinical evaluation.
One of the downsides of the Hazelden Betty Ford Foundation is that it does not accept Medicare or Medicaid insurance. However, the Foundation works with 35 insurance providers including Aetna, Anthem Blue Cross, Humana, United Healthcare, and others.
Why Hazelden Betty Ford Foundation: The Foundation is a merger of two different treatment centers. One was the Hazelden which was established in 1949 and the other was Betty Ford Center which was established in 1982. In 2014, Hazelden Betty Ford Foundation opened its doors to help treat addiction and help with recovery from substance use disorder.
Visit Hazelden Betty Ford Foundation
2. Freedom House Recovery Center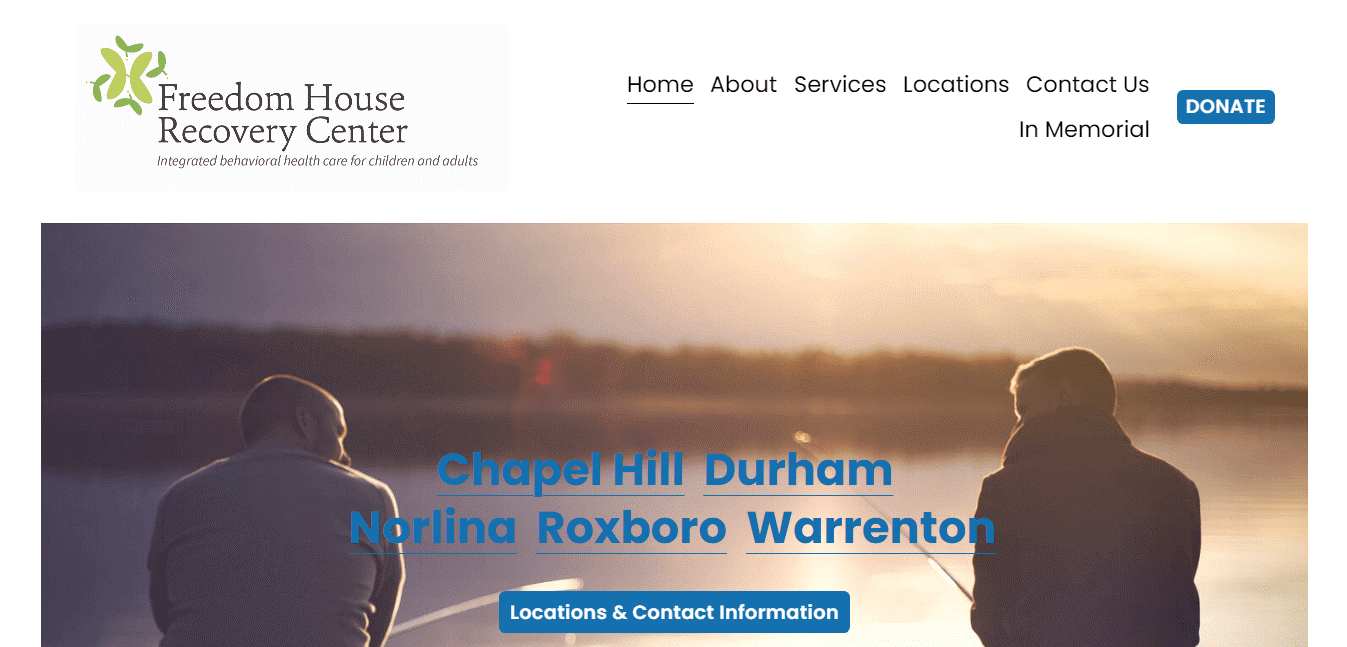 Based out of North Carolina since 1974, Freedom House Recovery Center has committed years to promote and support recovery for adults and children affected by mental health disorders, developmental disabilities, and substance use disorders. The center utilizes an evidence-based, person-centered approach to help people in need.
The Center is located in Chapel Hill, Durham, Norlina, Roxboro, and Warrenton. Freedom House Recovery Center is accredited by the Commission on Accreditation of Rehabilitation Facilities or CARF and offers services to all genders aged 3 and older. The center provides services that include:
Detoxification
Residential rehabilitation
Medication management
Outpatient services
Counseling
Freedom House Recovery Center is a non-profit organization, they accept grants and private donations and provide help to all – regardless of their gender, age, sex, or even the ability to pay.
The Center, however, is partnered with Blue Cross Blue Shield, Medicaid, and Medicare with other private insurance to help people pay for their treatment. They also offer services on a sliding fee scale basis that depends on the financial criteria for patients without insurance coverage.
Why Freedom House Recovery Center: The center is focused on helping people regardless of their gender, age, sex, or inability to pay. They accept health insurance from major insurance companies as well as other private insurances and also offer services on a sliding fee scale basis. The only downside of this center is that it is only located in North Carolina and does not seem to offer virtual treatment.
Visit Freedom House Recovery Center
3. The Ranch Tennessee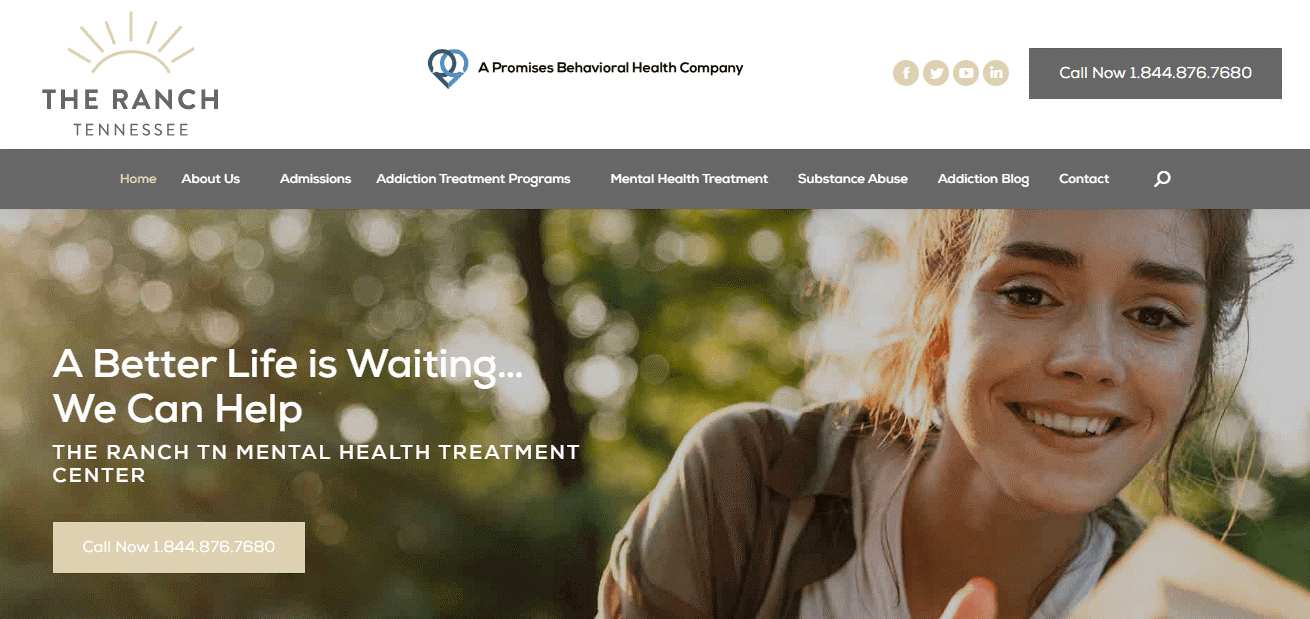 Located in Nunnelly, 45-minutes from Nashville, Tennessee, The Ranch Tennessee is a mental health treatment center that offers several treatment programs – ranging from addiction, depression, ADHD, to eating disorder, and substance abuse treatment.
Ranch Tennessee's scenic and soothing environment also makes it easy to engage in holistic therapy (equine and adventure therapy available). Accredited by The Joint Commission, The Daring Way, The National Institute Of Health (NIH), and SAMHSA, the center offers a 12-step program with therapies such as cognitive-behavioral therapy, dialectical behavioral therapy, group, and family therapy.
The center believes that every person is a unique identity and should be treated as such, regardless of their past mistakes. The Ranch also believes that all people deserve help and with the right treatment, they can learn to heal.
The duration of the treatment and the cost is determined after the initial consultation. The Ranch Tennessee are in-network with many major insurance providers and accept PPO insurance. They work directly with the insurance providers.
Why The Ranch Tennessee: The Ranch Tennessee offers virtual outpatient treatment programs and also provides therapies such as equine and adventure therapy. Although, they do not provide private in-patient residential rehabilitation and is limited to adult only.
4. Oxford Treatment Center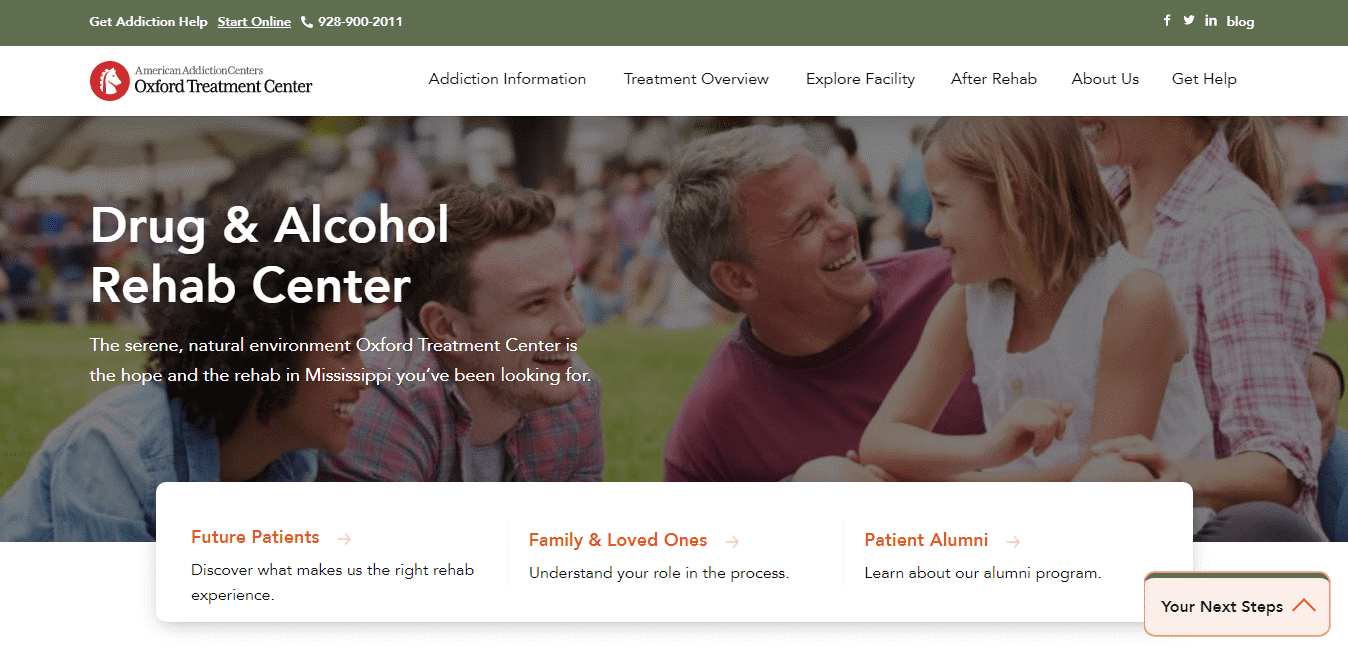 One of Mississippi's best drug and alcohol treatment centers, Oxford Treatment Center provides high-quality addiction treatment. They offer special programs for veterans and first responders along with trauma support treatment.
With a scenic environment, Oxford Treatment Center is located in Etta, Mississippi. With over 25 and over 20 registered nurses and counselors, respectively, the center provides facilities that include dedicated caregiving and clinical-based treatment for addiction and co-occurring mental health disorders.
Accredited by CARF International and a member of the National Association of Addiction Treatment Providers, Oxford Treatment Center, offers an intensive 10-week outpatient program and encourages the 12-step program. Therapies offered by this center include:
Family therapy
Cognitive-behavioral therapy
Recreational therapy
Equine therapy
Mindfulness
Yoga
The cost of the treatment depends on the type and duration of the therapy. The Oxford Treatment Center accepts insurance from many private insurance providers including Blue Cross & Blue Shield of Mississippi, Zelis, and ComPsych.
Why Oxford Treatment Center: The center is located on a 12,000 square foot property and is dedicated to providing high-quality outpatient care. While it offers wonderful medical care, holistic and recreational activities, the center fails to offer Medicare and Medicaid insurance coverage. It is also best suited for locals.
5. Turnbridge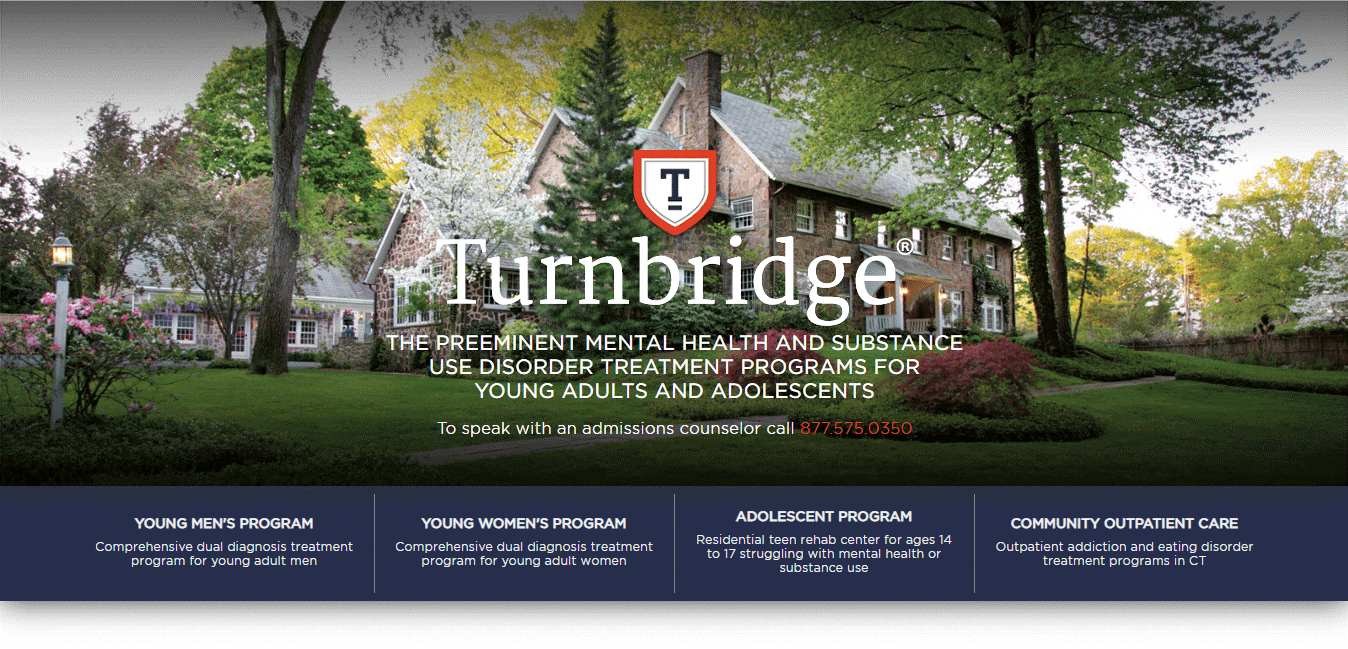 For nearly 17 years, Turnbridge has been providing comprehensive three-phased addiction treatment to help their clients and their families reintegrate into the real world. The center offers residential and outpatient care to teens and young adults with academic incorporated into the treatment program.
With separate facilities for young men, young women, and teenagers, Turnbridge is located in New Haven, Connecticut. The facility is accredited by CARF and is a member of the National Association of Addiction Treatment Providers. Turnbridge offers residential care, outpatient care that includes sober living, therapy, and medication management.
Turnbridge is an in-network treatment center with Anthem Blue Cross and Husky Health.
Why Turnbridge: A facility devoted to helping teens and young adults, Turnbridge offers treatment programs integrated with academics. They offer sober living and therapy to those who have completed the treatment. However, Turnbridge's residential fee is not covered by insurance.
6. Caron Pennsylvania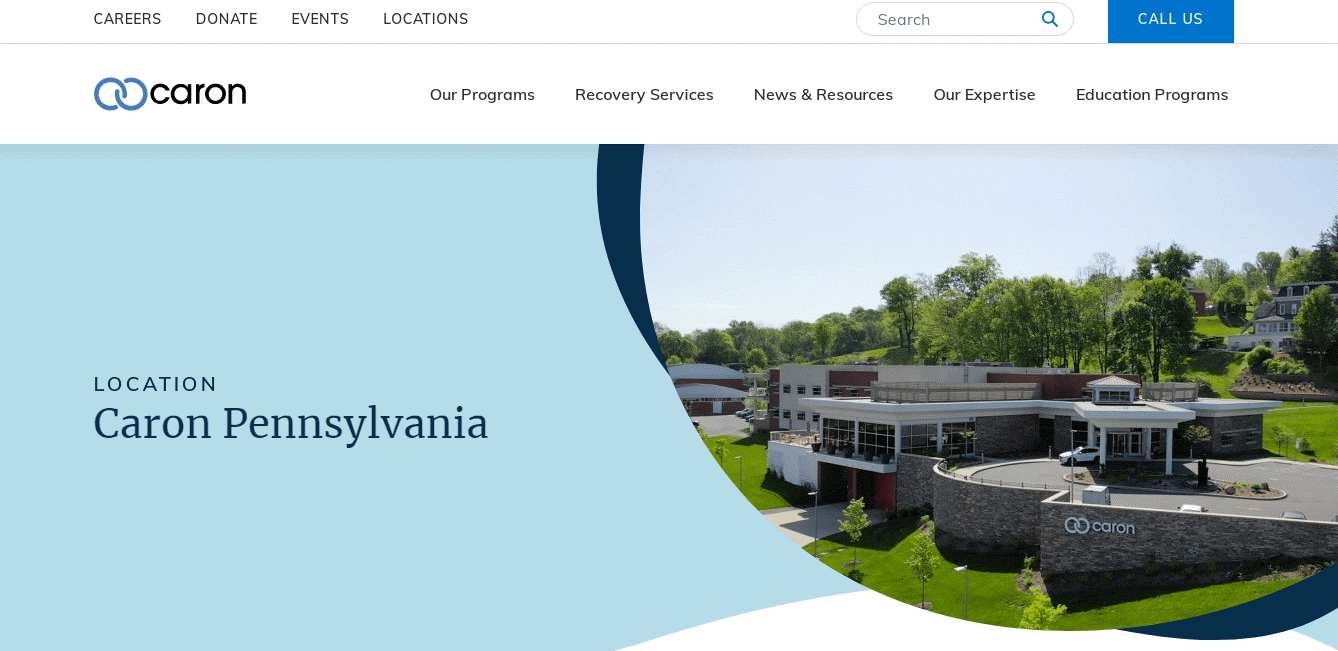 Founded by Richard (Dick) Caron, Caron Pennsylvania started as Chit Chat Farms in 1952. The center offers treatment programs that take biology and social expectations into importance. Treatment programs focus on body, mind, and spirit and provide services to young adults, middle-aged adults, as well as older adults – separately for men and women.
Caron Pennsylvania offers inpatient and outpatient treatment and is accredited by the CARF. With additional facilities in Florida, Caron's treatment includes a 12-step program, cognitive-behavioral therapy, nutritional counseling, among others. Caron's Recovery Centers are located in Atlanta, Philadelphia, New York City, and Washington D.C.
Caron is an in-network provider for insurance carriers such as:
Aetna
Highmark Blue Cross Blue Shield
Independence Blue Cross
AmeriHealth
Quest Behavioral Health
UPMC
Caron also offers financial services and aid to patients who are unable to afford treatment.
Why Caron Pennsylvania: The center has special treatment programs that are divided by age and gender. They also offer services for teens, legal professionals, and first responders. However, the facility does not offer Medicare and Medicaid insurance coverage and offers only gender-specific programs.
7. Rosecrance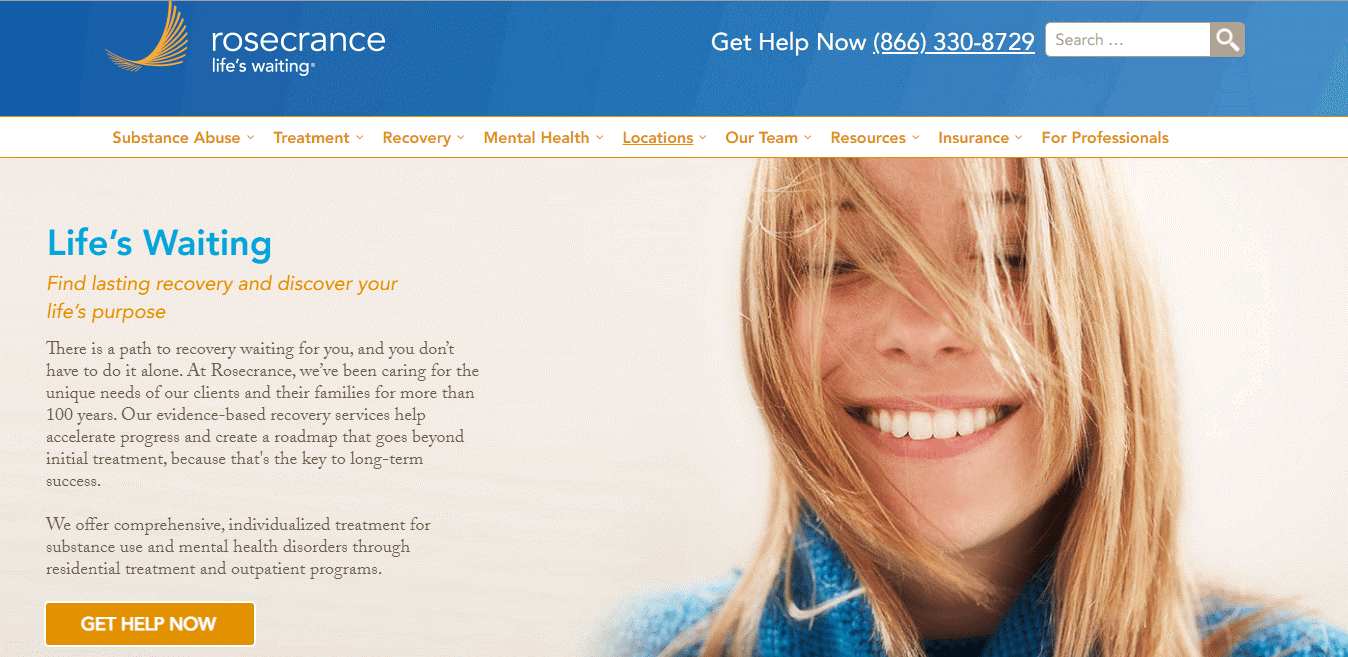 Rosecrance rehab centers offer treatment for substance abuse, alcohol addiction, and mental health disorders to teens and adults. With locations in Illinois, Wisconsin, and Iowa, Rosecrance provides services that include inpatient and outpatient care as well as treating co-occurring mental health disorders.
Accredited by The Joint Commission, Rosecrance also provides residential rehabilitation facilities, partial hospitalization, intensive outpatient care to all ages including family counseling. Other than these facilities, the center offers access to sober living and recovery housing to people who have completed their treatment at Rosecrance.
The center offers dedicated and affordable care and accepts major medical insurance and financial aid to help clients who are unable to afford the treatment. Rosecrance accepts health insurance covered by:
Aetna
Cigna
Blue Cross Blue Shield of Illinois
Health Alliance
Humana
Magellan Health
Zelis
United Behavioral health
Why Rosecrance: The facility accepts insurance from major insurance carriers including Medicaid making it affordable. Treatment programs at Rosecrance are offered to teens as well as adults. A major downside of Rosecrance center is that it is only located and accessible to people in the Midwest.
8. The Recovery Village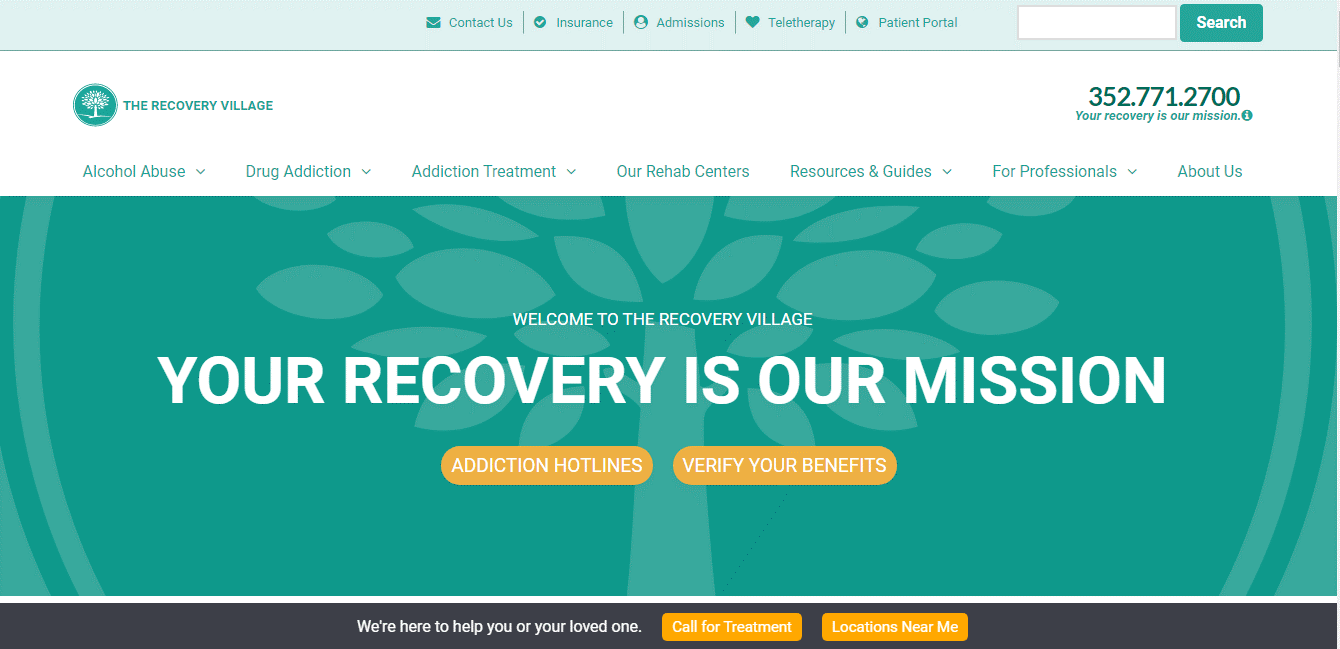 The Recovery Village Drug and Alcohol Rehab Center offers comprehensive and evidence-based treatment services for mental health disorders and substance use disorders. Locations in Florida, Colorado, Ohio, Washington, and New Jersey, The Recovery Village provide services such as medical detox, residential rehabilitation, and outpatient programs.
Accredited by The Joint Commission, Florida Chamber of Commerce, and a member of the Florida Association of Recovery Residences, among others, The Recovery Village believes that anyone can recover from addiction, and everyone deserves respectful and compassionate care.
The center also offers telehealth services to those who cannot access physical treatment services. The treatment programs at The Recovery Village are based on the 12-step program. The center also offers specialized programs for LGBTQ+ individuals, firefighters, veterans, first responders, and active-duty military personnel.
The Recovery Village works with most insurance carriers except Medicare and Medicaid. However, they do accept health insurance from Aetna, Cigna, GHI, Beacon Health, Humana, and others. If you do not have an insurance provider, the facility offers financial aid as well.
Why The Recovery Village: Recovery Village offers care and treatment for addictions and substances such as cocaine, meth, and prescribed opioids. They also provide treatment and resources for alcohol abuse, depression, anxiety, and other mental health disorders. The Recovery Village is located across six states but also provides virtual telehealth treatment.
Final Verdict
Drug addiction treatment is not easy but with the right help, it can be treated and you can learn how to live a life without drugs, alcohol, and other substances. These above-mentioned best drug addiction rehab centers can help you make sure that you recover and live a healthy and normal life even after your treatment is over.
You can compare the above rehabilitation centers and choose the right drug addiction rehab center for you or your loved one. Make sure to keep in mind these points when choosing the right rehab center:
Accreditation
History
Programs offered
Location
Specialty programs offered
Inpatient rehab available
Outpatient treatment available
Related: Road To Recovery | National Recovery Month 2021
Also, see which one of these centers offers post-recovery counseling and therapy. Making sure you have support available even after you've completed your treatment is important.
"Our greatest glory consists not in never falling, but in rising up every time we fall."- Oliver Goldsmith
Recovery is hard but not impossible. If you need further assistance, you can always contact us at info@calmsage.com or follow us on our social media for more content.
You are strong. You are enough. You are not alone.
Take care of yourself and stay safe.