Self Care
36 Happy Songs To Tune Into and Lift Your Spirits
Last Update on October 31, 2023 : Published on April 6, 2020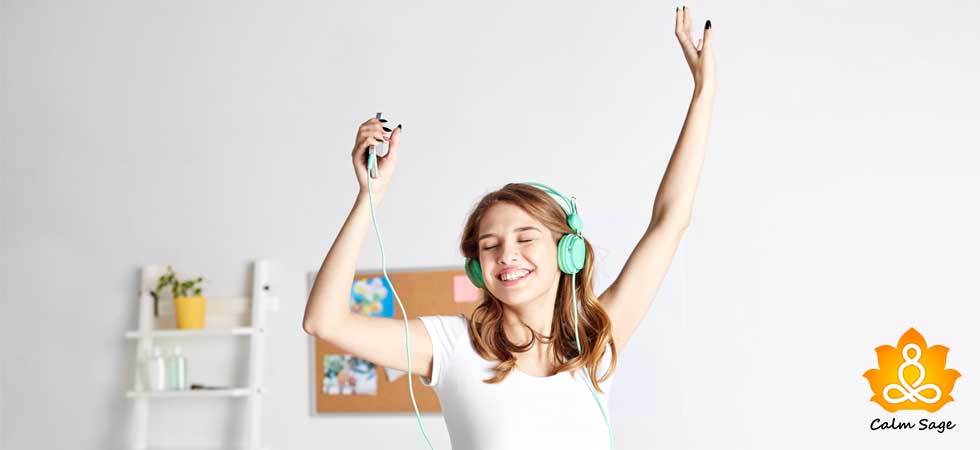 Songs always make us happy! Don't they?
But, during the sad times and even happy moments of our life, we can't really find that perfect tune that sings happiness to us. Well, not anymore! With this lift of 36 best happy songs, you are all sorted.
But before getting to the first let us learn some amazing facts about songs:
1. Happy songs can completely change your mood by boosting it up
2. Listening to songs that make you happy can enhance your perception of looking at things in a positive light
3. It might surprise you but happy songs increase the level of feel-good hormone- oxytocin in your body
4. Good and Joyful songs make you smile and smile makes you shine 🙂
Now, it is time to unroll the list:
Best Happy Songs of all time:
1. "Happy," Pharrell (2013):
Let us start with the theme… not only the title and lyrics but also the vibes of this song are all happy. When bad news comes, talking this and that, this song is surely going to bring positivity. If you are a minion lover do listen to the minion edition. This Song will definitely make you happy.  P.S. don't forget to clap while listening to it.
2. "Blessed," Elton John (1995):
Another in the list of best happy songs ,"I promise you that, promise you that, promise you that you'll be blessed." Blessings definitely make us happy especially during hard times it is the silver lining that makes us stronger. Here, find Elton John giving you the blessings and positivity.
3. "Just the Way You Are," Bruno Mars (2010):
It was hard to pick just one Bruno Mars song! But this is that one song that has always made me cheerful and lifted me up when I looked down on myself. Why to look for someone else when Bruno Mars is there to tell you- "You are amazing just the way you are."
4. "Rainbow," Kacey Musgraves (2018):
This song is a gentle reminder of the old saying- there's always a rainbow at the end of every rain". So, next time when you face trouble, tune into these happy songs and remember- that there's a rainbow waiting for us on the other side of troubled times.
5. "Don't Stop Me Now," Queen (1978):
This is one of the best Cheerful song. An old classic that will not make you love yourself but will fill your soul with a whole different level of energy. Don't stop… keep going… at the speed of light.
6. "Shiny Happy People," R.E.M. (2003):
C'mon this song has the word here…happy. And that's not it this song is a powerhouse of positive words alone!
7. "Count Your Blessings," Nas and Damian Marley (2010):
Because why not? Happy times or sad… counting blessings definitely boosts our mood and is good for our mental health as well. Plus, you can pick some really good positive affirmations from this happy song.
8. "Three Little Birds," Bob Marley and the Wailers (1984):
The one phrase that brings the much needed mental peace during hard times is- "Every little thing's gonna be alright." Now you know exactly where to hear it from.
9. "Shining Star," Earth, Wind and Fire (1975):
The calming vibes and lyrics like "You're a shining star…No matter who you are"" is a welcome escape.
10. "Everyday People," Sly and the Family Stone (1969):
A reminder song telling you that "We're all in this together."
11. "Dancing Queen," Abba (1976):
If this song doesn't make your body groove and lips curve then we don't know what will!
12. "Margaritaville," Jimmy Buffett (1977):
Nibble on some sponge cake may be two or four… just make sure you are happy.
13. "Friends in Low Places," Garth Brooks (1990):
Sing "I'll be OK" a little louder with this song. You truly are going to be okay…
14. "Don't Stop Believin'," Journey (1981):
The right message at the right time. "Some will win Some will lose".There's no denying it: Rarely a wedding or party goes by without played this rocking song.
15. "Get Together," Jesse Colin Young (1988):
Basically, smile on your sister. And your brother. And don't forget your neighbors. And, Oh! Well, on everyone.
16. "What a Wonderful World," Louis Armstrong (1967):
Best Song ever Heard! Leave alone the liveliness and positivity of the words. That voice will drop your anxiety instantly.
17. "Enjoy the Silence," Depeche Mode (1990):
Often we think of silence around in a negative light. Well, this is not always the case! During ups and downs of life silence is all we need to know our inner strengths.
18. "I Knew I Loved You," Savage Garden (1999):
Feeling loved and being in love can bring as much happiness to your door as eating a chocolate bar (or even more). So, here is a sweet love song for you, to listen to and feel the love in the air.
19. "Everybody," Backstreet Boys (1997):
"Backstreet's back alright" and with them comes the energy, positivity and lots of fun. Don't miss it.
20. "Barbie Girl," Aqua (1997):
Going down the memory lane of your childhood days when life was as simple as a pie, is definitely a healthy escape. Plus, it is gonna get stuck to your head for a while, putting unnecessary thought aside.
More Good Happy Song to Listen:
21. "Dynamite," Taio Cruz (2009):
Did you know dancing (whether alone or with a bunch of friends) can make happy hormones rush through your body? Just remember to throw your hands up in the air with this high-energy song.
22. "Trippin," Conro (2018):
Never ever forget… "Ain't nobody like you." Now smile and listen to this track. This Song will make your mind full of happiness.
23. "Can't Stop the Feeling," Justin Timberlake (2016):
Just like got sunshine in his pocket you get yours too. Sunlight actually reduces stress and increases productivity!
24. "You're the Inspiration," Chicago (1984):
We could all use some inspiration in our lives. Here is one in the lyrical form, send it to your loved one who's having a sad day and make their day.
25. "Good Feeling," Flo Rida (2011):
Let us all hold on to a "Good Feeling" each day of our life.
26. "Everything's Gonna Be Alright," Kenny Chesney and David Lee Murphy (2018):
Take a deep breath, put your earphones on, and tune into this one. It is a therapy in itself.
27. "One Step at a Time," Jordin Sparks (2007):
Go slow… go steady… but give moving! You really don't have to rush.
28. "Just Dance," Lady Gaga (2008):
Sometimes just putting worries behind and starting dancing can really do the trick. Here is one from Lady Gaga coming for your rescue.
29. "Lucky Star," Madonna (1983):
The list would have been incomplete without a classic Madonna song. this song will surely make you crazy. So here it is! Share it with the star of your life.
30. "Good Time," Owl City and Carly Rae Jepsen (2012):
Lyrics are the exact message that we are trying to put here… "You don't even have to try… It's always a good time" Want to start painting? Wish to have your own YouTube channel? Don't wait, it is a good time! Go for it!
31. "Fun," Pitbull featuring Chris Brown (2014):
In the list because we wanted to give something "Fun" to lighten the mood.
32. "Here Comes the Sun," Richie Havens (1971):
Sunny days are happy days, right?
33. "9 to 5," Dolly Parton (1980):
Had a bad day at the office? Here are the ultimate words you need to hear and kick start your next day as fresh as daisy.
34. "Go Your Own Way," Fleetwood Mac (1977):
Neither this way nor that way. All you have to do to grow is 'Go Your Own Way.'
35. "Tubthumping," Chumbawamba (1997):
With those lyrics, that energy and the title you are definitely going to see yourself smiling. "I get knocked down But I get up again"
36. "Fancy," Iggy Azalea featuring Charli XCX (2014):
The reason why we have this song in the list is… personal experience. When I hit rock bottom in my life this was the one song I hooked onto. Try it for yourself and tell us in the comment section if it works with you.
Now quickly add them in your playlist and pave the way for happiness…
So These were the best happy songs of all time. Don't forget to tell us in the comment section below that which song make you happy or worked the best for you…
Enjoy your music time 🙂
You May like These Also:
Listen To These 10 Songs To Help With Depression
How To Turn a Bad Day Into a Good Day
Best Mindfulness Books to Learn Mindfulness