Therapy
Best Online Family Counseling Of 2023
Last Update on December 12, 2022 : Published on February 13, 2022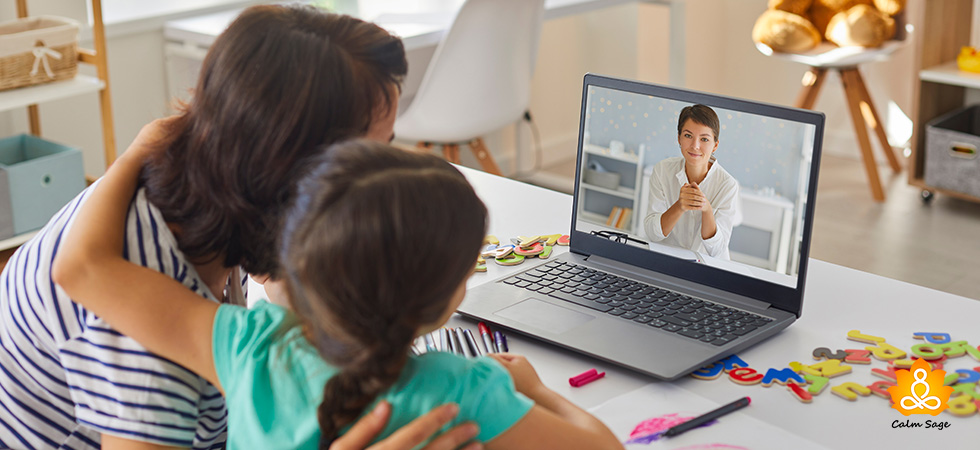 In a family we have different people with different outlooks and it's natural to have conflicts among members of your family. The problem arises when these family conflicts take an ugly turn and that's when you will need to go for family counseling or a family therapy session.
Today, in this socially distant busy world, it's difficult to get each member of the family in person to a therapeutic setting. The best case scenario here can be going for online family therapy. It's perfect for a busy family or for members living away from each other.
When you can't solve family conflicts on your own, it's best to take professional help. Online family therapy is one of the best ways to get that help these days.
To help you find the best online family counseling, we have come up with a list of a few of the best online family therapy providers for you to choose from…
Read More: What Is Family Counseling And Reasons Why You Need
Best Online Family Counseling Providers of 2023
1. Rethink My Therapy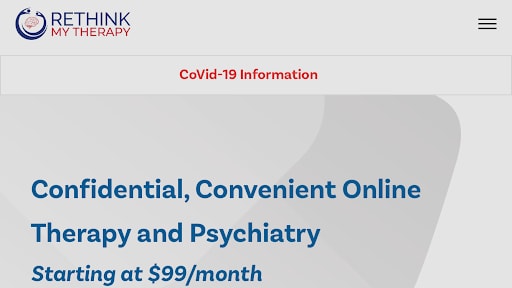 Basic Information
Pricing: $99 for one member, $129  for a couple & $159 for family/children (per month)
Insurance cover: No
Therapists Available: 1,000+
Key Information
Rethink My therapy provides online family counseling to individuals, couples and families. It offers online family therapy at an affordable price, also manages your medications and offers an additional 7 day free trial.
Rethink My Therapy is the only online therapy provider which specifically offers a family counseling subscription. That's why it tops our list of best family counseling services of 2022.
Family therapists here address various issues related to grief, bullying, parenting issues, relationship issues, family conflicts and other mental health related issues as well.
Read a detailed review on Rethink My Therapy here!
Pros:
Affordable
Manages your medications
Offers different counseling for each (individual, couple, family)
7 day free trial
Cons:
Does not accept insurance
The service does not have a messaging feature
2. Talkspace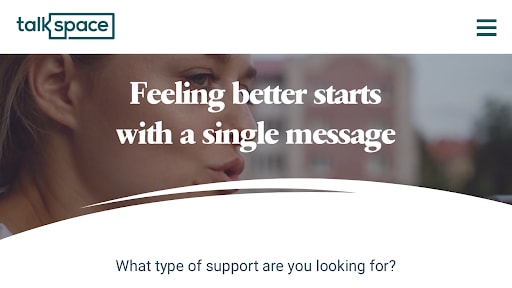 Basic information
Pricing: $260 – $400 Per Month
Insurance cover: Yes
Therapists available: 1,000+
Key Information
Talkspace offers therapy and counseling for individuals, couples and teens but does not specifically offer family counseling. Having said that, Talkspace still is a good option for families who prefer talking about their family conflicts separately.
Talkspace has specialized therapists in various areas of conflicts like parenting issues, anger management, substance abuse, or relationship related conflicts. If you wish to seek online family counseling you can choose from individual counseling, couples counseling and teen counseling, all available at Talkspace.
Read a detailed review on Talkspace here!
Pros:
Covers insurance
Offers medication management
Various communication methods available
Cons:
Group therapy isn't available
Extra charge for add-on services
3. TeenCounseling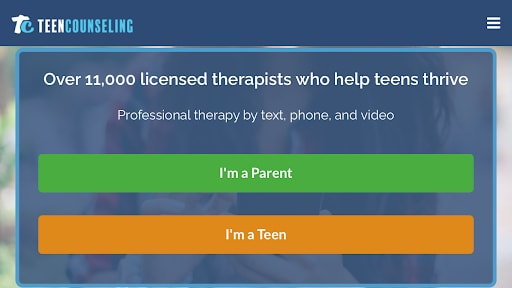 Basic information
Pricing: $60 – $90 Per Week
Insurance cover: No, provides reimbursement receipts
Therapists available: 10,000+
Key Information
TeenCounseling is owned by BetterHelp. TeenCounseling aims at providing online therapeutic guidance to improve the relationship between teens and their parents.
TeenCounseling provides counseling and therapy to families as well as teens. Their main focus is to help their client with issues related to stress, self-esteem, anger, bullying and other family conflicts.
Therapists help their clients develop various communication skills so that they can improve their familial relationships. They also help them learn some necessary coping strategies and provide them with resources to solve issues related to their mental wellbeing.
Pros:
All are Licensed therapists
Multiple communication options available
Teen counseling begins from 13 years of age to 19 years
Offers parenting advice
Cons:
No psychiatrist available (in staff)
The price may differ depending on the therapist and your location
4. Kip Therapy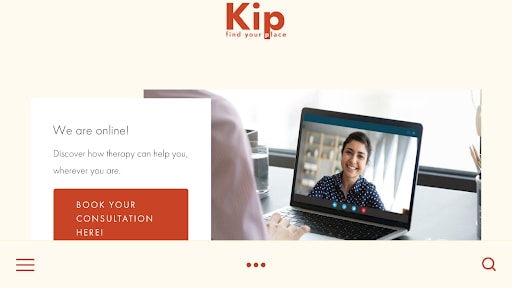 Basic Information
Pricing: $95 – $250 Per Session
Insurance cover: No
Therapists available: 36
Key Information
Kip Therapy is a New York based therapeutic service provider who shifted their service online quite recently in the year 2020. Kip Therapy aims at providing support and help to families who struggle with mental health challenges.
They provide individualized support to families seeking it. They offer services to teens, couples as well as group therapies for the entire family. The best part about them is that they provide services you are struggling with gender identity issues and other LGBTQ+ issues.
Pros:
Freedom to choose a therapist
Provide inclusive care
Therapy remains culturally relevant
Quick session availability (same day or the next day itself)
Sliding-scale pricing offered
Cons:
Services available on in New York
Not as affordable as others
5. ThriveWorks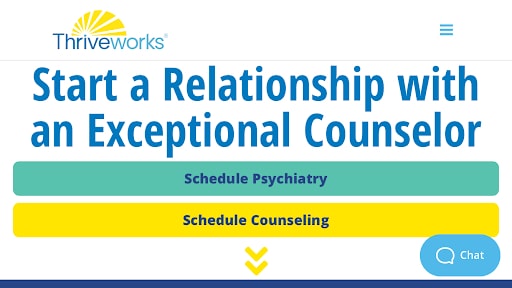 Basic Information
Pricing: $15 – $40 Per Session (with insurance), $65 – $140 Per Session (without insurance) +$39 enrolment fee
Insurance cover: Yes
Therapists Available: 2,000
Key Information
ThriveWorks was founded in 2008 as a single counseling unit which now has extended and provides online family counseling. You can book a session in advance from their site or you can contact them over phone or an Email. They also provide 24*7 messaging services.
ThriveWorks offers online family counseling, couple therapy, child therapy and individual therapy as well. The best part about them is that they have customized treatment approaches which suit different ages, needs and abilities.
Pros:
Accepts insurance
Other than online, offers in-person services as well
Same day session available
40-60 minutes long sessions
Cons:
Services restricted by locations
Only counseling no therapy
6. MyCounseling.Online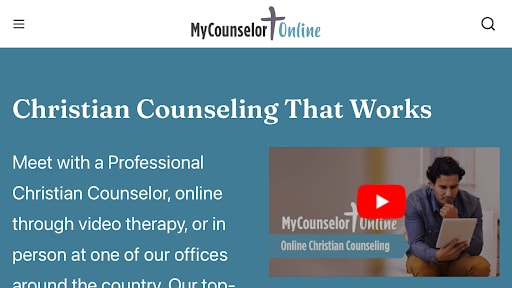 Basic Information
Pricing: $55 – $195 Per Session
Insurance cover: No
 Therapists available: 29 Counselors
Key Information
MyCounselling.Online offers Christian family counseling with the Help of family therapists. They provide family therapy online via video therapy session and also provide in-person therapy sessions.
Although it is a faith-based therapy and counseling resource, it is another one of the online family counseling providers who offer specific family counseling subscriptions. They offer service to families dealing with divorce, familial issues, issues between parents and teens, etc.
Pros:
They guarantee online counseling services
Scholarships available
All counselors share a similar religious background
Cons:
In-person sessions only available in a few locations
Does not accept insurance
Not LGBTQ+ friendly (because of their religious beliefs)
Final Words
Seeking professional help whenever you are facing family conflicts or relationship-related issues is the best way to be. Sometimes things slip out of hand and with help of family counselors you can sort issues out in a healthy way.
In times of a worldwide Pandemic, online family counseling can be of great help to you and your family members. I hope our tiny effort of listing out the best online family counseling of 2022 helps you in finding the support and help you need.
The information listed above is all based on personal research and understanding. I advise you to read all the information of the online family counseling provider of your choice mentioned on their site as well for better comprehension.
Thanks for reading.
Take care and stay safe.