Meditation
When Is The Best Time To Do Meditation? | When To Meditate (And When To Avoid)
Last Update on August 16, 2021 : Published on June 9, 2021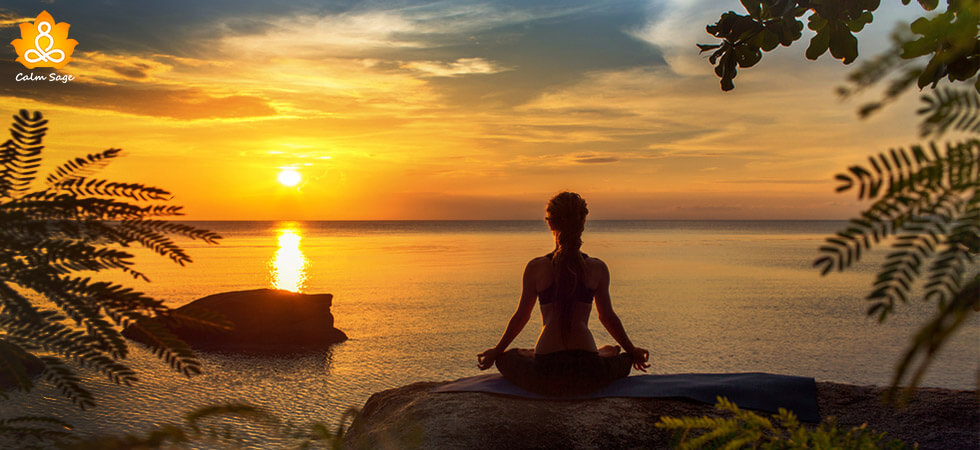 A few years ago, when someone suggested meditation to me, I would balk. One of the reasons I avoided meditating was because I had trouble committing my time to meditation throughout the day.
In these trying times, it can be easy to look at people peacefully meditating. I certainly have struggled with when to meditate for a long time before I dedicated a certain time of the day to meditate.
But, is there a time of day when meditation can benefit us the most?
Yes and no. While there is, technically, no ideal time for meditation, practicing during certain hours of the day can benefit. The factors that matter the most when considering the time to practice meditation depend more on what you need.
For instance, if you're having trouble sleeping, then meditating before bed will be more beneficial than meditating in the afternoon.
Is There A Best Time To Meditate?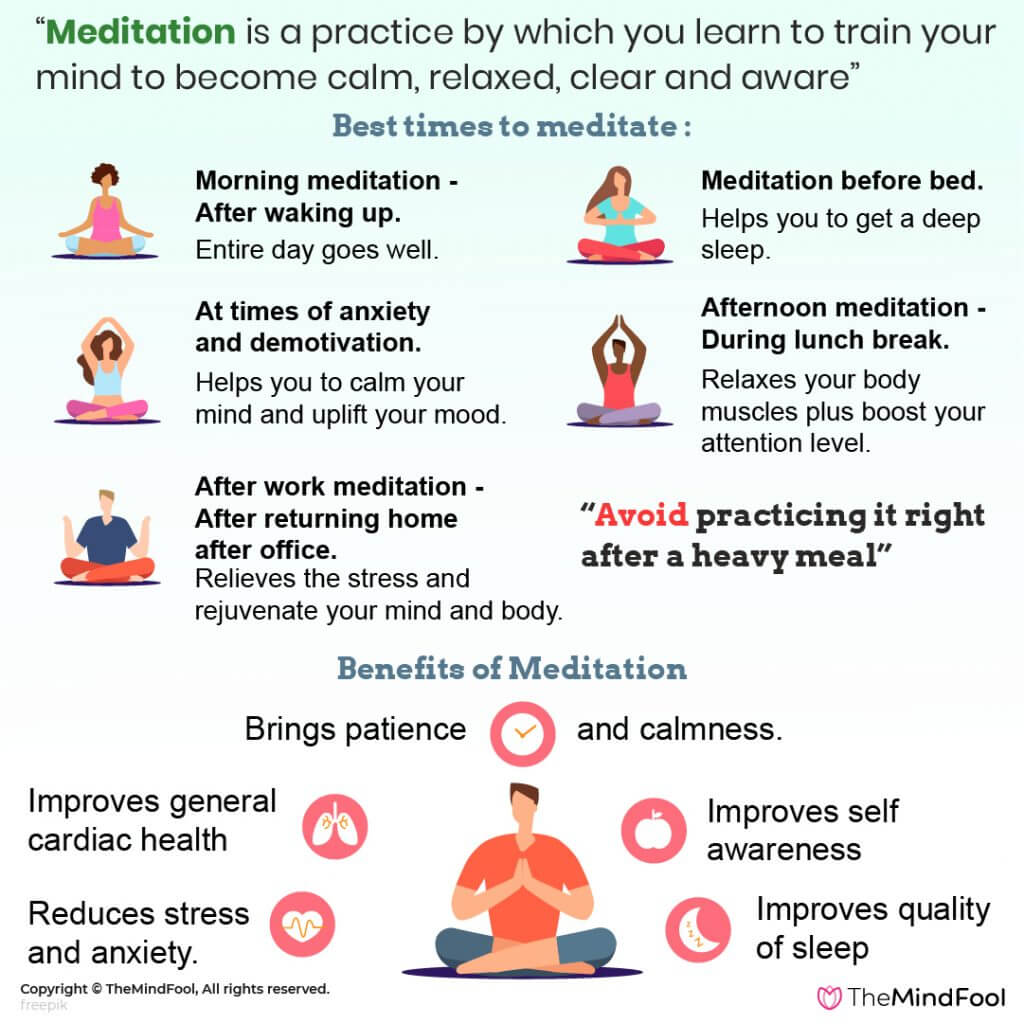 The fact is that meditation can be done anytime, anywhere, and as many times as you need. Some people prefer to meditate early in the morning, some prefer after work, and others (like me) prefer meditating before bed.
Although the best time to do meditation is 6 am, 7 am, and 10 pm.
The important thing to remember here is that while there are certain times where meditation can yield better results, it is better to stick to a routine and keep meditating regularly.
Some of the best times to meditate can be:
1. Morning Meditation
Many people would say that the best time to meditate is 6-7 am or even before sunrise when time is still and the energies are high. Morning meditation has its benefits. Practicing meditation early in the morning or before you start your workday can help you center yourself and prepare mentally for the day.
Another benefit of morning meditation is that there are the least distractions and chaos in the morning!
Taking a few minutes to meditate in the morning can also give you an endorphin rush. Meditation releases hormones that help you fight stress. If you wake up feeling stressed or wake up after a restless night's sleep, you can meditate to center your mind and ease off the stress before you start the day.
2. Mid-Morning/Afternoon Mediation
Practicing meditation in the afternoon or mid-morning can help you boost your energy. Who needs a coffee boost when meditating can give you similar results? Even if you're at work and need a break, you can find a quiet spot and focus on your breathwork to center yourself. No need to miss work, either! A 10-minute break can do the trick.
The best part of meditation is that it can be done anywhere, anytime. All you need is a quiet spot where you can focus on yourself with the least distractions.
In some cases, where stress is preventing you from focusing on work, you can take 10-15 minutes away from your work desk, and with (or without) the help of guided meditation, you can calm yourself down.
Read: Visualization Meditation To Calm Your Mind: Techniques & Benefits
3. After Work Meditation
One of the best ways to relax after a stressful workday is to meditate. This way, you not only get to unload the stress off your shoulders but also give you time to balance work and life. Meditation offers you the opportunity to analyze the thoughts and feelings you've experienced during the day. It can help you provide an insight into your day, stressful or not.
Work-life balance is important to maintain and meditating after work can help you keep the balance. Take time for yourself after work to give yourself time to separate work from your home life. You can start (not necessarily) during your commute back home. Take deep, calming breaths and try to push the negativity you've accumulated throughout the day out of your mind.
Read: What Is Focused Meditation: Its Benefits & How To Practice It
4. Before Bed Meditation
This is my favorite time to meditate as it gives me time to gather my thoughts and release the stress of the day at the same time. Meditating before bed can bring a sense of calm and relaxation. Many people struggle with sleeping as soon as their head hits the pillow and they find it difficult to quiet their mind enough to help them drift off to sleep. Before bed meditation can help bring calm as well as help you clear your mind.
Another wonderful benefit of meditation before bed is that it can help you create a mental plan for the next day. Taking some time to plan your next day while focusing on your breathwork is not that difficult once you get the hang of it. Making a game plan the previous night can give you a boost of energy as well to deal with yet another day.
If you have trouble sleeping, these mediation apps can also help you learn how to quiet your mind before drifting off to a good night's sleep.
When To Meditate And When To Avoid Meditation?
While combining relaxing meditation with not-so-relaxing exercises is a great way to boost your overall health and wellness, it is important to make sure that the two activities complement each other.
Meditation before yoga can help balance your nervous system and raise your energy levels. On the other hand, if you don't practice yoga, then it is recommended you practice mediation after as this way you've already released stress and tension so your mind will be less likely to get distracted.
Also, when we've exhausted our muscles thoroughly during other exercises such as cardio, we can easily relax and practice breathwork without difficulty. Meditation after exercise can help your mind find relaxation and calm.
It is advisable to not meditate and to avoid meditation when struggling with:
Negative mood
Anxious feelings
Severe depressive episodes
Things to Keep in Mind While Meditating:
When learning to meditate, it is important to keep a few things in mind:
A. Create a separate meditation room. While practicing mediation is recommended in a quiet place, it is always best if you dedicate a separate place for meditation. Make sure your electronics are either switched off or are not with you.
B. Maintain the right posture. While it is true that there is no best time to meditate, sitting in the right posture is important. When sitting down for meditation, make sure you sit straight and if you're sitting on a chair, then your feet are firmly on the ground.
C. Go slow and steady. Meditation is one skill that gets better with patience and practice. So if you find yourself getting restless and failing to quiet your mind, don't worry. Just keep practicing and go slow. Gradually increase your time when you feel comfortable.
D. Maintain a routine. When meditating, it is important to remember that routine and schedule are everything. If you're meditating during the morning, then make sure you commit yourself to meditate in the morning each day.
E. Focus on your breathwork. During meditation, it is easy for our minds to drift. This can make meditating difficult so next time you find your mind drifting and intrusive thoughts taking over, make yourself focus on your breathing. Repeating "in" and "out" with each inhale and exhales can help too.
F. Don't hesitate to use meditation apps. If you're new to meditation or have been practicing for a while, it doesn't hurt to use a meditation app now and then. These apps can help you develop a routine and keep track of your activities.
The important thing to understand here is that no matter when or how you practice meditation, you stick to a routine and practice regularly.
I hope this article helped you understand when is the best time to meditate and when to avoid meditation. For more, you can visit our website or write to us at info@calmsage.com.
Take care and stay Safe!