Meditation
10 Best Sleep Meditation Apps Of 2023
Last Update on December 13, 2022 : Published on June 3, 2021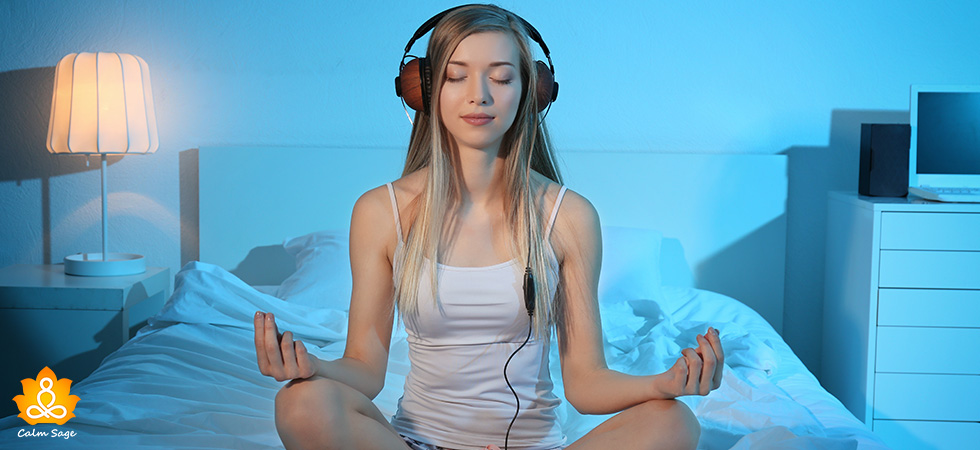 Too stressed to fall asleep? Are you an insomniac? Do you find it difficult to fall asleep, in general?
I won't say that I have a solution for your problems but I will say that I can help you find the right aid to help you get a good night's sleep. Usually, when I go to sleep, I prefer to listen to a podcast or some soothing tunes to help me lull into sleep.
While music and stories work for me, it doesn't need to work for you. In this article, I've compiled a list of the best free sleep meditation apps that will help you relax before bed and clear your mind giving you and your body to recharge for another day.
10 Best Sleep Meditation Apps of 2023
1. Insight Timer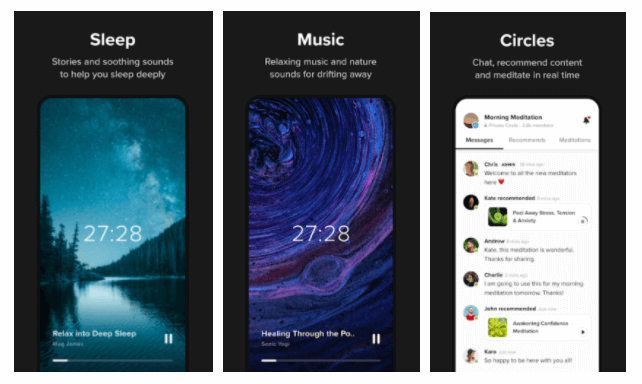 One of the top-ranking meditation apps, Insight Timer, is an app that features guided meditations, sleep tunes, and talks given by meditation and mindfulness experts and psychologists from around the world. This is a wonderful app for both beginners and experts.
Insight Timer features include:
Guided meditations (70,000+)
Short, on-the-go meditations
Soothing soundtracks to calm your mind
Custom meditation timer
Discussion groups
Tracker to help you keep an eye on your progress
And many more! The app also offers mediation courses such as how to improve your sleep, overcoming insomnia, etc. Insight Timer can also help you improve your focus, reduce anxiety, help you get through recovery along with other benefits.
Meditations featured on the apps include:
Yoga Nidra
Mindful sleep
Zen meditation
And many others. While the app is free to download on iOS and Android, you can access Insight's premium features such as offline listening, high-quality audio listening, and more at $60 per year.
Insight Timer For Android & iOS
Mindfulness.com is one of the leading mindfulness apps specially designed to solve mental health issues like anxiety, sleep, stress, and others.
2. Relax Melodies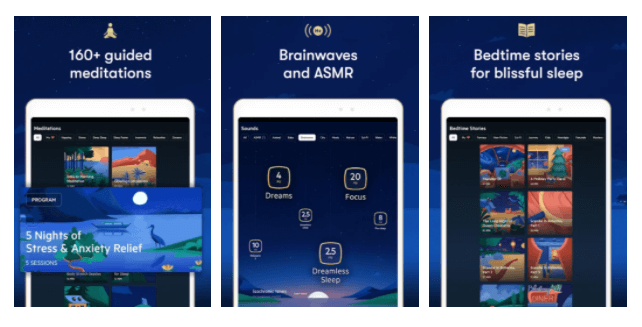 Relax Melodies is a guided sleep meditation app that is designed to help you better your sleep and relax you so you wake up refreshed and rested. This app features include:
160+ guided meditations
Bedtime stories
Mind-body exercises
ASMR
Nature sounds
And more! This app will help you reduce your stress and anxiety, improve gratitude, promote deep sleep, clear your mind, and aid you to fall asleep faster. This sleep meditation app is available on iOS and Android and is free to download.
While some of the features of this app are free, you can upgrade for premium with a $59.99 a year subscription with a 7-day free trial.
Relax Melodies For Android & iOS
3. Calm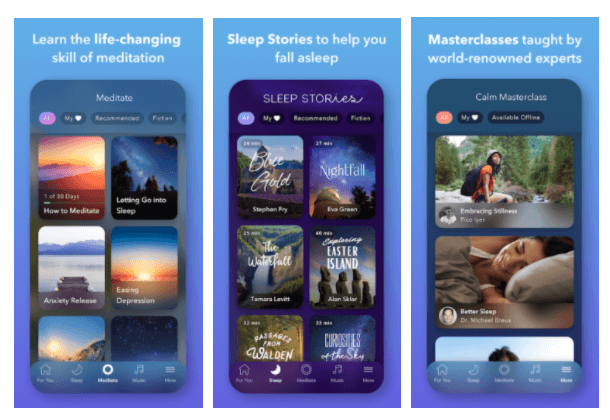 Calm is one of the top-ranked and best sleep meditation apps, both on Google Play Store and Apple App Store. Millions of users have benefited from using the Calm app and have experienced lower stress levels and anxiety. Features of Calm app include:
Guided meditations
Sleep stories
Breathing exercises
Masterclass taught by experts
Relaxing soundtracks
This app is easy to use for both beginners and experienced users. This meditation app also features Daily Calm (a daily 10-minute program to help you relax). While the app has many free features, to access features such as exclusive music tracks, Masterclasses, meditation programs, and many more, you need a subscription.
Calm offers two different subscriptions:
Annual Subscription: $49.99 with a 7-day free trial
Lifetime Subscription: $399.99 billed once
4. Headspace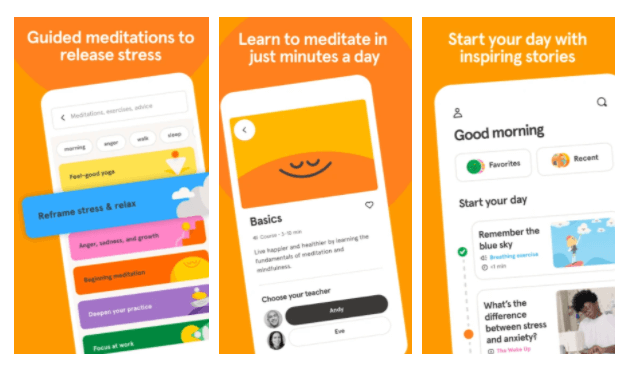 With over hundreds of guided meditations, stress management, mind-body health, sleep management, Headspace has everything you need. Headspace app features include:
Sleep and wake-up meditation
Movement meditation
Sleep stories
Relaxing sounds to help you sleep
Exercises to help you sleep and wake up refreshed
With many more features! Headspace has dozens of meditation programs with short, mini, on-the-go meditation programs. The meditation app is free to download on Android and iOS.
While Headspace offers free features, they are limited. To access unlimited guided meditations, sleep stories, and more, you can subscribe to Headspace. There are two subscription plans for the app:
Annual subscription: $5.83/month, billed yearly at $69.99 (14-day free trial)
Monthly subscription: $12.99/month (7-day free trial)
5. Meditation & Relaxation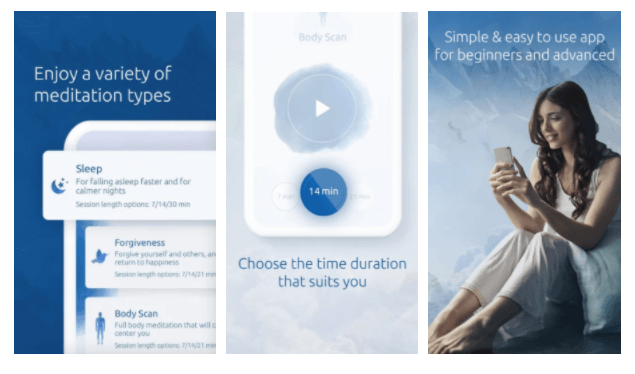 Meditation can not only help you reduce stress and improve your concentration skills but it can also help you better manage your sleep. With the Meditation & Relaxation app, you can learn simple and effective meditation techniques to help you with whatever you need – whether it be reducing stress, improving sleep, or boosting your self-esteem.
The features of this app include:
Meditation for beginners
Advanced meditation
Meditation for stress relief
Meditation for focus
Meditation for sleep
Meditation for calm
And more! This app is free to download on Android and iOS and while many of the features are free to access, for a subscription, users can access full app content.
Meditation & Relaxation For Android & iOS
6. Pzizz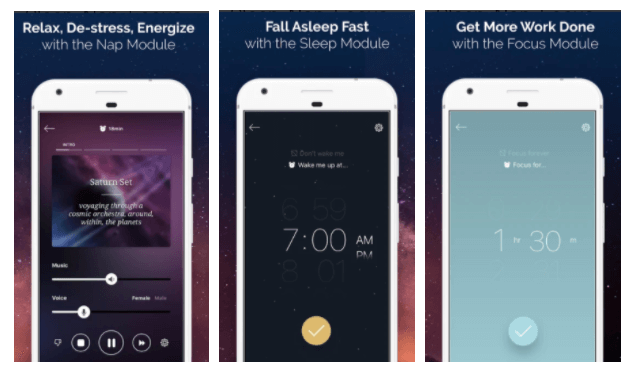 Pzizz sleep meditation app is designed to help you clear your mind, fall asleep faster, and wake up feeling refreshed. With soundscapes, voiceovers, and sound effects, the app aids in better sleep.The app also features a nap module, sleep module, and focus module that can help you better sleep and improve your focus and productivity. The app is customizable and has free and premium features.
With a subscription of $69.99 annually and a subscription of $9.99 monthly, you can access the premium features on Pzizz. The app is available on Android and iOS to download for free.
7. Relax & Sleep Well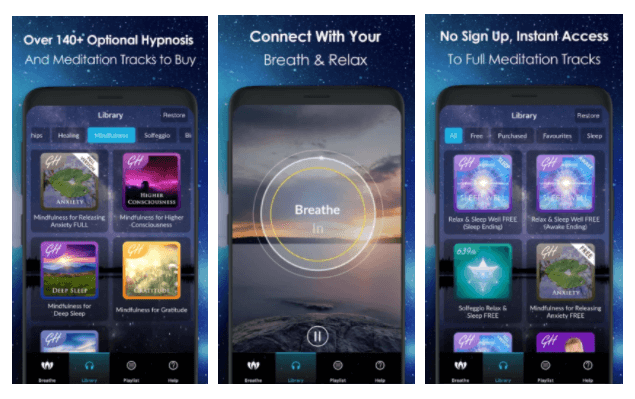 Created by hypnotherapist Glenn Harold, Relax & Sleep Well is a meditation app that doesn't require a sign-up process. With over 100 hypnosis and meditation tracks, this app will help you deal with insomnia, spiritual healing, phobias, and more.
The app also includes a playlist and storage feature to help you customize your tracks. You can also download and listen to the tracks offline. The app is free to download but you can purchase tracks with in-app purchases.
Relax And Sleep Well For Android & iOS
8. Buddhify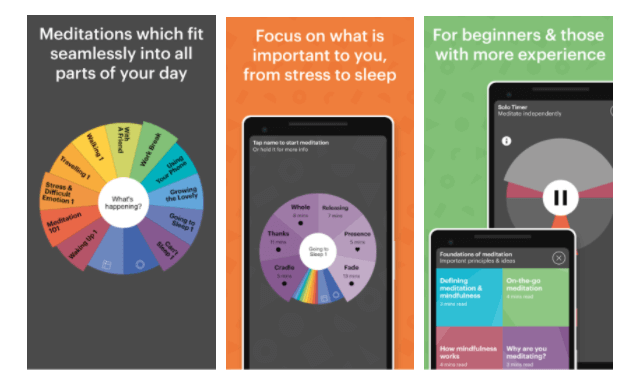 Buddhify is another meditation app that can help you bring calm into your life whether you're looking for stress management or sleep management. Buddhify is an easy-to-use app with guided meditations to help you.
You can bring mindfulness into your life whether you're traveling, sleeping, or even working. The features of the app include:
Over 200 guided meditations
Meditation for beginners
Kids content
And more! The app is available to download for free on Android and iOS. While the content of the app is free, a user can unlock other features for a membership of $30 a year.
9. Breethe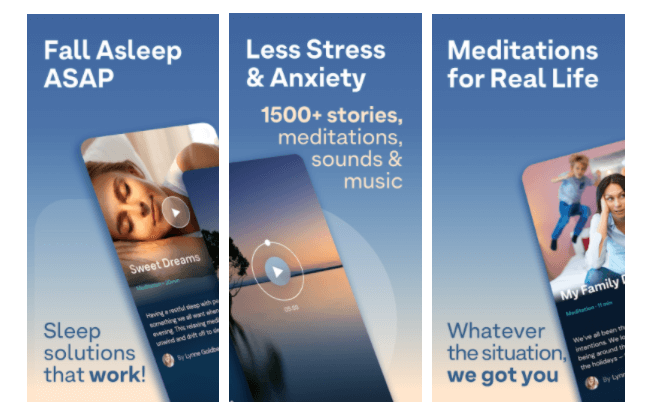 Learn mindfulness, stress management, and sleep management with Breethe. With over 1000 guided meditations, soothing & relaxing soundtracks, talks from experts, and more, this app will help you navigate your life at a relaxing pace.
The features of this app include:
Relaxation music
Sleep sounds
Sleep stories
Bedtime visualization
Morning meditations
Breathing exercises
Inspirational talks
Guided meditations
And more! While the app is free to use and access, with a subscription fee the user can access more premium content. The app is available to download on Android and iOS.
10. MyLife Meditation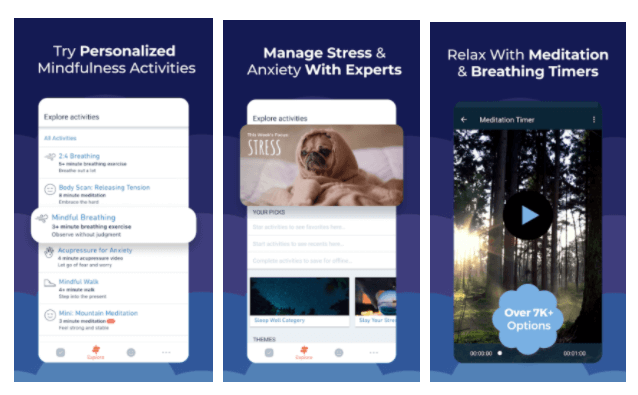 Learn to meditate and become more mindful with MyLife Meditation. Formerly known as Stop, Breather & Think this app helps you improve your mental and physical wellness.
The app features:
Guided meditations
Mindful meditation
Meditation tracker
Breathing exercises
Sleep sounds
And much more! The app has free limited features but with a subscription, the user can access unlimited content. Subscription plans for this app are:
Monthly Subscription: $9.99 (billed monthly)
Annual Subscription: $58.99 (billed yearly)
Lifetime Subscription: $249.99 (billed once)
Note- This app has been discontinued
Final Words
These apps are easy to use and free to download on Android and iOS. I hope the above list helps you find the best sleep meditation app for you.
Remember, if you're struggling with an app, don't hesitate to experiment with others. Every app has a unique feature and different options. Pick the one that works best for you!
Breathe in, breathe out, and relax!