Stress Management
5 Creative Things That Make Your Home Cozy & Stress-Free
Last Update on July 7, 2021 : Published on July 7, 2021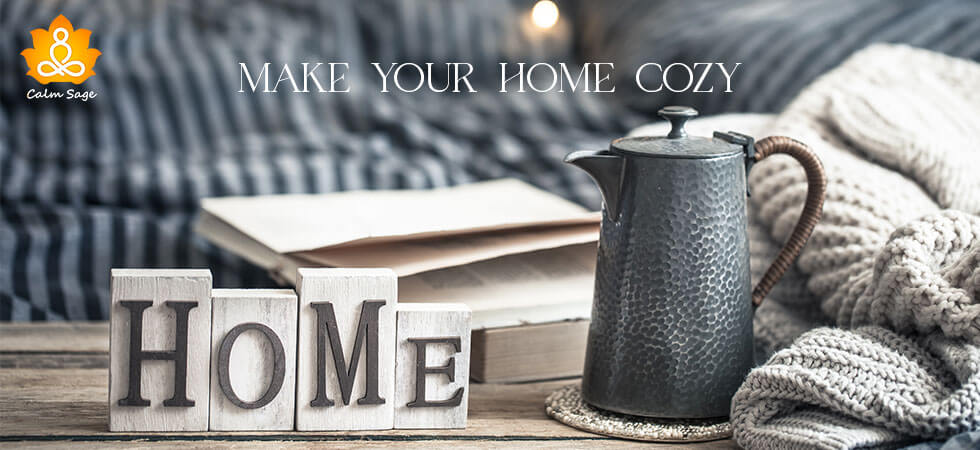 "Home is where the heart is"
we've all heard of this phrase at least once or twice in our lifetime but do you realize how each element we place in our home plays an important role in keeping stress and anxiety away?
Some years ago, a friend of mine visited my hometown. I was out of town at the time but she stayed over with my family. My friend (and my mother) later told me that my friend insisted on sleeping in my room. When I asked her what made her want to stay in my room (not that I minded at all), she replied,
"Because your room is cozy."
I didn't understand how that could be a compliment but years later I would realize that it was the highest compliment I could receive about my living space. It makes me happy knowing that others feel comfortable in my space and now I know that having a cozy home where you can forget all about your stressful day is one of the most elemental aspects of healthy living and overall wellness.
In this article, I've compiled for you the 5 creative and essential things that make your home cozy and stress-free.
Read: Organized Home Organized Mind: Tips For Stress Relief
How To Make Your Home Cozy?
When it comes to ranking the world's happiest countries, mostly Finland, Denmark, Iceland, and Switzerland come to mind.
One of the reasons the Danish always come on the top of the index is because they understand and value comfort – not just physical but mental, emotional, and spiritual too. In recent years, you must've heard of the term 'Hygge' pronounced 'hoo-guh'. This hygge can be loosely translated to 'cozy' or 'to comfort'.
Hygge is not something you find or do, it's something you experience. Experiencing comfort and coziness can be enough to keep the blues away.
Everyone needs to feel relaxed and comfortable in their space – whether it's a dorm room, your new home, or a rental studio apartment. It's not hard to make your room cozy, all you need to do is add these 5 elements to your space:
1. Portraits Or Artwork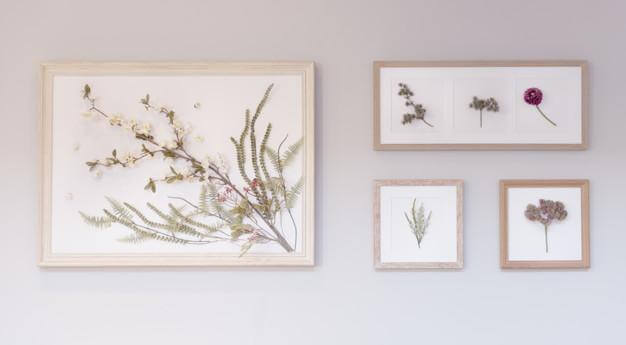 If possible, avoid having bare walls in your home. Hanging pictures, collages, artwork, or portraits can add to the coziness of your home. Having memories and images of your loved ones on your walls can help you recall happy moments and put a smile on your face, no matter how difficult your day.
The one thing I absolutely love after having a tough day is to look at the pictures of my family and friends I have in my home. The sight of the pictures alone makes me forget about the stress and takes me to my happy place.
2. Lighting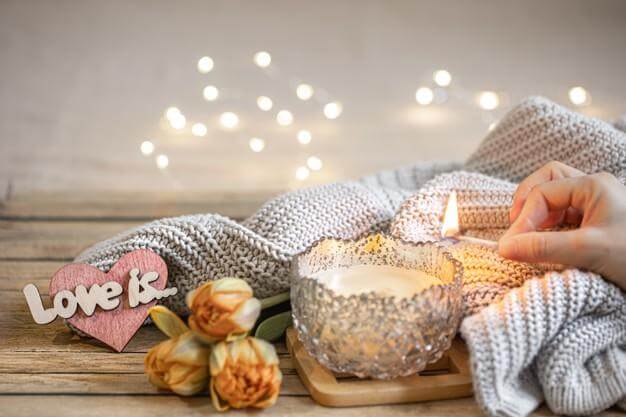 Lighting is an important part of having a cozy home. Good lighting can create a cozy atmosphere and give your space some warmth. Make sure you avoid any harsh lighting and instead you have table lamps, floor lamps, or ambient lights.
Lighting temperature is also important. Avoid neon lighting as much as possible instead focus on warm temperatures.
String lights can add a bohemian vibe to your home. If you want subtle lighting go for globe lights instead of string lights.
Proper lighting and colors can give your space a warm glow up and even if you're stressed out, basking under soft lighting (even fireplace lighting) can help you relax better than anything else.
3. Plants & Flower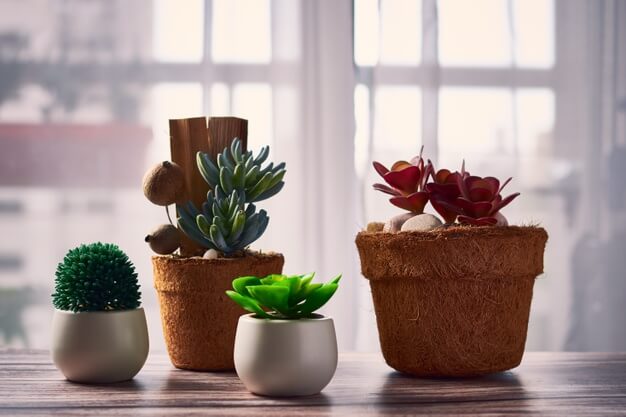 If you've never had plants or flowers in your home, you need to change that immediately. Not only do plants provide us with oxygen and tons of other benefits, but they can also keep our stress away.
Plants like aloe vera can help keep the air clean. Lavender plants can help you stay calm and relaxed. Peace lily can help you flourish spiritually, mentally, and emotionally. Snake plants can also help you relax and find peace while eucalyptus can help treat anxiety and lower stress.
Plants also add an aesthetic to your home. In many cultures, it is believed that plants absorb all negative energy and protect you from negative vibes. Want your home to flourish in a positive light? Go buy some plants and flowers!
But do remember that plants need care and effort. If not taken care of, they will wither away. Plants keep you company and are great listeners if you'd like to vent about your day.
4. Rugs & Textiles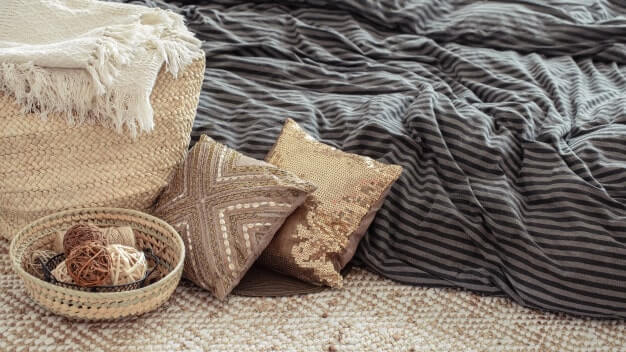 Hardwood flooring or marble flooring might look aesthetically pleasing but they don't exactly give the cozy vibe that rugs do. Any room in your home can benefit from a rug.
Throw pillows, handwoven blankets, rugs, are all beautiful and cozy elements to have in your home. With this element, don't hesitate to experiment with different colors, patterns, and fabrics.
Adding rugs and carpets to your home can have a positive effect on a person's mental health as well. The feel of soft flooring can help reduce stress.
5. Fragrance & Scents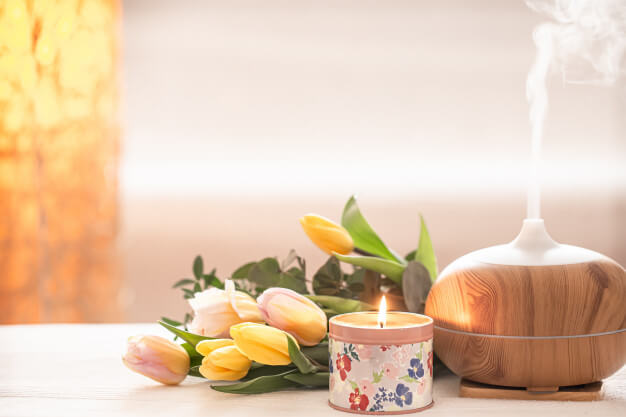 Never underestimate the power of a fragrance or a scent. Just a whiff of your favorite scent can help your bad mood vanish. There are many ways in which you can incorporate fragrance and scent into your home.
Using scented candles, diffusers with essential oils, potpourri, burning incense, etc are all amazing and creative ways with which you can make your home cozy and stress-free!
Essential oils can be put to good use here! One of the forms of holistic therapy is aromatherapy. With the help of essential oils, you can engage in aromatherapy at home.
What better way to reduce stress than breathing in your favorite scent, right?!
Home Sweet Home…
Converting a house to a home is not that difficult and is much easier than you imagined. With the right creativity and adding the right element to your space, you can transform a plain space into a cozy home.
I hope the above-mentioned elements help you make your home cozy and stress-free. For more on such content, you can follow us on social media or visit our website.
 "What is a cozy home? Where you enter and you feel the radiance of your divine self." – Harbhajan Singh Yogi
Stay Safe! Take Care!