Wellness Guide
How To Optimize Instagram For Your Mental Wellness | Little Secrets For You
Last Update on August 25, 2021 : Published on January 6, 2021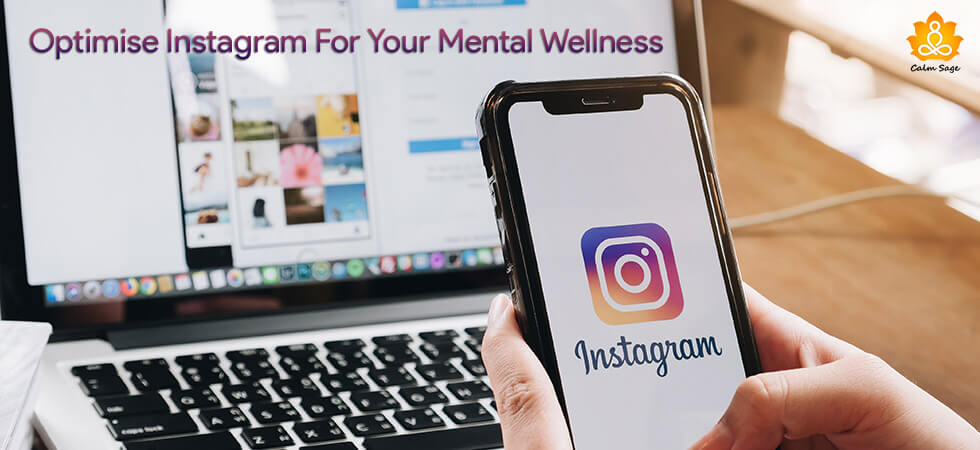 Social Media! An invention to make life easy for people around the globe by connecting them with their loved ones and with like-minded people. But if you look at social media, now it is seen in a negative light. After all, we all have been unveiling its dark side in the form of comparison, doom scrolling, fear of missing out (FOMO), and a lot more!
In recent times, one social media platform that has become a matter of concern for mental health professionals and healthcare practitioners is Instagram. Wondering why?
Well, can you make a guess which social media app has the highest net negative impact on an individual's mental health? It is INSTAGRAM! And not just one but a couple of studies have aligned with this finding.
But wait, stop, and think over it! Is it the app or the way we are using it is the source of the problem? To help you find the answer I am sharing a few lines with you that I read a couple of days back:
"Social media has been designed for our ease. It is up to us whether we use it for getting influenced or creating an impact."
I bet the majority of us want to fall on the creating impact. Even if not that, we definitely want to build a positive relationship between our social media usage and the way it influences our mental health. This is only possible if you optimize your Instagram for your mental health.
Related: How Social Media Affects Mental Health And Causes Depression
Today we are going to guide you on optimizing your Instagram account for better mental health so that you enjoy and not regret your time spent on Instagram.
Optimizing Instagram for Mental Health
1. Unfollow The Unhelpful Accounts
You might be following an account on Instagram because back when you were young it gave you the goals for your late 20s or even 50s. But is it helping you now in any form? If that particular amount still nourishes you, continue to follow it but if it makes you feel less about yourself, time to click on the unfollow button right away. This is not just applicable to the influencing accounts that you have in your list but also to the friends you follow.
Here is the drill!
Keep your goal simple: Creating a caring and supportive community that will offer you warmth during challenging times.
If the people you are currently following on your Instagram don't serve the purpose mentioned above just detox your Instagram account- Unfollow them!
Steps To Optimize Your Instagram Followers For Your Mental Health
Open Your Instagram account.
Click on the Following
Review your following list. If there is any account that bothers your mental peace, open it and click on the Unfollow tab.
This way keep detoxing your Instagram account for embracing positivity.
Also Read: The Role of Social Support for Health and Wellbeing
2. Follow The Helpful Hashtags
Instagram is a great community where like-minded people across the globe can come together, motivate each other and give each other content for their soul to feed on.
In fact, you might have noticed that when you like posts with certain themes, the similar posts start to pop on your feed. The reason being, you have liked posts with similar hashtags. Sometimes, Instagram too suggests you some hashtags to follow.
If you wish to rejoice in the benefit of connecting with like-minded people that promote wellness, then you have to follow the right hashtags.
Related: Instagram Mental Health Resources To Fight Social Stigma
Here are some of the best mental health hashtags for you to follow on Instagram:
#mental health #mental health awareness #mentalhealthmatters #support #selfcare #self love #wellbeing #mindfulness #happiness #love #calmness #calmsage #wellness #joy #therapy #recovery #care #stigmafighter #breakthestigma
Apart from these generic mental health hashtags, you can also follow specific hashtags like:
#stressfree #antianxiety #dealwithdepression #anxietyrecovery #ptsdrecovery #depressionrecovery #suicideprevention #mentalhealthrecovery
Steps To Optimize Your Instagram Hashtags For Your Mental Health
Open your Instagram account.
Type in the search icon the hashtag that you want to follow.
Choose the tags option.
You will see all the posts with the same hashtag on your screen.
Click on the Follow tab and you are done.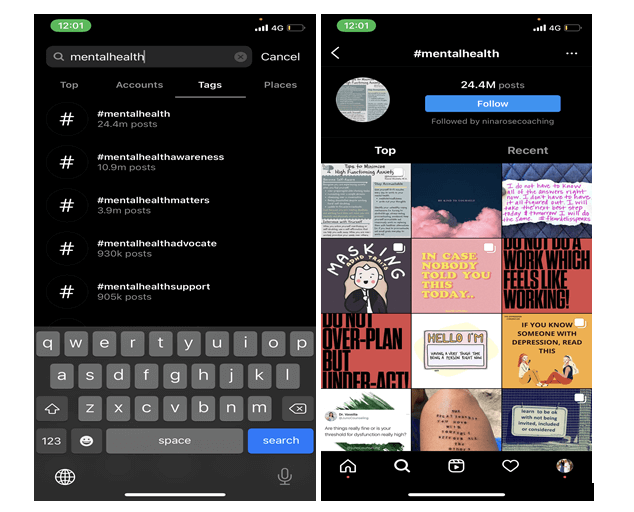 3. Work on Your Instagram Guide
Instagram launched its Guide feature in May 2020. I have to say that this is one of the best and much-needed features on Instagram for our mental health. The reason why this feature came into existence was the pandemic and its impact on mental health.
Related: Instagram Accounts For Daily Inspiration, Start Following These Pages ASAP
The idea behind the same is to enable users to consolidate existing content into one place. Although the guide feature is available for certain creators only, they all provide mental wellness-promoting content. So, you can definitely give it a shot and get your dose of wellness from your favorite creator in one place.
Steps To Optimize Your Instagram Guide For Your Mental Health
Open your Instagram Account.
Search for your favorite mental-wellness-promoting content curator.
On there you will be able to see a little pamphlet like icon on their profile.
Click on it.
You will be able to see a compilation of beautiful and motivating life lessons there.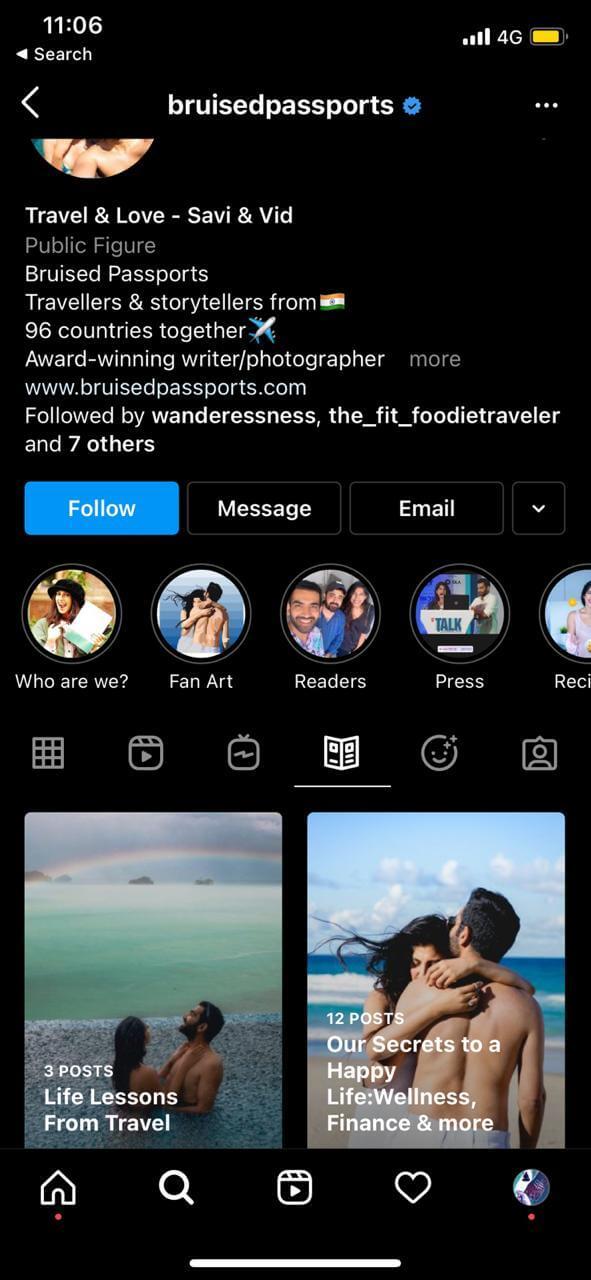 (I have shared a screenshot of my favorite wellness cum travel content curators. Share with us in the comments section which wellness content curator Instagram guide will you be reading up on)
4. Set Your Time Limit to Use Instagram
Optimizing your Instagram for mental wellness does not mean that you get a green card to be glued to Instagram. One important factor related to optimizing your Instagram for your mental health is limited usage of the same. Personally, even I struggled a bit.
Related: Have a Break! How To Spend Your 'Mental Health Day Off'
However, the activity tracker and time setting feature on Instagram did help me work on my time spent using Instagram. You can go and check the time you are currently spending on Instagram by following these steps:
Launch your Instagram.
Go to your account and click on the three lines at the top right corner of your screen.
Choose Your Activity
Next, click on the Time There you can see your average time spent on Instagram for a week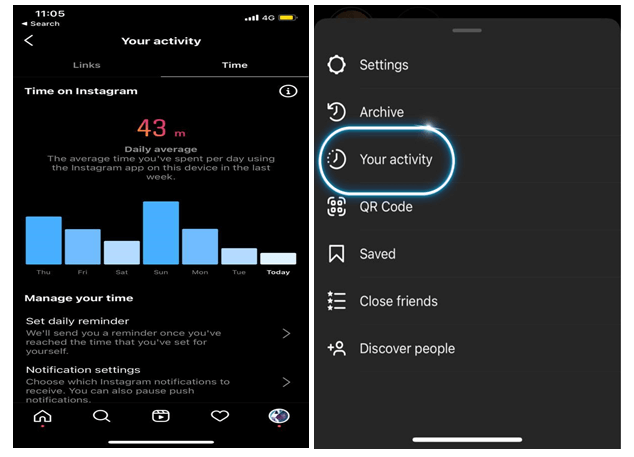 If it is anything above 45-60 minutes, it is concerning. That is why taking necessary measures to use Instagram at an optimal level is required. The application offers you the feature to set a time limit for your daily Instagram usage. As soon as you have consumed Instagram for that given time, the reminder message pops on your screen. You should take it as a mark that your brain has consumed enough data, you had enough screen time.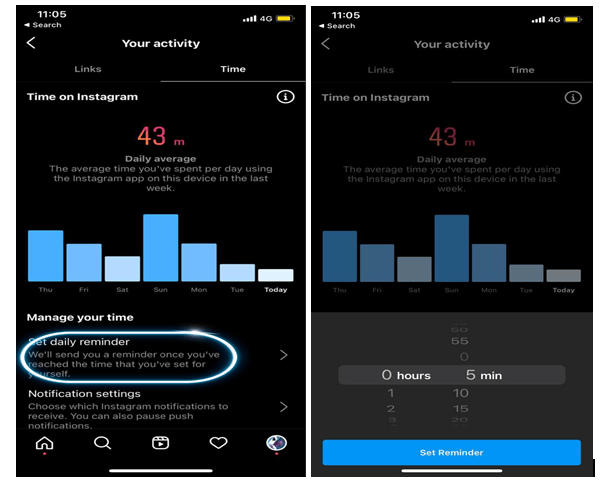 Steps To Optimize Your Instagram Usage For Your Mental Health
Launch your Instagram.
Go to your account and click on the three lines at the top right corner of your screen.
Choose Your Activity
Next, click on the time tab.
From the Manage Your Time list, choose Set Daily Reminders. There you can set a time limit for yourself to use Instagram.
Next time while you are on screen you will get a reminder that you have used Instagram for the set time.
As soon as that reminder pops up we suggest you log out of your Instagram account and engage in off-screen life. You can choose from different engaging, productive, and mental wellness-promoting activities.
Bonus Content: If you wish to keep a track of your mobile and app usage in general you can also use this app called Social Fever.
5. Turn Off Notifications
Notifications are the most subtle form of distraction. A single tune or pop on your phone can allure you to leave everything behind and bring your attention to the gadget alone. It is a major reason why we can't concentrate on our task or bring out the best from it. That is why it is suggested that you should turn off your mobile notifications for Instagram.
Or if there are particular people, groups, or communities that you can't unfollow due to certain constraints, this optimization tip will help you here. Just make a list of these accounts and people, turn off their notifications, and say bye-bye to mental wellness barriers.
Steps To Optimize Your Instagram Notifications For Your Mental Health
Open your Instagram.
Go to your account and click on the three lines at the top right corner of your screen.
Choose Your Activity Option.
Next, click on the Time
From the Manage Your Time list, click on the Notifications Settings.
You will see a few options there. You can either pause all the notifications off or customize them as per your requirements.
This way, you will be able to bid adieu to the unnecessary phone buzzing while you are occupied with something else. Time to regain your focus and happiness!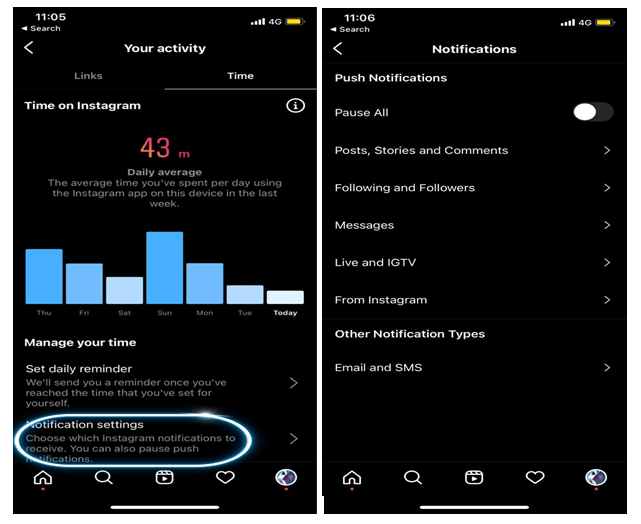 6. Create Don't Hate
After receiving a backlash on the negativity that was seen to take over the good intentions behind Instagram, they launched a new sticker- Create Don't Hate. The idea behind this sticker was to remind people that Instagram is a platform that was created to offer a warm, supportive, and safe place to everyone. I think this small step has a lot to teach! Don't create hate if you can't create love and happiness.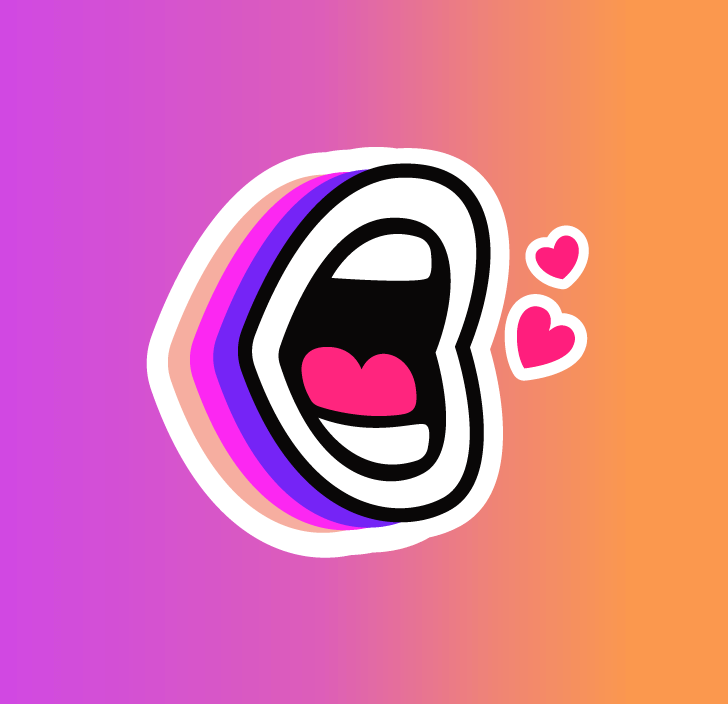 Steps To Optimize Your Instagram Surfing For Your Mental Health
There are two simple mantras to abide by here. This includes:
If you like anything shower love on that post and feel free to share it (spreading positivity is a good idea after all).
If you don't like anything, suggest a person necessary changes to make it work instead of trolling them or loading their comments with negativity.
To put it in a nutshell, embrace positivity while using your Instagram, it is a platform for your own good.
With this guide To Optimise Instagram For Mental Health, you are all set to switch the side of Instagram from being a net negative platform to a net positive one!
As a part of my new year resolution and to start my journey of mental wellness, I have taken the first step by optimizing my Instagram account for my mental health. Now it is time to start inculcating these small yet necessary changes in your life. Trust me, they are meant to make your life better.
Are you going to grab this opportunity to turn social media healthy for your own good, or are you just going to walk past it? Whatever your decision is after reading this blog, do share it with us in the comments section.
Remember: The Change Starts With YOU!
---
Facing Difficulty to Get Over Social Media Addiction?
---
Disclaimer: As BetterHelp Affiliate, We may receive compensation from BetterHelp or other sources if you purchase products or services through the links provided on this page.
Sending you loads of love and willpower!
More Interesting Reads: 
The Power Of Storytelling On Mental Health
Are Video Games Good For Your Mental Health?