Mental Health
Top 9 Instagram Accounts For Daily Inspiration, Start Following These Pages ASAP
Last Update on May 18, 2022 : Published on May 29, 2020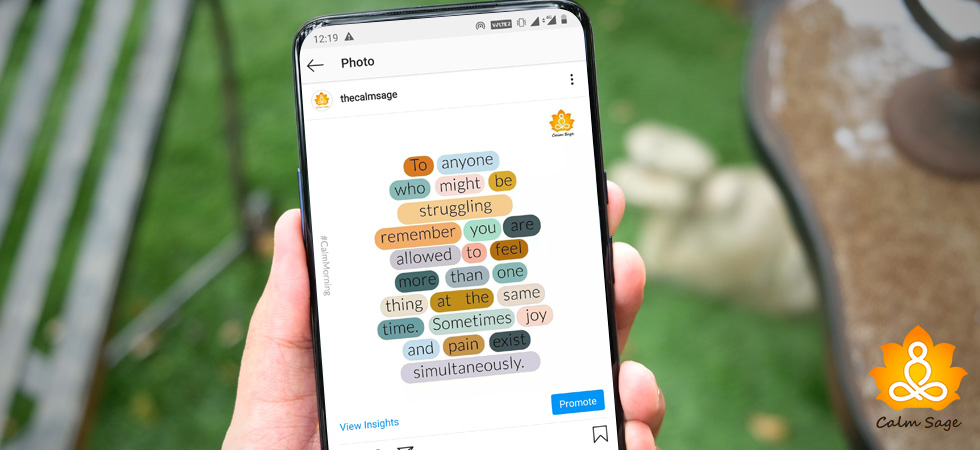 There's no denying that Instagram is a bottomless well of inspiration & feeling overwhelmed by all the beautiful Insta feeds out there isn't uncommon. If you are on the path to be a healthier & happier you, don't just let your digital habits lead you astray. Make use of Social Media as a source of motivation & NOT comparison. There are plenty of people out there who believe in the power of positivity & aims to inspire people to be their best selves.
Kick Start Your Day With Positive Intentions, Follow These 10 Inspiration Instagram Accounts
We've listed some of the Best Instagram Pages For Daily Inspiration to help uphold your momentum with every single scroll.
1. Calm Sage
Instagram Handle – @thecalmsage
With an aim to help people calm their minds & heal their lives. Calm Sage is one of the best Inspiration Instagram Accounts you should follow right away. The dedicated project raises awareness about common mental health problems like anxiety, stress, depression, autism, panic disorders, and much more. You can find various tips on coping mechanisms to deal with such mental illness problems. This top Instagram account's feed is also filled with motivational quotes, positivity-boosting creatives and fun memes to make your day!
View this post on Instagram
2. Female Collective
Instagram Handle – @femalecollective
To inspire females who've been oppressed & are deprived of success due to their gender, this best Instagram account is all about motivating all such beautiful women out there to overcome their odds. The growing community aims to encourage people to explore a path to success. You can find lots of inspiring videos, motivational quotes and small clips all packed with critics that women are much more capable than they can imagine.
3. Humans of New York
Instagram Handle – @humansofny
Feeling lonely? Do check out this motivational Instagram account operated by Photographer Brandon Stanton. With a mission to capture and share the stories of New Yorkers, you can find his Insta feed filled with photos and videos of individuals he meets & highlight their unique stories. Cool right? With more than 5,000 posts, you can find a lot of stories about triumph & successes, which will absolutely provide you with some inspiration to overcome obstacles in your own life.
4. Girl Boss
Instagram Handle – @girlboss
It's one of the most popular Instagram accounts for grasping daily inspiration. Join the 1.6 Million Followers who get their daily dose of women empowering quotes from Girl Boss. With a goal to redefine success, focus on career, living, wellness, fashion, travel and more for ambitious women out there, Girl Boss is a must-follow Insta page. Gain daily motivation through their creative content and community.
5. Motivation Mondays
Instagram Handle – @motivation_mondays
Suffering from Monday Blues? Well, no problem, just follow Motivation Monday, the best Instagram page to fix your #MondayBlues problems. The Insta feed is filled with all the amazing quotes & sayings from popular personalities, which you would like to get printed and fill your entire room with. For some daily dose of motivation to get through your hectic day, you need to follow this Inspiration Instagram account now.
View this post on Instagram
6. Instagram Fitness Motivation
Username – @shredded_life_
Well, it's slightly different from the target audience of other top Instagram accounts mentioned in this life. But if you are a fitness enthusiast or something, you need to follow this inspiration Instagram account ASAP. The Insta feed is curated with photos that celebrate self-love & body positivity. No matter what size, shape or background, this top Instagram account serves as the best motivation for anybody looking forward to transforming their body.
7. 6AM Success
Instagram Handle:@6amsuccess
With over 1.8 Million followers on Instagram, 6AM Success aims to inspire 1 Billion people all around the globe. The beautiful Instagram feed is packed with motivational quotes about achieving your dreams & fueling your career ambitions. The type of content they produce will definitely motivate you to strive for a positive & better professional life and work harder towards your ultimate goals.
View this post on Instagram
8. Living Pretty Naturally
Instagram Handle: @livingprettynaturally
Well, this growing Instagram account features a perfect blend of beauty tips, inspirational quotes and healthy recipes to keep you in tip-top shape. The motivational Instagram account aims to inspire people to strengthen their inner & outer self by staying healthy and looking beautiful. The top Instagram account motivates people through creative content and photos that'll make you realize how precious life is & how easy it is to stay & look good.
9. The Secret Daily
Instagram Handle: @thesecret365
Last but not the least, here's one of the most popular Instagram accounts, The Secret Daily. It has been an international success with a follower count of 3 Million. Their ultimate goal of this Inspirational Instagram account is to motivate individuals to strengthen their relationships. Their quick tips, hacks, tricks will truly guide you on what should be done, what is correct to be on the right path & what efforts are needed to maintain harmony, love, friendship, relationship & other factors in life.
Don't Miss Your Happy Boost!
Check out some of our guides to get practical tips and inspiration to learn how easy it is to stay happy in life. Read the articles to feel more joyful and resilient.
Positive Things To Learn To Get Through This Crisis Time
Interested In Listening? Check Out Our Podcasts!