Mental Disorders
List Of Mental Health Disorders During Pregnancy
Last Update on May 19, 2022 : Published on February 19, 2022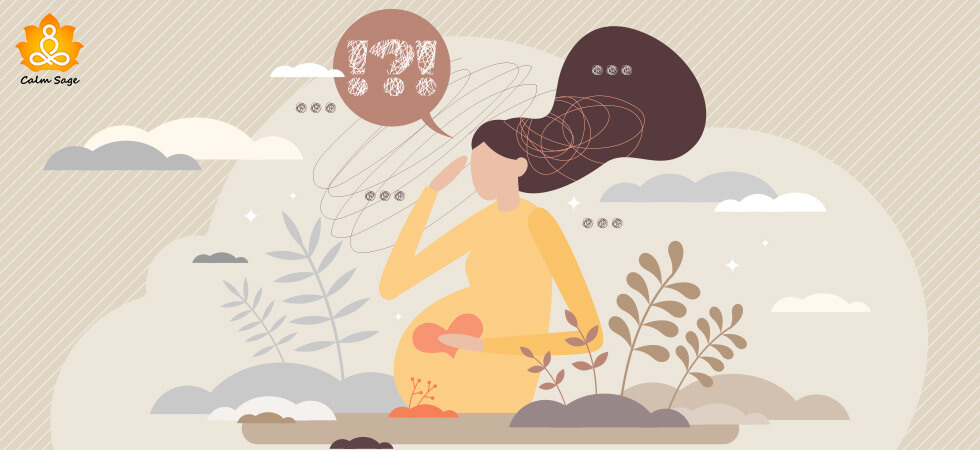 When I got pregnant, I thought pregnancy is all about feeling the butterflies, a phase of happiness, taking care of your baby inside, lots of good and positive thoughts, and whatnot. However, I was so wrong about it. Pregnancy is related to various mental health issues for most women around the world.
Meanwhile, for some, it could be full of excitement and happiness. But, most of us get vulnerable to having mental health issues or psychiatric disorders during pregnancy like eating disorders, anxiety, depression, obsessive-compulsive disorder, and more.
Do you know what's worse? These mental health conditions are often related to our mood swings and stay underdiagnosed. Additionally, these conditions are not treated because of the possibly harmful side effects of such high doses. But, do you know therapy can help to treat mental health conditions during pregnancy?
In this blog, I have enlisted the list of mental health disorders during pregnancy. So, let's get started.
List of Mental Health Disorders during Pregnancy
1. Depression
Symptoms of depression during pregnancy are a little bit different than depression; they can be exhausted energy, loss of appetite (even after the first trimester), insomnia, negative thoughts, and more. Studies show that depression might improve after the second and third trimesters.
2. Anxiety and Stress
Anxiety and stress are pretty common mental health issues during pregnancy. To read the relation between stress and pregnancy, click here. Talking about anxiety, it can vary according to your symptoms like nervousness, increased heart rate, sweating, tiredness, and more.
3. Panic
Panic disorders are something that remains unclear and variable throughout the pregnancy. Meanwhile, one study shows that pre-existing panic disorder might decrease along with the symptoms throughout the pregnancy. Additionally, if you have pre-existing panic, you should also be getting tested for Thyroid.
4. Obsessive-compulsive disorder (OCD)
Obsessive-compulsive disorder (OCD) is something that is controlled by your thoughts and cannot be controlled by your repetitive rituals or behaviors. Studies also show that symptoms of OCD might also get increased during postpartum. However, cognitive-behavioral therapy can help in treating symptoms of OCD.
5. Generalized Anxiety Disorder (GAD)
Generalized Anxiety Disorder (GAD) is common throughout pregnancy or even during postpartum because most women worry about their babies, labor pain, health, and body changes.
6. Social Anxiety
Social anxiety might not develop during the first trimester, but it might appear during the second and third trimesters. If you have pre-existing social anxiety, it might get worse during the pregnancy. Moreover, there are more chances of experiencing tocophobia (fear of labor pain or delivery) during the pregnancy.
7. Eating Disorders
Eating disorders are also common after depression, anxiety, and stress. Meanwhile, studies show that symptoms might decrease during pregnancy if you have a pre-existing eating disorder.
Additionally, it should be diagnosed and treated as soon as possible because women are at great risk especially during delivery and postpartum. Also, it is related to low birth weight and high chances of miscarriage.
8. Psychoses
Psychoses are rare but women with a past of psychosis are at great risk. Therefore, it should be diagnosed and treated as soon as possible.
9. Bipolar Mood Disorder (BMD)
Studies show that women with pre-existing bipolar disorder might get some relief in the symptoms of bipolar disorder during pregnancy, however; it might increase during post-partum. Hence, careful monitoring and therapy are important for the treatment of Bipolar disorder.
10. Schizophrenia
I was not able to find relatable data for Schizophrenia and pregnancy. However, some of the studies show that symptoms might improve for pre-existing schizophrenia during pregnancy.
Additionally, it also requires close monitoring and therapy sessions so that the side effects are not passed on to the fetus before and after birth.
Getting Help
You might not consider getting help for such disorders because of the harmful side effects of the medications to you and your baby. But, do you know that these conditions can also be treated with the help of therapy? If you wish to get help or mental health advice from a professional, you can visit any nearby psychologist.
If you wish to get help from online platforms, click the below-mentioned link to connect with a mental health professional from BetterHelp.
BetterHelp link
Here are some articles that may help you to get help therapy:
I hope this blog helps you to understand mental health disorders during pregnancy. Share this blog with "to-be moms" and support them in their journey of pregnancy.
For more such content, connect with us on all social media platforms.
Thanks for reading.
Happy pregnancy!