Therapy
Debunking the Common Myths of Therapy Therapy For You
Last Update on May 23, 2023 : Published on August 13, 2020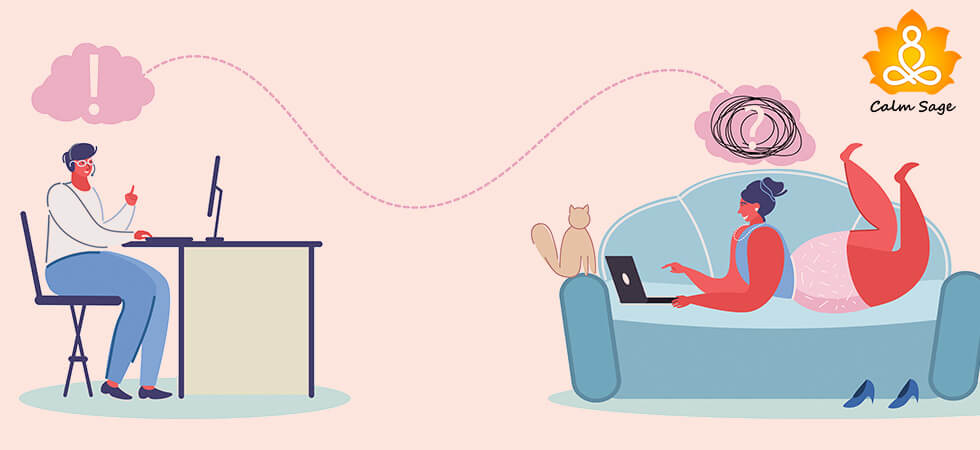 Mental health matters! It is equally important as our physical health. But while we are quite convenient in seeking help from physical health experts there is the air on our way to seeking help from mental health experts.
This air leaves us second-guessing whether to take help from experts or not! This air arises from the myths that revolve around traditional and online therapy.
So, let us clear this air and set ourselves free. After all, mental health matters! Then why let myths hold us back from seeking help from professionals?
Time to learn the right facts and debunk the myths bout therapy…
Common Therapy Myths and Misconceptions
If you have ever decided to seek help from mental health professionals there might be some doubts popping in your head. Let us clear them by addressing the most common myths about therapy.
Myth 1- Only Weak People or People With Serious Issues Seek Therapy.
FACT: That's not true! Seeking treatment represents resourcefulness and shows that you care for yourself. It doesn't make you weak at any point. And if you think that therapy addresses only serious issues then that's not true either.
If you are having any doubts, or if any life event is bothering you, or you are facing work-life stress you can take help from therapy for these issues as well. Basically, whatever is hindering in the normal functioning of your life can be taken care of with therapy.
So, you really don't have to fall in the spectrum of serious mental health conditions to seek therapy (also read the first line again).
Myth 2- Therapy Is All About Cheerleading.
FACT: Well, that's not the only outcome of therapy. It is the job of a therapist to encourage you, be empathetic, and guide you through the problematic areas of your life but this doesn't make them cheerleaders! They use their education, knowledge, qualification, and experiences to challenge and educate you.
On the second thought, honestly, what's even bad in having a personal cheerleader to motivate you during your down times? So, either way it's a win-win situation for you.
Myth 3- Therapy Is Just Like Talking With a Good Friend.
FACT: Yes, talking to a friend or family member is a great starting point of seeking help. In fact they are the primary resort of help. But, sometimes taking expert help is advised.
Well, therapy is also called talk therapy but that's not the only process taking place in therapy. In therapy, there is no judgment, active listening, in-depth analysis of what you have to convey, and two-way communication.
Myth 4- Medication Is Better Than Therapy.
FACT: Medication is important at its own place, there is no denial of that. But comparing the two courses of treatments is not the right approach. While medication is used in creating chemical balance in your body therapy helps you to resolve the conflict from within.
It is the mental health professional that decides which course of action is best suited for your current condition. Some issues can be easily treated with therapy while others might require a combination of both. So, before turning to pills you can explore the one-on-one therapy option too.
Myth 5- Therapy Is Like Addiction; Once You Start It You Are In For Life.
FACT: Now that's not true! Therapy is to make you realise your own inner potential and develop inner strengths. There is no aim of therapy to create dependence. Therapy is a structured process wherein you start by rapport building session and end with a termination session.
Also Read: Everything You Need To Learn About Therapeutic Rapport
Also, there is a set number of sessions that are vastly followed by therapists ranging between 6 to 10 sessions. This clears one important point that therapy has no aim of creating addiction in its client, it is a structured process.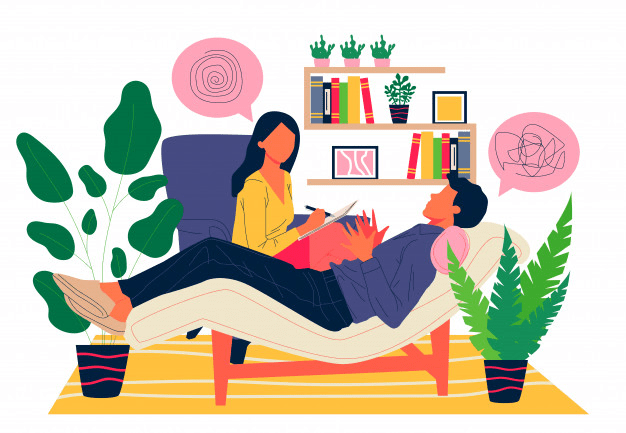 Myths About Online Therapy
With growing technology, telehealth platforms have also witnessed a rise. But, even to date, various myths revolve around it. Let us debunk the myths of online therapy.
Myth 1- Online Therapy Is Not As Effective as Face-to-Face Sessions.
FACT: The biggest myth that revolves around online therapy is that it won't be as effective as face-to-face sessions. Well, that's not true!
Studies have shown that online therapy is as effective as in-person sessions. The outcomes are likely to bring relief to your symptoms. In fact, online therapy has many more benefits over in-office counseling, adding to its effectiveness. This includes the comfort of home, convenience of picking your time slot, savage of time, and resources.
Myth 2- There Is No Rapport or Relationship Building With Therapist In Online Therapy.
FACT: Whether it is an offline or online platform of therapy, finding the therapist who can help you meet your specific needs and fits right for you is crucial. And trust me when I say that online platforms won't disappoint you on this point.
You can build relationships and rapport with your online therapist as easily and effectively as with your offline therapist. The mode of service doesn't change the expertise that they hold. It might feel a little different at first but in a session or two, you will find your comfort.
They will try each opportunity to make your online therapy session as effective as in-person ones. So, rest assured of this part of online therapy.
Myth 3- Online Therapy Is More Costly Than Traditional Therapy.
FACT: If you are thinking that online therapy is going to cost you more than in-person therapy then let me break it to you that this is not true. Telehealth costs nearly the same as traditional therapy.
In fact, unlike typical therapy outlines, some online therapy platforms also provide free or trial sessions. This helps you to get a clearer picture and let us be honest, a trailer is always worth before chipping in your money. Plus, online therapy offers various freebies to you ranging from peer chats to guided exercises.
Myth 4- Online Therapy Is Not Secure, Confidential, and Safe.
FACT: Aren't online frauds part and parcel of any and every online activity that we are part of? Well, yes there is no denying the fact that online life has its own issues but this doesn't mean that your online therapy session won't be secure, safe, and confidential.
The governing bodies have framed guidelines and rules that make sure that online therapy platforms practice proper ethics. One such hallmark of authenticity is HIPAA-compliant platforms.
Along with this, therapy sessions are conducted by licensed and qualified therapists, thus they do take your personal information and privacy into consideration.
While online platforms take the best precautions and safety measures from their end you have to be careful on your part. Login for a session when you are in a private space.
Myth 5- Insurance Companies Won't Cover For Online Therapy.
FACT: If you have heard of this myth of online therapy decades back it might have held true. But, with the changing times, these protocols have also changed! Numerous insurance companies have now started to work to cover the online therapy services.
And with each passing year, more insurance companies are incorporating telehealth services. But, it is always advised to check it with your insurance company and the online therapy platform that you are planning to pick.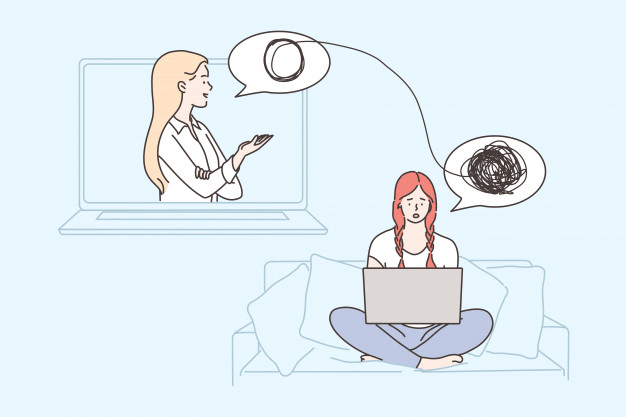 We hope that now you have a clearer understanding of in-person and online therapy. They both have their own benefits to offer. But, it is important to clear the confusion and doubts that we hold about either of the two therapy platforms.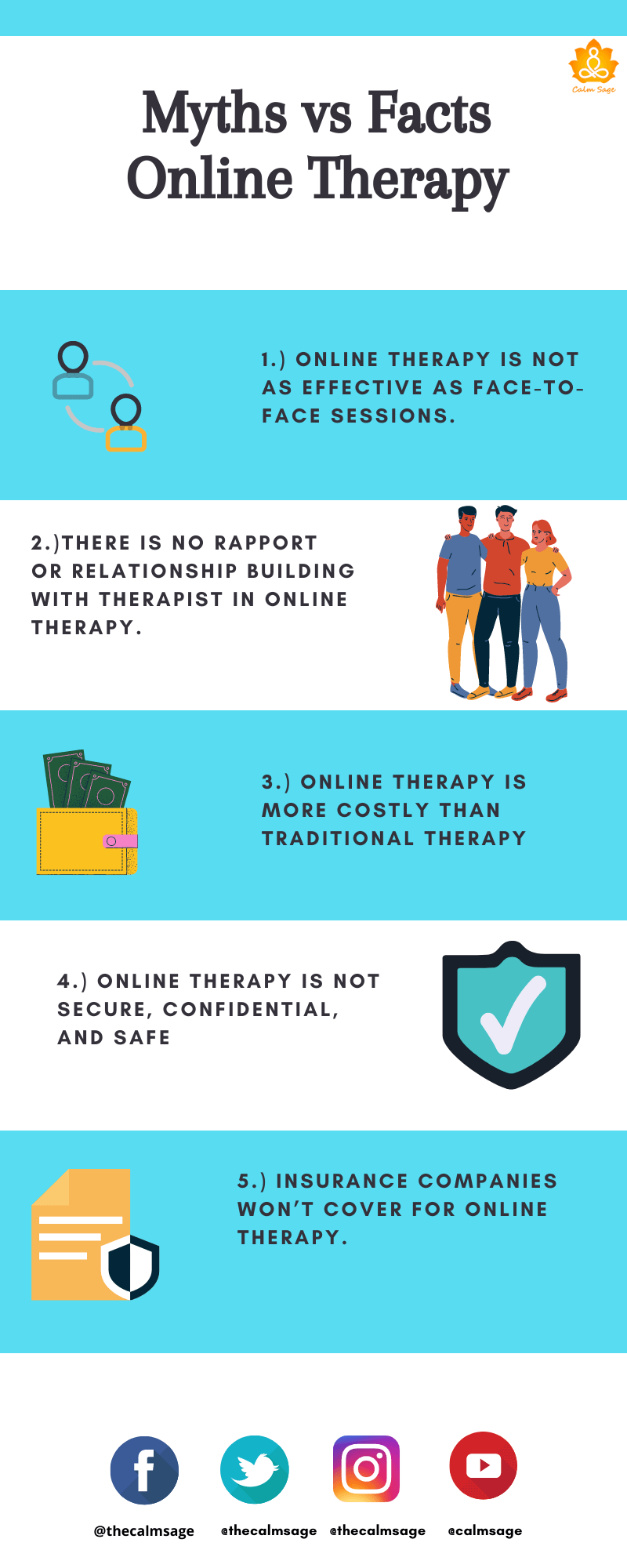 If you have another bubble that is holding you back to seek help drop it in the comments section below. We will help to clear it for you.
More Power To You!!!
More Relevant Articles:
Online Therapy: Tips On How Can You Make Best Of It
Top 10 Online Therapy and Counseling Programs
Everything You Must Know About Eating Disorder Therapy
Best Online Marriage Counseling Programs To Revive The Relationship