Anxiety
Panic Attacks vs. Nervous Breakdown: Know the difference
Last Update on August 25, 2021 : Published on December 2, 2020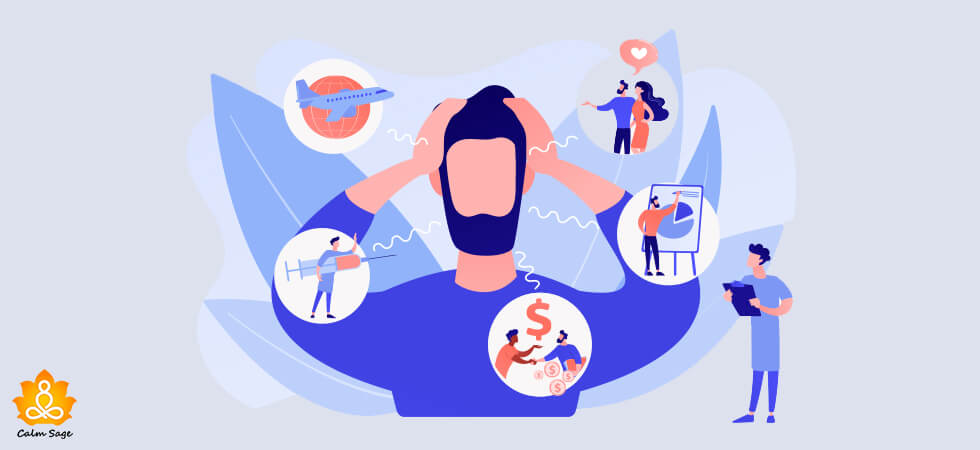 Panic attack and nervous breakdown are two different psychological issues that are caused by increased incidences of personalities and apparent stress-related factors. People always get confused between the two. However, the main difference between a panic attack and nervous breakdowns is that a nervous breakdown means having an acute attack of anxiety which is an outcome of any extreme or sudden incident.
Also Read: Panic Attacks: Facts, Natural Remedies & All You Need To Know
Meanwhile, panic attack refers to the situation wherein sudden anxiety or fear is suddenly increased. This article covers the overview of panic attacks, an overview of nervous breakdown, and the difference between anxiety attacks and mental breakdowns. So, let's get started.
Overview of Nervous Breakdown
Nervous breakdown is a result of an acute anxiety attack that disrupts the everyday lives of people experiencing the same. Nervous breakdown is a type of anxiety disorder that is caused by an extreme or sudden incident. It can also happen because of prolonged stress. People who experience a nervous breakdown feel like they are losing control of their feelings. This feeling results in an increase in nervousness, stress, anxiety, worry, and fear.
Also Read: 15 Signs Of A Nervous Breakdown That Should Not Be Avoided
Signs and Symptoms of a Nervous Breakdown are:
Rapid mood swings
Sweating
Crying
Muscle tension
Difficulty in breathing
Trembling
Raced heartbeat
Nausea
Irritability
Insomnia
Puking
Negative thoughts
Dizziness
Nervous breakdowns are basically caused by the imbalance of chemicals known as neurotransmitters. People with a history of anxiety disorders experience sudden negative incidences which contribute to a high risk of developing negative thoughts.
Talking about the treatment of nervous break, nervous breakdowns are treated with slight lifestyle modification like stress management, relaxation techniques, meditation, talk therapy, hobby therapy, music therapy, etc.  These therapies relax the person and make them stronger to fight the negative scenarios. For severe conditions, medications can also be prescribed along with psychotherapy.
Related read: Types of Psychotherapy for Anxiety Disorders
Overview Of Panic Attack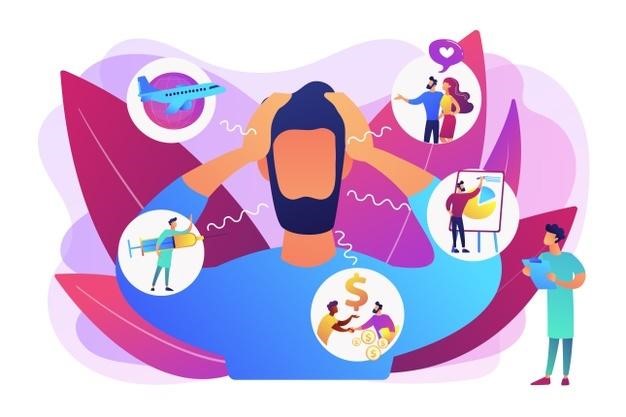 A panic attack is caused by an increased experience of fear or anxiety that can happen to anyone at any time. Researchers are still researching the exact cause behind the panic attack, however, genetics, negative life events, stressful conditions, and trauma. It also includes medical health conditions like hypoglycemia, hyperthyroidism, and mitral valve prolapsed, or alcohol and substance use.
Also Read: COVID19 – Panic Attacks Symptoms and how to deal with them
Most of the panic attacks are abrupt and after 10 minutes reach a severe surge. Mostly, panic attacks last up to 20-30 minutes.
Signs and symptoms of anxiety attacks are:
Increased heart rate
Chest pain
Hyperventilation
Choking sensation
Shortness of breath
Discomfort
Numbness
Nausea
Hot or cold flashes
Fear of dying
Loss of control
Trembling
Detached from the environment
Panic attacks are treated with the help of self-help techniques and therapy. Some lifestyle modifications are also introduced like avoiding alcohol and other things contributing to panic attacks. Relaxation techniques are introduced for teaching coping techniques along with exposure therapy and cognitive-behavioral therapy. Medications are also prescribed (depends on the severity and condition).
Difference Between Nervous Breakdown And Panic Attack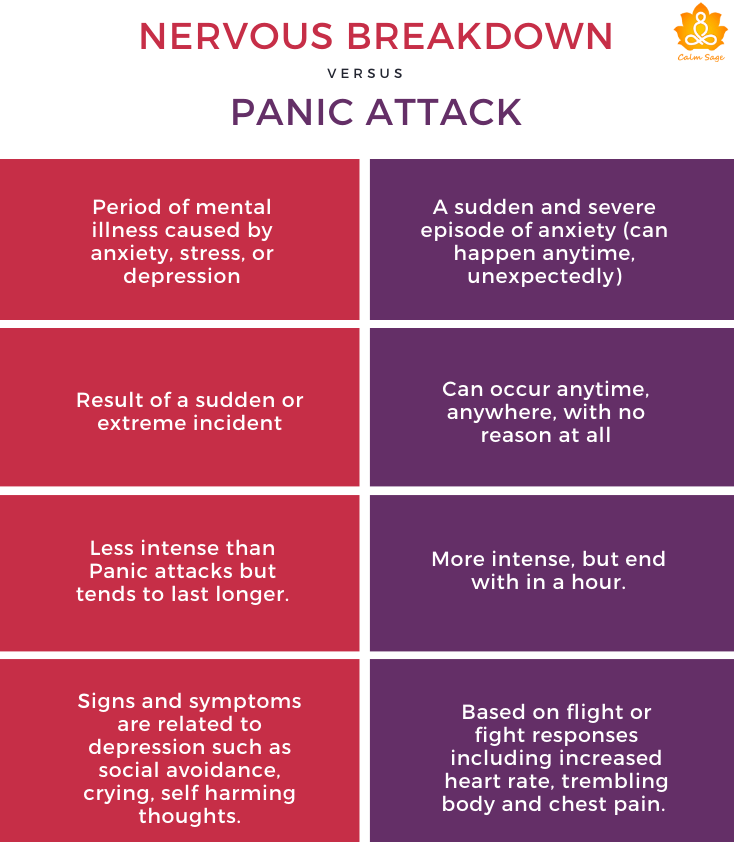 Please Note: We have provided this material as information. It is not intended as a substitute for medical expertise or advice. We strongly encourage you to discuss any decisions about treatment with a certified mental health provider.
If you're looking for online services, you can consider Betterhelp. Betterhelp has +1000 mental health providers who are experienced and certified in their fields.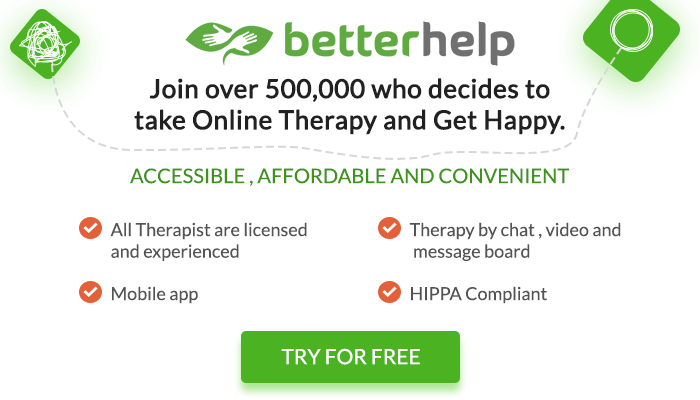 Disclaimer: As BetterHelp Affiliate, We may receive compensation from BetterHelp or other sources if you purchase products or services through the links provided on this page.
Also Read: Honest BetterHelp Review: Get The Best Mental Health Help You Need
I hope this blog helps you to understand the difference between panic attacks and nervous breakdowns. For more such content, follow Calm Sage on all social media platforms.
Thanks for reading.